With Haller and Baumgartl cases still pending, Richter cleared for eventual return
By Peter Vice @ViceytheSS
In what one hopes constitutes a positive sign for other German footballers facing a similar situation, Hertha BSC announced that they expected attacker Marco Richter back on the training pitch within two to three weeks.

Richter is one of three Bundesliga players, Timo Baumgartl of 1. FC Union Berlin and Sebastien Haller of Borussia Dortmund, who have had a potentially cancerous testicular tumor discovered this summer.

An article appearing on the website of German footballing magazine Kicker cites data from the German National Cancer Registry and a separately published article in which a spokesperson from the country's main Cancer Research Group.

Apparently, the fact that three German footballers have developed this condition in such a short time span is simply a bizarre coincidence.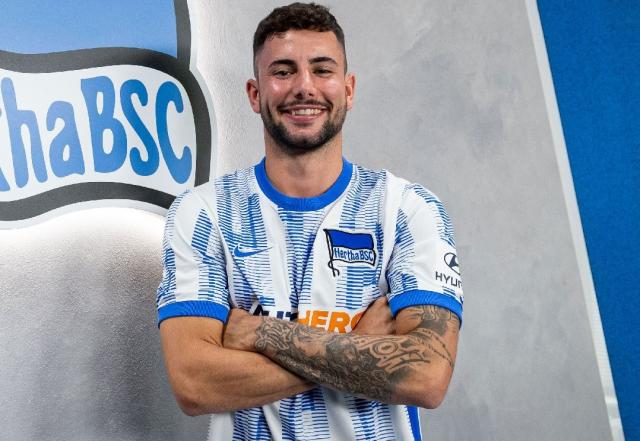 | | |
| --- | --- |
| Marco Richter. | Photo: Hertha BSC/citypress |
The latest news on Hertha BSC attacker Marco Richter's testicular tumor is that the mass he had removed last week at Berlin Charité Hospital was indeed malignant. Richter's club nevertheless released a statement today revealing that the cancerous mass was discovered at such an early stage that follow-up chemotherapy was not deemed necessary.




Thus, for the time being, the 24-year-old can potentially hope to return to training within two to three weeks.

"We are all incredibly happy to have received this positive news," Hertha sporting CEO Fredi Bobic remarked in a released statement, "We shall now allow Marco the necessary rest after his surgery and look forward to seeing him back on the pitch in two to three weeks."

Bobic made sure to impart his best wishes to two other Bundesliga players who have been confronted with the same problem this summer. Across town in Köpenick, Union Berlin defender Timo Baumgartl actually required chemotherapy after his testicular tumor was removed some three months ago.

Speaking to German tabloid Sport Bild recently, Union sporting director Oliver Ruhnert emphasized that his club would not rush Baumgartl's return. The 26-year-old is currently not with the club. Ruhnert divulged that Union wanted him "on vacation, where he can clear his head". Another examination is scheduled for the end of the current month, upon which medical specialists can assess whether there exists any chance of the cancer returning.

The shock news that newly acquired BVB striker Sebastien Haller also carried a testicular tumor broke late Monday evening. News as to whether the tumor will necessitate chemotherapy or not will have to wait. There remains a chance that the mass may prove benign. Chances of this outcome are actually low.




In an effort to shine some light on the issue, journalists at German footballing magazine Kicker contacted medical experts at the Göttingen University medical center and the German Cancer Registry. According to an article published Wednesday on Kicker magazine's website, such tumors are almost always malignant. With early detection, however, recovery rates remain high.

Referencing a separate article published by Germany's Associated Press, Kicker draws the tacit assumption that the fact that three Bundesliga footballers developed this condition within a short-time-span is purely a coincidence. Testicular cancer accounts for just 1.6 percent of all annual cancer cases in the Bundesrepublik.

Moreover, the disease isn't influenced by lifestyle factors such as football. According to Dr. Suzanne Weg-Remmers, head of Information Services at the German Cancer Research Group, such tumors develop purely by chance. No known pre-existing risk factors (apart from history with the disease or rare post-birth conditions such as undescended testes) are known.



Related stories