Jonas Hofmann, Gladbach's leader and Germany's solution
By Rafael Garrido Reinoso @RGarrido2210
One of the most versatile players in the world coming off his perhaps best season ever, Jonas Hofmann enters the 2022/23 campaign as a key player, not only for Gladbach but for the German national team.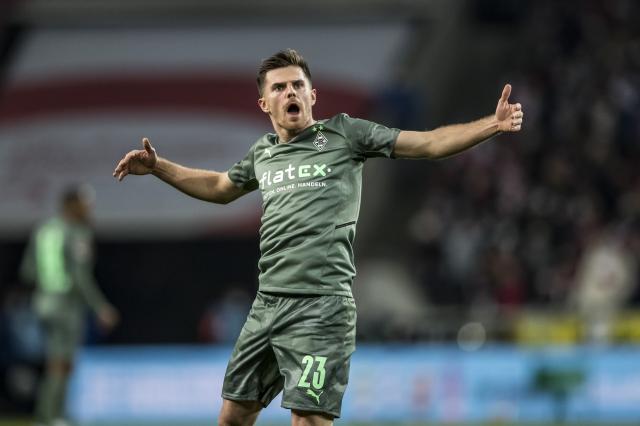 | | |
| --- | --- |
| Jonas Hofmann. | Photo: Borussia Mönchengladbach |
Jonas Hofmann is enjoying maybe the best football of his career, recently extended his contract with Gladbach after being one of the key players last season, and poses as a starter for the German national team ahead of the World Cup.



The Hoffenheim bred that found his place in the world with Die Fohlen

Hofmann moved to Dortmund's II squad when he was 20 after 7 years with Hoffenheim's youth system, scoring a goal on his debut for the B team and having an impact since his arrival.

He completed a full circle after making his debut in the Bundesliga against his youth team Hoffenheim and started a journey of more downs than ups with the BVB.

A lot more of a natural winger than he is today, Hofmann played a reserve role in Jürgen Klopp's rock and roll team and could not break through into the starting XI.


In total, he played 59 games across all competitions, just reaching the tally of 1.958 minutes, scoring 5 goals, and assisting 15 times in his spell at the club.

Hofmann won two Super Cups in his time with the Black and Yellow, playing second-tier minutes as a rotation player and losing more and more protagonism and value in the eyes of the BVB directors to the point where he was loaned out to Mainz during the 2014-2015 season.

Upon his return, then BVB manager Thomas Tuchel discarded him from the squad.

That's when his love story with Die Fohlen starts. Gladbach bought him for €8 million, and Hofmann started to develop his game season by season, not stopping to impress and looking more and more like a player Dortmund could use even as a starter today.

But if he would've stayed with Dortmund, we might never had seen the ultimate player he has become.

Hofmann's performances might not catch many casual eyes. He's not flashy in any way, and he does not possess a lighting quick speed or a physical core. He just has his intelligence, technique, as well as an incredible motor.

The last year and a half have been great for Hofmann, who has not only increased his direct impact in numbers with 12 goals, 5 assists and 7 Team of the Week performances, but also become an incredibly valuable asset as an all-around machine.

He was a light in the dark last season with Gladbach, and after sealing his new contract with the club this season, despite the rumors of interest coming from big clubs, he poses as one of the leaders of the team.

His interpretation of the game in hand with his skills has allowed him to perform solidly in several positions. In the past two seasons, he was used by Adi Hütter as a right midfielder, left midfielder, holding midfielder, attacking midfielder, and even as a number 9 once.

His ability to read spaces makes him a threat when running behind the defensive line, especially when playing down the wing as his runs come with an angle from the flank into the center.

Hofmann's superb touch allows him to control long passes launched in his direction, also helping him when he is closer to the line or tightly marked.

His 1-vs-1 dribbling and sprinting aren't at the very top, but are good enough to cause problems for the player marking him, as he can come short and offer a passing option or run either into the box or down the wing.

What his versatility brings to the game does not end there, as his ability to play in the center of the midfield mixes with his flank game.

Hofmann can act as an orchestrator or a more creative role working in the half spaces of the pitch, and his movements in tight spaces and in between the lines are marvelous.

His passes match his vision, and Hofmann is practical with his touches, trying to be efficient with them.

Defensively, his sense of the game makes him good at anticipating the plays; although he is not as good at intercepting, he's quick to press and make the opponent uncomfortable. He battles the whole match and is very kind with his defensive efforts.


Flick's solution

Germany's problems at the right-back position have caused heavy headaches, first for Joachim Löw and then Hansi Flick.

Kimmich seemed to be the best option in terms of quality, but that would inhibit him from playing in his best position as a central midfielder.

The lack of quality at right-back pushed Flick into playing a center-back in the position, but the tracking from the wingers did not help the defensive balance.

That's when Mönchengladbach's ultimate player showed up, allowing Flick to play a 3-4-2-1 on offense and a 4-4-2 on the defense, with the appearance of David Raum also being key.

Hofmann's traits fit perfectly.

He can run down the wing and help in the defensive end, he can make runs behind the defense and provide width, and he can participate naturally in passing combinations, even acting in the inner halls when one of the attacking midfielders moves down the wing.

His versatility turns into unpredictability for the opponent and allows teammates to move in different ways.

Having turned 30 this year, Hofmann is at the peak of his powers. Yes, the World Cup will be his first international tournament as a starter, but he does not seem to shrink under pressure. Hofmann's demeanor is calm, but he still fights for every ball like the last one.

We should see another great year for him, and more importantly, we should see him having a great role at the World Cup.



More about Jonas Hofmann
More about Gladbach