Gerd Müller – Der Bomber der Nation
By Rune Gjerulff @runegjerulff
Scoring 68 goals in just 62 matches for West Germany and 476 goals in 541 matches for Bayern München, it is safe to say Gerd Müller is one of the game's most deadly strikers ever.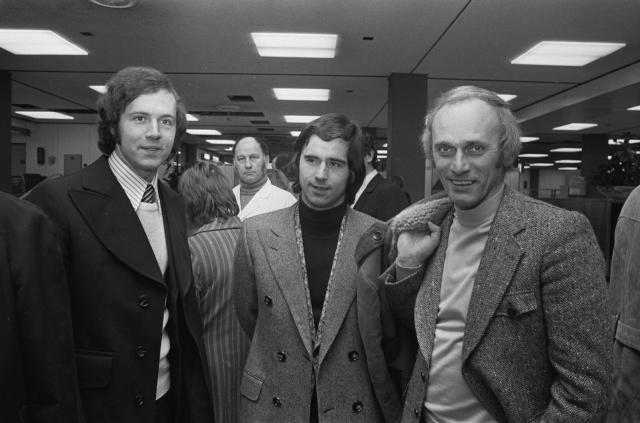 Franz Beckenbauer (left), Gerd Müller (middle) and Udo Lattek (right).

Sepp Maier, Franz Beckenbauer, Uwe Seeler and Karl-Heinz Rummenigge are just a handful of the legendary German footballers who have graced the football pitches over the years. But according to the former German national team player Paul Breitner, none of them has had greater importance than the magnificent striker Gerd Müller - also known as 'Der Bomber der Nation' (the nation's bomber).


"I tell you, I tell it to everybody, Gerd Müller was the most important German football player after 1954. After the German team, who won the World Cup back then, Gerd Müller was the most important. Not Franz Beckenbauer, not Uwe Seeler. Gerd Müller, because he gave all the cups and all the victories to Bayern and the German national team. He was the winner, and he is the man who is responsible for all these. This is the foundation," he said when ESPN asked him to describe his former team mate in 2014.

These are certainly strong words, but it can definitely be argued that Müller is in fact the most crucial German player since Sepp Herberger's team delivered the 'Miracle in Bern' by defeating Hungary in the World Cup final in 1954.

Müller, who was born in 1945, also helped Germany to win a World Cup title when he scored the winner in the 2-1 win against the Netherlands in the final. That goal was scored after a classic Müller finish. The striker received the ball in the box, took a touch and rolled the ball into the corner of the goal. It was not always pretty, Müller was neither athletic or technically gifted, but he always seemed to get the goals - especially when his team needed it the most.

"He didn't score many beauties. But he just put them away. You wouldn't notice him, and then he'd pop up and score a goal. It wasn't like people didn't know who he was – he was doing this in one of the best leagues in the world, and playing for one of the top international teams – but they could find no way of stopping him," Uli Hesse, author of 'Tor! The story of German football', describes Müller in an interview with The Guardian.

From 1966 to 1974, Müller played 62 matches for West Germany and scored 68 goals and he was Germany's all-time leading goalscorer until Miroslav Klose surpassed him in 2014. It is worth mentioning, though, that Klose needed 132 caps - more than double as many matches as Müller - to score his 69th goal for Germany. At a club level, Müller spent almost his entire career at Bayern München and netted 476 times in 541 matches.


The legendary striker won numerous titles during his career - including the European Championship in 1972, the World Cup title in 1974, four Bundesliga titles, three European Cup titles and much more. He was also honored with individual titles such as the Ballon d'Or in 1970 and was named German Footballer of the Year twice.

After Müller ended his career in 1982, he has suffered from alcoholism, but his former teammates at Bayern München helped him and convinced him to go through alcohol rehabilitation. Afterwards, in 1992, he was handed a job at the club as assistant manager of the second team, and he stayed in that role until 2014.

In October 2015, Bayern München confirmed reports that Müller is suffering from Alzheimer's disease. A cruel destiny for one of the greatest strikers of all time, but the memories of him and his many goals will live on. And rightfully so as both Germany and Bayern München have a lot to thank him for. As Franz Beckenbauer said in 2015:

"Without Gerd Müller's goals, Bayern München would not be where they are today. What Bayern have today, their palace on the Säbener Strasse, that would have stayed a shed without Gerd Müller".