Baumgartl explains his skyward gaze:
"An overture to those no longer with us."
By Peter Weis @PeterVicey
FC Union Berlin defender Timo Baumgartl, speaking on Kick magazine's "FE:male view on Football" podcast, revealed that his actions after commemorating his return to the pitch some two weeks back stemmed from a "meta-moment".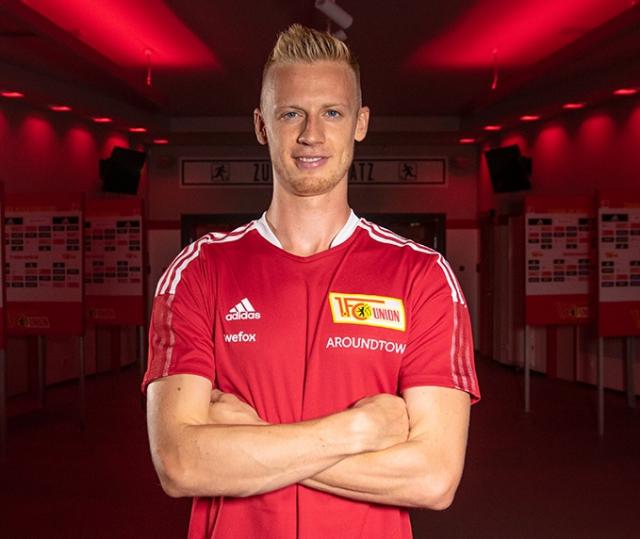 | | |
| --- | --- |
| Timo Baumgartl. | Photo: 1. FC Union Berlin |
The bizarrely coincidental cases of testicular cancer occurring within the Bundesliga player pool remains a live topic. Hertha midfielder Jean-Paul Boëtius became the latest player to receive the diagnosis. Just today it was revealed that, fortunately for Boëtius, he will (like club teammate Marco Richter), not have to undergo chemotherapy after his tumor was successfully removed.


Timo Baumgartl of 1. FC Union Berlin and Sebastien Haller of Borussia Dortmund were not so lucky. The Union defender and BVB striker did have to remain in the care of oncology whilst further preventive measures were taken against the spread of the disease. In public appearances since their cytotoxic treatment; the unpleasant sight of their bald heads has reminded observers of the suffering inherent with the treatment course.

Baumgartl (26) has since had some time to grow some stumble atop his cranium. Upon finally returning the the pitch against Wolfsburg last matchday, the Böblingen native was candid in sharing his thoughts on what a challenge the treatment had been and how emotional once again stepping foot on the pitch had been. Speaking on Kicker magazine's "FE:male view on Football" podcast, Baumgarl expanded a bit on his emotional during the ordeal.

"It was even more emotional than I had imagined," Baumgartl said of the chemo, "a cried a lot in the days after I received the diagnosis. It was a tough five months. Getting back on the pitch was a day I'll never forget."

Cameras caught Baumgartl staring up at the sky for a prolonged moment after the full-time whistle blew against Wolfsburg. Asked about the scene, Baumgartl seemed to deny that he was a religious or spiritual person of any sort. For him, the moment was simply one to savor the beauty of life.

"It was a overture to those no longer with us," Baumgartl explained.


The Eisernen center back discussed many other topics on what is, for those in German footballing circles at least, a quality podcast very much worth making time for over the course of the week. Other subjects covered included what it was like to serve under trainer Urs Fischer, the idea of bringing a new women's top-tier side to Germany's capital city, and the current nature of social dynamics with Bundesliga locker rooms.



More about Timo Baumgartl
More about Union Berlin