Xabi Alonso's coaching background and preferred playing style
By Jonathan Dicks @Jonathan_Dicks
After nearly becoming Gladbach's trainer a year ago, Xabi Alonso waited patiently for the perfect job to coach his first top flight club. He now has quite the task on his hands to turn around a very confused Bayer Leverkusen side.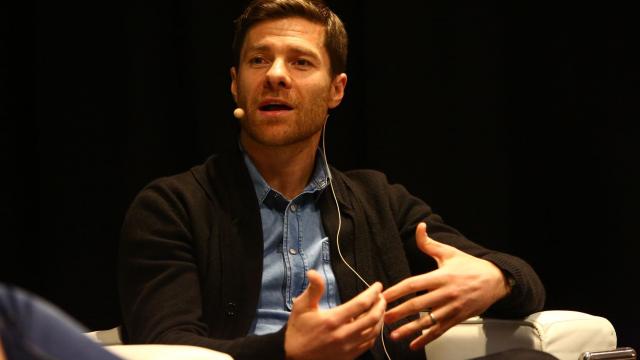 | | |
| --- | --- |
| Xabi Alonso. | Photo: DONOSTIA KULTURA, Los Caminos del fútbol, CC BY-SA 2.0 |
After an illustrious career playing at some of the world's biggest football clubs, Xabi Alonso has flown under the radar to begin his coaching career. But now, he's chosen Bayer Leverkusen, as he makes his official entrance into the managerial world.




Alonso started his coaching career in 2018 with Real Madrid's U13s, who went undefeated in his lone season in charge. He then left to take over Real Sociedad's second team and remarkably gained promotion into Spain's second division for the 2021/22 season.

Alonso prefers a flexible 4-2-3-1 formation that sometimes transitions into a tight back three during a game. This emphasizes the play of full-backs (i.e. Jeremie Frimpong and Piero Hincapie), who's play will be emphasized in a pressing, ball-possession system.

The 40-year-old has quite the group of admirers with teammates and former managers sharing that he's been a coach throughout his entire playing career. Carlo Ancelotti stated that, "He has the qualities and the experience to become a fantastic coach in the future."

Pep Guardiola previously said that, "He will come back soon as a manager. I bet, wherever he wants, he will become a manager and will be good."

It's clear that Alonso was in no rush to take the next step in management, as he's been waiting for the right job to come along ever since he left Real Sociedad earlier this year. The former Bayern star turned down Gladbach a season ago and many Spaniards want Alonso to become the next coach for Spain's national tam.




Alonso has emphasized that, "I was a midfielder, so I like the control and I like my teams to control the game, to play good football, to be able to be active with the ball and not to be waiting for the opening. They have to be brave, to be proactive, to find things."

"I know Leverkusen as an excellent club from my time in Germany. Bayer have always had great players, I also see a lot of quality in the current squad. This task excites me a lot."



More about Leverkusen