Farke back on the touchline in time for Rheinderby: "Emotions and volatility."
By Peter Weis @PeterVicey
After returning consecutive negative COVID test on Wednesday and Thursday, Borussia Mönchengladbach trainer Daniel Farke was back in front of the cameras on Friday.

Farke spoke of how he remained active from quarantine throughout the week as part of preparing his team for one of German football's greatest rivalries.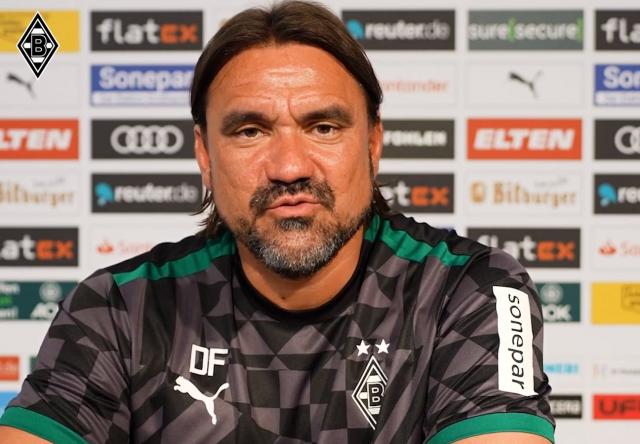 Gladbach head-coach Daniel Farke certainly picked some week to come down with COVID. The notoriously demanding BMG fan base will be expecting a lot from their team as they prepare to host fierce regional rivals 1. FC Köln in the famous "Rheinderby". The foals must somehow find a way of not only bouncing back from a devastating 1-5 home defeat at the hands of Werder Bremen last week, but find a way of claiming their first "Rheinderby Prize" since October 2020.


Gladbach have not won the Rheinderby Prize since Marco Rose's foals overtook the cathedral city "Geißböcke" 2-1 in the 2020/21 Hin-Runde.  As it turned out, this piece of glory was particularly short-lived. Even at that time, Rose was linked with a move to Dortmund. As rumors swirled that the BVB had plucked their man from the BMG ranks, Rose came under sharp criticism for squandering the next derby away with poor personnel rotations,

It was ultimately this loss that forced Rose to reveal that he would be abandoning the club. Gladbach have not won the derby since. Adi Hütter's team was all-too-easily beaten by Köln in both fixtures last season. It constituted the first time that the Effzeh claimed both the home and away prize since the 1989/90 season. Given the stakes involved, it's no surprise that Daniel Farke wished to emphasize that he was very active from his home office over the course of the week.

"I called the guys a lot and got on their nerves," Farke said with a smirk on his face, "They had enough to do. The concrete preparation for the opener usually starts two days from the matchday. It's thus important that I'm once again present."

Farke made sure to let all the members of the assembled press know that he had given Köln a full deep-scout in their Thursday night Europa League Conference fixture against Partizan Belgrade the previous evening. the BMG gaffer lauded his upcoming opponent's "energy and intensity", even in defeat.

"It's not going to be an easy task," Farke emphasized, "But if it were easy, it would also be boring. We're looking forward to the game. For our club and our fans, it's one of the most important games of the year. There's emotions and volatility. We are highly motivated to give our fans a positive performance and, above all, a positive result. That would be incredible."



More about the match
More about the teams