Americans in the Bundesliga:
Reyna, Paredes, and Jordan earn top marks in Pokal week
By Peter Weis @PeterVicey
As has always been the case in seasons past, our "Americans in the Bundesliga" deep-scout column takes the performance of US actors in Germany's domestic cup into account as well.

Giovanni Reyna and Kevin Paredes, after pulling double duty off the bench for their teams, are thus given graded sections this time.

Striker Jordan Pefok and fullback Joe Scally also receive marks for their latest work in the total of four graded sections in this week's dispatch.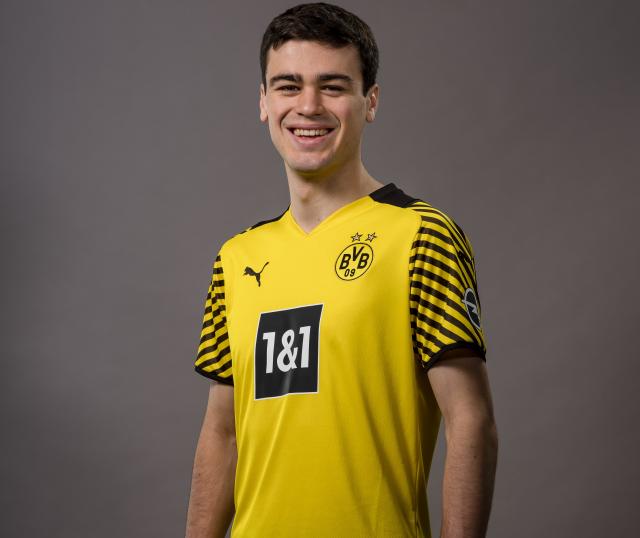 | | |
| --- | --- |
| Giovanni Reyna. | Photo: Borussia Dortmund |
The first version of our deep-scout column to incorporate the Pokal performances this season accords graded sections to both Giovanni Reyna and Kevin Paredes, both of whom put in two solid relief stints for their respective clubs in the midweek matches. Gio and Kevin also happened to earn top-level marks for their work this week, as did FC Union Berlin striker Jordan Siebatcheu.


American fullback Joe Scally - our fourth graded section in the latest report - logged far more minutes than the other three, yet may be in need of some rest following what may be a form-induced form dip. That counts as the only real piece of dispiriting news in this week's report. Future editions should have the likes of Reyna and Paredes on the ledger.

Giovanni Reyna, Borussia Dortmund

Matches played = 2/2, Matches started = 0/2

Minutes played = 30/180, Positions played = ADM, LW

Cumulative Grade = A

After two solid appearances off the bench, BVB trainer Edin Terzic will surely be thinking about Gio for his weekend XI against Stuttgart. The American teenage phenom looked confident in his play during Dortmund's late rush against Union and initiated a sequence that led to the all-important second-goal in the cup victory.

Gio operated from a fairly subdued position in the final minutes of the league loss. We're obviously discussing a very limited performance there. Reyna nevertheless didn't lose any duels or send a single pass stray. What passed for tactics doing the late BVB pursuit of an equalizer  looked a bit like this on the overhead.


Lineup—Borussia Dortmund—83rd minute (3-4-3)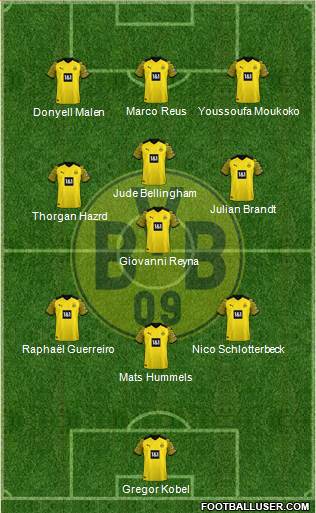 Nice ball wins/shields came in the 84th, 88th, 90th, and at 90+ 2. He took care of his defensive assignment well, the best example being a hard run-down and break up of an FCU clearance in the 89th. In 22 minutes of relief in the Pokal win over Hannover, we got to see significantly more action. Gio racked up 39 touches in constellation more conducive to his skills.

Lineup—Borussia Dortmund—69th minute (4-2-3-1)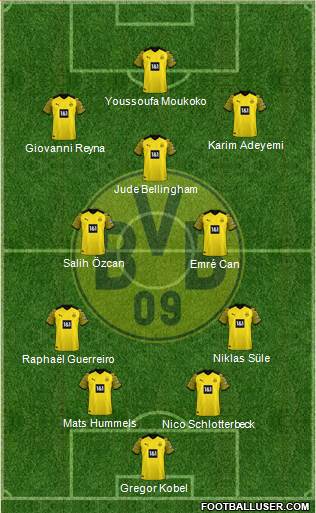 The influential play occurred almost immediately. Reyna shook off his own stumble and a very pesky marker in Sei Muroya to run half the length of the field on a solo counter. The American eventually found Bellingham in the box, who was in turn taken out illegally by Phil Neumann. A 2-0 lead for die Schwarzgelben effectively sewed things up. This listing team has a lot to thank its American for!

With some confidence underneath him, Gio completed some sharp passes in the 72nd, 76th, and 85th. The pop-square over to Moukoko in the middle instance was by far the best. There's some really nifty give-and-gos with Jude Bellingham on display in the 84th and 90+1. Deft pickups from Reyna on both occasions, as well as another quality triangle with Raphäel Guerreiro at 90+3.

Rust seemed apparent on a poor headed finish in the 74th. Otherwise, our subject here wzsa strong in the air with fine wins in the 69th, 86th, and 89th. A couple of poor stray passes (77th, 79th) and a case in which he went down a touch too easy in the box (81st) don't really dock the grade. Those interested can also find a gorgeous switch in the 80th.

Kevin Paredes, VfL Wolfsburg

Matches played = 2/2, Matches started = 0/2

Minutes played = 17/180, Positions played = LW, RW

Cumulative Grade = A

We've been noting Paredes' exciting appearances off the bench for many weeks in the introductory section of this column. Following a couple more stellar ones this time around, the decision was arrived at to give the Virginia native his first graded section since week five. One eagerly awaits a chance to see this American play from the start.

VfL trainer Niko Kovac has finally gotten his tactics sorted out. Though Paredes won't be leapfrogging Jukub Kaminski or Patrick Wimmer on the depth chart anytime soon without injury, his time as a regular and reliable sub has at least arrived. The VfL gaffer's 4-1-4-1 runs as such:

Lineup—VfL Wolfsburg—74th minute (4-1-4-1)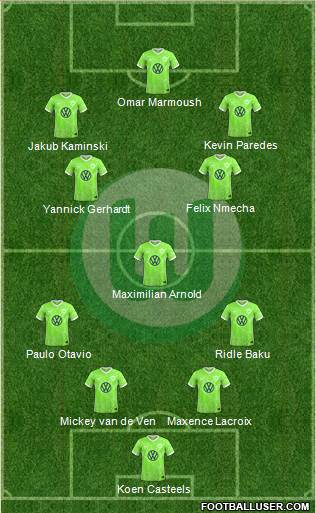 Twelve touches for Paredes in the weekend 2-2 draw with Gladbach. It remained lovely to watch him execute some almost perfectly choreographed flank rotations with Kaminski on the rush. There's also some nice duel wins ion the 80th, 82nd, and 89th. The American twice maneuvered himself in a nice position to score, falling just short on back-to-back chances in the 86th and 87th.

Just six largely inconsequential touches for Paredes in a ten-minute relief-stint during the Pokal win over Eintracht Braunschweig. The teenage talent still won all of his direct duels in the exact same tactical setup and worked some nice switches with axial partner Kaminski. A promising partnership between the American and Pollack buds.

In five successive relief stints for Germany's green company team, the DC United academy lad has without exception managed to furnish some real spunk whenever he steps onto the pitch. The ability to interject some extra energy into the game may keep him on the bench for now, but move up to the XI will definitely come at some point this season. Paredes truly counts as a fun scout.

Jordan Siebatcheu, 1. FC Union Berlin

Matches played = 1/2, Matches started = 1/2

Minutes played = 67/180, Positions played = CF

Cumulative Grade = A 

Hard to believe that Jordan got just 19 touches on the ball during his injury-abbreviated shift against Dortmund last weekend. This was naturally indicative of the fact that, having obtained an early 2-0 lead, Union basically sat back and executed their brand of midfield-clogging defensive football. The Köpenickers allowed the BVB to amass over 70 percent of possession during this (from a pure entertainment perspective) dull football match. Jordan had to disappear for long stretches.

What action this American saw definitely merited a top level grade. The marvelous ball-hold and deserved assist on Janik Haberer's second goal came in the 21st. More magnificent offensive play can be found in the 1st and 31st. In the first case, Jordan executed a sublime touch/turn in the box. In the latter instance, he pulled off an ultra-slick touch on a run towards the net. Nico Schlotterbeck only prevented him from scoring with a life-saving-tackle.

Amazing take-downs via both chest and boot in the 33rd, 39th, 43rd, and 59th. Direct duel wins/flick-ons in the 3rd, 7th, 17th, 45+1, 51st, 56th, and 61st are also worth a look. Aerial losses (5th, 13th, 14th, 27th, 29th, 48th) might have been a bit too infrequent, but in most all of those cases one could label the striker smart for not contesting too hard. Jordan actually did injure himself whilst inattentively backing into Mats Hummels during an aerial joust in 64th and had to be subbed off shortly thereafter.

In a scene that proved almost intolerably sad, the American's attacking partner Sheraldo Becker broke through on the very next FCU charge in the 68th. Becker held the ball for what seemed like an eternity whilst rushing up the left-flank, clearly looking for the target sidekick he wasn't prepared to process was no longer there. Jordan might have scored himself on very nice trail runs in the 30th, 44th, 49th, and 54th. Sadly, Becker wasn't looking for him properly when he was there.

Jordan's contusion kept him out of the midweek Pokal Heidenheim, but there seems to be no structural damage. The 26-year-old is expected to return to full team training today and get three full sessions in before the Sunday fixture against Bochum. This subject earns some major plaudits for his last league performance. He certainly looks to have recaptured that spark-plug form from mid-September. Ideally, he can pick up right where he left off.

Joe Scally, Borussia Mönchengladbach

Matches played = 2/2, Matches started = 2/2

Minutes played = 174/180, Positions played = RB

Cumulative Grade = D+

Not exactly the greatest set of news for Joe Scally enthusiasts, this one included. The Long Island native turned in a pair of subpar performances against Wolfsburg in the league and versus surprise upset winners SV Darmstadt 98 in the Pokal. The CFG New Yorker appeared borderline unfit in both matches, tiring out quickly and having problems coping defensively.

During the 2-2 draw with WOB in the leagueThe same 4-2-3-1 he's been using since round eight. Lars Stindl served as a straight-arrow plug in for the team's recently anointed ten, Christoph Kramer. Squad captain Stindl obviously being more of an offensive minded player meant that Scally had a lot of work to do against the heavy flank rotations of Wimmer and Kaminski.

Our subject here didn't do terribly well, getting beat on both Wolfsburg equalizers in the 43rd and 69th. Kaminski, Yannick Gerhardt, and Paulo Otavio skipped past him far too easily in the 3rd, 7th, 9th, 14th, 39th, 54th, 56th, and 74th. General defensive tracks in the 11th, 24th, 40th, 74th, 86th, and 89th were way off. Bad duel losses came in the 26th, 30th, 34th, 69th, and 78th.

Much better defensive work, intrepid runs forward, and some sharp passing (8th, 12th, 16th, 21st, 28th, 37th, 45+1, 47th, 49th, 61st, 64th, and 82nd) kept him off "D-Level" on the day. Gladbach also suffered a lot of collective defensive lapses in their league match, particularly on set-pieces. Unfortunately for Scally it didn't get much better in the Pokal match.

Lineup—Gladbach—DFB Pokal (4-4-2)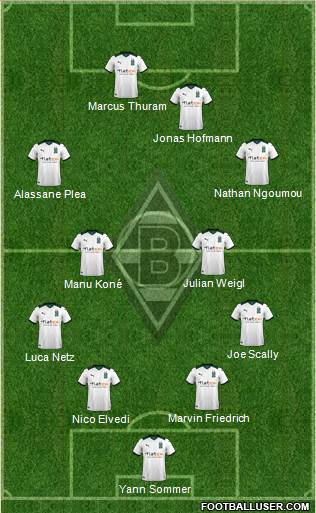 Farke opted to try Jonas Hofmann out as a short-striker in the first-half against the Hessian hosts. Scally had some extra protection, yet still appeared unfocused and leggy, particularly in the early going against Baydon Manu. Marks in the 3rd, 12th, 15th were harbingers of things to come. The American's teammates let him down on Darmstadt's opening goal in the 23rd. One could still tell that he Scally wasn't quite with it in time to close the distance.

Forward triangulation and slip passes stood very poor in the opening 45, presumably because Scally wasn't on the same wavelength as newcomer Nathan Ngoumou. Ball losses, stray slip passes, and slow follow-up runs came in the 7th, 8th, 17th, 19th, 28th, 37th, and 45+1. Further marking errors and substandard clearances occurred in the 20th, 32nd, 44th, and 45+1. Farke brought Lars Stindl on at the half and snapped back into the 4-2-3-1.

Scally got off the mark much better during Gladbach's "bossing spell" in the second half. It was the American who kicked off the sequence setting up Luca Netz's equalizer in the 48th with a smartly taken quick free kick. More slack marks and botched touches nevertheless followed in the 51st, 54th, 60th, 63rd, 70th, 81st, and 82nd. It didn't come as a surprise at all to see him subbed off for the final six minutes. Perhaps this lad needs a break.

With regard to the competition lurking behind Scally in the form of Austria's Stefan Lainer, this pair of performances doesn't appear catastrophic enough to cost the American his starting role. There were some positives in the Pokal match; a tightly contested duel by no means made easy by Darmstadt's field switching and quick transition game. Scally did well with some enterprising runs and passes in the 11th, 29th, 35th, 55th, 68th, and 76th. Defensive work in the 6th, 14th, 45+3, 49th, and 53rd remained of high quality.

The 19-year-old should start this weekend against Frankfurt.

If he dips again, however, a break really needs to be considered.

Thanks so much for reading! You can occasionally catch Peter goofing off while watching non-Bundesliga football on twitter, @ViceytheSS.

Twitter DMs are open for football conversations, corrections, and (if you truly insist) general abuse. 

All columns debut on Bulinews before appearing on Peter's website as the season progresses.



Related stories