Bundesliga Tactics Talk: Round 32
By Peter Weis @PeterVicey
A pair of Monday fixtures means that it's time for a rare Monday edition of our "Tactics Talk" Column.

Quite a bit going on in the German Bundesliga table these days, making it more important than ever to ensure that the recap feature covers all nine fixtures.

That's precisely what we'll do yet again this week, with draw-ups for Köln, Frankfurt, Stuttgart, and Leipzig.

Our "focus section" this week celebrates one of the greatest league matches all year. The budding "Badische Derby" between Freiburg and Hoffenheim gets the full treatment.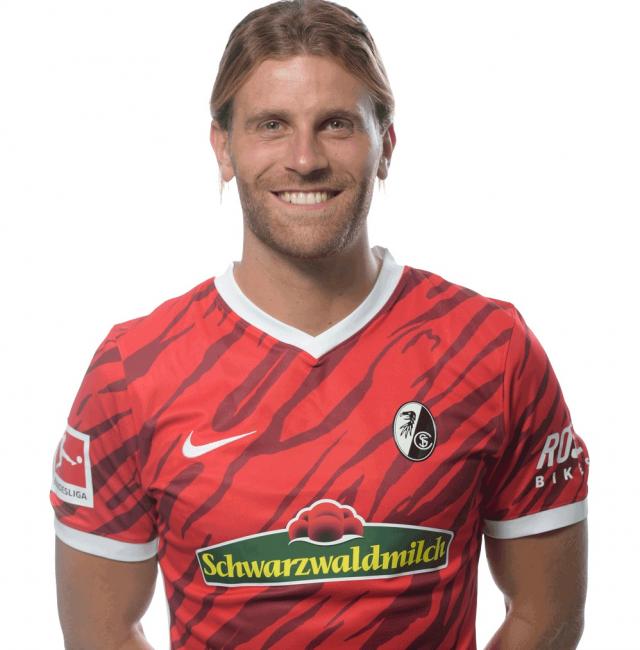 | | |
| --- | --- |
| Lucas Höler. | Photo: SC Freiburg |
Bundesliga Tactical Banter: Round 32
Bayern's corporate retreat

After last week's historic title clinch, the desperate scramble for a storyline involving the record champions commences. Operating in a quasi-experimental 4-1-4-1 with Eric Maxim Choupo-Moting on the left wing and Marcel Sabitzer buttressing Serge Gnabry on the right, Julian Nagelsmann's FCB barely put a foot right in the opening half-hour of their weekend fixture away at Mainz. Bo Svensson's significantly more motivated Pfälzer rushed out to a deserved 2-0 lead before Bayern could even manage a shot on target.


After falling behind 1-3 in the 57th minute, the Bavarians opted to take the final half-hour of the match off as well. Nagelsmann's squad effectively went through the motions with one collective eye on the tunnel. The traveling fan contingent voiced their displeasure at a legitimate lack of effort from their time. Reporters seized upon the opportunity afterwards to elicit some sort of reaction from an FCB "ultra competitor". Thomas Müller being unavailable with a cold, a quote about the disappointing nature of the performance was pulled off of Joshua Kimmich.

Is any of this relevant? Of course not. Teams taking it a bit easier following the attainment of season's objective remains totally commonplace. In the case of Bayern this round, the structural changes to the team basically explain the loss. Lucas Hernandez and Niklas Süle experienced some lapses thrown back into their central defensive partnership after so long. Alphonso Davies encountered trouble sensing his overlap runs behind Choupo-Moting. One FSV goal resulted directly from an error by back-up keeper Sven Ulreich.

No need for all the fuss. The totally disproportionate reaction from Bayern sporting director Hasan Salihamidzic also causes consternation. In the event that anyone missed it, "Brazzo" announced that he's taking the squad to Ibiza for a "team-building exercise". Err....what kind of management is this? At the tail end of the season, the benefits of organizing a naked dodgeball tournament to boost morale seems fairly pointless. In hindsight, Hansi Flick had his old sporting director pretty well sized up. Brazzo wants to manage a football team like a Google department.

Every want and need of the modern footballer is already catered to. They can take their own after the end of the season with their own endless reserves of money. In the context of a pressure-filled stretch of the season, perhaps a culinary tour, trust-fall retreat, obstacle course adventure, escape room, paintball holiday, pastry bake-off or any one of dozens of half-baked corporate "morale booster" measures would make a little sense. Right now, it's just silly. Let everyone go their own way.

Dortmund bypass to Bynoe-Gittens

We'll now have to get the image of Hasan Salihamidzic running a beach-side meditation meeting (without any clothes on, no less) out of everyone's head. Fortunately, we've not far down the table to travel in order to get to our next team. A second-placed Borussia Dortmund with little to play for as well took some heat for allowing regional rivals VfL Bochum to waltz into Signal Iduna and capture a 4-3 victory. A bitter defeat for die Schwarzgelben, who lost at home to their smaller "Revier-rivals" for the first time since 1998.

BVB trainer Marco Rose only engaged in one major personnel experiment. After Tom Rothe (and then Reinier) received auditions on the left flank, young English phenom Jamie Bynoe-Gittens finally got his turn in the space where Jadon Sancho once roamed. Gittens left. Julian Brandt right. Captain Marco Reus toeing an axial line with both of them in a very tight 4-2-3-1 designed to give Erling Haaland as much service from as many close-range plot points as possible. This formation was designed to win.


The fact that it didn't does relate slightly to a lack of effort. We could discuss a Haaland hat trick, but two of the Norwegian's three tallies came from the spot after handball penalties were awarded. Disorganized and shellacked after Bochum scored the opening two goals, it took the BVB a good twenty to truly wake up as well. Once they recaptured the 3-2 lead, the hosting Westphalians feel asleep between the 62nd and 80th. Focused failed Reus on a couple of occasions before Bochum got their late equalizer and their own handball penalty.

One nevertheless shouldn't equate Dortmund's performance with Bayern's. This particular 15:30 kickoff maintained a totally different feel about it. Rose's men went for the three points. One might as well mention that the early reviews of Bynoe-Gittens tend toward the hype being fully justified. Man, was the 17-year-old ever super slick on the ball and, additionally, sometimes beastly in direct duels against clunky veteran grinders like Anthony Losilla, Christian Gamboa, and Erhan Masovic.

An very exciting BVB page prepares to be turned.

The "shut-up-special" of the week

Before getting into the "Spiegel Specials", we'll note the completely organic emergence of a new feature. This becomes something of a tradition. How odd that we're coming across "foot-in-mouth" maladies in a German footballing landscape that no longer features retired Bayern bosses Uli Hoeneß and Karl-Heinz Rummenigge. In any event, welcome to another section on needless comments. Last week, we chastised Steffen Baumgart for some marketing hypocrisy. This week, Hertha's caretaker trainer Felix Magath let the tongue slip.

After his team quite literally blew a chance to officially cut themselves loose from the relegation race in the last three minutes of action against Bielefeld over the weekend, Magath decided to open his mouth about Bayern. In a sense, it was a strategic move. The 68-year-old needs Bayern to finish the job for him next round against Stuttgart. He also deliberately minimized Mainz's accomplishment ahead of his own round 33 fixture against the Nullfünfter. Nagelsmann read it for what it was; a "clever ploy".

All fine and dandy except for the fact that it wasn't clever at all. Magath's Hertha were once again well-drilled defensively, but were once again highly disjointed in the attack. Only a slender lead could be produced. It needed to be tightly defended right up until the final whistle The head-coach effectively made his own bed by throwing on two offensive actors (Maximilian Mittelstädt and the young Luca Wollschläger on to close the game out in the final 12 minutes. Those two miffed up a whale of a chance to finish it off.

Magath's anointed leader Kevin-Prince Boateng got it right in his post-match comments. As the Prince put it, "the young lads were just too playful". Boateng made clear that he was specifically referring to the duo of Mitterstädt and Wollschläger, adding "Maxi is not so young." Having one's relegation destiny in one's own hands remains a privilege. No looking at other scoreboards. Whether it be young players or an old trainer, focus on getting your own bit done. The onus now falls on Magath to get the squad back to this focus after he himself took them off it.

The "Spiegel Specials": Round 32
Augsburg-Köln (2:0, 1:4)

Interesting flip of the script from the Bundesliga's hottest current team, the "Holy Domstädter" of Germany's cathedral city. Steffen Buamgart's Effzeh turned the tables from the home defeat against Augsburg in the Hin-Runde and knocked the Fuggerstädter out with a couple of early gut punches on "Plärrer Weekend".

Köln's fourth straight league win is good enough for sixth place in the table. They're right in the thick of the European discussion and can no longer be ignored. Did we get this side wrong? Oh yes. We got them totally wrong on more than one occasion. 

Long overdue for a look here:

Lineup—FC Köln—Match 32 (4-4-2)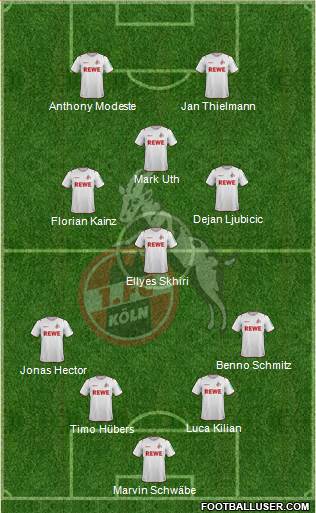 Baumgart ran into some problems during the middle of this campaign when his so-called "alpha dog tandem" of Anthony Modeste and Sebastian Andersson sputtered due to the two contrasting styles of the strikers. Köln traversed an offensive dry spell during the early stages of this calendar year as the trainer tried different things like using Mark Uth and Florian Kainz in the advanced role.

Placing Germany U21 international Jan Thielmann up one the top axis also isn't an entirely novel approach. Baumgart has tried it sometimes later in matches to little avail. What worked differently (and marvelously) this time involved dropping Uth back father and, more importantly, keeping him in a distinctly midfield rotative set-up.

The midfield diamond

Really neat to watch Uth, Kainz, and Ljubicic spin around. Ellyes Skhiri had a bit more freedom to join the rotation when he deemed it necessary. In this sense, the Tunisian benefitted slightly from Salih Özcan's absence. Skhiri could also drop back to cover on an easy left-slant whenever Jonas Hector went on an enterprising run.

The very first counterattack led by Thielmann in the 12th played an important role in setting the tone and forcing Augsburg to keep a close eye on the rightward cycle-outs. The mandatory adjustment left Hector, Kainz, Uth, and Modeste with oodles of space on their side. All the chances generated by that quartet could have left Köln leading 5-0 at the break.

Rare defensive drawbacks

It happened only once. Timo Hüber's otherwise fantastic match found itself slightly overshadowed by a marking error in the third. Both Hübers and Luca Kilian played very well, their respective bookings more a sign of their consistent hard work rather than sloppy play. Hector and Benno Schmitz again proved that this attack can be robust without true wingers.

All of us Bundesliga watchers must admit that this defensive unit stands nowhere near where we'd thought they'd be following the January upheavals. Some of the ribbings directed at Baumgart last week notwithstanding, the gaffer really has gotten a lot out of this depleted corps. Hübers and his old Paderborn prodigy Kilian. It almost qualifies as blood from a stone.

Prognosis: Too much, too soon

In the current three-way race for two Europa League slots, die Geißböcke have the most favorable remaining schedule. Wolfsburg and Stuttgart. That potentially translates to an easy six points. The Domstädter are doubly helped out by the fact that fellow competitors SC Freiburg and 1. FC Union Berlin square off next weekend. Both Freiburg (Leverkusen) and Union (Bochum) then have tough final matchday fixtures.

There remains a problem; a hauntingly familiar one for Köln enthusiasts who recall 2016/17 European qualification and subsequent relegation. New sporting director Christian Keller works under a strict mandate to reduce costs on the roster. What gets cold together next year might be neither Europe nor Bundesliga-worthy. Uh-oh.

Neutrals may find it difficult to pick a horse amongst Freiburg, Union, and this club. Truth be told, all three of them look likely to pay the price for their overachieving next year. It would come as a big surprise to see any one of them get out of their club tournament groups. League form shall also suffer. Obviously, no one wants to overtly root against any of the trio. Just bear in mind what it truly means.

The columnist thus suggests pulling for one of the other two teams if only because one year of full capacity RheinEnergieStadion revenue could help this club round an even more significant corner. Europe for Köln the season after the next one accords them a better chance of being more effective German football representatives. Everyone benefits in the longer term.

Leverkusen-Frankfurt (2:5, 2:0)

This fixture was simply made for a "Spiegel Special". Back in December, Leverkusen also scored the opening two goals. Frankfurt then demolished them with five unanswered tallies. Little to no chance of that happening again here; certainly not with SGE trainer Oliver Glasner openly admitting that he wished to prioritize the return Europa League leg on Thursday over this league encounter.

Needless to say, we didn't get much of a football match. The only point of interest remained some intriguing tactics for those of us morbidly fascinated with the rare occasion that Glasner rotates in an unpracticed squad. Those of us desperate for novelty got something to laugh at in any case.

Lineup—Eintracht Frankfurt—Match 32 (3-4-3)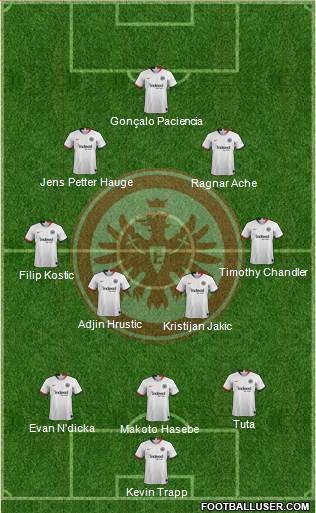 Flat and simple. No discernible attempts forward from these even horizontal planes until a few minutes before halftime. Jens Petter Hauge, Tuta, and Kostic even remained in the locker room so that Glasner could execute a triple change at the half. Ansgar Knauff got 45 minutes to stay warm for Thursday. Almamy Touré received a little practice time.

We also got a nice belly busting laugh when Glasner dusted off Sam Lammers to take the place of Hauge. The Dutchman almost immediately committed the error that led to the second Bayer goal. Poor, poor Lammers. Funny and sad at the same time. Brought in with such fanfare, then completely lost to obscurity.

Prognosis: Concern for Hauge and Trapp

If Jesper Lindstrøm can't make it back in time, German fans eager to cheer die Adler on come Thursday might have a little problem. The Norwegian, after an exciting little form spike, has now actually turned in a pair of bad performances. Hauge did poorly in relief of Lindstrøm last Thursday and looked most unsure of himself here. Note that there is no real alternative, unless Lammers gets touched by a footballing angel.

It was also somewhat disconcerting to see Kevin Trapp's form streak come to an end here. The sometimes German national team keeper had been on a tear, yet will surely see his confidence eroded somewhat after the two concessions in this match. He got beaten twice through the legs. Hmmm. Not necessarily boding well for Thursday.

Stuttgart-Wolfsburg (2:0, 1:1)

Great atmosphere at the Mercedes Benz Arena on Saturday. Very bad football match. Pellegrino Matarazzo's Swabians remained a disorganized mess throughout. No real ideas going forward until a desperate final phase. In the interest of conserving some space in the forthcoming "Americans" column, we can go ahead and get part of the Matarazzo diatribe out of the way now:

Lineup—Stuttgart—Match 32 (4-4-2)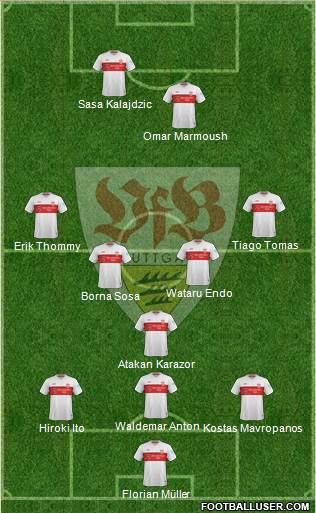 Oh dear, Christ. What the s••• was this? How the hemorrhaging f••• was this supposed to work? Presumably, Wataru Endo was meant to help out on some of the back-builds. It may not necessarily have been the plan for Borna Sosa to continue to lurch left and stack Erik Thommy's side to turn the shape into something resembling a misshapen ear. That's nevertheless what happened....and it totally sucked.

Not to suggest that Kohfeldt's Wölfe were much of a prize either. The VfL head-coach took his very serviceable 5-2-3 from last week and fashioned an often limp-looking 4-5-1 out of it. This had so little bite that the talented trio up top rarely got looks at goal in. The lone tally from Germany's green company team came of a set-piece. Inexcusable with Lukas Nmecha, Max Kruse, and Jonas Wind up front.

Prognosis: Two awful trainers

VfB sporting director Sven Mislintat guaranteed Matarazzo's job (even in the case of relegation) before the season even began. With Stuttgart now probably destined for a tough 2. Bundesliga opponent in the relegation playoffs, note that a draining and heartbreaking relegation (just like the one in 2018/19) could shift this calculus. Sticking with Matarazzo likely guarantees an October sacking.

As we were discussing last week, the same will in all likelihood apply to Florian Kohfeldt as well. The manner in which his teams cannot help but succumb to ugly, rote football continues to raise concern. If the 39-year-old himself is to be believed, he'll remain in place through the summer. Big mistake in the opinion of this column.

The Burning Questions: Round 32
Was Leipzig's loss foreseeable?

No footballing result is completely foreseeable as there is no such thing as someone who possesses psychic powers. If one happens to be a believer in things like body language and choice of words, however, there might have been some foreshadowing lurking behind RB head-coach Domenico Tedesco's trademark beady little "Dracula-like" eyes at the Sunday presser. The Saxons had little interest in traveling to Gladbach on Monday night.

It showed. Tedesco's charges completely slept through the first half. Way too many concentration lapses and silly mistakes in transitional play. The team was there in body. The collective mind lurked somewhere else. Commenting on his team's lack of fundamentals after the 1-3 loss to the lowly foals, Tedesco remarked that "you can take the tactics board and chuck it in the trash can". Er....that's not exactly how we do it here on Bulinews.

Lineup—RB Leipzig—Match 32 (4-2-4)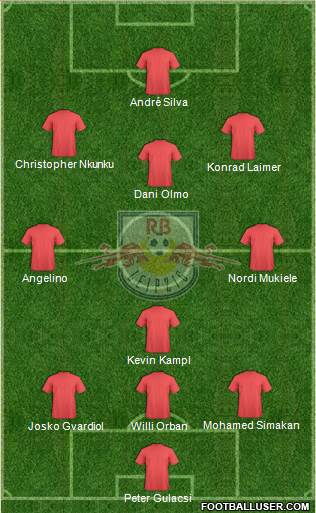 Something like this absolutely deserves to be consigned to the dustbin on history. Tedesco simply couldn't balance intent to attack (Konrad Laimer deployed ahead) with a desire to conserve energy of important actors like Christopher Nkunku, Angelino, and Dani Olmo in suppressed roles. Gladbach were able to establish control of the empty spaces early.

The offensive set-up of the top two axes didn't know exactly what they were supposed to be. Play out of the back, often lead by the oddly stationed Kevin Kampl did little besides turn the ball over. Marcel Halstenberg and Lukas Klostermann--both of whom should have arguably started this one--provided the only fresh impetus for the offense off the bench.

Most everyone else didn't want to be there. No real desire to try out ambitious finishes from the front lines. Attacks frequently just stopped as soon as the danger area was breached. The foals even scored a shorthanded goal late in this one. In hindsight, one supposes it could have been foreseen that the Saxons would be thinking about Ibrox.

Practically everyone watching was thinking of Ibrox too.

Why did Union drop points again?

Friday night's encounter at the Stadion An der Alten Försterei astounded in many respects. Much can be made of the fact that SpVgg head-coach coach went for broke with a three-striker-set. Two be perfectly candid, that's totally irrelevant. Possessing a surfeit of attackers, Leitl has gone with a full-force attacking trident many times this season. Trust a writer forced to watch every last one of this historically bad team's matches on that one. It never made a difference before.

Why now?

Urs Fischer didn't prep the team properly. Moreover, the oft-lauded Swiss trainer made all the wrong in-game tactical moves. Lack of preparation evinced itself throughout the first half in the form a very collectively weak defensive press. The visiting Kleeblätter played keep away far too easily from Fischer's predictable (and now getting somewhat stale) 3-5-2 "double stack". One serious issue beginning to manifest itself in this formation concerns the fact that the buttressing attackers now try to do too much. Behind the strikers, Genki Haraguchi and Grischa Prömel roamed about lost during the first-half.

When Dominique Heintz went down injured, Fischer didn't have a plug-in available on his bench squad. A change in formation was thus called for. Christopher Trimmel and Niko Gießelmann could have moved back to fullback roles while Bastian Oczipka or Levin Öztunali joined Rani Khedira in midfield. Fischer instead stubbornly stuck with the 3-5-2, bringing on Julian Ryerson to play out of position. Introducing Andreas Voglsmammer for Haraguchi at the half at the very least called for a 3-4-3 re-format. Maintaining the shape didn't help coordination.

Had it not been for Nick Viergever's late howler (not aided by the fact that anointed goalkeeping savior Andreas Linde keeps making his own mistakes), Union wouldn't have even pulled a point off of Fürth this time. Oddly enough, die Eisernen were just as offensively anemic against the rock-bottom Bundesliga team as they were in the reverse fixture. Four points dropped by Union this season against.....Fürth? Recall this if the Köpenickers finish just outside of the top six.

An opponent twice improperly prepared for.

Weekly Tactical Focus: "Badische Blockbuster"

No, it's not really a derby. We've noted that already in a previous article. The German federal state of Baden-Württemberg remains awash in falsely described rivalries cheaply manufactured for even cheaper effect. SV Sandhausen. FC Heidenheim. Großaspach/Mannheim mergers. There are many new or recently recently refinanced clubs in one of the more entrepreneurial quadrants of the Bundesrepublik. The fact that they call the same state home immediately leads to the "derby label" getting smacked on.

Of course, chief among these is Dietmar Hopp's non-50+1 venture. Much as we all try to accord this club it's fair shake over the course of a season, some semblance of hate shall not abate. A "plastic team" takes up space in our top flight. Leipzig at least accords the country's former East with some representation. The Sinsheimers simply fill a slot that could be occupied by a team with deeper roots within a community. It is such that this weekend's "Top Spiel" took on a faint air of good vs. evil; much more so than the coming DFB Pokal Final.

The context proved sufficient enough to lend this fixture a "derby feel". The contest could not have been more vital for the respective European ambitions of both sides. Everything stood at stake. "Do or die" time for the Kraichgauer and the Breisgauer. The aesthetics in the stadium may not have been ideal. Over 7,000 empty seats in the PreZero Arena. Moreover, the Hoffenheim fan block (in all seriousness) waved around catchpenny plastic flags of garbage-bag-texture that the club so obviously produced for next-to-nothing and freely distributed.

Oh well. Action on the pitch made up for it. The flags and the label may have been cheap, but the football most certainly wasn't. Seven top quality goals to discuss in this delightfully compelling affair. To their credit, the Sinsheimers furnished us with some fabulous play and some intriguing tactics. We've truly got it all in this week's "focus section", inclusive the final result that German football fans ultimately wanted.

Beginning with the opening hand of the SCF's elder statesman:

Lineup—SC Freiburg—Match 32 (3-4-3)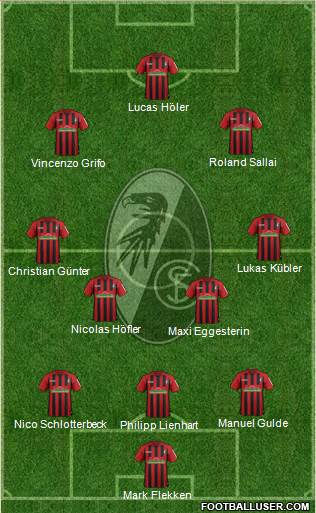 With all the incessant chatter of sporting directors not taking the initiative on the transfer market, it's worth underscoring once again this season that Freiburg made only one major move last summer. At the time, most of us even thought the sale of Baptiste Santamaria and the replacement of the high caliber Frenchman with Werder's Maximilian Eggestein counted as a deliberate cost-cutting downgrade.

Now few even recall the brief tenure of the club's one-time record signing. How refreshing an organization such as this is. That's about all worth emphasizing at the start. Streich's skillful rotation of his attacking talent has already been covered numerous times this season. Perhaps we'll just list some totals from those that have each gotten their turns:

Vincenzo Grifo--32 league appearances (9 goals)

Lucas Höler--32 league appearances (6 goals)

Nils Petersen--20 league appearances (5 goals)

Woo-Yeong Jeong--30 league appearances (5 goals)

Kevin Schade--21 league appearances (4 goals)

Roland Sallai--29 league appearances (4 goals)

That's how a well-constructed team, thoughtfully put together over the course of years, spreads the wealth around. Incidentally, five other players (including alternate striker Ermedin Demirovic) have two league tallies. Freiburg being by far the best team in the league on set-pieces means that new Dortmund central defender Nico Schlotterbeck has five.

Schlotterbeck's regular partner Philipp Lienhart has four. Fullbacks Christian Günter and Lukas Kübler have two apiece. As Höler put it so eloquently in his euphoric post-match interview, everyone looks out for each other in this organization. The player with the honor of earning this week's cover photo even credited the masseurs.

Hoffenheim's depth

Despite the fact that we German football enthusiasts rag on the Sinsheimers, the competence of TSG sporting director Alexander Rosen cannot be denied. The Kraichgauer are actually put together in the same mold as their southern BaWü counterparts. Naturally, it helps when one has the type of financial backing that Rosen enjoys.

Even dealing with a long list of defensive absentees, trainer Sebastian Hoeneß was still able to put forth a highly talented lineup. All the ideas were correct in the constellation serving as Hoeneß' opening hand.

Lineup—TSG Hoffenheim—Match 32 (4-1-2-3)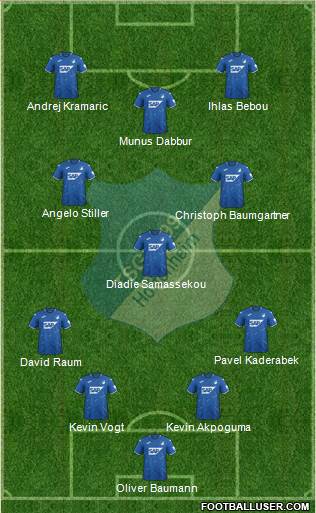 There's a surfeit of talent all up and through this XI. Juxtaposing it against Freiburg's 3-4-3, one actually expected it to outperform Streich's shape. Moving to a back-four almost doesn't matter when one has a player like David Raum working a little further back in a fullback role. Diadie Samassekou can rack up ball wins irrespective of where in the midfield he's stationed. Christoph Baumgartner often does better from a pocketed role.

We've extolled the virtues of using Munus Dabbur as a false-nine with Ihlas Bebou up forward left before this season. Georginio Rutter over Andrej Kramaric might have been the better move, but Hoeneß (logically enough) wanted to give the Croat the captain's armband on this particular day. Can't truly fault the TSG trainer for a tactic that worked.

Lest anyone think that some bias against the non-historic club precludes the column from respecting this team, let it be known that the manner in which tallies are distributed amongst the Hoffenheim roster is, in fact, more impressive than Freiburg. Bebou and Rutter each have seven league tallies. Baumgartner has six. Dabbur, Kramaric, Jacob Bruun Larsen, and Sebastian Rudy all have three or more.

This remains a very good team. The lone reason why it doesn't serve our purposes to list players, appearances, and goals for the TSG in same manner we did for Freiburg above involves the reality that we'll never get to this terrific 90 minutes if we keep discussing rosters. Time to roll. What a beauty!

Match Flow: 1st to 23rd minute

Difficult to fathom that the first goal didn't come until a large swath of time elapsed. Still lots of hard work from the two determined sides in our opening phase. Schlotterbeck and Lienhart demonstrated themselves to be on the level in the 1st with superb clearances of Kramaric charges up the left. At the other end, Raum shut down Sallai in the 2nd. Schlotterbeck quickly strode forward to try and unleash Sallai again. Freiburg's Hungarian attacker started too soon and was ruled offside.

Raum sprinted up his flank in the 3rd, already trying to hit Bebou with a cross. Lienhart had it deftly covered. Schlotterbeck and Kramaric attempted to lead respective penetrative runs in the 4th. Both ended up turning the ball over under pressure. A very nice leftward one-two involving Höler and Grifo in the 5th nearly reached Sallai with the final cross in. The Hungarian headed wide. Freiburg found no way through after a full bow-arc in the 6th.

Baumgartner and Kramaric took advantage of a turnover in the 7th to march the TSG left. A shuffle over for Bebou wasn't bad. Höfler nevertheless made it back in time to clear. Raum pounced on Höfler's clearance and sent in an artistic cross before the minute was out. Unfortunately, no one in blue was quick enough to meet it. Günter cleaned up this time.

Eggestein, Höfler , and Kübler cycled out right in the 8th. TSG keeper Baumann came rushing out to meet the final ball for Sallai. Nothing much doing in the 9th apart from a pair of Freiburg throw-ins. Kevin Akpoguma eventually got the ball away. Raum tackled a full switch intended for Kübler away in the 10th. Baumann seized on the loose ball and unleashed Bebou with a quick-release long launch. Schlotterbeck recovered to win the foot race.

After a couple of foul stoppages in the 11th, Grifo tried to lead the next SCF approach up the left in the 12th. Freiburg's German-Italian attacker initially lost the ball, then made a hash of the sequence when possession was gifted back to him. A pass for the overlapping Günter proved far too long. More throw-ins during the 13th until Manuel Gulde, Kübler, and Eggestein tried to cycle out rightward at the end of the minute.

The players couldn't get the passes to connect. Schlotterbeck and Günter tried again on the left in the 14th. The latter was dispossessed after having some problems with his touch on the increasingly slick turf. A very nicely worked TSG centralized build in the 15th eventually unleashed Raum in some space. Kübler kept up his track well and was able to meet the German national team fullback superbly.

Stiller and Dabbur put in some work on the next Kraichgauer build in the 16th. Höfler couldn't clear properly. Dabbur saw an effort blocked. Baumgartner collected and combined with the advancing Samassekou to ultimately Kaderabek on the trail. Hoffenheim's Czech right-back struck a cross into the box for Kramaric. SCF keeper Mark Flekken didn't have much trouble with the tame headed finish.

Some sloppy passing hindered the next Freiburg build, but Sallai was able to put Schlotterbeck through after all near the end of the 17th. Sallai ran up to receive the return ball. The Hungarian nevertheless couldn't quite get a handle on it in the rainy conditions. The extra split second proved all that Raum needed to intervene. Baumann easily parried away the ensuing corner.

The rain really began pouring down in Sinsheim now. Actors of neither side couldn't string passes together in the 18th. A TSG throw-in took almost the entire 19th minute to complete while Raum repeatedly sought to take the moisture off the ball with his tricot. Following some more sloppy play, Raum got the ball to Baumgartner via Kramaric in the 20th. The Austrian couldn't put any power behind his shot and was blocked.

Streich's men needed to calm things down and establish some sort of rhythm. Two full lateral bow-arcs across the back-four in the 21st aimed to at least break the pattern of broken passes. After slipping on the wet surface, Dabbur needed a treatment break that spanned through the 22nd. Just when one thought that the conditions were about to kill off the game, the Breisgauer guests scored the opening goal.

Höler initially couldn't control the ball in the left-hand corner of the box. Fortunately for his team, Kaderabek couldn't clear properly either. Höler got another chance with Sallai breaking forward right. With infinite calm, Freiburg's selected lead striker on the day furthered for the perfectly onside Hungarian. The finish was equally characterized by aplomb.

1-0 to the guests.

Just the early spark this match needed.

Match Flow: 23rd to 32nd minute

After keeper Baumann furiously berated his teammates for the costly turnover, the hosts set about mounting a response. Even if this didn't lead to a response on the scoresheet immediately, it remained quite impressive. Two TSG leftward approaches were repelled in the 24th. Günter and Schlotterbeck then kept it tight on Bebou's side in the 25th and 26th. There was an impressive headed clearance from Schlotterbeck on the latter charge.

Kramaric attempted to whip it back in, but was blocked. A remarkable cycle out under pressure by Kübler, Höfler, and Höler eventually sprung Grifo up the SCF left in the 27th. Samassekou, badly beaten, straddled the Grifo down and the SCF were given a free-kick. Günter supplied an adequate 28th minute service. Baumann took no chances, meeting the ball with the full "double-fist technique".

The two squads traded long balls in the 29th. Grifo danced into the box late in the minute, taking just a bit too long on the ball. Akpoguma caught up to clear for a corner. A series of three Freiburg corners ate up the 30th and most of the 31st. The TSG would soon be rewarded for surviving the flood of corners with the equalizer.

Griof once again wriggled free into the lefthand side of the area deep in the 31st. This time he got a pretty decent cutback in. The ball pinned around in the box a bit while the Hoffenheim ranks briefly looked a total mess. Baumann finally collected. A quick counter roll got the ball to Samassekou. The Malian played in Raum with a strong diagonal. Finally, the man with the golden left boot got one of his trademark crosses in.

One felt slightly embarrassed for Streich's men. One cannot allow Raum that much space to operate in. Kübler and Gulde totally missed him. Gulde--whom we would later find out had to be subbed off injured at the half--might have hurt himself on that very play. In any event, Raum's 12th assist of the season was a piece of stunning beauty. Kramaric easily dusted off the masterpiece for the 1-1.

Match Flow: 32nd minute to half-time

The visiting Breisgauer had visible difficulty shaking off this stroke of genius, finishing the half off rather poorly. Streich looked contemplative as ever on the sidelines. One could almost read the SCF gaffer's mind. His side's grip on the ball circulation battle was loosening. A response prior to the restart needed to be forthcoming. For the time being, however, Streich would let it play out. This nearly backfired.

Following some straight head-tennis in the 33rd, Kramaric, Raum, and Stiller were combining with confidence up the TSG left in the 34th. Stiller came close to fooling everyone with his cutting run. Hoeneß' former FCB II general was just a tad too excited and was caught offside. Flekken's endeavor to spark a counter went straight to his opposite member. The Sinsheimers built cooly out of the back in the 35th.

Kramaric, Raum, Dabbur, and Stiller ran circles around their markers through the 36th. Samassekou took the ball on the cutback, opted not to shoot, and recycled possession over to the right. Schlotterbeck stepped in, yet couldn't find anyone on his stretched team to feed the ball to. Kaderabek got the ball back on the right in the 37th. He hit Baumgartner, who in turn switched over back to Raum.

Bebou and Kramaric saw attempted shots blocked near the end of this nifty little possession spell. Kübler scurried out of bounds in the 38th. Dabbur benefited from a positional error from the completely off Gulde on the subsequent throw-in. Unchallenged and unpressed, he crossed over to the wide open Baumgartner. The Austrian's 39th effort had some pep to it. Baumgartner's shot didn't the top right corner by much.

At the other end, Freiburg displayed some coordination problems. Sallai's pass to Kübler on the overlap in the 40th was well past his fullback. The Breisgauer still got a free-kick out of it, yet wasted a very nice design. Grifo's 41st minute service went straight for Lienhart onto Gulde. The SCF center halve couldn't locate the right touch. Akpoguma cleared away for a corner.

Grifo's service on the 42nd minute set-piece proved far too high. Schlotterbeck managed to meet it for a skewed header out of bounds. Some risky plays from Flekken in the 43rd nearly led to another TSG goal. Bebou was totally at the edge area after Dabbur got a toe in, stopped only by an amazing crunching slide tackle from Schlotterbeck. Sensational stuff. That's what Dortmund paid a handsome €20 million or more for!

A Höler deep forward for Kübler in the 44th seemed promising. Kramaric proved equal to the SCF fullback's eventual cross and even did a super slick job of dribbling his way out of danger. Not to be outdone, Schlotterbeck stepped forward to punch his side through again on a quick 45th minute counter. Samassekou had to stop illegally. Match official Marco Fritz opted to caution the Malian for his second suspect challenge of the evening.

Grifo had the privilege of taking the free-kick at 45+1. The "Pforzheim Italian" furnished a nice little cutter over the TSG wall that didn't quite dip in time to meet the crossbar. Baumann probably would have had it covered anyway. Fritz blew the whistle and we headed into the break deadlocked at 1-1. Halftime xG stats remained negligible, but still told a story.

xG Hoffenheim--0.9, xG Freiburg--0.3

The guests were being outplayed.

Something had to change.

Match Flow: 46th to 50th minute

Confirmation that "Super Sub" Nils Petersen would be coming on for defender Gulde brought with it eager anticipation of the football to come. It was plainly obvious enough that Streich wanted to switch to a 4-4-2; an audacious re-format in pursuit of the win. One didn't even have to wait for validation of the new shape on the tactical cam.

As it happened, the crazy start to the second 45 prevented one from seeing much of anything on the overhead feed. Not much going on the 46th other than throw-ins. Kevin Vogt took a 47th minute free-kick straight back to the rear ranks. The cagey, uneventful beginnings of second half couldn't have been more misleading.

Lineup—SC Freiburg—46th minute (4-4-2)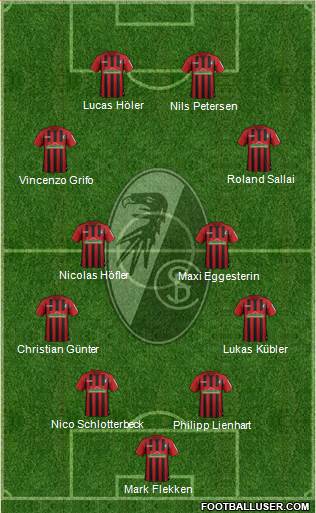 One actually didn't see this truly crystallize until after the two goals. A bunch of wild and disorganized "street-fight" football preceded any return to order. Dabbur went for the improvised punch-through in 48th. Kübler handled the Israeli's run before turning the ball right back over to Baumgartner. A attempted link-up from the Austrian to Kaderabek was well behind its target.

Dabbur went wide right again in the 49th. For whatever reason, Raum was over there with him. There appeared to be no fixed positions for the TSG. Raum picked out Kramaric over on the left. After a nice take-down and some controlled touches, the Croat cut into the box. Kramaric set-up Stiller in the box with an expert feint.

The replay remains worth watching. Kramaric played Freiburg's anticipation of a cross, but instead hit a no-look vertical into Stiller. Hoeneß' FCB II product finished in two deft touches. Hopefully, this splendid move from Kramaric doesn't get lost in the equally superb no-look pass from Grifo seconds later. Freiburg equalized before one could fully process what just happened.

Back up the field on the right during the very next sequence, Höler sent the ball into the box with a monster aerial win. Stiller countered with his own aerial win, that unfortunately only cleared the ball as far as Grifo. The play might have led nowhere, were it not for Grifo's exceedingly clever touch through for SCF skipper Günter.

Grifo never really laid eyes on the ball. Günter sunk a left footer from about 18 meters out into the right corner. Very difficult to tell if the ball took a slight deflection. In any case, this match took an insane turn. Emerging 1-1 from the dressing rooms, we were 2-2 before five minutes had been played. As we were.

Match Flow: 50th to 66th minute

A highly telling phase here. Full-throttle, open play football bestowed chances upon both sides. Freiburg missed a big chance. Hoffenheim often acted in too complicated a manner just outside the area. A lot of luck involved during this interval as it became hard to make sense out of this slugfest. The teams jointly agreed to slow up the pace between the 50th and 52nd.

Two TSG slow builds ended in long balls, that in turn yielded offside calls. Dabbur found himself limping and needed another brief treatment break. Günter, Grifo, and Höler tried the next careful approach on the SCF left in the 53rd. The players noticeably moved into their intended positions. The Breisgauer retreated, utlimately just firing a launch directly into Baumann's arms in the 54th.

Vogt, Akpoguma, and Kaderabek went up the TSG right in the same minute, eventually forced into their own retreat. A bow-arc recycle got the ball over to Raum on the left. One of Raum's less memorable crosses in the 55th proved easy prey for Günter, who won the aerial duel easily against Kaderabek. Baumgartner and Eggestein failed to get respective cycle-outs going in the same minute.

Samassekou tried to thread through a diagonal in the 56th. Kübler kept watch over intended target Raum to ensure that the sequence remained harmless. A Schlotterbeck carry out in the 57th went nowhere after Bebou stepped forward to strip. Hoffenheim's Togolese attacker did a good job breaking into the box after a nice one-two with Stiller. Lienhart blocked Bebou's shot out for a corner.

While the initial 58th minute service was cleared, the TSG second ranks got the ball back into the Israeli. Dabbur's attempted further for Bebou was nevertheless too heavy. Kramaric needed a bit of attention in the 59th after Höfler stomped on his foot. Mostly midfield turnovers in the 60th. After some quality spread possession, the Sinsheimers mounted a 61st minute charge. An entirely too cutesy ball for Kaderabek went out into touch.

The gaping opportunity for Freiburg came in the 62nd. Höler and Höfler directed a ball back to Günter after a Kübler diagonal wasn't cleared. The SCF skipper then sent in a gorgeous cross for the streaking Sallai. Höler was more or less serviced perfectly by Sallai's first-time tap over. Höler sadly took his eye off the ball, perhaps distracted by his tight-hugging marker Samaessekou. He ended up missing an open net.

A quick TSG counter saw Bebou and Kramaric get shots off. Flekken grabbed the Croat's effort after the go from the Togolese attacker was deflected. The next Hoffenheim charge in the 63rd concluded with an innocuous Raum cross calmly dealt with by Lienhart. Another chance for the hosts was wasted one minute later. A Höler turnover gifted the TSG a chance to break.

Kramaric and Dabbur had no ideas, however, beyond short and slow dribbles in tight spaces in and around the box in the 64th. Kaderabek sent in a hopeless thread at the end of the sequence. A vertical for Raum after a Vogt carry-out in the 65th didn't work as Kübler stood tall. Hoeneß broke the momentum of his own play to get a pair of subs on. The TSG trainer simply couldn't wait any longer for a break to introduce fresh legs.

Match Flow: 66th to 72nd minute

Replacing Baumgartner and Dabbur with Rudy and Rutter merely counted as a pair of like-for-likes. The pace of the game didn't really allow for a shape re-format, though one could surmise that Hoeneß had one in mind a little further down the line. For the time being, we had to wait. The two teams threw themselves intensely into the midfield duels during a hectic 66th.

Freiburg finally broke the lines in the 67th via an Eggestein vertical that Vogt sent straight back to Höler. No redemption for Höler yet as the SCF striker's effort was blocked. Grifo's follow-up proved too near to Baumann. Kramaric and Bebou got the ball back in at the other end in the 68th. A failed Schlotterbeck clearance set up Rudy for a first time finish. Flekken remained focused to parry.

A strange sequence of events near the end of the 68th saw referee Fritz declined to whistle Vogt down for a flagrant body-check foul on the SCF right. Fritz did whistle Sallai down for his retaliatory foul. A play-back to Baumann on the ensuing free-kick then went right back to Sallai when the Hoffenheim keeper shanked the clearance.

Samassekou fouled Sallai outside the area in the 69th on what almost certainly should have been the Malians second yellow card of the game. Fritz chose against sending him off. Before one could get a chance to curse the poor officiating, however, Freiburg scored the go-ahead goal off the subsequent free-kick.

Fitting stuff that a game without a clear narrative took such a random turn. Günter's service was immaculate. Höler redeemed his earlier miss by delicately redirecting the ball in at the far left post. Breisgauer set-piece brilliance looked set to carry the day again. One still had the sense that there was much more in this match, especially considering that both coaches had more subs on the sidelines that they wanted to get on.

Jeong and Demirovic checked in for Sallai and Höler in the 71st. Right behind them, Robert Skov relieved the "living dangerously" Samassekou on the TSG side in the 72nd. Hoeneß had an intelligent re-format in mind. One genuinely wonders how it might have worked had more craziness not come bursting through.

Match Flow: 72nd minute to 84th minute

Before antyone could get set, a telegraphed long ball from Schlotterbeck in Jeong's direction took a fortuitous deflection of Kevin Vogt. Freiburg's just subbed-on South Korean attacker still deserves credit for staying with the ball and skirting past the somewhat dazed Vogt toward goal. Jeong kept his nerve in front of Baumann.

4-2. Seriously.

Matters obstinately refused to settle down. Rutter pressed forward with a strong aerial win in the 74th. The Frenchman immediately went across for Skov, who in turn cut back for Rudy. Hoffenheim's longest serving player saw a solid effort blocked. A quick-fire counter back the other way fizzled out for Freiburg when Grifo again regrettably held onto the ball too long in the 75th.

A calmer build from the TSG finally gave us a better look at the shape.

Lineup—TSG Hoffenheim—76th minute (4-1-4-1)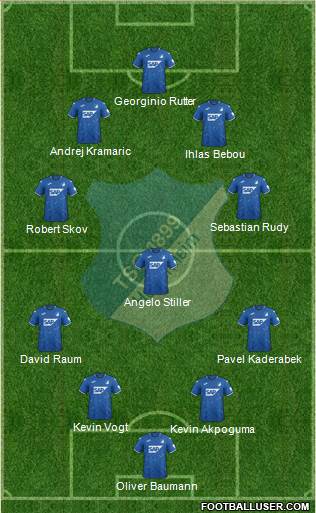 Nice and straightforward from Hoeneß. It yielded instant dividends. Rutter was released in the penalty area already in the 77th. Sweeping past Lienhart with a nifty step-over, the Frenchman tested Flekken at the near left post. The Freiburg keeper preserved the scoreline with a stellar save. Flekken also did well to collect the consequent 78th minute corner.

Before the minute was out, Skov was hassling Freiburg on the left again. The Dane passed up Schlotterbeck deftly, forcing Lienhart to come to the rescue. Jeong and Demirovic put together some nice interplay in the 79th, with the former just missing Petersen on a dangerous pass. Rutter led the counter back the other way before we could get to the 80th. A Raum cross off the overlap was nevertheless deflected out for a corner.

Schlotterbeck cleared the quickly taken set-piece only as far as Stiller. Rudy got another chance, which he sent over the bar in the 80th. Jeong hounded Vogt once again in the 81st, ultimately setting up Demirovic for another effort. The German Bosnian wasn't near the target this time. An impressive attack build from the TSG in the 82nd. It ended with Kaderabek crossing just over Rutter's head.

We got a play stoppage in the 83rd after Raum elbowed Jeong in the back. The frustration-fueled hit sent the South Korean sprawling amid the advertising boards. Grifo took his time setting up the 83rd minute free-kick. Another nice design involving Schlotterbeck and Lienhart. The Sinsheimers nevertheless absorbed it well and unleashed a devastating counter.

Stiller put Rutter through. The Frenchman knew just who to look for. Raum took the shuffle out on the overlap and sent in a delectable cross for Rudy. The former German international's shot was far too strong for Flekken. The SCF keeper got knocked backwards by it. The ball crossed the line. Rutter sent the rebound, but the goal belonged to Rudy.

4-3 to Freiburg.

Would this gem of a fixture have another twist in store for us?

Match Flow: 84th minute to full-time

Very nearly. Freiburg refused to hide. Unbelievable. Kübler, Jeong, and Eggestein were cycling up the right with plenty of tempo in the 85th. No deliberate attempt to kill the game off here. A TSG counterpunch in the 86th saw Rudy narrowly miss Rutter with a cross in the 86th. Freiburg were still unable to clear and the Sinsheimers were awarded a free kick just outside the area in the 87th.

Rudy glanced Raum's service out of bounds. Rutter and Skov combined on the left in the 88th. Lienhart ultimately cleared the Dane's cross with a diving defensive header. More subs poured on from both sides, but the flow of the match still carried on. Raum saw another cross blocked in the 89th. Only in the 90th did Streich's men slow their counter roll. Jeong sent Petersen over to the left corner flag to kill some time.

The shield and throw-in didn't buy them too many seconds. Vogt carried out and hit Rutter with a vertical at 90+1. Raum tried to cross in again. He narrowly missed Bebou and Jeong had to scramble away with a volley clearance into the TSG second ranks. The Sinsheimers painted the corner of the box again until Jeong stepped forward to stop on the right.

Hesitant to counter, Freiburg turned the ball over again. Bebou hit Raum with a long switch. The freshly subbed-on Jonathan Schmid tackled away for a corner. Stiller flicked on the 90+3 service to (of all actors) the long-ago given-up-on Kasim Adams. Flekken parried Adams' header with an acrobatic sprawl save. Were it not for the SCF keeper's amazing goaltending, Adams would have been the most unlikely hero.

Rutter blasted the rebound over a wide-open net.

At long last, we were done.

Full-time xG anyone?

xG Hoffenheim--1.9, xG Freiburg--1.3

What...a...game.

Two evenly matched sides dueled it out without so much as a single lull. Easily a candidate for the best and most complete match of the entire 2021/22 campaign. Just a good, old-fashioned tit-for-tat night at the park. So much luck and chance in a result that honestly could have swung the other way. Freiburg (to the delight of the unattached Bundesliga lovers) prevailed on this day.

Strange to even be typing these words, but the next encounter can't get here soon enough. The two clubs are built on near identical principles. Current rosters suggest that they might hang close to one another in the years to come. Overall, does this "Badische Blockbuster" mean that we have a new "Badische Derby" on our hands?

Not exactly. Not yet. Hoffenheim needs to fill those seats first. Additionally, the cheaply produced plastic flags need an upgrade. Yeah, those are a "no-go". When supporters of this club start spending the week planning their choreo and fabricating their own flags we can talk. Maybe this can be accomplished in 3-5 years.

The next few seasons do give this little rivalry a fantastic chance to burgeon a bit. If there's always something at stake on the pitch, one can hope for gradually more at stake in the bleachers. Once upon a time, it happened in Wolfsburg. It's happening in Leipzig. Sleepy little Sinsheim has a ways to go. The message to supporters of the TSG is to take Freiburg's European qualification personally.

Go ahead. Let it hurt.

Thanks so much for reading!

You can occasionally catch Peter on twitter, @ViceytheSS.

Twitter DMs are open for football conversations, corrections, and (if you truly insist) general abuse. 

All columns debut on Bulinews before appearing on Peter's website later in the week.



Related stories