Flick backs Werner despite criticism, Matthäus addresses Terodde talk
By Peter Vice @ViceytheSS
Former RB Leipzig goal-machine Timo Werner still hasn't hit his stride since departing the Bundesrepublik for the Isle some 18 months ago.

After another disappointing outing on Friday night, Hansi Flick had his criticisms. It still looks as if the the 25-year-old Stuttgart native has the Bundestrainer's backing.

This may be because, as German national team legend Lothar Matthäus recently put, there aren't many other options.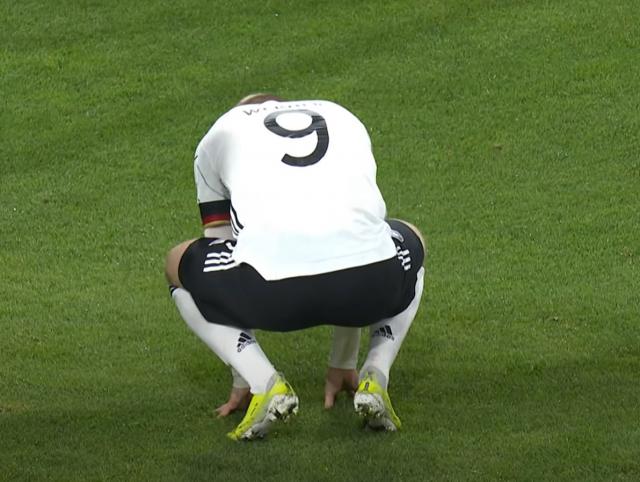 Scenes of a fan holding up a placard in Hamburg on Friday night quickly went viral. Unlike predecessor Joachim Löw--who placed either Serge Gnabry or Kai Havertz in the no. 9 role for the Nationalmannschaft, Hansi Flick has made it clear that Chelsea's Timo Werner is his lead striker. This despite Werner's form dip in the Premiership.


After a 2019/20 campaign in which Werner notched 28 league tallies for RB Leipzig, the Stuttgart native only found the back of the net seven times in league play for Chelsea FC in 2020/21. Though cup and UCL form was slightly better, Löw didn't see enough to put Werner back in his top XI. Flick has and has been rewarded with three goals in four starts.

Following an excellent performance against Armenia in his Württemberg hometown, however, Werner once again seemed to have positioning problems in the next fixture against Iceland. Flick nevertheless stuck with him, leaving him on the pitch until he finally added a late 89th minute tally.

In the much tighter comeback win over Romania on Friday night, Flick couldn't chance it. He pulled Werner out already in the 67th minute. The Stamford bridge man couldn't be relied upon to help the team secure their much needed-goal.

The debate as to whether the German national team has the right lead striker flared up once again. Right on cue, cameras focused back in on the fan in the stands with his viral sign. Should Flick be looking towards the all-time leading goalscorer in the 2. Bundesliga for his attacking needs?


Die wirklich wichtigen Fragen! #GERROM pic.twitter.com/5HelEHfFM2

— FUMS (@fums_magazin) October 8, 2021



"It looked like he [Werner] didn't always have the proper positioning," Flick acknowledged after the match, "One had the feeling that he was keeping a bit too level with whoever had the ball on the outside, whether it was Serge or Gnabry. If a ball came out of the back, he didn't have a chance."

"He acted a bit too close to the goal instead of starting in," Flick continued, "He can do better and we will also expect that from him. There we have to train on the runs again. Primarily, it's a matter of positioning inside the 18."

There's been quite a bit of chatter about Germany's striker situation over the weekend. Speaking with Germany's main sporting tabloid, German football legend Lothar Matthäus even spoke directly about the fans sign.

"In Hamburg, I saw a sign a poster at the Romania game on which a fan called for Simon Terrode," Matthäus told Sport Bild, "The idea should be given a chance. When he's fed, [Terrode] simply finishes. Terodde is simply a serious option for me. You need a player like him."

"Other than Nils Petersen and Davie Selke, we don't have any good German center-forwards in the first division," Matthäus also noted, "In Jonas Hector [FC Köln], we've already had a player in the 2. Liga who also played for the national team."

Matthäus took care to emphasize that he did not advocate dropping Werner yet.

"In terms of work ethic, he [Werner] is back to his old self under Flick," Matthäus noted, "In my opinion, he didn't play all that much worse than the others. Werner just doesn't have the luck at the moment."

Flick also ended his own post-match interview with an endorsement of Werner.

"What is a classic center forward?" Flick rhetorically asked a reporter curious as to his views on Werner as a true no. 9, "Timo is quite capable of opening up spaces even when it's tight. He also has a good nose for rebounds.

He'll get the deployments he needs from us," the Bundestrainer concluded, "He'll also get backing, which is very important for a striker."



Related stories