Bundesliga Tactics Talk: Round 30
By Peter Weis @PeterVicey
Some week for European football this has been! Amid it all, a rare set of midweek Bundesliga fixtures took place after hours of pan-continental insanity that left many questioning if the sport would be worth following it all.

Naturally, we will eulogize the ill-fated European Super League this week in an expanded commentary section. Given that the internet itself seemed on the brink of collapse under the weight of all the opinions out there, our section seeks to ask what we can do to prevent the inevitable next version of this brazen attempt to take the game from its fans.

There's that along with our full breakdown of all the Bundesliga fixtures taking place during this "Englischer Woche."

Matters get going again fairly quickly again on Friday so don't miss out on the chance to catch up!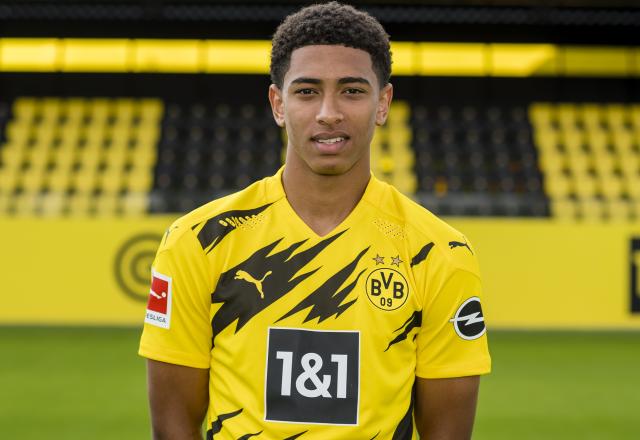 | | |
| --- | --- |
| Jude Bellingham. | Photo: Borussia Dortmund |
League-wide Talking Points: Round 30
Villains and Heroes of the FCB

Villain. Hero. Villain. Hero, That about sums up Karl-Heinz Rummenigge's week. During Saturday's 3-2 win over Wolfsburg, cameras caught the Bayern CEO in the stands sporting an industrial strength face-mask that made the 65-year-old exec look like something of a cross between Darth Vader and Hannibal Lecter. After it was revealed that this had been the match before which Flick told his employers where to they could stick it, the German national spent Sunday reflecting what an overbearing and arrogant boss Rummenigge had become. Then, of course, came the European Super League.


Rummeigge went from being liken to Darth Vader to serving as Europe's Luke Skywalker in a span of 24 hours. Won't you please help us, Karl-Heinz? Help us! Save us! We need you back on the most important executive committees pronto! Whew. Non-Germans may not be accustomed to this. The footballing audience in the Bundesrepublik is well-practiced in hating everything Bayern stands for on a league weekend, then considering them representatives of the better angels of our nature in the Champions' League midweek. The complete cognitive flip might have proved too much for others.

With the hated ESL project quickly reduced to rust and dust, one supposes it's time to get back praising Hansi Flick for standing up to Rummenigge's pseudo-bullying. The 56-year-old, respected by virtually all of his players, shall leave the best job in German football; the one that most anyone would kill for. How nice. What a nice fellow Hansi is! What a tyrannical set of oppressors the FCB bosses are! Hmmm. Candidly, one of the best moments of this midweek round was watching Flick and Hasan Salihamidzic cordially celebrate together on the sidelines during the 2-0 win over Leverkusen. Let there be handshakes and hugs.

Perhaps a third cognitive flip proved too much even for Germans during this genuinely exhausting week. One can question the transfer decisions of "Brazzo" (Salihamidzic), but he's certainly not a character worthy of disdain. Moreover, when Oliver Kahn assumes the CEO position at the end of the season, Bayern will be headed in a new direction under another likable type. As for Rummenigge, there simply can't be any Bayern hating during a week in which the club unequivocally took a stand contrary to its financial interests. Handshakes and hugs all around.

Gladbach's "electronic malfunction"

It all shaped up to be an typical Gladbach win on Wednesday in Sinsheim. By that one means, after a horrible first-half of football, Marco Rose's foals somehow found themselves up 2-0 courtesy of the fact that the 4-2-3-1 in spite of the fact that there opponents worked much harder on getting the ball forward. The BMG looked really disjointed with Jonas Hofmann serving on the right wing opposite Valentino Lazaro. Of course, that sometimes proves immaterial as Marcus Thuram and Alassane Plea merely require that one chance to score, break through, or both.

Lazaro earned a tally, assisted by Thuram, at the stroke of halftime. Pavel Kaderabek must have decided he had seen quite enough. Andrej Kramaric pulled one back after a failed clearance by Thuram in the 48th. TSG's Czech right fullback then blasted in two crosses from the right inside of four minutes to set up Kramaric again and Ihlas Behbou for Hoffenheim's second and third goals. Lazaro got toasted on both plays.

Watching this felt eerily similar to watching a 1990s Apple Operating System crash multiple times. Poor Rose employed a triple substitution in an effort to get it restarted, but then lost Christoph Kramer to injury just after he looked to have it rebooted. One felt as if the little bomb icon was about to pop up at any time. Those candy-colored iMacs were certainly pretty. So are the foals at times. Unfortunately, Gladbach will have to wait and see if Adi Hütter can revamp the hardware Steve Jobs style.

Stuttgart's dip

Speaking of a team and once heralded trainer in free-fall, Rose's vague lookalike Pellegrino Matarazzo and VfB Stuttgart have lost three straight matches. In another flailing attempt to compensate for the devastating injury losses of Silas Wamangituka and Borna Sosa, the American trainer moved Tanguy Coulibaly over to the left and gave Roberto Massimo a go on the right flank. Naouirou Ahamada received another chance in midfield. Coordination problems were legion.


Wednesday's encounter essentially ended after Philipp Förster missed a penalty and Wout Weghorst doubled the VfL advantage three minutes later just before the half-hour mark. The Swabians played a little better once Daniel Didavi and captain Gonzalo Castro came on the stabilize the second axis in the final twenty minutes. The Württembergers can't seem to get to that symbolic 40-point-mark that traditionally symbolizes Bundesliga safety. Naturally, they won't be relegated. One projected victory over the next four matches will still counts as a sad end to the campaign.

The "Spiegel Special": Round 30
Köln-RB Leipzig (0:0, 2:1)

Just the one this week. What is it then about die Geißböcke that makes Leipzig so prone to catastrophically-timed underachieving against them? Well, just as in the case of the reverse fixture, lady luck didn't shine favorably on the German Red Bulls here. To that one might add Julian Nagelsmann's tactics. The 33-year-old did his level best to tactically sabotage his side with a horribly disfigured 5-2-1-2. Tyler Adams worked the base of a midfield diamond from a semi-sweeper position. Emil Forsberg, presumably the false-nine, spent most of his time just ahead of the halfway line. Alexander Sørloth and Christopher Nuknku displayed no coordinated separation on the top axis.

This constellation enabled Köln to stay in the game after 45 minutes of highly disorganized football. An upset remains within an opponent's reach the longer one fails to slam the door shut. Head-coach Friedhelm Funkel's initial set-up weren't much to shout about either. Captain Jonas Hector stood stationed alongside Ellyes Skhiri in another 4-2-3-1. Hector couldn't affect the play buried that far deep. Elvis Rexhbecaj rarely saw the ball from the ten-spot. Dominik Drexler proved a downgrade on the left flank. Ondrej Duda again didn't work in the lead striker role.

While "grandpa" Funkel doesn't always know when to cut a sentence off, one does have to hand it to German football's equivalent of Sam Allardyce for his experienced tactical know-how. The 67-year-old read Nagelsmann's attempted shape well and made the right half-time adjustments. Without changing any of the personnel he's barely had a week to observe, he re-positioned his players as follows:

Lineup—FC Köln—46th minute (4-1-4-1)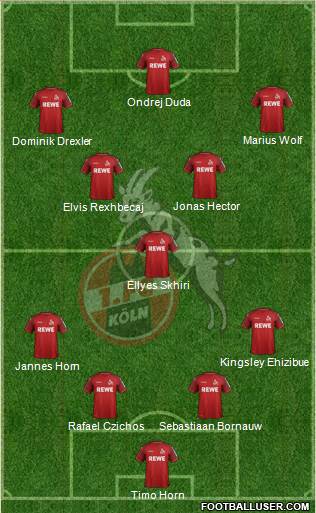 As anyone with had the privilege of watching this can attest, the immediate effect quickened the pulse and lifted the heart. Having watched Hector experience such a rough week, one would have had to be made of stone not to share in his elation. On a tactical level, this certainly counted as a gamble. Skhiri had quite a bit of ground to cover, even by his own standards. Jannes Horn and Kingsley Ehizibue would almost exclusively focus on overlaps, rendering Skhiri's job more difficult still.

One saw how Sørloth and Marcel Halstenberg easily exploited the space behind Skhiri on Amadou Haidara's 59th minute equalizer. This play laid the risks bare. One well telegraphed launch from RB keeper Peter Gulacsi easily unlocked highly skilled players in acres of space. It could have easily been repeated. The Kölner skipper thankfully wrestled the momentum back immediately after Haidara's strike.

Hector and Duda knocked the wind out of Leipzig's sails with an exquisite one-two before Nagelsmann could get Angelino and Dani Olmo on. Without the critically prompt counterpunch, we might be discussing a different result. This win belongs to the man with the armband.

Prognosis: A closer disappointment

This result cannot help but massively shift the calculus when it comes to the cathedral city's survival prospects. Schalke is now destined to, contrary to a recent pessimistic prognostication, occupy one of the guaranteed relegation places. Accordingly, the Domstädter now retain some hope of securing a pair of playoff fixtures against a team from one of the weaker 2. Bundesliga fields we've seen in some years.

Of course, the matchday 34 fixture against Schalke also turns into a "non-gimme" game with this. Already relegated teams tend to overachieve in their final fixture in the division. They're typically looser and able to lose themselves in the moment. Besides that, the numbers aren't on Köln's side. Bielefeld, Hertha, Bremen, and Mainz have either points or games at hand against them. Remaining opponents Augsburg and Freiburg have much better squads.

While reserving (not to mention loving) the right to change his mind, this writer sticks to the relegation pick. Tough break, esteemed Effzeh.

The Burning Questions: Round 30
Are Eintracht still on track for Europe?

Frankfurt-Augsburg was one worth following very closely, not least for a writer of a column on US players in the Bundesrepublik. Much to this chroniclers elation, Timmy Chandler started his first fixture of the season for the SGE. Much to this chronicler's chagrin, neither Chandler nor his team looked very convincing. Instead of making the type of robust statement called for by their departing trainer, die Adler let out more of a passive and exasperated sigh.

Action lumbered along at the Deutsche Bank Park, with virtually nothing going on for three long stretches of twenty-plus minutes. A 3-2-3-2 seemed to try and set up Luka Jovic as the short-striker behind André Silva. Then, with Daichi Kamada drifting right to help out the ineffective Chandler, Jovic involuntarily fell into ten duties. This left him too far behind the play on charges. The attack-builds themselves were choppy and uninspired.

Silva and the returning Hinteregger got on the scoresheet in the 2-0 victory, but neither played an especially smooth match. Both found themselves prone to fits of frustration. The Austrian defender deservedly earned a booking for an atrocious challenge that, frankly, should have seen him thrown out. Alfred Finnbogason blew a penalty in the 73rd while fellow sub Ruben Vargas hit the post twelve minutes later. That's how close this one came to ending 2-2.

Thus, the answer to the question remains "not necessarily". Naturally, all wins count at the end of the day. Furthermore, the SGE's remaining schedule--Leverkusen, Mainz, Schalke, Freiburg--could allow them to coast. There's still the matter of a resurgent Dortmund, however. We'll have much more to say about that below.

Was VAR wrong in Bremen?

In a word, yes. In the event that you missed it, Florian Kohfeldt's Hanseaten had their equalizer disallowed in their home fixture in Mainz. The improper intervention of the Kölner Keller called match official Marco Fritz over to the video monitor to review a foul in the lead up to what would have been a goal credited to Josh Sargent in the 44th minute. The decision centered around a purported kick of Mainz keeper Robin Zentner's hand by Kevin Möhwald on an action not directly related to the play.

Those taking a look will find the foul fairly subjective. Even if one agrees that an infringement took place, the Köln team were incorrect to deem the play reviewable. The error ended up costing Bremen the match, sending them to their sixth consecutive league defeat, and pulling them back into the relegation race long after most everyone assumed that they would be clear of danger. The wrong call. No argument there. FSV trainer Bo Svensson did well to impart sympathy after the match.

That being said, it's nigh on impossible to have much sympathy for Werder following another pitifully putrid performance. Kohfeldt's men generated one measly highlight-worthy chance during the whole squalid stretch. The Hanseaten had 89 other whole minutes to produce something, yet barely breached their attacking half. The goal itself was a ricochet off Sargent from Mainz's Leandro Barreiro. A football match gives one time to erase calls, or at least that's what used to be said.

Weekly Tactical Focus: Dortmund's "English Week"

As German football lovers prepare for yet another round of football, the central question on everyone's minds must be this most intriguing race for the top four. With several key players returning to form just in time, a few surprising upticks from unexpected actors, and everyone behind Erling Haaland finally grasping the art of their contributions, Borussia Dortmund are indeed well poised to make a late push for Europe. The Schwarzgelben presently nip at the heels of VfL Wolfsburg and Eintracht Frankfurt despite a ten-loss-season of total torpor.

Four points separate the Westphalians from Adi Hütter's wobbly ship. Oliver Glasner's Wolves cling to a five-point advantage. In a Saturday 15:30 kickoff absolutely no one should consider missing this coming Saturday, Edin Terzic's BVB square off against the VfL. It's a mammoth chance for the team most of us have fearlessly, not to mention repeatedly written off over the course of this campaign. Some story this would make. If Terzic and crew can manage to pull this off after all, Haaland stays and plenty of new talent will be recruited.

The BVB certainly have a lot going for them. They enter Saturday's fixture on a three-match-winning streak, having looked also competent in both their league games and the the two UCL losses against Manchester City. As we shall see, they're playing creative quick touch football. In this particular fixture--spoiler alert--the team even located Haaland for a spectacular eight attempts on goal. Finishing might not have been tip-top from the Norwegian on this particular day, but one senses that it will certainly be back come the next few crucial fixtures.

The match we prepare to dive into provided the squad with another colossal boost. Jadon Sancho returned. By all accounts, it looked as if the long break did the young English phenom a world of good. He looked, fresh, keen, and quick on the dribble. Lest we get into any more spoilers, it's best to begin talking about the game itself. Suffice to say for now that wagering some safe money on this team making the top for and winning the DFB-Pokal might be something worth pondering.

Lineup—Borussia Dortmund—Match 30 (4-1-4-1)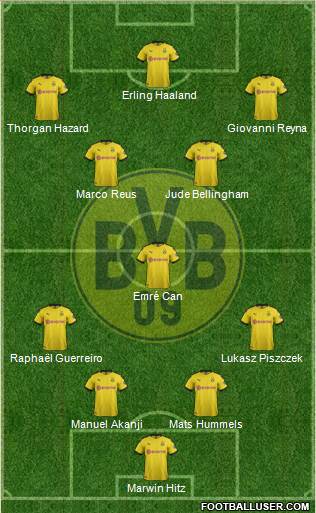 In the last column, a brief mention of Terzic's nice loose 4-1-4-1 found its way into the talking-points-section. It's definitely a pleasure to draw it up and discuss a couple of the finer points. This one flows as pretty as the potential shines off the page.

How the rotation scheme works

We often talk about how winger rotations work as an essential part of modern football. In order to properly envision this one, forget Jude Bellingham for a moment. Perhaps better stated, understand that his role is to cut inside on breaks and drop back to his own solo axis whenever the opponents set up possession; not unlike way back at the very beginning of the season.

Thorgan Hazard, Giovanni Reyna, and captain Marco Reus all maintain license to switch positions at any time. And do they ever! One could be forgiven for having trouble placing them as they pivot as many as eight times per match. This was true both on Sunday and Wednesday. The unpredictability of the attack produced a (no joke) 4.0 xG in this affair. Amazing.

A weak 4-4-2 defensive press

In this particular context, weak doesn't necessary connote "bad". In point of fact it's rather innovative. Haaland drops back relatively far when the opponents back-four slows for a set-up. In most cases, Reyna and Reus kept a five-meter distance from the build-line. Pressure remains sufficient in that Haaland possesses more than enough pace for a good break and Bellingham can always go box-to-box.

A latent issue with this did create some early scares. Emré Can had difficulty establishing supremacy over all of that space. The German national team star never fully recovered from a shaky start and had persistent trouble with catching up with the directional shifts. A few more errors led to a yank. As it turned out, Terzic crafted a solid back-up plan.

Urs Fischer phones it in

Tsk. Tsk. Yeah, this constituted a bit of a letdown. One probably should have seen it coming. The Union trainer appeared less than sanguine about his squad's European prospects after the weekend win against Stuttgart. His words weren't of the most confident caliber. Instead of his usual double stacked 3-5-2, we got this:

Lineup—Union Berlin—Match 30 (4-4-2)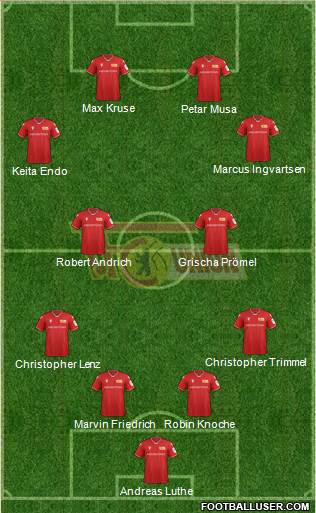 Hrmph. Whenever one sees a 4-4-2 of this nature crystallize, the match plan isn't difficult to devise. In point of fact, it's basically a carbon-copy of the one he used to eke out a draw against Bayern in round 28. One had the feeling that we were in for some boring, compact, and static football upon seeing this. Being proven wholly correct often irks. Fischer almost played straight for a 0-0 draw.

One wonders why Petar Musa received two consecutive starts when, at least according to the rumor mills, the Croat has no purchase option and will be back at Slavia Prague in a few weeks. Even with all the injuries (Taiwo Awoniyi, Leon Dajaku, and Anthony Ujah), this deep bench sports plenty of options. Very surprising not to see Joel Pohjanpalo, Cedric Teuchert, or even Sheraldo Becker not get plugged in during an English week.

Match Flow: 1st to 9th minute

One got slapped awake in this one before one even had a chance to sit down. Roughly twenty seconds in, Can gave the ball away deep in his own third. Marcus Ingvartsen rattled a shot off the crossbar. The 1st minute hadn't even elapsed before Keita Endo was tearing up the Union left flank, ultimately rifling off his own effort. Bellingham deflected out for a corner. One should always be prepared for a lightning start like this. A word of advice concerns the importance of placing one's coffee cup a safe distance away from one's laptop.

Intensity continued unabated. Bellingham and Endo clashed several times in some hotly contested duels. Christopher Lenz punched through on a long rightward diagonal in the 4th. The Union back four showed some real spunk in these opening minutes, advancing through a shellshocked BVB like a hot knife through butter. Can had to hustle hard to recover and tackle away from Endo in the 7th. Bellingham and Endo fought to a draw again in the 8th. Hazard finally got a counter rolling in the 10th. Reus, from only four meters out, couldn't connect properly and scuffed wide with his ankle.

Match Flow: 9th to 24th minute

We arrive at the point in which Dortmund's "weak" 4-4-2 defensive press becomes relevant. Union perhaps surprised themselves with their furious start and opted to calm things down with wide lateral fullback horizontals. Terzic's men calmly allowed them to do this. This had the effect of inducing hesitation in the both Lenz and Christopher Trimmel. Neither looked satisfied with the options they had straight ahead; a common problem when dealing with a formation shift so soon after playing in a different shape.

The FCU fullbacks thus went for verticals and hoped for aerial losses. Their upfield balls got the better of an overcommitted Reyna on a few occasions, but nothing materialized. On the other side, Lukasz Piszczek, sparsely used this season, couldn't quite get the hang of the avant-garde rotations on the axes ahead. Dortmund tried basic cycles without getting anything going during a full five-minute lull. Hazard broke the stalemate with a fine run and blistering effort on target in the 14th. Haaland failed to reach the rebound.

Haaland also found himself a stride too late on a Reus through in the 15th. The Norwegian superstar did much better one minute later, fighting off a flagrant foul and laying off for Reyna after match official Daniel Schlager permitted advantage play. Reyna unleashed his own tracer bullet that Andreas Luthe had to acrobatically parry. The tide was most certainly turning in favor of the BVB. By the quarter-of-an-hour-mark, both sides were even in terms of scoring chances and possession.

Sadly, another lull followed this brief flare-up. There remained some decent defensive work on display. Bellingham did a fantastic job outmuscling Kruse in the 17th. Manuel Akanji found like a true beast on two efforts after an Union corner in the 19th. The two teams traded free kicks in the 20th and 21st. Marvin Friedrich supplied an excellent clearance of a teasing long ball on the latter. Kruse showed he wasn't at his best on the former.

Kruse took far to long to allow the ball to roll to his favored left foot when Endo furnished him a magnificent cutback in the 23rd. This proved a horrible waste as, not two minutes later, Dortmund would take the lead. Frustrated with the fact that he couldn't play anyone in around the outside, Marco Reus took the game into his own hands. Yes, it's that time. Time to talk about a play so controversial that it merits its own section.

Match Flow: 24th to 28th minute

Oh boy. Okay. Here's how it all went down. Perhaps stated more fittingly, here's how Marco Reus went down. The BVB captain latched onto a gorgeous through ball from Hazard and had no one to beat but the keeper. Luthe rushed out and sprawled himself in Reus' cut direction. At full speed, it appeared about as obvious a penalty as it gets. VAR told a different story.

The replay showed that Reus left his feet long before contact was made. In an, arguably intentional, attempt to draw the contact, Reus dragged his trailing leg into Luthe. In slow motion, it looked like simulation saved at the last possible moment by a sneaky trick. Since life doesn't take place in slow motion, the officials in the Kölner Keller let the call stand. There was contact, though it was impossible to tell who initiated it.

We're not quite finished with this passage. Haaland strode to the spot to take the kick. Dortmund's lead striker took a very poor try. Luthe couldn't keep hold of the grounded effort, however, and Haaland again did poorly on the rebound when all he needed to do was slip it underneath the keeper. Charging in to bungle home was none other than Reus. The main talking point of the match gave his team the lead.

Match Flow: 28th minute to half-time

We observed one-way traffic for the duration of the opening 45. Union, with only two changes from Saturday's fixture, conjured up little in response. A well-worked forward drive in the 29th was never heading anywhere as Musa was miles offside. Endo tried his hand at diving himself in the 31st, but Schlager wasn't interested this time. Reus spritely burst back on a counter in the same minute. The play stalled along with Hazard, who couldn't find a through for Haaland.

Bellingham flashed over in the 33rd after Haaland gave an attack some creative direction. The Norseman then blew a perfect opportunity to put the Westphalians up 2-0 in the 35th. Reyna gracefully set him up at point blank range. For some reason, the 20-year-old chose to finish with the outside of his boot when it would have been so much easier to smack in. Whether it was a case of youthful inexperience, trying to get too cutesy, or pure short-sighted fatigue, Haaland descended into the territory of a cursed, mojo-robbed striker.

Reyna (in the 37th) and Hazard (in the 40th) seemed reticent to service him again. They tried plainly genuinely bad blind crosses instead. Meanwhile, the Köpenickers were just genuinely bad. A series of forward tries between the 41st and 44th proved ridiculously leisurely catches for BVB keeper Marwin Hitz. Not much of note occurred before the half-time whistle.

Match Flow: 46th to 59th minute

We proceeded without any personnel changes or discernible tactical shifts. Kruse, Ingvartsen, and Trimmel all had, to put it mildly, very disappointing days at the office. The manner in which the try combined on a series of delicate touches on the first attack of the half was nevertheless spellbinding. Those three resembled world-beaters in the 46th. Within a minute, Kruse was back to his subpar self, lapsing on a shot when he had a great chance to pull the trigger.

Reyna peeled off a fabulous run in the 48th. Robin Knoche had to employ a rough tactical foul to impede his progress. A few minutes passed by while the American lurched on the turf, cruelly taken down by a set of studs straight to the inner ankle. Once play resumed, Bellingham barely missed after Reus played him in splendidly and Reyna chipped a fine ball wide with just a bit too much pop on a pair of chances in the 50th.

The whole tenor of this match suggested it could only be headed in one direction. The Schwarzgelben kept churning out the chances while Union produced sloppy play and exuded dejected body language. Can gave the ball away again, but Ingvartsen couldn't come close to capitalizing in the 51st. Reyna kept up the audacious one-on-ones his coach recently expressed pride in. Akanji and Hummels mopped up tepid FCU attacks without too much difficulty.

Fischer employed the first change. A harmless like-for-like swapping off Keita Endo for Marius Bülter wasn't going to break Dortmund's stride. When Mahmoud and Jadon Sancho checked in for Can and Hazard, one anticipated more like-for-likes. Terzic had a little surprise in store for us.

Match Flow: 59th to 70th minute

The excitement of seeing Jadon Sancho back in live action surely delighted all onlookers. We'll talk about how he brought the goods in a moment. First, in all the elated emotion, you might have missed something.

Lineup—Borussia Dortmund—61st minute (4-5-1)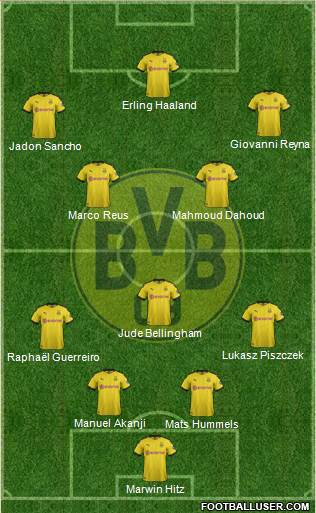 Brilliant. Absolutely brilliant. Not at all what one was expecting! That's why trainers get paid the big bucks. If Terzic keeps this up, he can forget about serving under Marco Rose next season. He'll get his own gig. Using a box-to-box whiz-kid like Bellingham as a centralized semi-sweeper counts as one of those moves that seems obvious enough in hindsight, but (to this writer's knowledge) it hasn't been tried yet. Nice to see it done. Even nicer to see it work.

Union couldn't get around this coverage. Trimmel and Ingvartsen got stonewalled by the young English phenom on a series of halfhearted attempts between the 60th and 63rd. The quality gap became deeply apparent when Haaland, Sancho, and Raphaël Guerreiro did their razzle-dazzle thing on a beautiful counter sequence in the 64th. It ended with the BVB left-back teeing up Reyna for a breathtaking effort that Lenz had to clear off the line.

On a free kick in the 66th, the East Berliners got their last legitimate chance of the match. Kruse sublimely bent a ball around a bloated wall that Hitz set up. Just as one was prepared to excoriate Hitz for ordering his men into such a ludicrous barricade, the BVB keeper finger tipped Kruse's laser off the post. That pretty much killed off the Köpenicker spirit.

No one dared sent a set-piece Hitz's way after that. Trimmel showed his respect by not truly trying in the 68th and 70th. In between those situations, Sancho executed a couple of nutmegs. This one was over.

Match Flow: 70th minute to full-time

Waves of subs poured on. Fischer went for the triple change in the 73rd, but didn't tinker with his 4-4-2. Ostensibly, he simply figured that either Teuchert or Pohjanpalo could make something happen or not. A draw would be just as fine as a loss. Union have already blown the expectations out of the water this season. It wasn't to be.

Sancho kept showing the Eisernen up. He blew past Trimmel with nary a thought in 72nd, 75th, and and 78th. Using the same verb in a different context, Haaland blew another opportunity on the middle chance. A poor Hummels clearance in the 79th mattered not as Akanji easily bailed his partner out. Christian Genter came on for Grischa Prömel in the 80th on Fischer's (for eff's sake) fifth like-for-like.

Unsurprisingly, the Schwarzgelben Show went on without interruption. Friedrich deflected Sancho's first effort wide in the 85th. Bellingham decided to sneak in and set up Haaland directly 86th. Luthe saved still another tame effort. Guerreiro scored the fixture's second goal in the 88th after some very slick work from Dahoud and later sub Julian Brandt. Haaland provided a fitting end to proceedings with a final missed opportunity at 90+2.

That about wraps it up for this week's tactical focus. The latest Dortmund victory featured a shade of controversy, but was still a dominant beatdown with glittering performances from Bellingham, Sancho, Reyna, and Reus. Haaland dealt with his fair share of frustration. That notwithstanding, does anyone honestly expect him to fail to put seven chances away in a different match.

This Saturday's critical confrontation against Wolfsburg literally can't get here soon enough. One doesn't often say that when the football comes thick and fast during a Bundesliga "Englischer Woche". We'll say it now as it'll prove most interesting to see if the two Englishman who shone so radiantly in this one can furnish a repeat performance.

Concluding Thoughts: Sorting through the wreckage

Schalke's historic relegation, at the hands of Bielefeld and Köln no less, belongs with some comments on this week's earth-shattering story. Of course it does. As we all know, there simply isn't enough content on the internet concerning the European Super League debacle. Where were all the opinions? Football lovers tended to ignore this story. They were just too shy, or perhaps too preoccupied with enrapturing fixtures like Schalke-Bielefeld. A surfeit of irresistible football blinded them to the boring machinations of administrative big-wigs silently meddling in their sport.

Some light italicized sardonics aside, Schalke's plight provides a interesting glimpse into the main reason why this 12-club splinter-faction was destined to fail from the start. Fans of the Königsblauen, the same ones so hurt by the relegation that they physically accosted some of the returning players on Tuesday, wouldn't have stood for it. Had footballing executives opted to put this cadre together in April 2018 or even January 2020, Schalke might have been welcomed into the Super League fold. After all, the club finished the 2017/18 Bundesliga in second place. At the conclusion of the 2019/20 Hin-runde, David Wagner's project looked destined for a top four finish.

The S04 remains a massive club. It boasts the second most members in all of Germany, plays in a huge 65,000 seat stadium, and enjoys--to the extent possible under 50+1--as much independent financial backing as any other footballing organizations in the Bundesrepublik. Were the likes of Real Madrid and Juventus Turino making pressure filled "get on board before its too late" phone calls a couple of years ago as opposed to last Friday, the phone would have been ringing off the hook in Gelsenkirchen. If Schalke occupied the same place in the table as Arsenal, Liverpool, or Tottenham do presently, the Ruhrpotters would have gotten offers five days ago.

In this hypothetical world, it's safe to assume that the Schalke ultras would have reacted in the same way as those supporters of the EPL trio did on Monday and Tuesday. Legions would have shown up to the Veltins Arena to protest. The reason? Okay. There are obviously a confluence of reasons. An important one nevertheless relates to the fact that, although European football fans desperately want their club to succeed, they don't want it to cheat either. They want a place in a pan-European competition to be earned, not sold off.

One could argue that clubs already "cheat" in the form of a huge wealth disparity in leagues without built-in parity structures like a draft or a salary-cap. A European counter to that argument begins with "we know that" and succinctly ends with "but no more, please". In-between one might squeeze in how the footballing period remains a uniquely European concoction from 125 years ago that mustn't be touched by American concepts that keep parity in the more nascent sports scene across the ocean. In this writer's opinion, this constituted the most noble aspect of the stance the fans took.

Before European football lovers all begin patting ourselves on the back for the successful actions we took toward the preservation of our sport, however, we definitely need to ask some inwardly tough questions. The fact remains that this will happen again; likely much sooner than we all expect. These twelve clubs hastily retreated, but the trend towards a Super League shall not be so easily defeated.

Next time, a new cohort of super-rich breakaways won't be so patently stupid to brazenly launch a new league in the middle of a pandemic that denied boosters access to the stadia. The implosion here has as much to do with absurd administrative incompetence as it did our congregative protest, online outrage, and generally uniform disdain. We'll prep a bit for the near future with a further set of "burning questions".

What role did the generational divide play?

A big one. Florentino Perez and Andrea Angelli thought they could get away with this in large part because a new generation of supporters like their football as they like their EA Sports FIFA and e-sports. Perez in particular couldn't shut up about the "18-to-24 year olds". The next-gen of club supporters come from all over the world and may never actually visit the ground of their favored club in their entire lifetime. Tradition, in-person volunteerism, and pride in their local community aren't part of their caucus. They don't have the slightest grasp of such concepts.

Fortunately for us, Perez and Angelli's superficial reading of this situation proved completely wrong. Merely because youngsters today love video games, social media, and smart phones doesn't make them so radically different from us entrenched supporters. We constantly run into this tired, zombie fallacy in this day-and-age. Generational gaps seem to be exacerbated by technology when, in reality, the effect is much more minute. The so-called "young and distanced" supporters with the same outrage as the "old and close". Always a pleasure to see this faulty reasoning exposed.

What was the most distasteful idea?

Important one here. The sticking point for many fans, old and young, had to be a US-backed investment bank doing away with the idea of promotion and relegation. Ordinarily, it's this radical shift that stops the idea of the congenitally-discussed Super League before it starts. It went much further this time than in three decades Honestly, one can't really put a finger on why clubs felt they could get away with it at this particular moment. One uncomfortable truth concerns the protests against the "compromise" UCL reform package. If we outright refuse any reform, we're complicit in the fomentation of such attitudes.

Yes, a writer must concede that his own beloved countrymen misread the situation here. Germans quick to protest any form of footballing-related change struck out against the Champions' League reform that only accorded these clubs a slightly enhanced competitive advantage. Perez thought he could ride the storm out based on the argument that "people are resistant to any form of change". In this sense, the Real President was once again shockingly ignorant of how much football fans know about their sport. It's worth noting, however, that we didn't necessarily help by rejecting any form of compromise. No sense giving these clubs swords to turn inward on us.

What will the next incarnation of this look like?

Another US investment back is likely already planning it. Goldman Sachs presents "the European Mega-League"! Mickey Mouse, Uncle Sam, and Ronald McDonald will be there. Hurrah. The major factor contributing to the quick collapse of this project was the firm stance that the national leagues took. The very idea of the ESL remained predicated on the fact that these clubs wanted to remain in their domestic leagues whilst playing their ESL matches midweek. Perez proclaimed in his introductory statement that he "looked forward to working with UEFA and the ECA" to this effect.

How Perez thought he could find a cooperative partner in organizations he just stabbed in the back makes absolutely zero sense. He should have anticipated the threats of expulsions and bans emanating from scorned partners he already agreed to a compromise with. We'll still need to temper our relief at the eventual outcome by pointing out that the threats really wouldn't have worked legally. The national leagues, UEFA, and the ECA had no true legal recourse to throw the teams out of the leagues, disqualify them from the 2020/21 UCL, or forbid the players from playing for their national teams. This was all nonsense.

The final point leads us to most pressing preventative measure needed to be undertaken moving forward. We survived this scare, but the sharks from "Shark Tank" still sit in shallow water. It's always work investing in a bad idea; at least in America. Next time they'll be prepared to break off from their national leagues with a larger cohort of teams and billions more in investment money. What's the most promising potential legal undercut? Probably tighter league licensing arrangements for the clubs and even tighter contractual stipulations that do actually define eligibility requirements for the players.

A writer would like nothing more than to conclude that football fans will always have the power to overturn the financial forces threatening to reshape our sport. Perhaps, despite a natural proclivity towards cynicism, it is actually so. One might as well enlist the extra help of some high-priced lawyers just in case. Law trumps public relations at the end of the day. Next time, we'll need to make absolutely sure we have the former firmly on our side.

Thanks to all those who have read some part of this column this season! You can now catch Peter at his new home on twitter. DMs open. @ViceytheSS



Related stories