Niederlechner confirms transfer inquiries through agent: "It's true that demand is high."
By Peter Vice @ViceytheSS
German journalist Robert Götz of the local Augsburger Allgemeine Zeitung managed to catch up with FCA striker Florian Niederlechner and grab the 32-year-old's direct take on the recent transfer rumors surrounding him.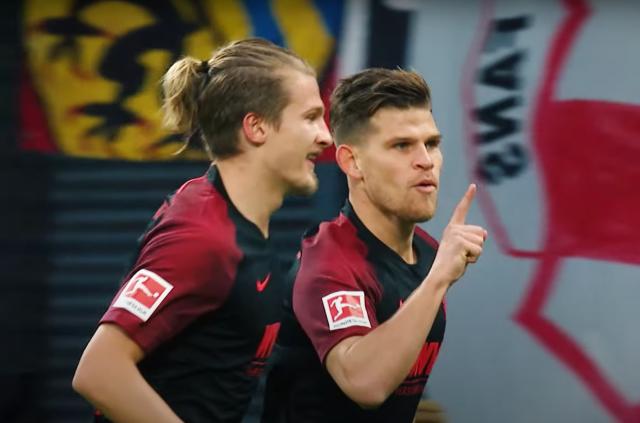 Florian Niederlechner (right).

After Florian Niederlechner's agent put to rest rumors that the Bundesliga veteran was set to travel to Berlin for a medical with Hertha BSC on Monday, the striker himself was able to attest to his whereabouts on that particular date. Speaking to Robert Götz of the Augsburger Allgemeine Zeitung, the 32-year-old opted to (tongue firmly in cheek) go into great detail.


"I was here in Augsburg on Monday," Niederlechner told his local reporter, "We had breakfast and then, in the afternoon, we went to Haunstetten to buy our Christmas tree. It was a Caucasian Fir that cost €35. You are welcome to check that, the seller knows me."

While that particular rumor proven to be nothing more than hot-air, Niederlechner did basically confirm that his name would certainly crop up again in the rumor mills during the coming January transfer window. The Bundesliga journeyman - in the midst of a highly successful four-goal campaign with the Fuggerstädter - sits on an expiring contract.

According to the player himself, the club doesn't appear interested in renewing.

"As it looks, it will probably be my last season at FCA," Niederlechner told his interviewer, "there have been no contract talks so far. What the club is planning I can not say, because so far no one has talked to me about it."

Stefan Reuter and the FCA administrative team may very well wish to cash in on the former Unterhaching, Heidenheim, Mainz, and Freiburg professional. The Bavarian Swabians paid some €2.5 million to fetch Niederlechner from Freiburg in January 2019. They could likely get more for him in the current market, even if his estimated market worth has fallen back down to that level after some injury-riddled seasons.


Niederlechner did confirm that his agent had received inquires.

"I have no contact with anyone at all," he sought to emphasize, "Everything's still running through my agent at the moment. It is true that my contract here at FCA expires and the demand is high after my performance in the opening rounds of the season."

"I won't say which clubs those are right now," Niederlechner concluded.



More about Florian Niederlechner