Ellyes Skhiri, Köln's midfield maestro, is ready for the next level
By Rafael Garrido Reinoso @RGarrido2210
Tunisia and FC Köln midfielder Ellyes Skhiri has excelled the last two seasons with the Effzeh, being the master of midfield in Steffen Baumgart's 4-4-2 diamond.

His contractual situation only makes him an even better market opportunity for big clubs.

Here we're going to analyze what makes Ellyes Skhiri such a good midfielder.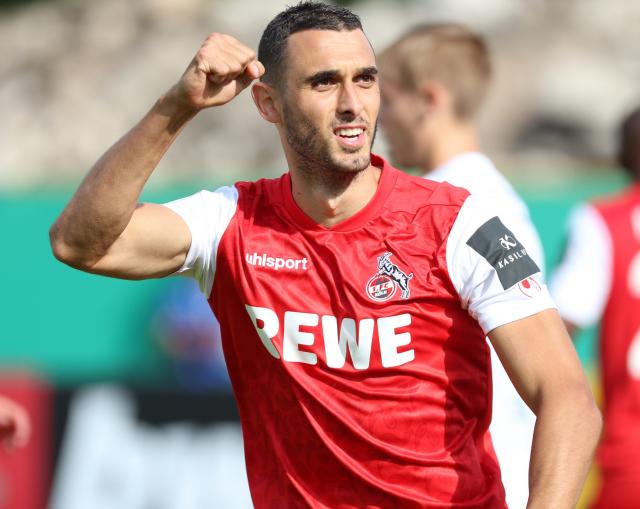 | | |
| --- | --- |
| Ellyes Skhiri, FC Köln | Photo: Sandro Halank, Wikimedia Commons, CC-BY-SA 4.0 |
After performing very well at the World Cup with Tunisia, Die Geißböcke midfielder Ellyes Skhiri is hearing more and more rumors linking him with top-tier clubs in Europe.


Köln's running man is one of the best midfielders in the Bundesliga and holds a profile that is key to any club, as we'll see below.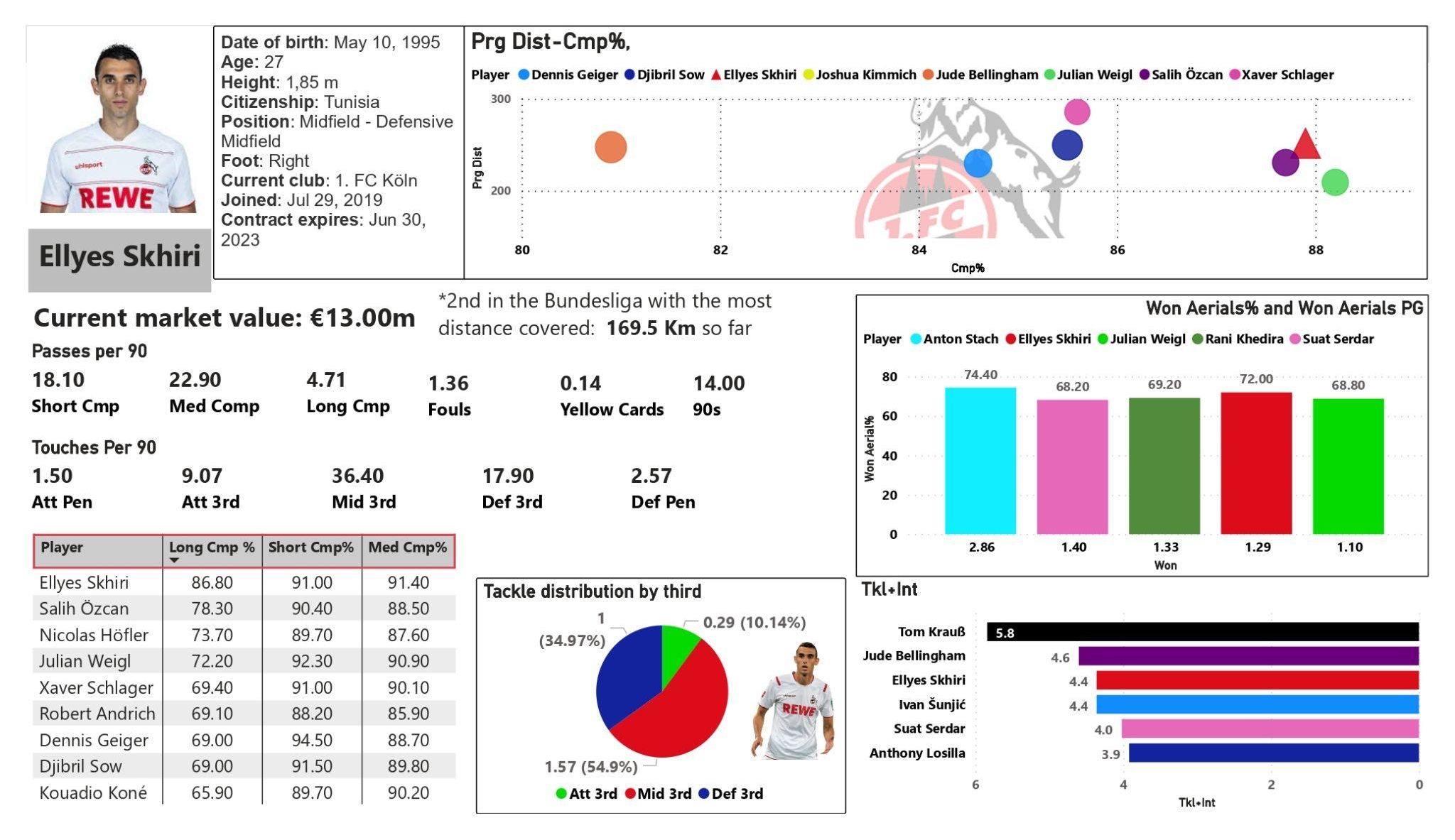 Complete midfielder

The former Montpellier player has become a vital part of Steffen Baumgart's scheme with the Effzeh.

Skhiri's ability to adapt to play either as a holding midfielder or in a double six, excelling in both although looking a bit more comfortable as a lone holding midfielder, has allowed Köln's coach to execute his style flawlessly.


The tactical and positional awareness of the Tunisian is highly desired in the biggest stages, and Skhiri has the vision to recognize offensive and defensive positions to cover, exploit, or even direct his teammates toward them.

He feels equally comfortable dropping between the center-backs and giving width moving down the wing as a false fullback to allow his teammate to push high.

The man is an absolute rock defensively and a surgeon with the ball in his control, rarely losing possession.

Defensive prowess

His 185 cm of height helps a lot with the aerial duels, reaching a success rate of 72% of the 1.4 duels he has every 90 minutes, as well as with every 50-50 ball or physical challenge the Tunisian baller participates in.

Skhiri is an absolute beast in the defensive duels and 1v1 scenarios; the midfielder tends to be on the winning side of most of his duels, recovering the ball 4.36 times each game just with his direct actions by tackling or intercepting, ranking 3rd among midfielders in the Bundesliga.

He also forces his opponents to make a lot of passing and dribbling errors; his amazing ability to time the tackles mixed with his intensity in each duel are what puts him over the edge.

Die Geißböcke's midfielder keeps his strong defensive presence throughout the pitch, making tackles in all thirds of it.


He tends to go for the duel more than the interception, as he sees himself dominant in that area, and whenever he steps up to his opponent, he goes with determination, he does not doubt or stays mid-ground something that is crucial for a holding midfielder.

Top-Tier Passer

Ellyes Skhiri is elite-level in all the aspects that define a great holding midfielder.

The Tunisian maintains a passing accuracy of around 88% and accumulates a great amount of progressive distance in them, being only second to Joshua Kimmich in this regard.

This sets Skhiri at the top of the scatter chart when comparing midfielders on both stats.

His passing accuracy is incredible, as the Köln's midfielder makes a solid amount of passes per match with their distribution in the length of the passes being great too, mixing medium and short passes in almost equal numbers and with almost perfect accuracy.

However, the stat that catches the eye when analyzing Skhiri's passing is his long passing ability, with the midfielder reaching a staggering 91.40% accuracy from 5.43 attempts per match.

The Tunisian leads the charts for midfielders in this category in the Bundesliga and stands 19th when compared to the other Big 5 leagues, although most of the players ahead have fewer attempts than him.

Skhiri is not only an orchestrator, but he also can also break lines with his runs and dribbles.

He ranks 2nd in successful dribble percentage, as he's able to shake the pressure of 1 and even 2 defenders quickly; this along with his great vision and passing makes Skhiri an amazing first passing option, as he can receive either facing his goal or already oriented while facing pressure.

The Effzeh

Steffaen Baumgart's squad plays very high-intensity football, trying to exploit the wings with quick transitions whenever possible but also holding his fair share of combinations and ball possession.

They are the club with the most crosses from open play by a mile, denoting the depth they are able to get through the wings.

At times, they are a bit too ambitious with their passes, as they're the team with the most blocked passes per game in the Bundesliga, but it is a high-risk-high-reward style.

Koln are also the 4th team with the most tackles won, being in the top 5 in tackles in the middle and defensive thirds.

This stat fits perfectly with Skhiri, as his team's defensive style is very prone to generate duels with their players stepping up quickly to the opponent.

However, Baumgart's scheme suffers greatly when attacked with long passes behind their defensive line, allowing the best long-passing percentage in the league.

Skhiri's offensive role is to organize the build-up from behind and always be in a position to receive the ball from the center-back, Baumgart takes advantage of Skhiri's mobility and allows him to move throughout that line of the first pass, at times sitting between the CBs and at times dropping towards one of the sides, depending on his in a double 6 or playing as a single midfielder.

Whenever the team is on the second third of the pitch, the Tunisian makes occasional runs behind the defensive line or pushes forward after a dribble or a passing combination with his teammates; when they are on the finishing third he rarely goes into the box and stays a bit behind, as he starts his defensive role there in case of a counter-attack.

Defensively, he has excelled when covering for the fullbacks or the center-backs whenever they go to press and is a strong presence when pressing too, his role demands him to be dominant in the duels in the inner lanes but always having an eye on his teammates and opponent's possible movements.

Intangibles

Skhiri's awareness of all aspects of the game is as valuable as noticeable whenever watching him play.

He is very conscious of the space he needs to cover defensively, when to cover for a teammate that stepped up, and when to follow or not follow a player that leaves his zone. It is very characteristic for Skhiri to allow an opponent player to receive a pass between him and the defensive line, especially when Köln are already defending near their box.

The same thing to offer himself as a passing option, he scans and quickly recognizes the position and intentions of the opponents and adjusts himself to it, even isolating himself to take a marker with him, so his team can have clearer passing lanes.

The Tunisian is equally comfortable dropping between the center backs as he is when positioning himself in one of their sides or even ahead of the fullback down the wing.

He gives some Busquets vibes with his similar body type and traits. He even has a similar way of escaping the pressing with two-touch dribbles.

However, Skhiri's mobility is an amazing plus; not only as he is the player with the second-most kilometers in the Bundesliga so far while doing it with intelligence and not over-intensity, but he is also very quick to change directions and pivot.

He covers a lot of his ground offensively, moving from flank to flank and back and forth to always offer a passing option and keep the ball moving. Defensively he's always willing to cover for any of his teammates and never lets his foot off the gas in the defensive transitions.

Skhiri's on-field personality and leadership are also worth mentioning. He always wants the ball and is always focused on the match; his intensity is contagious, and he is very vocal on the pitch, organizing his teammates and giving indications whenever he thinks they could be useful.

It's almost certain that this will be Ellyes Skhiri's last 6 months with FC Köln if he doesn't already leave during the winter transfer window. One thing is for sure – he is ready for the next level.




More about Ellyes Skhiri
More about FC Köln