Streich left speechless after rout: "Best not say anything."
By Peter Vice @ViceytheSS
SC Freiburg trainer Christian kept his comments brief following his side's 0-6 loss to VfL Wolfsburg. While Streich couldn't necessarily find the words, his opposite member had no problems.

Mathias Ginter and the respective captains - Christian Günter and Maximilian Arnold - also spoke on the result to Sky Germany afterwards.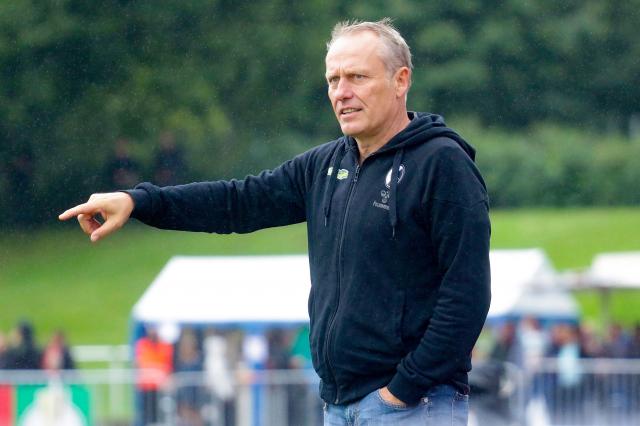 | | |
| --- | --- |
| Christian Streich. | Photo: Steven Schaap, CC BY-SA 4.0 |
A 0-6 loss in the northern Autostadt wasn't necessarily the topic Christian Streich was prepared to cover after his team played what many in Germany had considered the strongest winter preparation campaign of any Bundesliga side. Streich's Breisgauer looked good and remained undefeated in all five of their December and January test fixtures. After putting six past Hamburger SV last weekend, the SCF gaffer was left to explain how his squad allowed six in against Wolfsburg.


"We had no chance," Streich told the Sky mics, "We did everything false. After the first minute [when Patrick Wimmer scored], we saw how good Wolfsburg is. had nothing to offer against a team that was superior to us in all respects. That was not a two-team contest."

Streich then cut everything off.

"We lose 0-6, what else can I say," he added before concluding matters, "It's It's best not to say anything, then I won't say anything wrong."

Captain Christian Günter and German national team defender Matthias Ginter also spoke to the Sky mics. Günter personally took responsibility for poor defending on the first two VfL goals. Ginter too owned up to "crap defending" on Wimmer's opening goal, also confessing that the team deservedly lost in an "unexplainable fashion".

Wolfsburg skipper Maximilian Arnold was a bit more generous. The VfL captain noted that Daniel-Kofi Kyereh - considered by many German football watchers to be one of the big winners of Freiburg's training camp - had played a strong game and that his team was "very lucky" that Kyereh hadn't scored when the lead was only 2-0.


VfL trainer Niko Kovac - like virtually all German football watchers - expressed consternation at how well his side performed against a team that entered the matchday placed second in the table. Kovac labelled the performance "surreal" and encouraged all his players to recall this occasion at evidence of how good they can be.

"It's not normal to play like that against the second-placed team," Kovac said, "My team demonstrated really great football against a team that is actually difficult to play against. I'm very pleased with their development. Today is a day all my players should enjoy."



More about the match
More about the teams