Farke calls for improvement in attack: "I expect a reaction."
By Peter Vice @ViceytheSS
Borussia Mönchengladbach head-coach Daniel Farke and club manager Roland Virkus called upon their team to make a clear statement against Hoffenheim over the weekend after what has been a sorely disappointing start to the new calendar year. 

German national team winger and the team's usual ten-slot starter Christoph Kramer are both question marks for Saturday's encounter.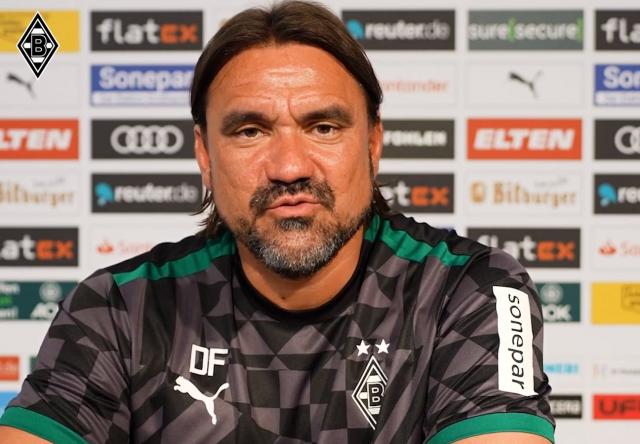 Bundesliga watchers have found the offensive performance of Borussia Mönchengladbach to be most disappointing in the first two matches back from the extended World Cup break. At a Thursday presser, both team trainer Daniel Farke and club sporting director Roland Virkus made clear that they concurred with the bleak assessments of their team.


"I was not satisfied at all with our attacking performance [against Augsburg, especially in the second half," Farke told members of the assembled media, "We created far too little and didn't produce any sort of scoring threat at all. I expect us to show a reaction now."

"These two defeats hurt very much," Virkus added, "Our goal was to play a stable season. If you look at the season now, there have been so many ups and downs and we need to achieve more consistency."

"We have to get our offensive engine running," Farke continued, "something has been missing."

Much of the reason the foals looked totally harmless against Leverkusen in the first fixture back from the break and equally anemic in Wednesday's 0-1 loss to the Fuggerstädter actually had to do with the fact that key players were missing.

Striker Marcus Thuram was unable to make it back in time for the first fixture. Attack spark-plug Jonas Hofmann was taken ill prior to Augsburg. Nathan Ngoumou served as the replacement for both in each respective match, to little effect.


Farke revealed that Hofmann remained ill and may not be available for the weekend encounter. The BMG trainer called Hofmann's status "not optimal" and admitted that the German national team winger's usage would be a "tight call".

As for former German national team midfielder Christoph Kramer - the team's designated starter for the ten-slot - Farke noted that the 31-year-old was still struggling with the after effects of a concussion sustained in last night's loss.

"He was unresponsive for about 30 seconds and then had a severe headache," Farke said of Kramer, "Now we have to follow the protocols and examine him in detail. A cautious all-clear so far, but whether he can be available, I can not say."



More about the match
More about the teams