Bochum prepare to welcome rivals under the lights: "It couldn't be more beautiful."
By Peter Weis @PeterVicey
VfL Bochum head-coach Thomas Letsch and squad captain Anthony Losilla were all smiles at a Tuesday press conference as they discussed their big home win over Hoffenheim over the weekend and looked forward to their DFB Pokal fixture against Ruhr rivals Borussia Dortmund.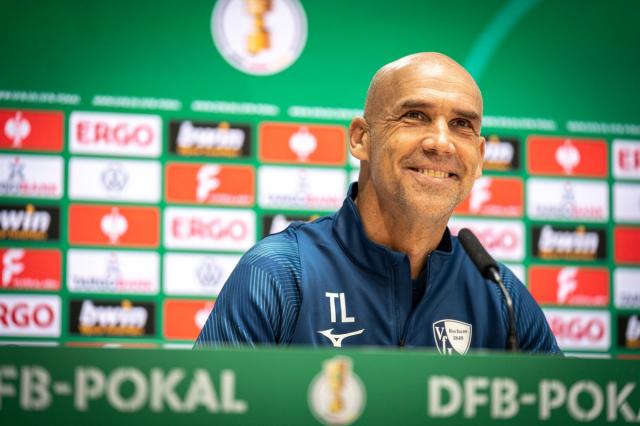 An incredible win 5-2 win over Hoffenheim this past weekend gives VfL Bochum precisely the momentum swing they need to square off against Revier rivals Borussia Dortmund in a round-of-16 DFB Pokal match tomorrow evening. VfL trainer Thomas Letsch and squad captain Anthony Losilla were all smiles at a Tuesday presser.


"I am 100 percent convinced of the quality of my team," a beaming Letsch told assembled members of the press corps, "No one should underestimate us, particularly not after our performances in the last two home fixtures."

Bochum are always a force to be reckoned with when playing in front of their raucous hometown fans on the Castropher Straße. Last season, they forced a draw out of Dortmund in the league and knocked off Julian Nagelsmann's record champions at home. Thus far in the new calendar year, they've run up the score on Hertha and Hoffenheim.

"It's a derby, the floodlights are on. The players are fired up, it couldn't be more beautiful," Letsch noted, "The BVB are playing for the Champions League, we're doing everything we can to stay in the league. We want to show that we also play a role in the region."

Even if Dortmund - on a fine run of form themselves - should still be considered the heavy favorites, Letsch spoke on how impressed he was with the effort of all his players on the training pitch. A trainer of a team considered to be relegation candidates isn't ofter "spoiled for choice", but Letsch emphasized that he, in the famous German phrase, definitely had "die Qual der Wahl".

"Watching the training units today made it even harder for me to make a decision," Letsch said, "The guys are giving it their all. I'm very pleased to have this 'luxury' problem. Things are working very well."


Left-back Cristian Gamboa is the only regular Letsch is missing. The Revierklub gaffer can otherwise call upon the full complement of his squad. Players considered to be in fine form who did not start against Hoffenheim on Saturday include Gerrit Holtmann, Jordi Osei-Tutu, Simon Zoller, Pierre Kunde-Malong, and Patrick Osterhage.

There's also the not-so-small matter of center-back Keven Schlotterbeck, surprisingly dropped from Saturday's XI. The 25-year-old - already off to a great start with his new club - may be eager to face off against his slightly younger and significantly more famous brother Nico. Newly acquired BVB II striker Moritz Broschinski - who scored off the bench on Saturday - may also be eager to show his old club something.

Squad captain Anthony Losilla also attended the presser.

"Even the new January additions have come to a quick understanding of what we want from them on the pitch," the French skipper noted, "We dive into the details every day in training. We know that we can pester our opponents with passion and ambition, in the process making ourselves dangerous."

Perhaps the most dangerous player in Bochum blue is Christopher Antwi-Ajei. The pacey former Paderborn flanker collected a hat-trick of assists in the first-half against Hoffenehim on Saturday.



More about the match
More about the teams