Bayern officially introduce Tuchel:
"Pressure and stress drive my passion for the game."
By Peter Vice @ViceytheSS
Oliver Kahn, Hasan Salihamidzic, and Thomas Tuchel all answered questions at the introductory presser unveiling FC Bayern München's new head coach on Saturday. Quotes from all three actors involved in the tectonic German footballing shift can be found below.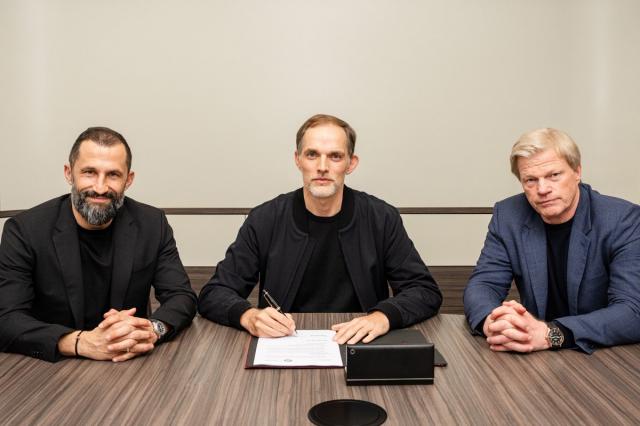 | | |
| --- | --- |
| Thomas Tuchel | FC Bayern München |
In a two-part-presser taking place at noon on Saturday, Oliver Kahn, Hasan Salihamidzic, and Thomas Tuchel all faced the cameras for the first time since the sensational sacking of FCB trainer Julian Nagelsmann. Kahn and Salihamidzic made statements first before fielding questions. Tuchel was then introduced and answered a few questions directed specifically at him.


Kahn conceded that there had been "many sleepless nights" over the past week and insisted that "the decision had nothing to do with panic". The club CEO did concede that, as some German press sources had previously reported, doubts about Nagelsmann began to emerge last year with Pokal loss against Borussia Mönchengladbach and the Champions' League elimination at the hands of Villarreal.

"We have the responsibility to look out for sporting success of the team," Kahn noted, "The team is capable of furnishing excellent highlights, but also regularly showed many inexplicable weaknesses. The sporting objectives of FC Bayern München must be the highest objectives and these objectives were in danger. It was not an emotional decision arrived at after one game."

Salihamidzic also conceded that the FCB managerial team had been leery of "incomprehensible results" for well over a year, yet sought to emphasize that the decision to part company with Nagelsmann had not come lightly. After referencing the string of draws last autumn, the club's top board member for sport indicated that there was still belief in the Nagelsmann path present.

"The draws and wins against - with all due respect - the bottom table teams were too difficult for a roster of this caliber," Salihamidzic said, "The performance curve was on a downward trajectory. We still believed in Julian until last Sunday. The fact that a top option was on the market naturally also played a role."

Tuchel himself was introduced after a brief break. The 49-year-old did address the courtship this week with previous club PSG. Tuchel revealed that he hadn't been contacted by the German giants before Tuesday. Decisions had to be made quickly.


"I was still operating on the assumption that I would continue my career abroad," Tuchel divulged, "But when Bayern comes calling, it's a big opportunity. I'm happy to be working near my family again and back in the country of my birth. It's an honor. I know that I'm under serious pressure. That comes with the territory with Bayern. Pressure and stress are what drive my passion for the game."

Kahn, Salihamidzic, and Tuchel all stood firm in rebuffing questions about Nagelsmann. Georg Holzner of Germany's Kicker Magazine asked Salihamidzic if is was "naive" for the club to go with such a young trainer in the first place. Kahn joined Salihamidzic in insisting that Nagelsmann's status as a "top trainer" rendered that question moot.

Tuchel was asked if he had had any contract with Nagelsmann; question to which the new FCB gaffer curtly denied. One of the final questions asked of Tuchel were his feelings on only signing a two-year-deal. That one was fielded with a bit of a laugh.

"I can imagine that this is a very humbling experience for Julian," Tuchel noted, "But that's not my responsibility right now. Bayern is my responsibility. A two-year-deal is fine. We all have to continually reassess if this is working for us."



More about FC Bayern