DFB updates:
Flick and di Salvo praise Freiburg program, Augsburg's Maier still on radar
By Peter Weis @PeterVicey
On the same day that German football's legendary "Super Sub" announced his retirement from football, Bundestrainer Hansi Flick, German national team manager Rudi Völler, and Germany U21 head-coach Antonio di Salvo all praised SC Freiburg for the club's work in supplying the national team program with reliable players. 

Flick called Freiburg "a very special club that's fun to engage with" whilst di Salvo praised Freiburg's "formula for success". 

In other DFB related news, Frank Linkesch of Germany's preeminent footballing publication reports that FC Augsburg's Arne Maier remains very much on Bundestrainer Flick's radar and narrowly missed a call-up this time.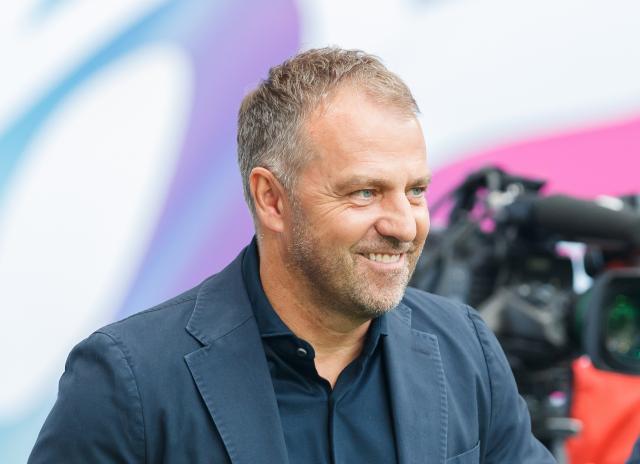 | | |
| --- | --- |
| Hansi Flick. | Photo: Steffen Prößdorf, CC BY-SA 4.0 |
The official end to the March international break brought with it the news that twice-capped German international Nils Petersen - statistically the highest Bundesliga score ever off the bench - would be retiring from football after the current campaign concludes. The SC Freiburg legend was only used twice at the senior national team level by long-time Bundestrainer Joachim Löw, himself a native of Freiburg.


The time when Petersen was the only Freiburg player to feature in the German national team squad harkens back to a very different era. Generally comprised of players mostly from Borussia Dortmund and FC Bayern München during Löw's tenure, the Breisgauer were all represented during the latest round of call ups.

SCF defenders Matthias Ginter and Christian Günter made the squad. Kevin Schade, still technically an SCF player, ws also present. Freiburg were even better reprinted at the U21 level. Yannick Keitel captained Antonio di Salvo's DFB Juniors. Noah Atubolu affirmed his place as the first choice keeper. Noah Weißhaupt and Kenneth Schmidt made Appearances as well.

Kicker Magazine's Carsten Schröter-Lorenz caught up with all the relevant DFB coaching and managerial tasked with moving the program forward ahead of the German-hosted 2024 European Championship. Bundestrainer Hansi Flick, national team manager Rudi Völler, and U21 head-coach Antonio di Salvo all praised the Breisgau-club-project in the highest possible terms.

Völler offered his specific "compliments" for the manner in which Freiburg were currently feeding the national team programs. The former Bundestrainer noted that the SCF was "simply doing wonderfully." Flick - a native of the not so distant BaWü city of Heidelberg - spoke of his joy of both coaching Freiburg players and heading down to watch the matches.

"The man responsible for the professionals, Christian Streich, along with everyone else at the club is doing a great job," said Hansi Flick, "Of course, it's tranquil in Freiburg.  One can work on players in a targeted and tranquil manner. They do it 'par excellence'."


"It's always nice to go down there," Flick continued, "and see what a 'salt-of-the-earth' club looks like. It's always fun to engage in professional exchanges with them as well. It's a very special club."

"I always know what I'm getting from the Freiburg players," di Salvo told Schröter-Lorenz, "They have a good formula for success. Players work hard, especially on the basics. There's also a certain humility to the players that come to the U21s."

As the DFB moves forward with its tightly interlocked path with the senior team and the U21s, another smaller market club may look to attain larger representation as well. Augsburg loanee Mërgim Berisha became the first Fuggerstadt player to log minutes for the senior team since André Hahn nearly ten years ago.

Frank Linkesch - also of Kicker Magazine - writes that Flick hasn't forgotten about former Germany U21 captain Arne Maier. It was Maier who captained the U21s to the U21 European Championship that they are getting set to defend this summer. The former Hertha academy man has been working a new tactical role under FCA trainer Enrico Maaßen this season.

Maier - naturally a six-slot midfielder - has been playing on the right attacking flank for Maaßen. The move has been generally regarded as a success. The 24-year-old has netted three Bundesliga tallies this year. German football observers have been most impressed with his improved defensive work as well, particularly with regard to his duel rate and persistence.

Linkesch claims, based on his own sources, that Flick was considering whether to give Maier a call up this time. After narrowly missing out on the squad, Flick and his staff will be keeping a close eye on Maier's development as the season draws to a conclusion. Right-wing attackers remain an acute need on the senior squad. Per Linkesch, Flick has Maier high up in his personal notebook.



Related stories