Streich waxes lyrical ahead of send-offs for Petersen and Schmid
By Peter Weis @PeterVicey
At his Wednesday presser, SC Freiburg head-coach Christian Streich waxed lyrical on the coming departure of two of his long-term players; both of whom will receive a special send-off prior to kickoff against Wolfsburg on Friday night.

Freiburg are also preparing an emotional goodbye for stadium P.A. announcer Claus Köhn. 

Streich, while conceding that it wasn't very likely, expressed the hope that his side could still compete in the Champions' League race.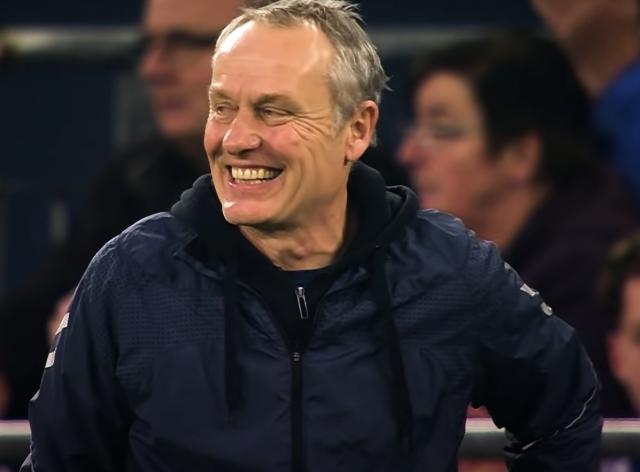 A general rule of thumb in German football holds that pre-match send-offs for departing players generally aren't held prior to matches that have major sporting consequences. Emotions can potentially get in the way of the sporting side of things. In the case of the retiring Nils Petersen and the departing Jonathan Schmid, however, SC Freiburg have come to the conclusion that there is no choice.


Both players have given so much to the Breisgau club that not honoring them some way in the final home match of the season seemed totally inappropriate. There will be plenty of emotion on hand at the Europa Park Stadion on Friday night. Stadium announcer Claus Köhn will be reading the lineups and leading the cheers after 35 years with the club.

Freiburg themselves are commemorating the 30th anniversary of their first promotion to the top flight back in 1993. Several of the players from that team have been invited to the match. At his Wednesday presser, SCF trainer Christian Streich spoke on both Petersen and Schmid. The 57-year-old also wished to note that, while last week's loss rendered it unlikely, the possibility of Champions' League football technically still existed.

"In football, sometimes special and unexpected things happen," Streich said, "and we'll do everything we can on Friday to win this game."

When speaking on Petersen and Schmid, Streich offered up kind words on players he knew very well. Petersen joined the Breisgauer in 2015 and has played nearly 250 matches under Streich. Schmid was one of the players Streich coached during his time at the youth academy. The two won the DFB Pokal Junior Cup in 2009.

"I somehow can't imagine him not being on the training pitch or in the locker room anymore," Streich said of Petersen, "He's a wonderful person and exceptional striker."


"He came here from Strasbourg totally green," Streich noted when reminiscing about Schmid, "He became a great footballer and influencer."

Asked about another - still not officially confirmed - send-off, Streich noted that departing keeper Mark Flekken would stand in goal against the German Wolves on Friday night. Should - as many expect - Freiburg be eliminated from Champions' League contention over the weekend, Streich also gave every indication that the club's "keeper of the future" Noah Atubolu would stand in goal against Frankfurt on the final matchday.

"Every match is good for him," the coach said of Atubolu.


Die Pressekonferenz vor #SCFWOB in voller Länge👇 https://t.co/K1gx2N4qbP

— SC Freiburg (@scfreiburg) May 17, 2023
More about the match
More about the teams