Darmstadt ecstatic after promotion:
"Don't give a damn if we tear the house down."
By Peter Weis @PeterVicey
SV Darmstadt's players and their head-coach did their utmost to put the emotions associated with their promotion back to the Bundesliga into words after Friday night's big victory.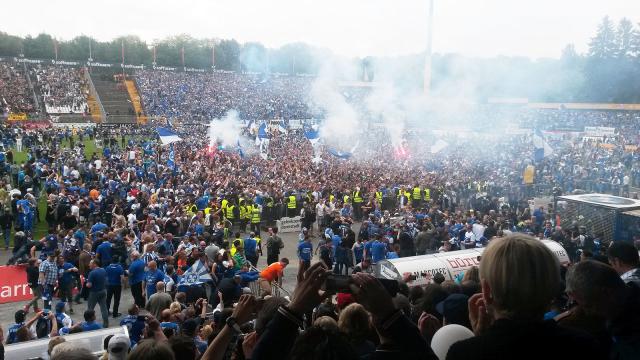 MH891 (Full owner consent)

Having missed out on two golden opportunities to clinch promotion back to the Bundesliga, SV Darmstadt 98 were finally able to shake off consecutive league losses 1. FC St. Pauli and Hannover 96 and give their hometown fans something to cheer about on Friday night. A slender 1-0 victory over visiting 1. FC Magdeburg proved sufficient to ensure that the Lillies would avoid the promotion-relegation playoffs and automatically secure a new season of top flight football.


"It almost feels like we're celebrating two weeks too late," captain Fabian Holland told the Sky mics afterwards, "Everyone was already ready. Perhaps it had something to do with the fact that everyone was too keen on partying and thinking more than doing."

Holland's midfield partner Tobias Kempe also noted that he wished the promotion could have been achieved in more comfortable fashion. The tension associated with a narrow one-goal victory during which no tallies came after the 36th minute was, for the man who actually played with Darmstadt the last time their competed in the Bundesliga, almost unbearable.

"It was brutal," Kempe remarked in his post-match interview, "Those were the hardest three points of my career. The whole season and all our efforts came down to this moment. Tonight, there won't be a second of sleep. Just celebrations."

Darmstadt head-coach Torsten Lieberknecht and club president Rüdiger Fritsch reflected on the club's long journey back to the elite class six years after their last relegation. Lieberknecht made certain to credit his predecessor Dirk Schüster, currently helming 1. FC Kaiserslautern, for building the team he inherited. Fritsch spoke on the "blood, sweat, and tears" that it took to get the club back.

The man who scored what would prove the game-winning goal was, naturally, the man most German footballing journalists accosted for quotes. Twenty-five-year-old Braunschweig native Philipp Tietz was clearly on cloud-nine after the victory. The striker who led the team's promotion campaign with a 17-scorer-point haul contributed some elated, if not somewhat unsorted, thoughts.


"I completely forgot I scored that goal," Tietz told his post-match interviewer, "Thank you VAR. Next year, we'll head to Munich and Dortmund to try and deliver some knock-out blows."

"The fans deserved this," Tietz continued, "I'd love it if everyone could join us in the locker room and we all brought the house down. The stadium won't be left standing tomorrow, but I don't give a damn."


Wechsel am Bölle: 2. Liga raus, #Bundesliga rein! 💙💙💙 #sv98 | #Lilien | #Uffstiesch pic.twitter.com/8UoXN3Qtrv

— SV Darmstadt 98 (@sv98) May 19, 2023
More about the match
More about the teams