Reports:
Leverkusen's Amiri has two Bundesliga suitors
By Peter Weis @PeterVicey
Bremen's "Deichstube" fan-site reports that Werder are, following the unfortunate injury news regarding Naby Keïta that broke yesterday, contemplating picking Leverkusen's Nadiem Amiri.

Germany's main sporting tabloid also reports that VfB Stuttgart are also contemplating a purchase of the five-times-capped German international.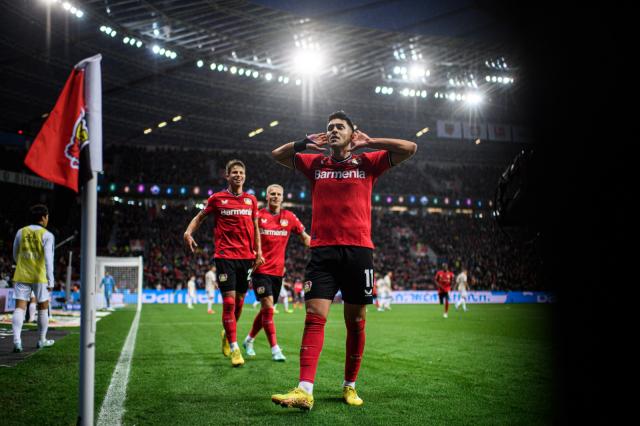 Photo: Bayer 04 Leverkusen

Nadiem Amiri's prospects of playing with Bayer 04 Leverkusen next season appeared slim even before Granit Xhaka's signing was officially finalized. The 26-year-old has been on the look-out for a new home for quite some time after being loaned out during the second half of the 2021/22 campaign and seeing his playing time diminished this past year.


Bremen's "Deichstube" fan-site reports that SV Werder Bremen are now potentially interested in picking up the Ludwigshafen-native. It may still prove difficult for the cash-strapped Hanseaten to acquire Amiri as Germany's red company team will seek a transfer fee in the €5-million-range. Amiri's estimated market worth has plummeted in recent years, but he still scored four league goals and added an assist in 25 appearances last season.

Bremen may yet procure the funds to swing a transfer if some of their other attacking midfield talents are sold. There are rumors that Niklas Schmidt and Romano Schmid are attracting interest from other clubs. Together, Schmidt and Schmid might land Bremen net inlays of around €7-8 million. Ole Werner's squad does urgently need some additional help for the start of the season after, it was revealed yesterday, that Naby Keïta will be out.

Germany's main sporting tabloid, "Sport Bild", reports that VfB Stuttgart are also interested in landing Amiri. The Swabians might find themselves with an advantage after a new sponsorship deal with Porsche (it is assumed) upped the cap on their transfer budget. Amiri maintains an estimated market worth of €6 million in the latest transfermarkt listings.



More about Nadiem Amiri