Mintzlaff on Eberl sacking:
"The commitment to the club and city was missing."
By Peter Weis @PeterVicey
Speaking to the Sky microphones just prior to kick-off in Saturday evening's "Top-Spiel", RB Leipzig supervisory board chairman Oliver Mintzlaff commented on Friday's sensational sacking of club sporting executive Max Eberl for the first time.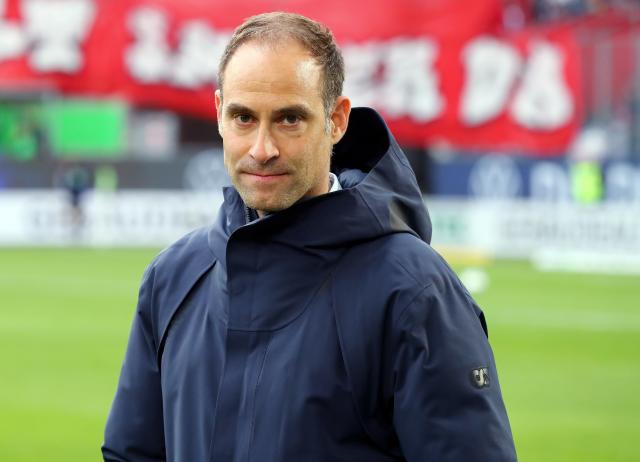 | | |
| --- | --- |
| Oliver Mintzlaff. | Photo: GEPA Pictures/Roger Petzsche |
The sensational sacking of RB Leipzig chief personnel executive Max Eberl yesterday was, according to long-time club functionary Oliver Mintzlaff, something that had been brewing within the club's administrative apparatus for some time. Speaking to Sky Germany's pre-match interview team just prior to Saturday night's home kickoff against FC Bayern München, Mintzlaff noted that the board had been suspicious of Eberl since rumors linking him with Bayern began cropping up last spring.


"This is certainly a process that started a bit earlier, already in April, May, when rumors started," Mintzlaff told the Sky team, "Of course, one would have wished that there was more conviction that - after a long tenure in Gladbach - there would be a long association here. Especially since we have seen that Max has done a great job with his team. That naturally makes it all the more sad."

Mintzlaff made clear that the links left the relationship beyond repair. Pressed about whether or not he personally agreed with the decision, the 48-year-old insisted that he had "fought for Max" amongst his colleagues. When it came time to answer a query about the timing of the dismissal, Mintzlaff did express some regret about it coming so close to the Bayern game.

"No, it was not salvageable," Mintzlaff noted, "That's why we acted so consistently and decided to say together: it can't go on like this, the commitment to the club and city was missing, and thus with it also the conviction to continue on a long-term path here."

"That's always easy when you look at it from the outside," Mintzlaff said in response to the timing query, "It's a legitimate question, but we have always worked like that. Once we've made a decision, we follow through with it. It might be unfortunate, but we agreed that it won't have an impact today."



More about RB Leipzig