Zimmermann expresses full support for Lieberknecht after draw
By Peter Weis @PeterVicey
SV Darmstadt 98 defender Christoph Zimmermann sent warm greetings to his head-coach following yesterday's 0-0 home draw against FSV Mainz 05.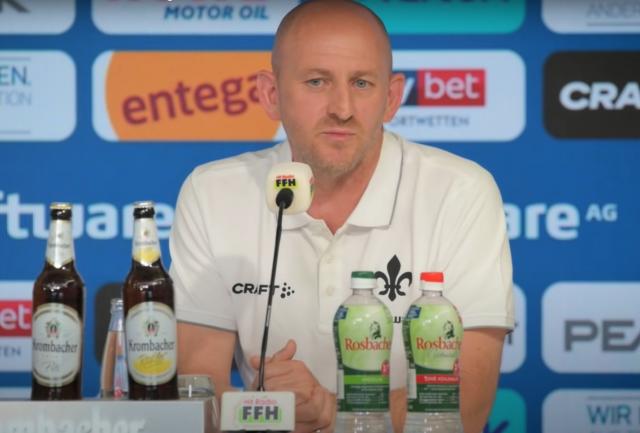 As if personnel matters at SV Darmstadt 98 - with captan Fabian Holland and defenders Klaus Gjasula and Matej Maglica serving suspensions - weren't dire enough, the newly promoted Hessen-based Bundesliga side had to contend with the news that head-coach Torsten Lieberknecht needed to depart the team in order to attend to a family emergency earlier this week. One of Lieberknecht's pet projects paid tribute to his coach after the team earned a hard-fought point.


Thirty-year-old veteran German defender Christoph Zimmermann joined the Lillies in the summer of 2022. The one-time Borussia Mönchengladbach academy man and Borussia Dortmund II player returned to his home country after five years spent playing for Norwich City in the EPL and EFL Championship. He made his German top-flight debut against Hessen-rivals Eintracht Frankfurt on match-day one of the current campaign.

Injuries and form issues meant that he had to take a seat on the bench on six of the seven subsequent match days. The Dusseldörf native didn't feature again until Lieberknecht turned to him as a substitute shortly before the half on the match-day nine drubbing at the hands of Bayern. Vocally critical of himself for making "rookie mistakes", Zimmermann received backing from his coach, who said he was "too hard on himself."

On Saturday, it was time for Zimmermann to return the favor. In addition losing the above-mentioned trio of players to suspension, the hosts also learned shortly before kickoff that Tobias Kempe wouldn't be able to participate after injuring his foot in the final training session. Despite this, the Lillies were able to halt a three-match-losing streak and keep a clean sheet for the first time this season.

Zimmermann remained critical of himself and the fact that, if attackers Oscar Vilhelmsson, Fraser Hornby, Marvin Mehlem and Mathias Honsak had converted opportunities, Darmstadt could have actually won the match. After declaring that the team "couldn't be 100 percent satisfied" with the result, Zimmermann noted that he remained proud to serve under Lieberknecht and the club.

"I am very happy and very pleased with the approach that the coach can put the family above everything else and that the club and the players support this," he said, "There was a clear line from the coach and the club that health comes first and that you have to take care of it."

"As they always say, the game is important too," Zimmermann continued, "I'm glad that we can still experience this today with so many other things in disarray. It makes me very proud to play for Darmstadt, where this is a way of life and not just empty words."



More about the match
More about the teams
More about Christoph Zimmermann