Bulinews.com's Jacob Hansen was in Düsseldorf to watch Fortuna beat Werder Bremen 4-1 on Saturday. Another impressive result for Friedhelm Funkel's team who have exceeded all expectations this season.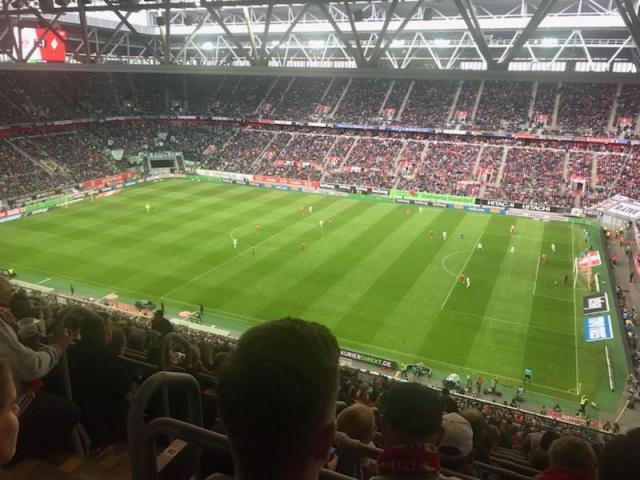 By Jacob Hansen

It was big words coming from Friedhelm Funkel having watched his side hammering Werder Bremen 4-1 on Saturday afternoon.




"This is the best year in my career as coach". That coming from a man who managed his first side in 1990 and is the oldest coach in the Bundesliga with 65. Having overseen a record six promotions to the Bundesliga even this old war horse has seen something this season he did not expect.

With Fortuna having little to play for with regards to relegation or European spots the biggest question before Saturdays encounter with Werder Bremen was: had the visitors managed to raise themselves after their huge disappointment midweek in the DFB Pokal where "Die Werderaner" had every right to feel robbed of a chance of entering the final in Berlin with a dubious penalty awarded to Bayern München.

After 47 seconds on Saturday the answer was a clear: no! That was how long it took Benito Raman to score his 10th of the season, with seven of those coming in 2019. The next highlight was only moments away as Kenan Karaman sent the Merkur Spiel-Arena close to ecstasy after 22 minutes when he went on a solo-run over 66 meters leaving behind an increasingly confused Werder-defence before making it 2-0. There was no holding back the crowd by this point.

Back in August their first home match saw 40.996 entering the gates much to the dismay of the management at Fortuna Düsseldorf, who felt their team deserved more backing after having surpringsinly gained promotion to the 1. Bundesliga for the first time since 2012/13, but there was no lacking in support on Saturday. 52.500 packed the arena for the penultimate home match of the season thereby marking it "sold out".





From toothless to dangerous
Werder Bremen pulled one back after 28 minutes from a penalty showcasing how VAR is not only able to correct apparent wrongdoings but also complely baffle most of the audience. Few in the crowd had an inkling what led to the penalty but Max Kruse kept his side in with a chance. The rest of the half was the only time that afternoon Werder was able to apply some pressure on the home side which managed to take their 2-1 lead into the halftime though.

During the interval one could ponder over how Fortuna has managed to turn their season around. They were tied on 5 points along with VfB Stuttgart in 17th after 10 rounds. One win and seven defeats to start the season having conceded an appaling 24 goals in the process. Then came a convincing homewin against Hertha Berlin followed by the true turning point: a 3-3 draw away at champions Bayern München.

Taking into account only the last 21 rounds, Fortuna would be 7th in the table in front of teams like Mönchengladbach, Hoffenheim and Werder Bremen who are all chasing European qualification at this stage of the season. Having opened the season scoring only 6 times in the first 10 matches, the following 21 have seen them score 38 times, bettered only by five other sides in those 21 rounds.

Attacking football is not what usually springs to mind when considering the career of Friedhelm Funkel, but he has created with various weapons in the offence. Crowd favourite Dodi Lukebakio has amassed 10 goals this season which the aforementioned Benito Raman equalled with his opener on Saturday marking this as the first season in the Bundesliga since 1985/1986 with 2 Fortuna-players reaching double digits.



Next season? Who cares!
Their 20 goals between them sees them taking care of 50 percent of the goals from Fortuna this season which looks great right now but is also a case for concern. Lukebakio will most likely either return to parent club Watford or move elsewhere after the season, and bigger clubs will try and lure his fellow Belgian away from the city by the Rhein leading coach Funkel to being a little philosophical.

"Next season most likely won't be as good as this one", he told Rheinische Post, but on the terraces few people cared about the coming season. Having failed to keep their momentum going after the break Fortuna finally broke the visitors after 56 minutes with a sublime counterattack finished off by Rouwen Hennings. There was never any chance Werder would pull back from a two-goal deficit, instead it was the home side that added a fourth.

"Conceding four goals makes it rather tough to win. Of course we had a couple of opportunities to score but rarely have I seen a match so one-sided this year", Werder captain Max Kruse sighed afterwards, knowing only full well that Werder had probably blown a chance of qualifying for the Europa League next season just days after seeing the cup-dream dissolve in a misty cloud over Weser. Not the best of weeks for Werder Bremen, while long-term Fortuna fans were not only happy, but also baffled.

"Having entered the 1. Bundesliga on the smallest budget, most of us had envisaged a season where we would probably be fighting relegation to the last second", Norbert Naulin tells us while listening to his fellow Fortuna-fans singing their praises to the extremely well-playing team.

"We would easily have sold the season for being placed in the play off-position with a chance of rescuing another season on the last day of the season. But being here with four rounds left and with a new season already secured defies logic", Herr Naulin added.


Funkel deserves praise
Born in Düsseldorf, he has followed the team for more than 40 years having been around when Fortuna won the cup twice in 1979 and 1980 and reached the Cup Winners Cup-final in '79 losing out to Barcelona. He was also around when they fooled around outside the league-system in the 2000s and he is in no doubt who is to thank for the amazing achievements of the last two seasons.

"Friedhelm Funkel", the long time season-ticket holder answers promptly, probably speaking on behalf of many a Fortuna-fan who was left stunned when club-boss Robert Schäfer during the Christmas-break announced he would not be extending the expiring contract of Mr. Funkel after the season. That led to massive protests from both fans and players united and Schäfer had to give in. As an amusing twist of fate Schäfer himself has since been relieved of his duties by the board.

Werder Bremen coach Florian Kohfeldt was recently awarded "Coach of the year 2018" by the German Football Federation, DFB. His counterpart this Saturday, Friedhelm Funkel, could easily be awarded the price after this season.

One gained the impression that the euphoria of securing another season in the Bundesliga was slightly less of what it would have been had more been at stake, but wandering through the famously thriving Altstadt of Düsseldorf that same evening left no doubt what it meant to the supporters having reached the 40 points in such glorious manner.

That party went on for a looong time...