Every Bundesliga Club's Best Player Under 23 (Part 1)
By Adam Khan @XxAdamKhanxX
The Bundesliga is known for its young talent, so we take a look at who has the brightest future at each club.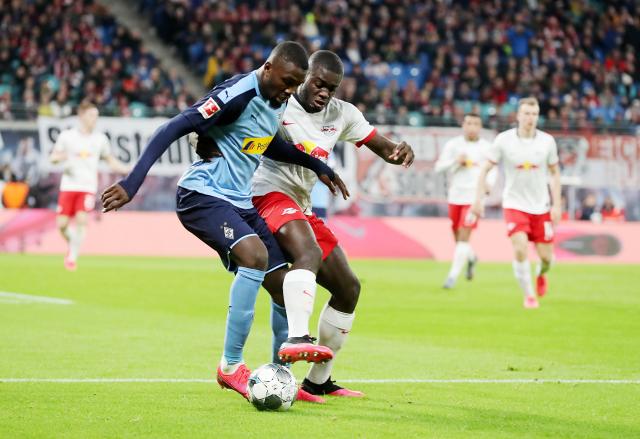 | | |
| --- | --- |
| Two of the Bundesliga's brightest future talents Marcus Thuram (Blue) & Dayot Upamecano (white) battling for possession | Photo: GEPA Pictures/Roger Petzsche |
The Bundesliga is renowned as a league filled with the world's best young talents. Between 2009 and 2017, the average age of Bundesliga players was just 25.84 – lower than all the other top 4 leagues – and a major reason why the league is able to attract talented players taking their first steps in professional football.


At Bundesliga clubs, young players are afforded time to grow whilst competing at the highest level. This balance between development and expectations is perfectly poised at many German clubs, providing youngsters with the ideal platform coming out of academy setups around the world.

Germany also boasts one of the best developmental models whose work culminated in the fantastic 2014 World Cup victory in Brazil. Since the embarrassing display at the 1998 World Cup in France that saw the national team bow out in the quarter-finals, Germany have overhauled their academies.

Coaching courses, more focus on the individuals' development and combining the best attributes of other nations styles with the Kampf (fight) associated with the German game have allowed for players like Toni Kroos, Marco Reus and most recently Kai Havertz to not be the exception, but the norm.

With all this said, we took a look at each of the top 9 finishers from last season's Bundesliga, picking out each club's best player under 23 years of age.

FC Bayern München:
Alphonso Davies, Born November 2, 2000 (age 19 years), left-back
One of the easiest to choose on this list, Alphonso Davies has taken the footballing world by storm over the last 12 months, going from a talented yet inconsistent winger to one of the most reliable full-backs in world football in his attacking interpretation of the role.


Having started in 40 games last season, including playing all but 6 minutes in the knockout stages of Bayern's successful Champions League run, Davies cemented himself as a fixture of the Bavarian's treble winning side. With his endless sprints up and down the left flank that earned him the nickname "Road Runner" from teammate Thomas Müller, Davies was a crucial component in Bayern's high pressing style that was so successful under Hansi Flick, with his tenacity and front footed defending giving the opposition no time to build out from the back.

Although lapses in concentration and poor positioning continue to plague the Canadian's game, his recovery speed allows him to get out of tricky situations, while his ability going forward continues to be an immense weapon for Bayern.


Borussia Dortmund:
Jadon Sancho, March 25, 2000 (age 20 years), winger
One could easily find a whole 11 of young talents from Dortmund who could find themselves amongst the world's elites in the coming years, that is how stocked BVB is with young talent. From Norwegian shooting star Erling Haaland to the next biggest thing coming out of the Americas in Gio Reyna, the young talents at Favre's disposal are endless. Yet even amongst the vast talent on show in Dortmund, nobody is outshining Jadon Sancho, the 20-year-old English winger who is already amongst the world's best in his position.

With 34 goal contributions in 32 games last season, Sancho is putting up elite numbers at an age where many are just taking their first steps in men's football. With tight dribbling, explosive speed and a coolness in front of goal that allows him to see better positioned teammates or find the exact right moment to unleash a shot, Sancho is firmly knocking on the door to Europe's elites. It is a matter of time before Sancho moves to a club at the pinnacle of the game, fit for a player who is in touching distance of that status himself.


RB Leipzig:
Dayot Upamecano, October 27, 1998 (age 21 years), centre-back
In a club renowned for its modern approach to football and data driven transfer model, it comes to no surprise that RB Leipzig boast some of the finest young talent in world football. Amongst this crop is 21-year-old Dayot Upamecano. Recently capped by France in the September Nations League matches, Upamecano has been on the radar of top teams around Europe for the past few years, with heavy interest from Manchester United and Arsenal. This is no surprise of course when one sees the ability and calmness that Upamecano possesses on the ball, portraying the elegance of a centre-back who has played far more than 4 seasons of professional football.

Upamecano combines an incredible physical profile with all the composure that top sides require of their centerbacks on the ball. Upamecano will often drive into the midfield, breaking past the opposition with tight dribbling more reminiscent of a shifty winger than a 6'1 defender. When he is not individually barreling through opposition defenses, Upamecano is playing incisive balls through the lines, allowing Leipzig's forwards time and space to turn with the ball. Although he sometimes still goes too rashly into tackles and lacks the defensive timing of a seasoned veteran, the young French defender is one of the brightest talents amongst a host of centre-backs coming through the French youth team. RB Leipzig will surely be building their defense around Upamecano, who on July 31st signed a new contract keeping him at the club until 2023.


Borussia Monchengladbach:
Marcus Thuram, August 6, 1997 (age 23 years), forward
From one of France's brightest talents to another, this time in the form of 23 year old shooting star Marcus Thuram. Thuram has had a terrific start to his time in Germany, picking up the league's rookie of the month award twice, as well as being nominated as Gladbach's player of the season. With 10 goals and 8 assists, the son of World Cup winner Lilian Thuram is looking to continue his form from last campaign and secure a spot in France's Euro 2021 squad this summer.

Thuram's game is all about speed and trickery, making him the perfect fit for Marco Rose's football that relies on quick counter-attacking and direct vertical play. This is further aided by the great partnership Thuram has forged with fellow french striker Alassane Plea. Together they offer fluid attacking football where either one can pop up through the middle or out wide, bamboozling opposition defenders. At 23, Thuram is one of the elder statesmen on this list, but his growth as a player is still far from complete, showcased in the immense development he underwent last season from a raw talent to a more goal hungry forward. With a manager like Marco Rose guiding his development, Marcus Thuram will be a name heard all around Europe in the coming years.


Bayer Leverkusen:
Florian Wirtz, May 3, 2003 (age 17 years), attacking midfielder
The youngest player to feature on this list, 17-year-old Florian Wirtz is held in very high esteem by the Leverkusen, who see the German U21 international as the long term Kai Havertz replacement. Since the restart in May, Wirtz has been a firm part of the Leverkusen first team, featuring in 7 of the 9 games Leverkusen had in the final stretch of their Bundesliga season as well as starting all 3 Bundesliga games so far this season.

With a fantastic first touch, and an ability to play at full speed whilst maintaining the vision of better placed teammates, it is no wonder that Rudi Völler worked wonders to get the teenager out of Köln in January. Wirtz has a skillset that could see him feature across many positions depending on the personnel available to Peter Bosz, with his silky skills and agility making him viable as a winger and delicate passing and awareness enabling him to play on as an attacking midfielder.

With a technique and maturity well beyond his years, it is important that Leverkusen remind themselves of just how young Wirtz is. Although fully capable of taking over from Havertz in the next few seasons, to expect Wirtz alone to fill the role that Kai has left would be an absurd amount of pressure and expectations to put on his talented yet inexperienced shoulders.


TSG Hoffenheim:
Christoph Baumgartner, August 1, 1999 (age 21 years), attacking midfielder
One of the brightest prospects coming out of Austria, Christoph Baumgartner made his breakthrough in the second half of last campaign, scoring 6 goals and assisting a further 3 in the 18 games of the rückrunde.

Baumgartner is best as an attacking midfielder, arriving late into the box for cutbacks or balls delivered aerially. Baumgartner's best trait is his excellent timing when arriving into the box or between channels in the midfield. This allows him to pick the ball up in tight areas where he is momentarily unmarked and create space where there seemingly is none. It also means that when arriving into the box he is able to find the necessary inch of space to unleash a shot, unmarked from opposition defenders unaware of his presence.

At times, the twice capped Austrian international is somewhat too anxious in possession, looking to shoot or dribble when a teammate is better positioned, however, Baumgartner has the ability to change a game. This was clear to see on matchday 28 of last season, when his incredible back heel assist and two goals spurred Hoffenheim onto a 3-1 win against FC Köln.


VfL Wolfsburg:
Maxence Lacroix, April 6, 2000 (age 20 years), centre-back
Maxence Lacroix is as good a bet as any for Bundesliga's rookie of the year if he continues to perform at the level he has so far. After playing more than 20 games in Ligue 2 (France's second divison) at the tender age of 19, Wolfsburg snapped up the defensive talent this summer for €5.00m, and he has immediately hit the ground running.

In his first two Bundesliga games, the French defender played with an elegance far beyond his years, culminating in a clean sheet on both occasions. Lacroix is a physical player, dominant on the ground as well as in the air with his staggering 1,90M. Lacroix does not only use his physical robustness to come out on top, with his defensive awareness equally impressive for his age. This trait was on show in the opening matchdays with him leading Die Wolfen in interceptions on both occasions. With just 2 Bundesliga matches under his belt, it is unclear how far the young centre-half can take Wolfsburg. However, with the small price Wolfsburg had to pay F.C. Sochaux for his services, Lacroix may just be the bargain of the summer.


SC Freiburg:
Roland Sallai, May 22, 1997 (age 23 years), right winger
Sallai's first two seasons at Freiburg haven't exactly been smooth sailing, with the highly-rated Hungarian spending long patches injured or out of the team. Slowly but surely, Sallai has integrated himself more in the squad though, learning from the footballing grand master that is Freiburg coach Christian Streich and finding himself a key fixture within Freiburg's side post lock down.

Sallai started the final 10 matches of the season, including his first 90 minutes in a 4:0 win over Schalke on the final day of the season. Now as a more integral part of Streich's side, Sallai will be looking to kick on this season, looking to better his meager output of only 2 goals and 1 assist in the 2019/20 campaign. Promising signs of this were on display in Freiburg's first match, in which the Hungarian netted a goal as well as assisting one for veteran striker Nils Petersen. If Sallai continues to perform at this level and turns his flashes of brilliance into goals and assists, he could be yet another of SC Freiburg's expensive exports come next summer.

Eintracht Frankfurt:
Djibril Sow, February 6, 1997 (age 23 years), central Midfielder
With the oldest average starting XI this season (29.36), Eintracht Frankfurt probably aren't the side to support if you are coming to the Bundesliga for the young talents and future world beaters. There is one exception to this label though, combative box-to-box midfielder Djibril Sow. Signed from Swiss Champions Young Boys last summer for €9.00m, Sow has shown why Frankfurt were so keen on his signature. His intense workrate and directness in possession fit right in at Addi Hütter's Frankfurt, who often toe just on the line of complete chaos in and out of possession. Sow's versatility in the midfield is another important element of his game, with Frankfurt often playing with just 2 midfielders, his ability to play as a defensive, box-to-box, or attacking midfielder means he is a key tool to have in all areas of the pitch.

Sow still requires a slightly more physical edge to his play to make the next step in his career, with his mediocre strength and ability in the air leaving Hütter with no choice but to leave him on the bench in crucial games where Frankfurt do not see much of the ball. However there is no reason that Sow can not fulfill his potential if he works on these elements of his game or finds a side more suited to his strengths in possession.


If you enjoyed this article, make sure to follow Adam Khan on Twitter for more articles of a similar nature. Stay tuned for the clubs in the lower half of last season's table that will be available in the next few days!



Related stories