Every Bundesliga Club's Best Player Under 23 (Part 2)
By Adam Khan @XxAdamKhanxX
In the second part of our two-part series, we take a look at the brightest prospects at the teams, who finished in the lower half of the Bundesliga table last season, as well as the newly-promoted sides.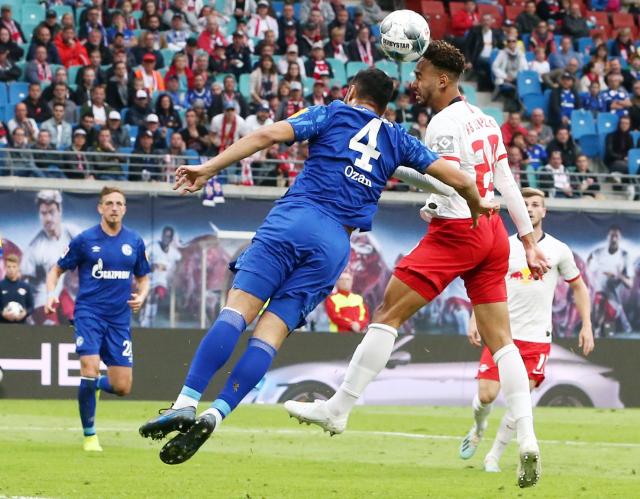 | | |
| --- | --- |
| Two of Bundesliga's future stars Ozan Kabak and Matheus Cunha battling for possession. | Photo: GEPA Pictures/Sven Sonntag |
The Bundesliga is renowned as a league filled with the world's best young talents. Between 2009 and 2017, the average age of Bundesliga players was just 25.84 – lower than all the other top 4 leagues – and a major reason why the league is able to attract talented players taking their first steps in professional football.


At Bundesliga clubs, young players are afforded time to grow whilst competing at the highest level. This balance between development and expectations is perfectly poised at many German clubs, providing youngsters with the ideal platform coming out of academy setups around the world.

Germany also boasts one of the best developmental models whose work culminated in the fantastic 2014 World Cup victory in Brazil. Since the embarrassing display at the 1998 World Cup in France that saw the national team bow out in the quarter-finals, Germany have overhauled their academies.

Coaching courses, more focus on the individuals' development and combining the best attributes of other nations styles with the Kampf (fight) associated with the German game have allowed for players like Toni Kroos, Marco Reus and most recently Kai Havertz to not be the exception, but the norm.

Having already focused on the clubs, who finished in the top half in the 2019/20 season, we now take a look at the teams who finished in the lower half of the table as well as the newly-promoted sides, picking out each club's best player under 23 years of age in this second part of our two part season.

In this second part of a two-part series, we take a look at each of the bottom 9 finishers from last season's Bundesliga, picking out each club's best player under 23 years of age.


Hertha BSC:
Matheus Cunha, May 27, 1999 (age 21 years), attacking midfielder

Under the ownership of German Millionaire Lars Windhorst, Hertha are looking to become the force on the pitch that a city of Berlin's size deserves. With €144.2m spent on new arrivals across the last three windows, the ambitions of Die Alte Dame are clear, qualify for Europe. Although performances have yet to repay the investment, one new arrival who has shown his quality is 21-year-old Matheus Cunha.

Signed from RB Leipzig last January, Cunha's performances quickly drove any fears of relegation out of the Olympiastadion. In the 9 games he started, the Brazilian international contributed to 5 goals and 2 assists, however his true qualities stretch far beyond what appears on the stat sheet. Cunha has shown at his time at Hertha that he doesn't lack confidence, always demanding the ball and willing to take over responsibility in front of goal. This was evident on Matchday 24 where Hertha trailed 3:0 to Fortuna Düsseldorf at halftime. Through an inspiring display from Cunha in the second half, Hertha were able to salvage a point out of the Friday night fixture, showing a resilience that had been lacking across Hertha sides in recent years.

Fans will be hoping his form in blue and white continues this season if Hertha have hopes of turning their expensive investments into success on the pitch.

Union Berlin:
Keita Endo, November 22, 1997 (age 22 years), left winger

From one Berlin club directly to the other. Union Berlin defied odds to stay up in their first Bundesliga campaign and are looking to push on in their second season, signing 5 attackers in the summer window, including Bundesliga Star Max Kruse. Amongst this list is one name that went under the radar, Japanese youth international Keita Endo.

Part of the Yokohama Marinos side that won the J League title in 2019, Keita Endo is a speedy young winger, equally adept on the right or left side due to ability to wreak havoc with either foot. In 33 games (18 starts), Endo scored 7 goals and assisted a further 6 – far from prolific, but a decent contribution from a young winger.

Endo will offer a different form of threat for a Union side who relied on the aerial abilities of Sebastian Andersson and set pieces almost exclusively last campaign. Along with Sheraldo Becker, Union now have two classic wingers who are able to drive with pace at opposition fullbacks and look for goal themselves. Japanese players have a history of success in the Bundesliga, and Endo will be looking to carry on the legacy at Die Eisernen this season.

Schalke 04:
Ozan Kabak, March 25, 2000 (age 20 years), centre-back

Schalke 04 have been engulfed in turmoil and setbacks. Following a 2018/19 that saw them finish in 14th, Die Königsblauen are currently on a 19 match winless streak, stretching all the way back to the 17th of January, matchday 18 of last season. One brightlight in an otherwise dire situation is 20 year old Ozan Kabak, who has been one of the few Schalke pros who has been able to save some face throughout the catastrophic last 6 months.

Signed from Stuttgart last summer after winning the Bundesliga Rookie of the Year award, Kabak went on to feature in 26 of Schalke's matches last season, proving a committed and reliable figure in a side that lacks both attributes. Kabak is a classic hard-nosed defender, with a physical profile reminiscent more of a Grizzly bear than a Bundesliga centre-half. Dominant in the air as well as on the ground, Kabak is at his best when up against a striker looking for a physical matchup. What Kabak still lacks in is his ability on the ball. The Turkish international is very safe in possession, opting for a long ball under pressure or simply recycling it wide to a fullback who is in no better position than himself.

At 20 years of age, Kabak has a huge amount of first team football under his belt, and numerous European giants keeping a close eye on his development this season. Kabak has many of the skills needed to go right to the top, and if he is capable of being a part of a team that can stop the rot at Schalke 04, then there may be no task too great for him to conquer in the future.

Mainz 05:
Jean-Phillipe Mateta, June 28, 1997 (age 23 years), striker

After an impressive 2018/19 in which Mateta scored 14 goals securing safety for a relegation threatened Mainz side, the French youth international was being closely monitored by multiple Premier league clubs. A torn meniscus suffered in preseason quickly silenced the rumors of a move away, an injury that ultimately kept the forward out for 131 days. His long injury lay off coupled with the Pandemic meant that Mateta never found a rhythm last season, coming to a meager 3 goals and 1 assist in his 12 appearances.

Now fully fit, Mateta will look to kick on from where he left off in 2018/19, using his aerial presence and dynamic speed to once again light defenses on fire. Mateta has shown signs of his old self this season despite Mainz's horrific start to the campaign. In the 3 Bundesliga games, Mateta has directly contributed to both of Die Nullfünfer's goals as well as scoring a hat trick in Mainz's come from behind DFB Pokal win against fourth division outfits TSV Havelse.

Although Mainz 05 look set for another season teetering on the edge of relegation, a combination of an in-form Mateta and Quaison upfront will go a long way towards ensuring another season of Bundesliga football come June.

FC Köln:
Noah Katterbach, April 13, 2001 (age 19 years), left back

Although losing Florian Wirtz to Leverkusen before the young starlet could even make a first-team appearance has left the Köln board steaming, having another young talent in the form of Katterbach will go a long way to easing the tensions in the board room. Having won the Fritz Walter Medal (honoring the best young talents in each age group of German football) at both the U17 and U19 level, Katterbach is an immense talent with a future in the German national team if he continues to develop as expected. Having made 16 starts last season, Katterbach proved himself capable of making the step into professional football, with his quick dribbling and attacking impetus from fullback giving Köln's game an extra edge.

The German youth international still has a large way to go however, with his final product leaving much to be desired. In 18 games, Katterbach registered 0 goals or assists, a poor representation of the amount of quality he has going forward. With a target like Sebastian Andersson to aim at this season, an improvement in Katterbach's crossing will result in a fair amount of assists this season.

FC Augsburg:
Ruben Vargas, August 5, 1998 (age 22 years), left winger

Although Augbsurg collectively had a challenging season that saw them finish narrowly above the relegation zone, Ruben Vargas' rookie season was a good start to his Bundesliga career. Signed last summer from FC Luzern for €4.00m, Vargas went on to feature in every Bundesliga game bar one in the 2019/20 campaign, scoring 6 goals and assisting 2. As expected of a player standing at just 1.74M, Vargas is a quick, fleet-footed player, who when allowed space is excellent at winning fouls or skipping past tackles.

However, Vargas like many young wingers lacks the consistency to be amongst the elite talent in his position. After scoring 3 goals in his first 3 games in the Bundesliga, Vargas had to wait until matchday 20 to register his next goal for FCA. Vargas far too often fluctuates between being the cornerstone of Augsburg's attacking creativity to an almost pedestrian figure on the pitch.

The talent is undeniably there, and he has once again hit the ground running this season with a goal in FCA'S win over Union Berlin on matchday 1. If the Swiss international is able to maintain his highest level of performance on a more regular basis, he has a big future ahead of him.

Werder Bremen:
Josh Sargent, February 20, 2000 (age 20 years), striker

With both Tyler Adams and Gio Reyna narrowly missing out in part 1, we had to find a way to feature an American in part 2. Still just 20 years old, Josh Sargent is slowly becoming a key figure in the Werder Bremen first team, starting in all 3 of their opening fixtures this season. With a huge defensive workrate and unselfish playstyle, Sargent is a useful figure for manager Florian Kohfeldt to call upon.

The young American is a tireless worker, willing to track all the way back into his own box if required of him. In a Bremen side that could find themselves once again fighting against relegation, having players like Sargent who are 100% committed to the task is crucial.

Sargent is still far from the complete package and has yet to be able to translate his prolific goal scoring ability from the US youth national team into the Bundesliga, scoring just 6 goals across 41 appearances. Sargent lacks the ability to lead a front line by himself, without the ability to hold up possession without another forward that is directly available to feed off of. In a Bremen side that looks somewhat more steady than last season, Sargent will have a good platform to fine tune these skills this season, and cement his position as the USMNT's long term striker.

Arminia Bielefeld:
Amos Pieper, January 17, 1998 (age 22 years), centre-back

Arminia Bielefeld won the 2. Bundesliga in style last season, winning the league with a 10 point margin, playing attacking football that saw them score 65 goals in 34 games. A key part of the title winning side was German U23 international Amos Pieper. Pieper featured in 31 of Bielefeld's 34 games at centre-back, a key contributor in a Bielefeld side with the second most clean sheets in the division (15).

However, Pieper's main attributes are in possession, with Bielefeld's game in possession flowing through him. Pieper is able to confidently play line breaking passes through or over top of the opposition. His composure that he demonstrates on the ball flows into his game when not in possession as well. Pieper is a very good 1v1 defender, not relying on physical strength to bully attackers, but using his excellent position and timing to win back possession.

One criticism of Pieper last season was his aerial ability, where he often got bullied in the air by larger strikers with a physical presence. However, with the towering Dutch defender Mike Van der Hoorn alongside him, there is enough aerial presence in the Bielefeld backline to cover up this deficiency.

Amos Pieper will be key to Bielefeld having a successful season in their return to the Bundesliga, and if he is able to translate his form from the second division into the top flight, a full international cap could be in Amos Pieper's future.

VfB Stuttgart:
Silas Wamangituka, October 6, 1999 (age 21 years), striker/right Winger

Congolese forward Silas Wamangituka has gone a long way in silencing his critics this season, with 2 goals and 1 assist in his first 3 Bundesliga games. Possessing a worldclass physical profile, with lightning quick speed, and bullish strength, if Wamangituka is afforded space to run into he is a handful for defenders. Wamangituka is capable of playing all across the front line, cutting in from either flank, or using his strength and aerial prowess to hold balls up as a striker.

However talented his physical profile may be, he is still a work in progress, with his decision-making and first touch requiring work if he is to establish himself as a major name in the Bundesliga. Wamangituka unlike many on this list did not grow up in an Academy setting, where structured football was drilled into him from a young age.

Rather, the Congolese forward still plays with the raw nature of a street footballer, with a single-minded drive to goal that seems inherent in his game. If Pellegrino Matarazzo is able to continue to get the more team-oriented performances out of Wamangituka that the Congolese forward has shown so far this season, the Italian-American coach will have a huge asset on his hands to aid in Stuttgart's campaign to stay in the Bundesliga.

If you have not yet done so, make sure to check out part 1 of the series, which focuses on the clubs who finished in the top half in the 2019/20 season.

If you enjoyed this article, make sure to follow Adam Khan on Twitter for more articles of a similar nature.



Related stories