Dominik Szoboszlai:
Salzburg's next big thing linked with RB Leipzig
By Adam Khan @XxAdamKhanxX
RB Salzburg's next big thing, Dominik Szoboszlai could be the next player to leave the Austrian champions for a move to RB Leipzig.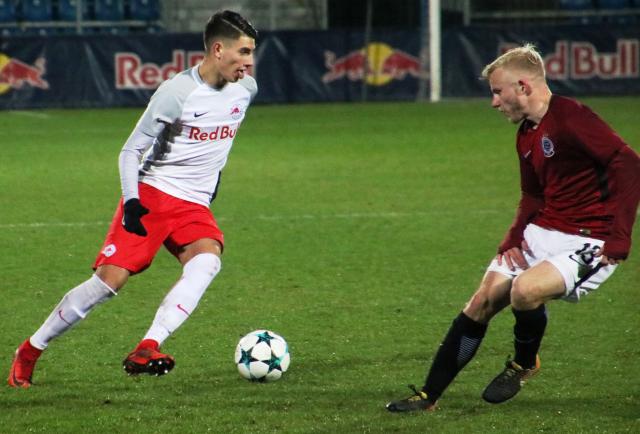 Photo: Werner100359, CC-by-SA 4.0

Dominik Szoboszlai has been the name on everyone's lips, with dazzling displays for both RB Salzburg and the Hungarian national team leading many European giants to take notice of his talent. With a contract that expires in 2022, and a release clause of £24 million that can be paid in three separate installments, it is looking like Szoboszlai will be the next Red Bull talent to make the move abroad, with RB Leipzig leading the charge for the 20-year old's signature in January.


Szoboszlai has not looked back since leaving his homeland of Hungary for Austria in 2017. After one and a half years amongst the youth setup and second team for RB Salzburg, Szoboszlai made the step up to the first team. Following a season under Marco Rose where Szoboszlai played a bit part role off the bench, the arrival of Jesse March skyrocketed his standing in the squad. Szoboszlai quickly went from an impact sub to a key player in the RB Salzburg setup, instrumental in the clubs 14th league title.

Szoboszlai ended the 19/20 season as Salzburg's player of the year. With the departures of Minamino and Haaland in the January window, Szoboszlai grasped his opportunity in a more attacking role, becoming instrumental in Salzburg's league title as he contributed to 7 goals and 11 assists in Salzburg's 10 matches post restart.

With Szoboszlai seemingly carrying on from where he left off last season, leading the league in assists and having scored in Salzburg's opening two Champions League matches, it is no wonder so many European clubs have taken notice of the 20-year old's talent. Already one of the key players for the Hungarian national team as they head into the Euro's this summer, Szoboszlai has the world at his feet.

Although recent goals in the Champions League and a highlight reel winner vs Iceland pose Szoboszlai as a clinical finisher, the young Hungarian is much more at home in a creative role. Having played as a deeper midfielder before the departure of Hannes Wolf last summer, Szoboszlai translates the skillsets of a central midfielder into his attacking role under Jesse Marsch, looking to link up possession and find pockets between opposition lines.

Particularly Szoboszlai's movement is already a huge strength, as he looks to drift wide to the left side and vary between running in behind or coming towards his teammate in possession. This movement commands the opposition to always be switched on to his runs, and one lapse in concentration allows Szoboszlai to pick up possession in dangerous pockets where he can do damage.


Szoboszlai's 22 assists for Salzburg so far in 2020 are a testament to his creative ability in and around the box. Szoboszlai will either play a delicate through ball into the path of one of Salzburg's many pacey strikers, or drive with the ball himself, committing the opposition before laying off for a now unmarked teammate. The Hungarian's ability on set pieces is also an asset that Jesse March has called upon this year, utilizing the 20-year old's ability from penalties, free kicks, and corners to create or score directly for the Austrian champions.

Although the Austrian Bundesliga hasn't historically posed the most competition, Szoboszlai has shown he is capable of translating his domestic performances onto the biggest stage. Two goals against Maccabi Haifa in the Champions qualifiers in September were added to in his first two games in the group stages, where Szoboszlai once again popped up with a goal on both occasions. Particularly long range strikes have become a real weapon in Szboszlai's reserves, with opponents punished when affording the 20-year old time and space within 30 yards of their goal.

Yet all of Szoboszlai's moments for his club stand in stark contrast to what he has shown on the international stage for his national team. A crucial 94th minute winner in arguably Hungary's most important game since the turn of the century helped qualify his nation for the Euro's this summer, catapulting his status from young talent to national hero. Drawn into Group F with European heavyweights Germany, France, and Portugal, Szoboszlai will be rubbing his hands in delight, looking at the next challenge to conquer in his search for stardom.

For all of Szoboszlai's attacking talents, against the ball there is still a lot of work to be done. In a high pressing, demanding style that Salzburg want to play against the ball, any player who isn't fulfilling their role properly can become a huge detriment to the success of the team. Far too often Szoboszlai switches off out of possession, casually tracking back, or coming too late to allow Salzburg's highly structured pressing system to be easily bypassed.

Although this is often not exposed domestically, against stronger competition these momentary lapses of concentration are mercilessly exposed. This has come to fruition this season, with Salzburg having played delightful attacking football for large stretches of champions league matches, yet still conceding a whopping 11 goals in their opening three matches. For all of the talent on display going forward, Salzburg have only 1 point after three matchdays, largely because of the sides' inability to transition effectively when possession is lost.

If Szoboszlai is able to work on his ability out of possession, the young Hungarian truly has the world at his feet. One needs to remember that Szoboszlai is still just 20 years old, with a massive amount of potential for development ahead of him. Although RB Leipzig are favorites with their Red Bull ties to Salzburg, many clubs will be competing for Szoboszlai's signature when the window opens in January. From Arsenal, to Milan, and even PSG, the wider footballing world has taken notice of Szoboszlai's displays for Salzburg, and will be hoping to get their hands on another Haaland like talent at the Austrian champions.

If you enjoyed this player analysis, follow Adam Khan on Twitter for more articles of a similar nature.



More about Dominik Szoboszlai