Fantasy Bundesliga:
Must-haves and differentials for Matchday 18
By Christian Andrick
Ahead of Matchday 18, we have highlighted a must-have player (M) and a differential pick (D) from each game that you should consider for your Fantasy Bundesliga team.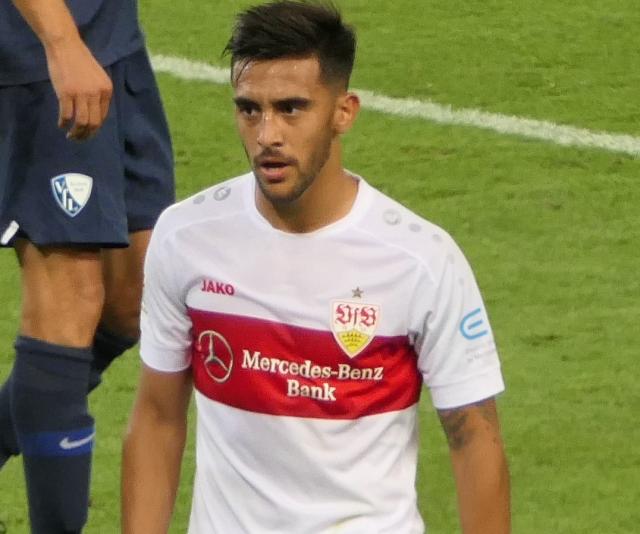 | | |
| --- | --- |
| Nicolás González and VfB Stuttgart look to rebound after a loss last weekend. | Photo: Silesia711, CC-by-SA 4.0 |
Borussia M'gladbach v. Borussia Dortmund:


M: Lars Stindl, Forward (BMG, 15.2M, 12%) - Stindl received a bit of a fitness break in the previous match against Bremen, only being subbed on at the 59th minute. Figured to be right back on the pitch as captain, Stindl and Gladbach should continue their hot form. In his previous five starts, Stindl has five goals and three assists.

D: Julian Brandt, Midfielder (BVB, 15.3M, 3%) - Brandt has started the last two games and has looked like one of the better Dortmund players on the pitch in each one. With this promising form in an otherwise awful year, you can capitalize on his good play at the moment.

Bayer 04 Leverkusen v. VfL Wolfsburg:

M: Moussa Diaby, Forward (B04, 13.3M, 2%) - The most influential player on the pitch in the match against Dortmund, Diaby was unplayable, netting once and setting up Wirtz in the end. If they want to keep any distance from the chasing pack, Diaby and Leverkusen will have to put on another superb performance. Wolfsburg's defense is shaky at best against top competition.

D: Maximilian Arnold, Midfielder (WOB, 14.3M, 1%) - Arnold and Wolfsburg are starting to make a serious push for Champions League football. A win against third-place Leverkusen would be a huge statement as we hit the halfway point in the season. Arnold has also started every game but three this season and takes over half the set-pieces.


Sport-Club Freiburg v. VfB Stuttgart:

M: Nicolás González, Forward (VFB, 9.8M, 1%) - González has served his one match ban and Stuttgart will be eager to get him back at the top of the lineup. Stuttgart is not the same with him missing and it was never more evident in their 3-0 loss to Bielefeld. González has scored in both his previous two starts before the match ban.

D: Nicolas Höfler, Midfielder (SCF, 5M, 0%) - Höfler missed the last match for yellow card accumulation as well and will be eager to get back in the lineup after serving his suspension. He does have a goal and an assist in his last two matches before the ban.

1. FSV Mainz 05 v. RB Leipzig:

M: Christopher Nkunku, Midfielder (RBL, 14.6M, 4%) - Praised for his play by Nagelsmann after the match, Nkunku should get a more solid look at the field going forward now that he is healthy. When on his game, Nkunku is one of the top Fantasy players in the game and he was playing very well before his ankle injury in early December.

D: Jonathan Burkardt, Forward (M05, 6M, 0%) - With Mateta's loan to Crystal Palace finalized, there is a little less pressure for Burkardt in regards to his spot and he can hopefully focus on just playing football. He has been active in the last four games with 10 total shots and one goal.

FC Augsburg v. 1. FC Union Berlin:

M: Christopher Trimmel, Defender (FCU, 10.7M, 6%) - After a much needed game off, Trimmel should be back in the line up with his deadly set piece delivery. One of the best in the Bundesliga at sending in a teasing ball, Trimmel has attempted an outstanding 101 crosses half way through the season.

D: Marco Richter, Midfielder (FCA, 9.3M, 0%) - Richter has scored double digit Fantasy points in two out of his last three games. In those games, he has 11 shots with one goal as well as eight crosses. This will be a big game for Augsburg as they are creeping closer to the bottom of the table.

DSC Arminia Bielefeld v. Eintracht Frankfurt:

M: André Silva, Forward (SGE, 17.9M, 8%) - A bit unlucky to not come away with a goal in Frankfurt's 2-2 draw with Freiburg, Silva has continued his exemplary form since the break with three goals in the last four games. He has also taken 16 shots with eight on goal in that timeframe.

D: Tuta, Defender (SGE, 1M, 1%) - With only four appearances on the season, Tuta will be a flyer pick for this game only. He brings a ridiculously low price with tons of upside and a chance for a clean sheet.

Hertha BSC v. SV Werder Bremen:

M: Matheus Cunha, Forward (BSC, 14.6M, 4%) - Cunha hasn't scored since November 21st but that hasn't stopped Hertha from deploying the Brazilian in every game that he is available. Cunha has already eclipsed his season best in minutes and goals half through this year. With a strong second half, he could really cement himself as a top attacker.

D: Mattéo Guendouzi, Midfielder (BSC, 11.M, 1%) - As time progresses, Guendouzi looks more and more comfortable on the pitch with Hertha and his play is starting to reap the rewards. He has shown more of an eye for goal lately to compliment his superb defensive skills.

FC Schalke 04 v. FC Bayern München:

M: Kingsley Coman, Forward (FCB, 1.9M, 3%) - Coman should be nearly at 100% fitness for this match. Last time Bayern and Schalke faced off, Bayern won to a tune of 8-0. This time may certainly not go the same route but Bayern are definitely going to put up some numbers as always.

D: Suat Serdar, Midfielder (S04, 11.4M, 1%) - Serdar has been solid but not spectacular in Fantasy terms, averaging eight Fantasy points a game in his last four games. Those points are without any goals or assists which shows the type of effort that Serdar puts in each match.

TSG Hoffenheim v. 1. FC Köln:

M: Oliver Baumann, Goalkeeper (TSG, 9.5M, 2%) - Two clean sheets in a row and a good chance for the trifecta. Hoffenheim has changed to a three man back line in recent games and after some turmoil, they may have grasped a new understanding of how to play.

D: Marius Wolf, Midfielder (KOE, 4.4M, 1%) - Wolf could be slated to lead the line up top for Köln this weekend. This creates massive value for such a cheap midfielder as you have an asset you can hang onto until the last game with little risk if you decide to not play him.

Looking for other Fantasy Bundesliga articles ahead of Matchday 18? Check out our predicted line-ups here and our general Fantasy Bundesliga tips here.




Related stories