Lothar Matthäus: The Legend
By Christos Vangopoylos
Perhaps the greatest German player of his generation and one of the best midfielders ever, Lothar Matthäus has also become well-known for his outspoken nature.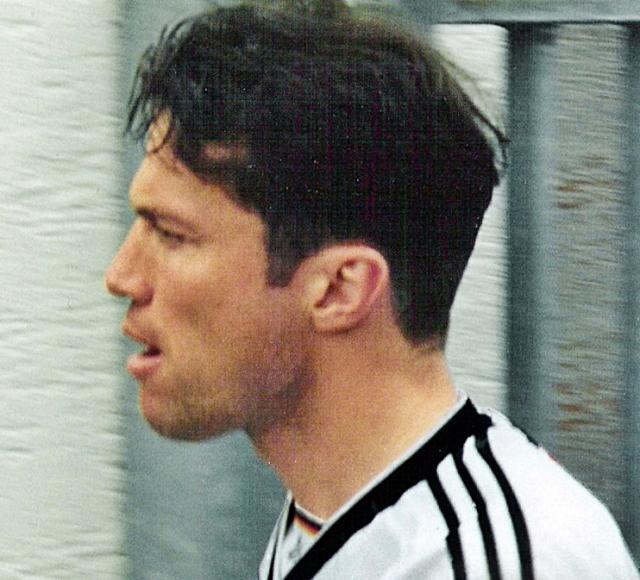 | | |
| --- | --- |
| Lothar Matthäus. | Photo: Florian K., CC BY-SA 3.0 |
There have been many truly magnificent players in football history, but only few as special as the man this article will focus on. Lothar Matthäus. Most capped German footballer of all time Lothar Matthäus. Most appearances in World Cup history Lothar Matthäus. 1990 Ballon d'Or winner Lothar Matthäus. That Lothar Matthäus.


Matthäus was born on 21 March 1961 in Erlangen, Bavaria, in what then was West Germany. He started playing fußball for FC Herzogenaurach at a neighboring town near Nurnberg. He made his senior career debut for his childhood club Borussia Mönchengladbach in 1979 and his international debut just a year later. He lasted 5 seasons west of the Rhine, making 162 appearances scoring 36 times.

He then joined Bavarian giants Bayern München, where his trophy winning habits really took off. He won the Bundesliga twice, the same amount of times as the DFB Pokal. He was also a finalist in the 1986-87 European Cup, but eventually lost to Portuguese side Porto. He was operating as a box-to-box midfielder during his 4 year stay there, which allowed him to have a goal scoring record of a goal every other game! In total he made 113 appearances, finding the back of the net on 57 occasions in what was his first, but not last stint at Die Roten. He then transferred to Inter Milan, along with teammate Andreas Brehme.

His arrival made an immediate impact as Inter won the league in his first season as well as the Super Cup. The accolades were also individual, as he was named FIFA World Player of the Year in 1991 after leading Inter to an UEFA Cup triumph, scoring the final's first leg, against Italian rivals Roma. His tenure there was a huge success, having played for Internazionale 115 times, while also maintaining his striker-like instincts scoring 40 goals.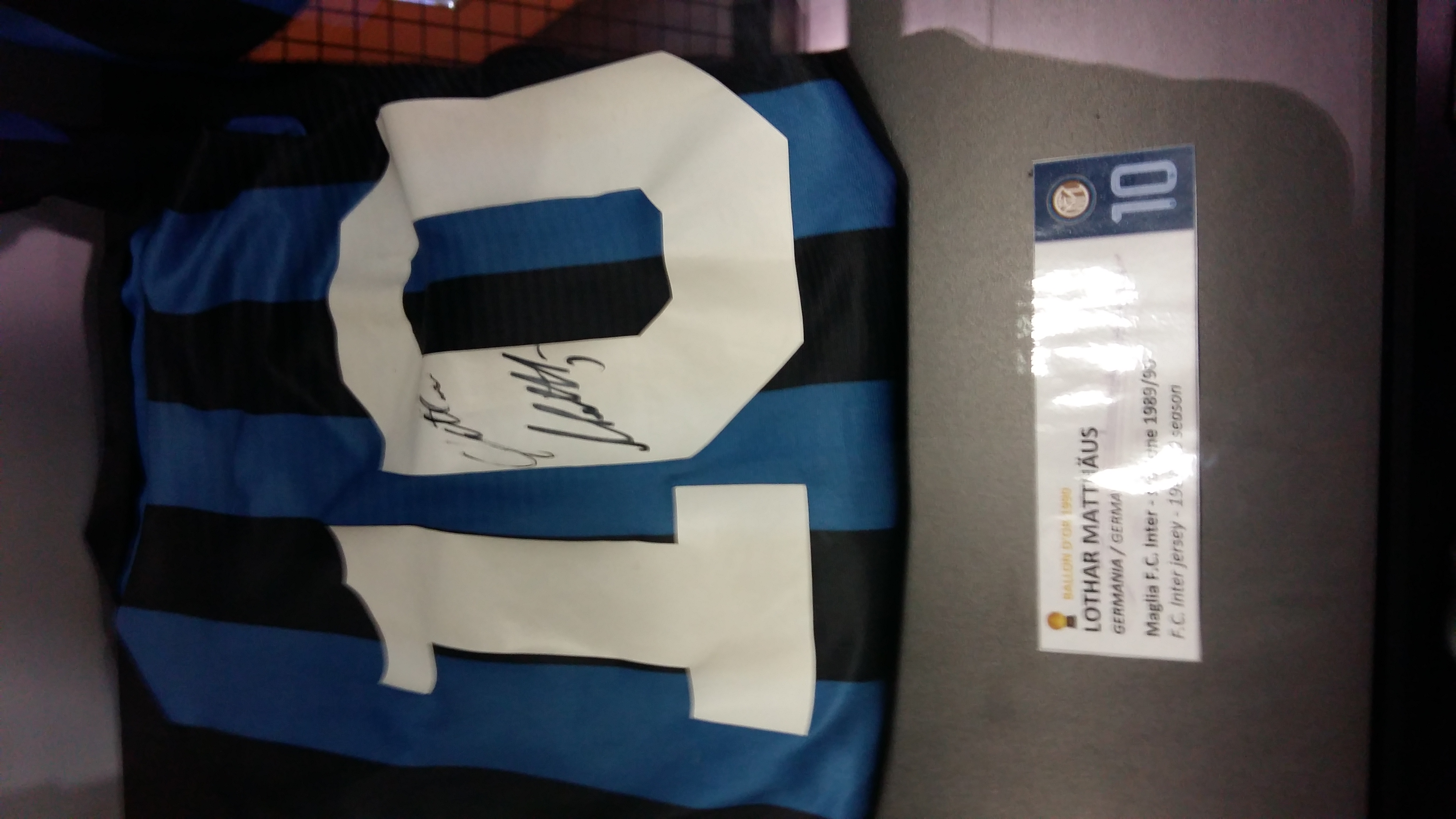 Matthäus' signed Inter shirt in the San Siro museum (Photo: Дмитрий Кошелев, CC BY-SA 4.0).

A 31-year-old Matthäus returned to Munich in 1992, going on to be crowned Bundesliga champion a further 4 times and cup winner a further 2. He also transferred this winning mentality into the European stage, where he made it to the UEFA Cup final once again in 1996, overcoming Bordeaux to lift the trophy, securing his status as a club legend. Bayern reached the Champions League final in 1999, losing to Manchester United, in what became an iconic turn of events, with United scoring twice in extra time after being down 1-0 in a match that felt eerily similar to their last failure. Matthäus himself was subbed off at the 80th minute and refused his runner-up medal in frustration and disappointment after having suffered the same fate twice. During his final stint in Bavaria, Matthaus proved his versatility once more, being featured primarily in the role of a sweeper, making use of his great defensive awareness and positioning, in addition to his pin-point passing.


After 189 more appearances and 28 goals in his second spell at Bayern, Matthäus left for one season in the States to play for Metro Stars (now NY Red Bulls), playing 16 games before hanging up his boots at the age of 39. Ironically enough, Bayern won the Champions League just a year after his departure, adding insult to injury. Surprisingly enough, that wasn't his last professional game as he came out of retirement in 2018 to register one appearance for FC Herzogenaurach, the club where he made his first steps in football. With the team already having secured the seventh division title, a 57-year-old Matthäus played 50 minutes for the club he always dreamt of retiring at, permanently hanging up his boots afterwards.

On an international level, Lothar was his usual self with an incredible 150 caps and 23 goals. He played his first game for Die Mansschaft at the 1980 Euros, a tournament which West Germany ended up winning. He also featured in the 1982, 1986 World Cups and 1984, 1988 European Championships, but to no avail. In 1990, the Mundial was held at Italy, where Matthäus was playing his club football at the time and West Germany emerged victorious, beating Maradona's Argentina 1-0, lifting the last trophy as an ununified West German side in Rome. He was part of the team in four (!!!) more tournaments, ending up as Germany's most capped footballer, a record he still holds to this day.


THE FINAL 🏆❤️
On this day: 08.07.1990@DFB_Team @FIFAWorldCup
(Source: picture alliance / dpa) pic.twitter.com/3Jm5OXhfxB

— Lothar Matthäus (@LMatthaeus10) July 8, 2020


There's no denying his absolute world class ability, hence the fact he was playing week in week out from the age of 18, all the way to 39, completing 21 years at the top level. With an unheard of record of 8 league titles and 14 cup competition wins, plus his two international trophies, his career could be considered an impressive feat only based on those parameters. But some 28 personal awards and honors, we have to wonder how dominant his presence on the field really was.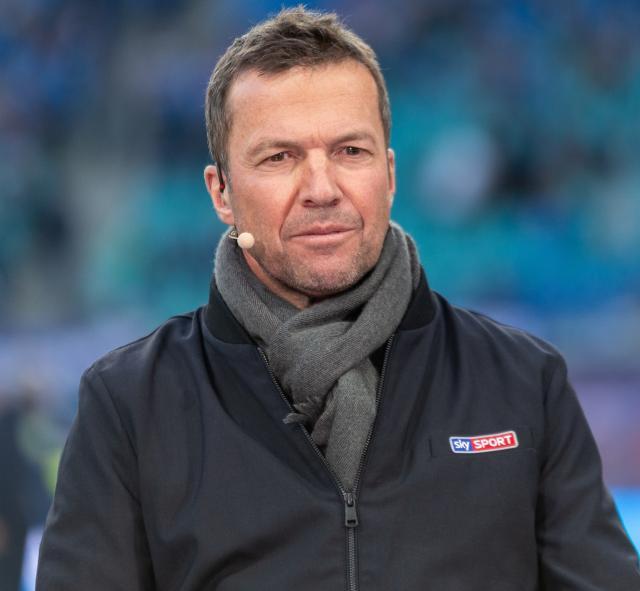 Matthäus now works as a pundit for Sky Germany (Photo: Steffen Prößdorf, CC BY-SA 4.0).

It's hard to overlook a man who Diego Maradona named his most difficult opponent in his own autobiography, someone who Pele, Rummenigge, Beckenabauer have called one of the best the sport has ever seen. But the sad truth is that Matthäus' outspoken nature caused feuds with an astonising amount of people. Effenberg, Sammy Kuffour, Rudi Völler are some examples of those that had few good things to say about his character. Perhaps most famously, Lothar quarreled with German National Team captain Jürgen Klinsmann and coach Bert Vogts, which saw him removed from the squad for the 1996 Euros that Germany eventually won.

Nevertheless, not a single soul can ever deny Matthäus' spectacular accomplishments and talents. Considered by many as the most complete player ever despite his sometimes controversial personality, he was and is a legend of the beautiful game. Although, it has become an overused phrase nowadays, there's few that fit the criteria more than him. Captain, leader, legend Lothar Matthäus.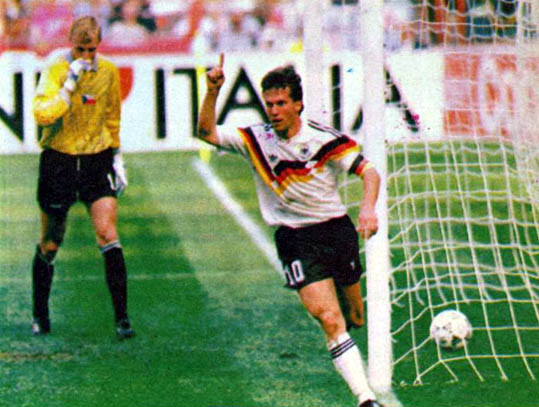 Lothar Matthäus celebrates after scoring against Czechoslovakia at the 1990 World Cup. (Photo: El Grafico).



Related stories