Nine German fan alliances still oppose 2024 UCL reforms:
"The associations will continue to sell us rotten compromises."
By Peter Vice @ViceytheSS
One day after a massive global protest movement defeated the European Super League, nine German fan alliances issued a joint statement warning football supporters to remain vigilant.

Among others, "Unsure Kurve", "Unsere Fußball", "ProFans", and "Zukunft Profifußball", held firm to their position that the so-called UCL "compromise reform" package remained unacceptable.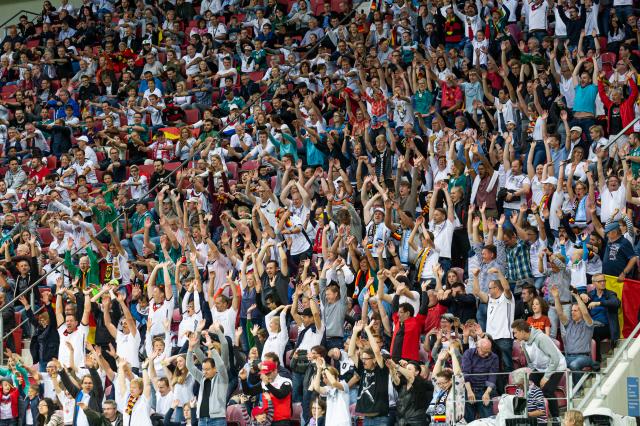 Photo: Steffen Prößdorf, CC BY-SA 4.0

The major German footballing fan alliances unequivocally made their position on the 2024 UEFA Champions' League reforms clear approximately five weeks ago. When a cabal of 12-clubs this week unexpectedly and shockingly pushed the effective 'nuclear button' and announced that they would break away from UEFA and the ECA, the 2024 reform package suddenly became the sole rescue mechanism by which the current model of European football could be sustained.




In the Bundesrepublik, this series of events has prompted some navel-gazing. Alliances have shifted. The unprecedented extent to which these clubs were prepared to go lead some to wonder if the next incarnation of these commercialized proposals might be prevented via more constructive stances. In order to address this sense of reflection within the German footballing public, it remained imperative that the country's major footballing alliances address the events of the week in a unified manner.

"Don't let yourselves be fooled," reads a statement signed by nine major fan alliances, "FIFA, UEFA and the national FAs are not the saviors of football who have rescued it from ruin. Rather, these same federations have abetted the monopolistic position of the top clubs."

"The associations will continue to sell us rotten compromises with the top clubs," the statement continues, "hawking them as football's salvation. The rallying-cry shall be: 'Swallow this pill because otherwise they will create a real Super League this time'"

In addition to calling for continued opposition the the 2024 UCL compromise reforms, the alliances endorse the more consistent application of Financial Fair Play regulations and more equal distribution of revenue from UEFA club competitions.



Related stories