Goodbye Hennes VIII, FC Köln's iconic local
By Akhil Fisher @akhil_fisher
So far, nine billy goats have graced FC Köln's RheinEnergieStadion as the club's iconic mascot.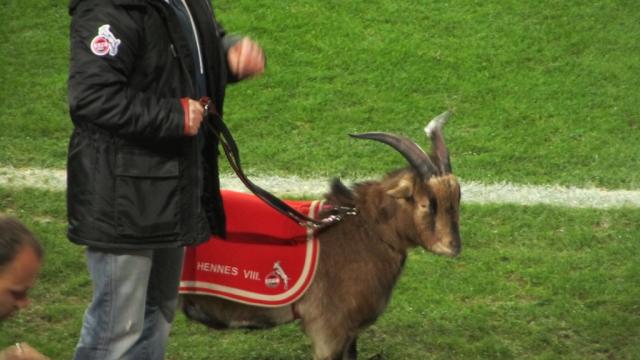 Many football clubs possess mascots, most being puppet-like characters that tend to animate lifeless characters. Not teams like Frankfurt, who have 'Attila' the eagle or Koln, who have 'Hennes' the billy goat.


Die Geißböcke's RhienEnergieStadion has long been blessed with the presence of Hennes, a male goat named after the former FC Koln player and manager Hennes Weisweiler.

Hennes VIII, was the eighth descendent of the original goat that first made an appearance in Cologne back in 1950 – when a local circus director gifted a billy goat to the team for good luck.

He was put down due to health reasons – osteoarthritis - aged 14. Hennes VIII will be laid to rest, as confirmed by the Bundesliga side.

Hennes I proved to be a lucky charm as the Billy Goats won the league title twice in three years – in 1962 & 1964. There has been a Hennes at Koln ever since.


We are going to miss you, Hennes VIII.

Our loveable goat, who was #effzeh mascot from 2008 until 2019, had to be put down due to health reasons. He was 14 years old.

Rest in peace, Hennes! 😢 ❤ pic.twitter.com/3P77QkujGf

— 1. FC Cologne (@fckoeln_en) April 21, 2021



Last summer, Cologne's managing director Alexander Wehrle said: "We do not want our club mascot ever having to stand in pain in the stadium. After promotion and the upcoming new season, it is now the perfect conclusion and time for Hennes VIII to enjoy his retirement."

He was a regular at the RheinEnergieStadion from 2008 – when he was only a couple of years old, until 2019, when Hennes IX took over.

However, during the pandemic Hennes IX hasn't been able to perform his pre-match duties – something that may have affected Koln's relegation position in the league this season. Coronavirus regulations have prompted the German FA to ban mascots from appearing for the matches.

Before every Koln match at the RheinEnergieStadion, Hennes takes to the pitch in a red Koln harness before watching the game from the touchline. A local celebrity, so to speak.

Rest in peace, Hennes VIII.




More about FC Köln