Americans in the Bundesliga:
Scally leads player-pack, Matarazzo and Marsch prepare for Friday showdown
By Peter Weis @PeterVicey
With every detail subject to scrutiny, our weekly deep-scout column on US football professionals earning their living in Germany returns!

Our first graded edition of the new season takes the opening round of the Bundesliga and last night's DFL Super Cup.

German football and the American actors playing in it are off to fascinating start, so do join us for our first in-depth look.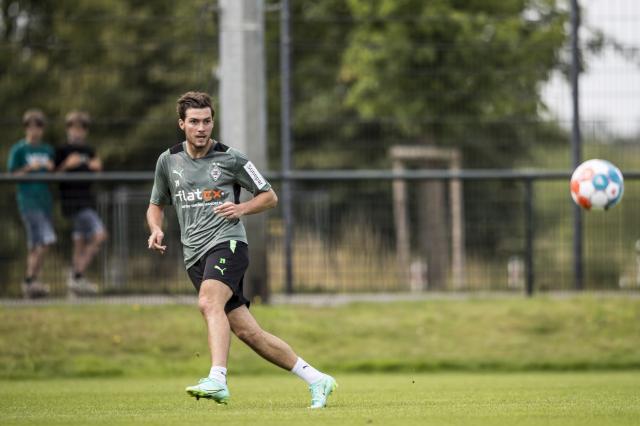 | | |
| --- | --- |
| Joe Scally. | Photo: Borussia Mönchengladbach |
Our first edition of this year's "Americans" column features seven graded sections, covering the five players and two trainers active in the 2021/22 German Bundesliga's first round. Virtually everyone in the Bundesrepublik finds themselves in the mood for some football after a pulsating opening weekend and an entertaining  DFL-Super-Cup fixture last night. This week's analysis incorporates Giovanni Reyna's performance in that early season teaser as well.


The German footballing public (as always) maintains their very strong opinion on the performance of the US actors in the Bundesliga's four-day curtain-raiser. Opinion remains somewhat divided on young Joe Scally, but the young debutant is getting plenty of press. Leipzig's Jesse Marsch--only the Bundesliga's second American trainer--finds himself under heavy scrutiny after his stacked squad got upset by Mainz on Sunday. Marsch has two more days to prepare for a showdown with the nation's first-ever top tier Bundesliga trainer on Friday.

Our grades keep most everyone near the moderate mean this week. Marsch's upcoming coaching opponent gets the only "A" grade. Scally, Julian Green and John Anthony Brooks land at "B" level. Tyler Adams and his trainer come in slightly below. Reyna lies at the bottom this time, but hardly in crisis at a "C-" level.

Pellegrino Matarazzo, VfB Stuttgart (Trainer)

Matches = 1 Result = W 

Grade = A

A strong enough statement from the Stuttgart trainer, who did well to silence those of us who tapped his team for the relegation fight. Adding the 5-1 smashing of Fürth to the 6-0 thrashing of Berliner Dynamo FC gives Matarazzo's men an 11-1 composite scoreline through the first two competitive matches of the year. The American head-coach did particularly well adjusting his tactics when his selected midfield half-pivot Atakan Karazor succumbed to injury early.

Lineup—VfB Stuttgart—Match One (5-4-1)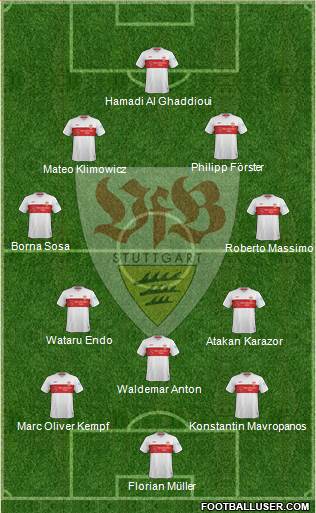 One should emphasize that it's not terribly hard to adjust to an unforeseen injury when one has a player like Wataru Endo. In its own paradoxical way, the Karazor injury benefitted one of the most flexible rovers in German top flight football. The 28-year-old moved up into central midfield while Philipp Klement joined Mateo Klomowicz and Philipp Förster on a triple-six axis that moved back a bit. Borna Sosa and Roberto Massimo then proceeded to separate in the familiar "split stagger."

This shapes up to be another fulfilling year for the "Wataru Endo watchers". The club's newly anointed captain dazzled in his debut, scoring the opening goal with a deft run forward and always tucking in behind Sosa when the Croat went on his own runs. Endo showed no signs of creative fatigue after participating fully in the recent Olympics. As a sleek and elegant conductor, he was involved on practically every cycle and sequence.

Looking ahead to Matarazzo's big showdown with Jesse Marsch's Leipzig on Friday evening, one doesn't wish to deify this year's Stuttgart side too much. Fürth's tactics (which we will cover) remained atrocious. Furthermore, two of the VfB's five goals in the rout came off of some very amateurish set-piece work from the newly promoted guests.

We must nevertheless accord both Matarazzo and sporting director Sven Mislintat for having the guts to part company with a very popular aging captain and rebuild around a dynamic young artist. Those seeking a "feel good story" amidst a dismally bleak week in global news may be interested to know that Endo--as reported by Germany's associated press--purchased a sushi buffet for his teammates ahead of his first team meeting last week.

Joe Scally, Borussia Mönchengladbach

Minutes played = 90/90, Positions played = LB, CB

Grade = B+

Scally's entrance in the Bundesliga means that we can no longer refer to Tyler Adams as "The New Yorker". As of this weekend, there are two youngsters from the Empire State playing in Germany's top footballing flight. Fortunately, it remains possible to differentiate between the two based on the footballing programs from whence they came. Adams is Red Bull System player whilst Scally came up though City Football Group. The former will thus be known as the "RB New Yorker"; the latter as the "NYCFC New Yorker".

Young Scally's "baptism by fire" in large part went very well. On a superficial level, one can speak of "a game of two halves". The 18-year-old did some incredible work man-marking Leroy Sané during the opening 45. He beat the German national team star in direct duels in the 3rd, 9th, and 12th, and 15th. With a quality stop basically coming every three minutes, one was further spoiled by a fine header away in the 6th, a strong clearance in the 7th, and a top quality forward move--which forced Sané to haul him down--in the 21st.

Running a little ragged and fatigued, he would later make a possession error in the 26th and a couple of bad marking miscues in 34th, 35th, and 37th. There were still some positives on display before the half was over, including two good wins in the 38th, 39th and 41st. Everyone on the Gladbach defense switched off on Lewandowski's set-piece equalizer in the 43rd. An overcooked forward pass from Scally at 45+1 came courtesy of some noticeable fatigue.

Those focused on Scally in the second half were surely disappointed at his lack of involvement. The fact is that Julian Nagelsmann's halftime adjustments--drawn up in the tactical bulletin--twisted Gladbach's back-four in knots. The American proved capable of holding his ground well through the first four minutes of the half. Around the 52nd, one could observe the Gladbach back-four losing its basic shape as they tried to cope with Bayern's inward-pulled fullbacks.

Matthias Ginter had to swing out to assist Scally on several occasions. Stefan Lainer also crossed over to help the American deal with the oft switching Alphonso Davies. Scally got badly beat in the 61st, 63rd, and 67th. He tanked fairly hard in the final twenty minutes on a reduced energy level. Over the course of the second half, one would have liked to have seen him take advantage of forward lanes more often. Examples can be found in the 59th, 78th, and once in injury time.

All told, however, the teenager won almost all of his direct duels and kept sharp on passing. Expecting the poor vertical near the end of the first half and a couple of misguided diagonals, Scally always connected. The manner in which some scooted around him later in the match were related to the team's problems switching to a zonal marking scheme. One could fault him for some bad box-mark stances in the first half, but one should take the caliber of players he was facing into account.

Some may consider this grade an inflated one. Note that it can be difficult to gauge a player based on mistakes made early in the observation. More effective scrutiny only comes when it can be ascertained whether or not a player learned from them.

John Anthony Brooks, VfL Wolfsburg

Minutes played = 90/90, Positions played = CB

Grade = B+

New Wolfsburg head-coach Mark van Bommel has plenty to stress about. The languid offensive impetus of his team may take weeks to rectify. The former Bayern star certainly could have done without the awkward mistake that cost his club this year's cup run in his coaching debut. Renewed talk that irreplaceable attacker Wout Weghorst may depart constitutes the last thing this rookie trainer needs. No one wishes to occupy his unenviable position.

The VfL gaffer can at least rest easy when it comes to one component of his squad: John Anthony Brooks and Maxence Lacroix followed up their suspect Pokal round with strong showings in the league. It was Brooks who got the play rolling with an incisive vertical on the play that saw Ridle Baku hit the post seconds after kickoff. The American continued to look razor-sharp standing tall against Anthony Losilla in the 8th and a deft clearance of Christopher Antwi-Adjei's cross in the 15th. In-between these he won two additional duels.

Punching through on a fine solo run in the 17th, he did ultimately lose the ball on a heavy forward touch. He then earned an assist credit on Weghorst's goal five minutes later, though this set of eyes isn't quite sure that he didn't actually totally miss an attempted header on Kevin Mbabu's throw-in. Brooks went quiet for a time as the game settled into a midfield stalemate. What forward action die Autostädter were able to generate went through Jerome Roussillon's side.

Perhaps taken out of the game a bit, the American marked a tad lax in the 40th and 43rd. Both the center halves hung back on the VfL drives in the second-half; surely a specific directive from a head-coach not looking to risk losing the slender lead. Brooks picked out a poor upfield pass in the 58th, then ball-watched until he couldn't catch up on the track-back. Our subject did a so-so job of keeping up with Bochum half-time sub Pantovic. Not an indictment of him by any means as one pair of legs stood fresher.

The columnists recorded 98 touches, 80 successful passes, and a 75 percent duel rate. Well above average along with his partner on the day. Nothing to be concerned about insofar and the Berliner is concerned.

Julian Green, SpVgg Greuther Fürth

Minutes played = 70/90, Positions played = CM, AM

Grade = B-

A "Fürth Autopsy" essentially affirms that this American really can't be faulted for the squad's total wilt against Stuttgart. Feel free to subjectively disagree with this. Green's set-piece delivery wasn't the sharpest on Saturday afternoon and he did appear a little slow on inside cuts. Overall, however, it seemed a case of a poorly-constructed constellation pulling a player into an unhelpful no-mans-land.

Note that similar sentiments often accompanied Josh Sargent sections when discussing Werder Bremen last year. Separating the individual performance of the player from the failure of the construct remains exceedingly difficult. Not an exact science by any stretch of the imagination, it frequently counts as the most subjectively biased of all analysis.

We talked a bit about the inherent problems with Stefan Leitl's 3-5-2 in the tactics bulletin. Here's the pledged draw up:

Lineup—Greuther Fürth—Match One (3-5-2)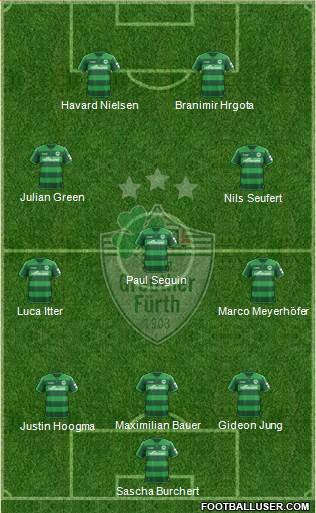 To reiterate the main point, the four players on the top two axes couldn't figure out how to coordinate either their approach or pressing play. Striker Havard Nielsen returned with almost no opportunity to regain his touch and spatial awareness on the training pitch. Newcomer Nils Seufert played a little higher up than he's accustomed to. Poor Paul Seguin stood little chance with such a large "patrol patch" ahead of a flat back-three with two new arrivals.

Given all these circumstances, one felt that Green did well with his aggressive pressure off the ball. Some of the best examples can be found in the 11th, 14th, 42nd, and 53rd. His shot on target at 45+2 belied frustration more than anything else, but also showed resolve and intent. Solid play-throughs in the 8th, 28th, and 46th could have swung the match in a different direction. A second viewing discloses that his set-piece delivery and throw-ins weren't all that bad. In many cases the targets quit on him.

The writer's (unofficial) tally of 33 touches isn't terrible for someone in Green's position logging only 70 minutes. One should laud the Floridian for firing only one wayward pass out of 14, winning all but one of his 16 duels, and doing his level to cover a great deal of ground without so much as a hint of slacking. Assuming Leitl takes proper stock of this performance, we may witness Green put together a more influential game positioned more inward and slightly farther up.

Jesse Marsch, RasenBallSport Leipzig (Trainer)

Matches = 1 Result = L 

Grade = C

Some upset from die Nullfünfter. Everyone has surely had the chance to encounter the story by now. Eleven Mainz players excluded because of COVID. Seven emergency call-ups from the U23s. Four them played. Two--Niklas Tauer and Paul Nebel--actually started. The ragtags gave an (unfortunately, not full possible capacity crowd) something to cheer about with a stunning 1-0 victory over arguably the most talented team in the league.

Hmmm. Sometimes one just doesn't have the words. In Jesse Marsch's case, the Bundesliga's second-ever American trainer retains plenty of words, yet lacks proper expression. A writer means this quite literally. After watching the Wisconsin native's pre-and-post match interviews, one finds oneself impressed with the amount of German vocabulary he's picked up over three years in Austria. The 47-year-old's grammar and syntax stands at a respectable 75 percent; incidentally also the amount of ball possession his team held in the match.

When it comes to the umlauts, however, our subject doesn't have his tongue around the basics. RB's new head-coach can't pronounce the "ä", "ö", and "ü" at all. Three letters aren't in place yet. Incidentally, one could say the same about three players in his first Bundesliga lineup.

Lineup—RB Leipzig—Match One (4-2-4)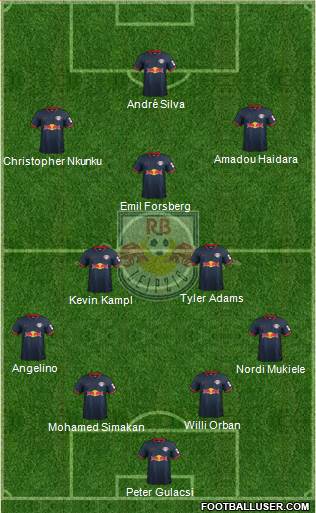 The exact same 4-2-4 we observed in the Pokal takes into account that the Mainz scouting package would answer via one of Svensson's 3-3-2-2s. In order to try something innovative against a predictably compact opponent, Emil Forsberg moves about as far back as we've seen on a club team in some time. The six-pairing of Kevin Kampl and Tyler Adams also separate ever so slightly to provide wide options around the ultra-consolidated version of Svensson XI. Logical enough. Still not aggressive enough.

This came closer to working than flailing. The lone goal in the 0-1 defeat resulted from a rather random freak occurrence. Nordi Mukiele's shanked clearance fell directly into Moussa Niakhaté's path in the 13th. Christopher Nkunku and Amadou Haiadara did get around the defense wide and might have sent the team in the tunnel up 2-1 had it not been for heroic defending from Alexander Hack, Stefan Bell, and an amazing recovery tackle from emergency deployment Niklas Tauer in the 29th.

One unfortunately has to dock Marsch for not even attempting to make any halftime adjustments. At the very least, he had to try to do something about his sixes. Kampl and Adams weren't connecting terribly well. This had the effect of confusing Angelino on the left. Many promising overlap opportunities were missed. The American trainer waited until the 64th to dive into his deep bench, getting Adams, Haiadara, and Nkunku off in favor of Szoboszlai, Sabitzer, and second striker Hee-Chan Hwang.

The set-piece structures looked well designed. Ostensibly, Marsch wanted to leave on some of the players familiar with the pieces they practiced on a bit longer. An equalizer off a corner or free-kick might have put the match to bed. All the marquee subs could then run roughshod over a team on the ropes. Instead, the underdogs gained in confidence down the stretch. Willi Orban came close on a pair of additionally impressive set pieces, but the hosts had the better chances.

At the risk of "Ted Lassoing" a very competent football trainer who clearly understands the important of planning dead-ball situations over the course of the week, one has to grade Marsch somewhat harshly for being too passive here. Note that the American has every right to expect more from his collection of well-paid players. It wouldn't necessarily count as a tactical miff-up to see him utilize a modified 4-2-4 press against Stuttgart on Friday. In this instance, he nevertheless got the opening hand wrong and could have done better to fix it.

Tyler Adams, RasenBallSport Leipzig

Minutes played = 64/90, Positions played = AM

Grade = C

The "RB New Yorker" gets the same marks as the head-coach who gave him his professional start across the pond back in 2016. Like several of his teammates in this particular fixture, the 22-year-old racked up plenty of meaningless touches. This writer counted 52, almost all of them on the right-hand side. Marsch may wish to, at the very least, implement some sort of rotation scheme if he wishes to keep Kampl and Adams together. Adams may be in his preferred position, but he and the Slovene don't seem to understand each other well. Kampl's importance to the team renders this problematic.

After a very shaky start for both sixes in the first ten minutes, there were a few bright spots. Two sharp dribbles came before Adams played a nice role in the sequence that unleashed Nkunku in the 15th. A skilled defensive read in the 20th helped get his team into the attacking zone again. His finest piece of field vision would come on the next sequence ultimately putting Nkunku through nine minutes later. Whereas the RB New Yorker supplied some pretty passes over the course of the afternoon, the columnist didn't really see him win any duels outright. The most Adams could do was fight opponents to a draw. He was lucky not to get booked for a late challenge seconds after the restart.

In the final analysis, it's average marks for a largely anonymous day.

Giovanni Reyna, Borussia Dortmund

Matches played = 2/2, Matches started = 2/2

Minutes played = 165/180, Positions played = CM, LW, RW

Grade = C-

Some may be surprised to see a played so consistently venerated at the bottom of our first graded section of the season. The fact is that Gio has gotten off to a rocky start in competitive play. Many of his poor touches during the weekend fixture are chronicled in this round's tactical bulletin. The inability to hold the ball up on the sequence proceeding Felix Passlack's own-goal carried with it the potential to cost his team severely. Those with access to the tape of Saturday's "Top-Spiel" can watch him struggle with his touch in the 5th, 7th, 11th, 21st, and 43rd.

The young American did markedly improve in the second half of the Frankfurt encounter. He was part of a nice give-and-go in the 50th and gave us some of that sickly sweet technical dribbling skill on a run three minutes later. The ball given to him in the 58th didn't require the most stunning of finishes, but kudos to the teenager for taking the chance to open his goal-scoring account in week one. While obviously not credited with an assist in the three first half goals, he was tangentially involved in two of them.

The league fixture wasn't the easiest to score. A columnist straddled the B-/C+ line after a re-watch. Reyna seemed to sometimes drift out of full match awareness sometimes, perhaps best exemplified by a late start in pursuit of a Marco Reus flick in the 17th. Makoto Hasebe's haul down of him in the 30th wasn't pleasant, but neither was Reyna's untidy retaliation one minute from the break. This was not at all the confident and stylishly graceful Gio we witnessed in the Pokal.

Speaking of the Pokal, BVB head-coach Marco Rose surprised us all by going with the two-striker-set again in last nights DFL Super Cup. Instead of Steffen Tigges working alongside Erling Haaland, all the (still recovering) German national team devotees across the globe began salivating when they saw Youssoufa Moukoko's name on the team sheet. Die Schwarzgelben worked in the exact same 4-3-3 used in that impressive domestic cup win. Naturally, "worked" may not necessarily be the best verb to use; "existed" may constitute a more accurate choice.

Reyna, stationed a little further back past the halfway line with an extra attacker on, found himself with loads of extra defensive work to do. The Dortmund back-four got positively shredded by the Bayern menace early on. Both he and fellow midfielder Mahmoud Dahoud had to foul FCB flyers during what was a choppy opening twenty minutes. The only time Gio even had the ball past the halfway line in the first half hour was to take a pair of corners, neither of which was very good.

A pair of solid passes to Reus, Dahoud, Passlack got wasted when the recipients turned the ball over. Hardly Reyna's fault, but he didn't exactly demonstrate good reads on the developing play all night long. Field vision seemed narrow. One could say that of the entire team, with Moukoko and Haaland congenitally breaking from an offside position. Another very nice pass from the American got went for not after a head start by Haaland in the 52nd.

Defensively speaking, the chronicler's count has Reyna winning just over half of his duels. Nice stifles are on display in the 11th ,40th, 51st and 58th. Other times, he held off the play when he could have conceivably made an impact. Marginally below average marks weigh down the grade of the Bundesliga's most promising American prospect somewhat. At this point, there doesn't appear to be anything warranting major concern. The "American Dream" gets his next chance against an SC Freiburg side a bit shorthanded in midfield on Saturday. We could witness a spectacle there.

Thanks so much for reading! You can occasionally catch Peter goofing off while watching the lower German football divisions on twitter, @ViceytheSS.

Twitter DMs are open for football conversations, corrections, and (if you truly insist) general abuse. 

All columns debut on Bulinews before appearing on Peter's website later in the week.




Related stories