Bundesliga Tactics Talk: Round One
By Peter Weis @PeterVicey
Over the course of a pulsating three days of fantastic football, the German Bundesliga returned to kick-off its 59th season this weekend. The emotional scenes were stirring as all nine hosting clubs welcomed their largest fan contingents since the beginning of the global pandemic.

The return of the Bundesliga brings with it the return of our "Tactics Talk" column. Just like last year, complete coverage of the big talking points from all nine fixtures is available to you every Sunday night here on Bulinews!

Do come along for a fun ride as round one of the 2021/22 campaign left us with plenty to unpack. We'll cover it all from the Bayern-Gladbach opener to the Köln-Hertha capper.

This week's "tactical focus" breaks down the Frankfurt-Dortmund seven-goal thriller. A German football lover's heartfelt appreciation for Gerd Müller can also be found below.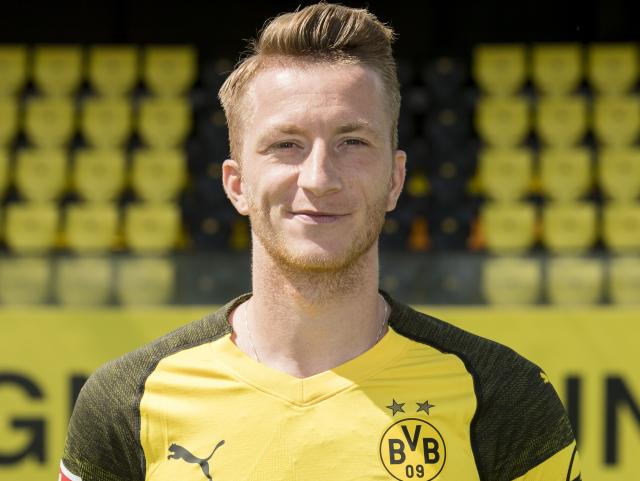 | | |
| --- | --- |
| Marco Reus. | Photo: Borussia Dortmund |
Bundesliga Tactical Banter: Round One
Lull of the "Sleepers"

As promised in the intriduction, We cover it all here at Bulinews; even the sad offerings that force one to dust off the "Football Apologist's Hanbook". All nine fixtures must be watched and addressed in some way. It's thus sometimes easier to get the duds out of the way first. Ahem. Tipped European contenders SC Freiburg proved a total bust in their opening day trip to the Bielefelder Alm. A writer offers sincere apologies. He sincerely thought that Christian Streich had something more exciting in mind than the exact same XI he used in the Pokal.


The Freiburg 4-4-2 looks almost deliberately built to put one to sleep. Frank Kramer's Bielefeld 4-1-3-2 uses Manuel Prietl ahead of the defense to stop traffic and launch long balls to nowhere. Following the lob play produced the same effect as focusing on a hypnotist's swaying watch. Again, apologies. At least Fabian Klos supplied an interesting post-match interview. So very kind of the man from a rural German village to offer to "butter [Masaya Okugawa's] toast".

Kudos to Klos for supplying us with tips for a bucolic German morning. Perhaps later we can "chase a pig through the village" with Sebastian Rode in the afternoon and then "pass out sugar cubes at the pony farm" with Julian Nagelsman in the evening. Busy day in rural Germany. One might be too energized to rest.  If you find yourself in the need of something to put you to sleep, this writer suggests Freiburg-Bielefeld.

Leverkusen-Union hits the snooze

One of the weekend's most highly anticipated offerings got off to a furious start before rather disappointingly smashing the alarm clock and crawling back into bed. Newly signed Union striker Taiwo Awoniyi came through for the raucous hometown crowd in his first-ever appearance as a non-loan player. The Nigerian dazzled with a sweet set of touches and a thunderous finish past Leverkusen's Odilion Koussouno in the 7th. Moussa Diaby provided the equalizer five minutes later with one of his scintillating ski-slalom individual runs.

And that was about it. Neither Diaby nor Awoniyi could find the finishing touch again all afternoon. Patrik Schick couldn't direct any of his headers on target. Cedric Teuchert, Levin Öztunali, and Andreas Voglsammer injected a bit of new impetus into Urs Fischer's usual 3-5-2 double-stack, but not much. Both of these teams seemed a bit distracted. With all the injuries and pending transfer moves, virtually none of die Werkself know who will be playing where this year. Union actually have to fly to Finland for their UEFA Europa Conference league qualifying playoff on Thursday.

One looks forward to watching that riveting contest on....hmmm.

Actually, what platform can one watch that game on?

Shot out of a cannon

The "Bomber of the Nation" has left us. How intolerably sad that a weekend that brought us so much joy had to also bring us such dour news. Gerd Müller's passing certainly put a damper on the Sunday's sensational upset at the Mainzer stadium that we call the "Neuer Bruchweg". The scenes of the COVID-striken heavy underdogs pumping up the home crowd were nevertheless still touching. A very strong statement from Bo Svensson's shorthanded "Bruchweg Boys" at the start of a season that could see them complete a remarkable turnaround by contending for Europe.


Taken in context, Müller's departure from this mortal coil shouldn't really be an occasion for sorrow. The affliction that ailed him was the harshest of all. The nature of of a particularly brutal illness both irreversible and incurable brings with it great suffering; torment most of us would prefer not even to talk about at all. Müller's suffering has ended. May we all be relieved that it has. "Der Bomber" never came to know that his epic record was broken. Tragic as that may be, perhaps this was as it should be.

It seems the only appropriate way for a humble column to pay tribute to Müller would be to discuss the Bundesliga's "Torschützenkanone" (the "Golden Canon"). Can anyone challenge Robert Lewandowski this year? Few believed that last season's second place finisher (André Silva, 28 goals) stood much of a chance after his switch to Leipzig. Today's result backs that. Silva most likely won't tank this year, but it was never reasonable to assume the same production numbers without a flank feeder like Filip Kostic. Jesse Marsch's Leipzig still have much to sort out.

Naturally, we have last year's third-place finisher (Erling Haaland, 27 goals). The Norwegian superstar incurred injury late in 2020, losing valuable time and struggling a bit with form after that mysterious "healing trip" to Qatar over the holidays. That brings us to joint fourth-place finishers Wout Weghorst  (let's simply say "no" for now) and another player who put up prolific numbers despite losing time to injury and illness last year. Andrej Kramaric of the Sinsheimers saw a positively beastly start last season curtailed by, among other things, COVID.

Somehow, the Croatian international still managed to score 20 league goals during a campaign in which he practically forfeited ten rounds to a form rebuild. Kramaric appears very much "shot out of a canon" this year; this time without any major obstacles in his way. In addition to registering a hat trick of assists in the weekend demolition of Hoffenheim, he found himself unlucky not to bag two or possibly even three goals of his own. Assuming both Haaland and Kramaric remain with their clubs through the season, one can infer a three-way-race for the Bundesliga's Golden Boot.

The "Burning Questions": Round One
How contemporary were Nagelsmann's Tactics?

Very. Of course they were. At least Half of the German football fanatics tuning into the season opener on Friday night probably watched Gladbach-Bayern on an overhead tactical cam. A young innovator takes charge of the country's footballing behemoth. Everyone wants to know how he fared. Naglesmann's first played hand doesn't merely dominate the discourse in German footballing circles. Germans waking up to their newspapers, radio, and podcasts on Saturday morning quickly discovered that the FCB trainer's lineup served as a top talking point across the Bundesrepublik.

So it goes in a football-obsessed land collectively checking in on their beloved Bundesliga; insatiably curious as to whether nine seasons of Bayern dominance confronts a new challenge. We obviously don't have a clear-cut answer to that question yet, nor do we really want one so early in the season. Some interesting trends can nevertheless be discerned. Nagelsmann put forth a very avant-garde solution to the hard Gladbach man-on-man press he (correctly) assumed that he would face.

Lineup—Bayern München—Match One (4-1-4-1)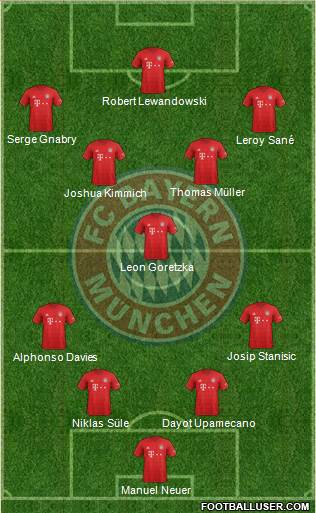 Definitely not Hansi Flick's "Self-coached" 4-2-3-1. That much we knew before kickoff. Here we have a different high-press. A rotative set-up on the third attacking axis constituted the new trainer's main tactical ploy. Whether that it itself counts as something terribly novel remains debatable. Setting up a rotating eight-system against man-to-man coverage is perfectly normal.

The "crazy eights"

What certainly wasn't normal concerned seeing Josip Stanisic join Joshua Kimmich, Thomas Müller, and Leon Goertzka in the midfield rotation. This asked a lot of a still-developing youngster in his first league start. Choreographing the four-man cycle properly took some time. Understandably, there were defensive coverage errors. Gladbach took early advantage with Hannes Wolf punching through pockets of space on the right.

This could have easily been rendered a moot point as Kimmich did pick up possession as the cycle intended and Sané got free on the right lane for close-quarter touches. Excellent defensive work from make-shift BMG left-back Joe Scally kept Sané frustrated. Serge Gnabry saw virtually no traffic on his side. This rotation clearly aimed to target the young American in an unnatural position.

"Parking" the fullbacks

On balance, Bayern deserved to enter the tunnel tied 1-1 with their NRW hosts at the break. Many will surely agree that the FCB were by far the better team in the second-half. The controversy surrounding what (to this writer's eyes) wasn't that questionable a non-call at all aside, keeper Yann Sommer kept the Bavarians from obtaining an earned three points. Nagelsmann's half-time adjustments were spot on.

Lineup—Bayern München—46th minute (4-1-2-3)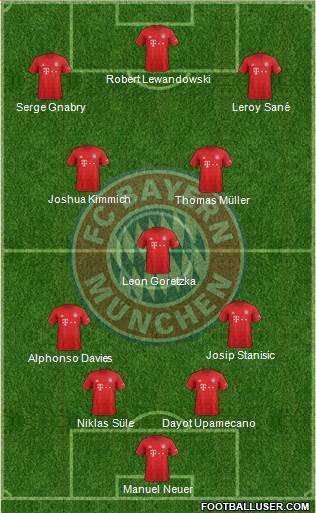 By spreading out the midfield trio and basically nixing the rotation, Goretzka was able to operate as a much more effective box-to-box driver. More importantly, shifting the fullbacks in and keeping their focus central forces the Gladbach back-four into a blanket coverage scheme. Scally and Stefan Lainer had to pull in to mark their men. After ten minutes or so, BMG trainer Adi Hütter ordered them to mark zonally.

A fluid eight rotation scheme counts as one way to break down a man-on-man press. It worked. All five centralized Bayern players on either side of the halfway line got their chances in. Davies and Goretzka were unlucky not to score. Sané and Lewandowski also got efforts in courtesy of the new approach.

Some vulnerability 

Naturally, Gladbach engineered some counters when either Davies or Stanisic found themselves overcommitted. One can make the case that Neuer's save on Stindl, a shockingly poor pre-season level first touch from Marcus Thuram, and even the debated penalty meant that the BMG could have just as easily won the match. All told Bayern generated equally, if not more, offensive chances.

A draw felt right here with neither side really firing on all cylinders yet. Those looking for useful lessons applicable to the title race won't really find anything. Nagelsmann isn't shy about employing modern tactical nuance, but that doesn't mean anything at this early stage. More mystery awaits and is actually quite welcome.

Is there a fix for Fürth?

Certainly not a quick and easy one. When previewing the Kleeblätter, we discussed how the departures of Anton Stach, David Raum, and Paul Jaeckel completely uprooted this team's defensive corps. This manifested itself in a most disastrous way against Stuttgart on Saturday. Fürth were among the best defensive teams in the 2. Bundesliga last season. Now, against a VfB side many of us have tapped as relegation candidates, they conceded an obscene 33 shots on target. Welcome back to the Bundesliga!

Stefan Leitl rolled out a highly impractical 3-5-2 that practically invited Stuttgart's crowded midfield to stretch out midfield anchor Paul Seguin. One can scarcely believe the rookie Bundesliga trainer made such a move. It's almost as if he and the coaching staff undertook minimal pre-match research. Horribly set up set-piece marking also supports this supposition. The SpVgg doesn't merely need to get back to the drawing board. Leitl and crew need to first locate the drawing board itself. Plan A before Plan B.

One well-intentioned element of the strategy saw the double-striker-set of Branimir Hrgota and the Havard Nielsen attempt to work underneath one another. This, combined with Julian Green positioned well on a second-axis left-slant, could imbue the team with attacking prowess from the short striker slot. Again, however, one must emphasize the need to prioritize. Plan A before Plan B. Defense first. Luca Itter and Marco Meyerhöfer have no business playing as wingbacks. Both Seguin and Adrian Fein should work a sweeper role. Make it a back-six. Stop the bleeding.

Is the Köln result a sign?

Forgive a writer if he still brims with excitement and enthusiasm after watching Sunday's fine capper. The fixture that capped the round deserves a tip of the cap. More specifically, it merits a tip of Steffen Baumgart's "golfing with grandpa" cap. A few of the Kölner fans in the stands have already caught onto the trend. Before we know it, everyone in the cathedral city will be sporting the grayish tweed headgear donned by the Bundesliga's most intense trainer. Only the beyond cool "beast from the East" could revive this look. Everyone in Köln presently dives into "Opa Helmut's" closet to see if the moths didn't take theirs.

The Geißböcke 4-1-3-2 performed exceedingly well against Hertha on Sunday. For the first time in as long as some of us can recall, the 1. FC Köln actually run a real, functional football formation. Jonas Hector is back playing fullback again! Benno Schmitz finally got a chance to claim the starting role he earned with such hard work last autumn. Mark Uth--after so much pain and suffering last season--returns to his hometown club to fill the short striker role. Gasp. There's an actual striker up top! It's even (surprise) Anthony Modeste. Words cannot express how happy German fans were to see him employ the "goggles" goal celebration coming off his own nightmarish season.

It's obviously far too early to claim that they can manage to avoid the relegation fray this year. Important parts of this team--like Ellyes Skhiri--are still likely to leave. Luckily for Köln, they are led by a coach who never celebrates prematurely. In point of fact, Baumgart doesn't really do the celebration thing at all. The words "rest on one laurels" have no meaning for a man likely to show less emotion than Hennes IX this season. The Domstädter are actually quite good. Next Sunday's "capper" against Bayern München can't get here soon enough!

What held up Wolfsburg?

There seems to be something holding up Germany's green company team as they enter the season. When one gains a man advantage four minutes into a match, one certainly has to do better than a dim, anemic 1-0. Observing the team didn't lend itself to easy conclusion. All of the same actors remain in place. With the possible exception of lead-striker Wout Weghorst, all turned in an above average performance in the exact same 4-2-3-1 the departed Oliver Glasner bequeathed to new trainer Mark van Bommel. It remains difficult to put one's finger on why it didn't function better, other than Bochum keeper Manuel Riemann of course.

When it comes to what is and what is not explainable regarding die Wölfe, one can only fall back on the clichéd excuses. It was a brutally hot day in Lower Saxony. True to form, attendance at the VW-Arena was pathetic. Approximately half of the eligible tickets were sold. A team working in the same constellation under a different gaffer often falls prey to a spell of uninspired play during which everyone simultaneously runs out of ideas. The team's very identity seems confused; the possession-drive rudderless.

In any event, a wholly unconvincing win against one of the league's bottom dwellers--not to mention likely DFB Cup elimination following a silly personnel error--doesn't bode well. Both die "Autostädter" and the team (Frankfurt) we'll be talking about in a moment appear to be firmly on the regression path. Regrettably, this translates to a pretty poor outlook for German Champions' League football this year. Two of the countries four UCL representatives find themselves in rebuilding phases.

Weekly Tactical Focus: BVB-SGE

Another year. Another electrifying start for Borussia Dortmund. If you happen to experience an intense feeling of deja vu, know that you're not alone. We found ourselves in precisely the same position not long ago. What an exceptional once-in-a-generation talent Erling Haaland is! The young-guns of the BVB can slice, dice, and shred any defense in the league! Surely this is the year that Bayern get knocked off their perch! This cracker of an opener augurs well for the state of the title race! The end of Bayern's uninterrupted dominance lies in sight!

Er. Wait a second. Nevermind. On second thought, maybe not. Yeah. Perhaps such elation was a bit premature. Perhaps it calls for a bit more reservation. Maybe this isn't going so well after all. Okay. It might be fair to say that we jumped the gun on this. You know what? Forget it. Forget that we said anything. Forget about the title race. Go ahead and forget that we said anything at all. Let's just drop the subject. We got a bit carried away. Sorry to lead you up a garden path. Totally our fault. Won't happen again.

Monsieur Talleyrand would appreciate the irony in this case. For the second consecutive season, Dortmund just fearlessly stormed right out of the gate. Like any turbocharged racehorse possessing the energy of a rabbid bull, the team could just as easily snap one of their fragile hindquarters and have to be euthanized on the track before too long. All a bit too familiar. The more things change, the more things remain the same. A significant amount of restraint is in order.

The inaugural tactical focus of the 2021/22 campaign covers a rollicking affair that proved oodles of fun. Bundesliga enthusiasts were treated to quite the entertaining opening salvo from the perennial title challengers. It's more than accurate to label this a strong statement from the BVB. Do note, however, that the primary lesson learned from Saturday's evening's top-match pertains to Eintracht Frankfurt. The SGE find themselves in complete chaos.

Lineup—Borussia Dortmund—Match One (4-3-3)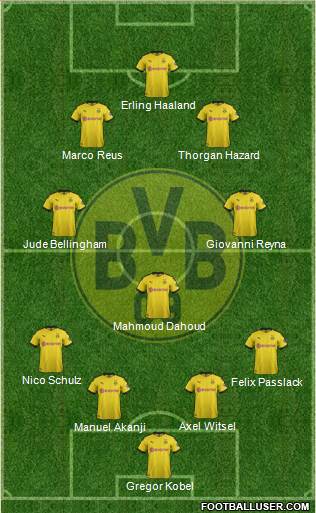 The basic shape remained easy enough to deduce upon the release of the team sheet. Mats Hummels' absence left Axel Witsel the only candidate to fill in at center back. One did have to wait to observe how the quartet behind Haaland would settle, though the dangers associated with Filip Kostic's side made it almost certain that Marco Rose wouldn't place any of his attacking actors overtly wide on the wings.

Operating without wingers

The specifics of this match demanded it. Giovanni Reyna, Jude Bellingham, Marco Reus, and Thorgan Hazard all had to be on hand to help Witsel out. Nico Schulz and Felix Passlack weren't to budge from their positions in the back-four. The affair would be decided on the third Frankfurt axis. This served as the key area of the pitch in Rose's calculus; the patch on which duels would be won, counters generated, and Haaland's bionic extendable legs would take care of the rest.

It was such that one witnessed Reus, Hazard, Reyna, and Bellingham follow a pseudo clockwise rotation. Obviously, the four of them retained complete creative license for improvisation. It still looked as if they tried to hold the pattern early on in the interest of allowing Mahmoud Dahoud to predictably press up in the middle of the cycle.

Avoiding the approach trap

There does exist an interesting takeaway from the basic tenor of die Schwarzgelben on the attack builds. BVB fans might be interested to know that Rose seems to have installed a possession directive of sorts. Too often over the last three seasons, we've watched as the approach play of Dortmund hesitates, slows, crawls, and ultimately peters out just ahead of the halfway line.

Maddeningly, either the sixes or the fullbacks allow opposing team's too much time too catch up on the break. One or two superfluous touches is all it takes for lanes to close in the blink of an eye. A perceived lack of interest in fixing this eventually cost Lucien Favre his job. Edin Terzic needed time to break the team of this habit. It appears, at least to this set of eyes, as if Rose has been proactive in fixing this.

One rarely saw a Dortmund player take more than four touches before passing. In most cases, the players employed one-touch forward football.

Eintracht: A team in disarray

Some of Markus Krösche's offseason transfer moves in his first summer on the job led one to raise an eyebrow here and there. In fairness, replacing André Silva was never going to be an easy task. It was probably also the right move to ship out some of the young striking talent not quite ready to play on a Champions' League level. The SGE's new sporting director nevertheless runs into the dreaded issue of poor squad balance with some of his recent transactions.

All it takes is one untimely injury to lay this bare.

Lineup—Eintracht Frankfurt—Match One (3-4-3)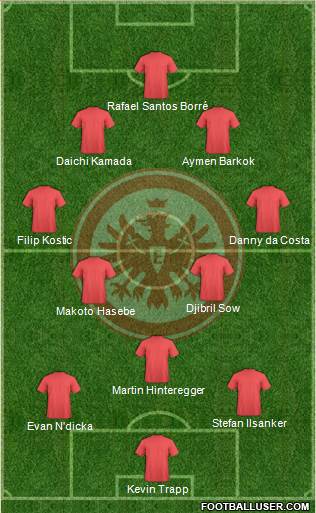 Without captain Sebastian Rode, Frankfurt entered this fixture one swaying domino away from a cascade or errors.

Plaster solutions for the back-three

New trainer Oliver Glasner would have like preferred to build a back-four in this instance, but the players simply aren't available to him. Moreover, even if they were, a total defensive re-format might be construed as too radical this early in his tenure. Almamy Touré's unavailability takes away his best option at right back. Timothy Chandler, Erik Durm, and Danny da Costa are more accustomed to wingback or outright winger deployments at the moment.

Glasner won't wish too tinker too much too soon. The squad's basic function revolves around Martin Hinteregger running the back line from a pivot position. Pocketing the Austrian risks upheaval. Obviously, something had to be done to address the defensive issues in last week's embarrassing cup defeat. Glasner responded by benching youngster Tuta in favor of Stefan Ilsanker's more experienced know-how. A page right out of Adi Hütter's playbook from last spring didn't work this time.

Lack of options on the right

Bundesliga opponents will naturally draw up match plans focusing on Kostic. The primary balance issue with this squad leaves Glasner poorly equipped to draw up his own counter response. The fact that Danny da Costa works the opposite side tells one something. Eintracht's trainer isn't confident in Durm, Chandler, or Ajdin Hrustic. Steven Zuber, Christopher Lenz Jesper Lindstrøm, and Jens Petter Hauge all usually work the left.

Amin Younes and Daichi Kamada, solid options under normal circumstances, are both rumored to be on the way out. The case of the latter really needs to be addressed quickly. Should the SGE's highly gifted Japanese international depart, there shall be a great creative deficit on the team. One could say that Kamada and Aymen Barkok switched sides enough times in this match to be classified as non-slanted double-tens.

Kamada stood as perhaps the squad's lone bright spot in the fixture.

Match Flow: 1st to 13th minute

Dortmund dominance reigned despite the fact that it took the hosts a little time to open the scoring. This happened to be one of those cases where control of the match flow was never really in much doubt. A badly beaten Hasebe had to haul down Reyna in the first. Only a precision toe-tackle from da Costa stopped Haaland from latching onto a Reus slide service in the 2nd. Hinteregger similarly got the ball a millimeter out of Haaland's way in the 5th.

Frankfurt's light penetration on Kostic's side in the 3rd was suspect at best. Passlack had little difficulty employing a sweep clearance. Witsel and Passlack would easily close ranks on Kostic ten minutes later. Between the 3rd and 13th, Dahoud engineered a lovely chance with a side-footed ball win in the 8th. A few broken BVB give-and-gos and tentative back-line stretch possessions weren't pretty, but the Westphalians remained firmly in control.

Match Flow: 13th to 22nd minute

Glasner's men received their best chance to swing the match the other way in the 14th. Twisting and turning with impressive artistic flair, Kamada danced past Witsel and Passlack on the SGE-left. The Dortmund right-back was barely able to recover in time, and only then thanks largely to a hard-hustle track back from Dahoud. By the 16th, however, the BVB were back on the front foot.

Reus all too easily stripped da Costa of the ball in the 16th. On a sequence one minute later, the Dortmund captain had Reyna all set up with a very clever flick into the box. Ilsanker took advantage of a moment's hesitation from the American teenager to scramble away. Heavy BVB bombardment ensued. Ilsanker again had to be on hand to stop Reus in the 19th, only dispossessing him with a hard precisions slide-tackle.

While there were plenty of instances in which the Dortmund players looked out-of-sync and altogether not on the same page in subsequent attacking rushes, it basically seemed as if the opening goal wasn't far away. The visiting Hessians were pinned back and launching desperate clearances. The tally, along with a bunch of other legitimate craziness, came soon enough.

Match Flow: 22nd to 34th minute

Marco Reus' 100th Bundesliga goal in a Dortmund tricot came at the end of a sensationally beautiful sequence during which Hazard aggressively plucked a ball out of Evan N'dicka's reach. A quick shuffle to Haaland off to the races with Makoto Hasebe (admirably) attempting a rather hopeless pursuit. The BVB's lead striker charged up two thirds of the pitch before servicing the captain perfectly.

Within four minutes of the 1-0 tally, the BVB scored again. Unfortunately, this time it was Passlack turning the ball into his own net. Reyna--who actually played a terrible first half full of unintelligent touches--failed to hold the ball up just outside the Frankfurt 18. The ball fell to Rafael Santos Borré. Passlack's sweep clearance off the Frankfurt striker's boot actually made for a rather elegant own-goal.

Eintracht were able to exploit the rattled Passlack in the minutes that followed. Kostic got past the Dortmund right-back easily in the 29th. Another defensive error in the 31st resulted in the ball finding the back of the net. Passlack was luckily saved by the offside flag. Witsel had to bail Passlack out a third time one minute later.

Randomly enough, Witsel's tackle away spurned a quick counter back the other way. Reyna and Haaland were involved in the upfield tear that ended in Thorgan Hazard finishing for the 2-1. Truthfully, however, Reus deserved the most credit his involvement at the beginning and his pick-out of the final pass. The 3-1 came before anyone had a chance to sit down.

After furnishing two assists, Haaland decided it was time to assert himself as an actual goalscorer. The manner in which the spry Norwegian beat Ilsanker to a loose ball left one feeling some sympathy for the SGE defender. Ilsanker's play for the ball was by no means bad. Haaland's was simply perfect right down to the nanometer. Filthy, dirty slick stuff!

Match Flow: 34th minute to half-time

At this point, Glasner's men had but one directive: get into the locker room without conceding another goal. The visitors barely managed this. More give-and-go magic from Haaland saw Nico Schulz get an effort on target in the 36th. New BVB keeper Gregor Kobel opted to show everyone up by doing the Manuel Neuer "sweeper" schtick in the 38th. Hazard only just missed a Haaland cross one minute later.

A bad giveaway from Djibril Sow sent Reus through alone again one minute after that. The captain would have had a brace had replays not confirmed that keeper Kevin Trapp actually failed to keep the ball from going out into touch on the rebound that gifted Reus the rebound. It got absolutely brutal as the BVB onslaught continued.

One could watch that Hinteregger, Hasebe, and Ilsanker struggle to summon up the strength to clear on three separate attacks in the final three minutes. Match official Tobias Stiebl mercifully blew the whistle after one minute of injury time despite the fact that we were told there would be two.

Match Flow: 46th to 58th minute

A triple-change from Glasner at the break remained as unsurprising as it was desperate. On came the newly-acquired Scandinavian wingers Jesper Lindstrøm and Jens Petter Hauge for Kamada and Barkok. Fellow new arrival Christoper Lenz relieved Ilsanker. The new shape settled relatively quickly for those of us with eyes on the tactical cam.

Lineup—Eintracht Frankfurt—46th minute (4-3-3)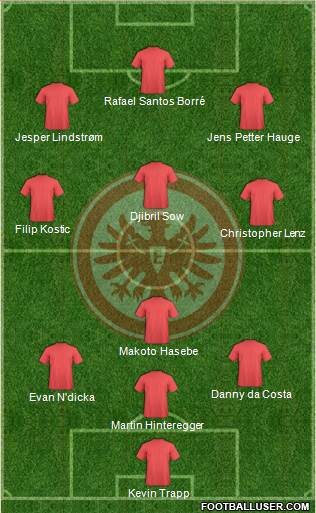 As we noted earlier in this section, Lenz and Hauge ordinarily work on the left. Hinteregger had some difficulty keeping his inverted pivot. The same applied to da Costa, who predictably encountered problems keeping an effective defensive axis with N'dicka. Hasebe did what he could with a large spatial assignment, but there wasn't much he could do so hopelessly overmatched.

The guests got some notable punches in under the new arrangement. Lindstrøm serviced Borré well from the left in the 47th. After some overly ornate Dortmund attacks between the the 50th and 53rd, Linstrøm again hit Borré in the 54th. Eintracht came within a high finish of getting back into the match. Rose's men then calmed things down with a slow-roll possession lull until Reyna's goal in the 58th.

Passing in the lead up to the 4-1 went Haaland, Reus, and Haaland again before reaching the young American's boot. Not to suggest that it wasn't impressive, but the marking from all SGE actors in the vicinity was completely atrocious. The entire back four made no attempts to challenge for the ball.

Match Flow: 58th to 70th minute

Somehow, it didn't end up being game-set-match just yet. Lindstrøm and Hauge linked up well in the 64th and Borré got another effort in at the end. Plenty of sideways passing from the SGE in the course of this twelve-minute passage. The Hessen-Eagles still maintained at least a half-an-eye forward. We'll never know if bringing on Hrustic for Hasebe in the 69th might have made a difference.

Reus and Haaland snapped the competitive spine of the match less than a minute after the sub. Haaland looked just a tad offside on the initial play-in past N'dicka. With access to the precise measurements in the Kölner Keller, the VAR team awarded Haaland's breakaway goal after it had initially been flagged down by the linesman. We reached the game-set-match point.

Match Flow: 70th minute to full-time

Not much of tactical interest to report on thereafter. Obviously, there wasn't much real football taking place in an already decided match. The overheard cam confirmed that a wave of subs could basically roam around wherever they pleased in loose shapes. Hauge opened his Bundesliga account in the 86th with a nifty move past sub Thomas Delaney, who surely had his mind on a host of other things.

The slightly improved performance of the Frankfurt after Lindstrøm and Hauge took over the flanks gives Glasner something--albeit something small--to build on. Lord knows he needs something. As explained at the beginning of this section, the very sorry state of the SGE remains the real lesson here. The shock upset to Waldhof Mannheim in the Pokal now undeniably cannot be seen as aberration.

The road ahead for one of Germany's Champions' League representatives appears a bumpy one. That doesn't mean Glasner will fail to get a coherent system in place before the halfway point of the season. Many will recall that the tenure of Glasner's predecessor Adi Hütter also got off to a turbulent start three years. We can nevertheless divine that the club is indeed much farther behind than initially thought.

And as pertains to Dortmund? The fact that Erling Haaland possesses superhuman skills hardly constitutes new news. The real talking point should really be what a productive use Marco Reus made of his summer. The German veteran's form has been surging since late last season. Reus demonstrated remarkable wisdom in ignoring the calls of most of us to return to the national team and explicitly ruling himself out of the Euros.

At the age of 32, after a 15-year-long professional career riddled with the worst possibly timed injuries, Reus simply knew better. Probably feeling better than he has in years, Reus knew the focus this offseason belonged on maintaining his current level and getting 100 percent fit. One wonders what will happen when Hansi Flick--in attendance at Signal-Iduna-Park on Saturday night invariably comes calling again.

An very interesting decision looms!

Thanks so much for reading! You can occasionally catch Peter goofing off while watching the lower German football divisions on twitter, @ViceytheSS.

Twitter DMs are open for football conversations, corrections, and (if you truly insist) general abuse. 

All columns debut on Bulinews before appearing on Peter's website later in the week.



Related stories