Streich and Glasner praise Grifo's fair-play action: "Freiburg's commitment to honest football."
By Peter Vice @ViceytheSS
Matters may not have turned out the way SC Freiburg wanted them to on Sunday afternoon, Vincenzo Grifo insisted that he never wished to win a match by dishonest means. 

Opposing head-coach Oliver Glasner praised the 28-year-old local afterward for what his sportsmanship during an incident in the 55th minute of Sunday's match. 

Glasner called Grifo "an absolute sportsman" and called him a representation of "Freiburg's commitment to honest football".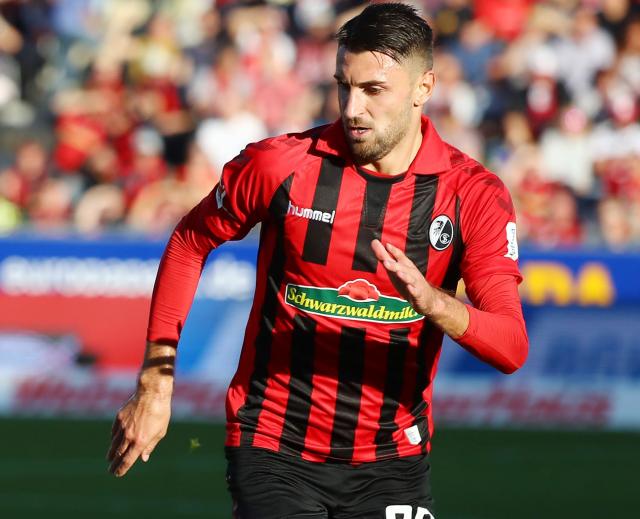 | | |
| --- | --- |
| Vincenzo Grifo. | Photo: GEPA Pictures/Roger Petzsche |
It was quite the scene at Freiburg's new Europa Park Stadion ten minutes into the second-half on the Sunday afternoon. Trailing 0-2, the hosts were under serious pressure to make something happen. Match official Florian Badstübner had already doled out two yellow cards in the second half for Frankfurt fouls on Freiburg substitute Kevin Schade. 


When Vincenzo Grifo charged into the penalty area from the left and appeared went down after appearing to get caught by Timothy Chandler, who had just been booked for fouling Schade. The fans in the stands screamed for a penalty. Grifo nevertheless immediately got up and made eye-contact with the onrushing referee.

"I didn't think he hit me and that's why I wanted to apologize immediately and explain that it wasn't a purposeful dive," Grifo explained to the DAZN microphones afterwards, "Even if it might have helped us, we want to win by fair means."

Badstübner kept his hand out of his pocket while approaching Grifo. He listened as the Pforzheim native explained that he just lost his footing and that Chandler hadn't done anything.

Frankfurt attackers Rafael Santos Borré and Jesper Lindstrøm gave the German (who represents Italy internationally) a supportive hug for his honesty and Badstübner flashed the thumbs up to his fourth official. Play resumed without a booking.

"I ran into him afterward and congratulated him on the gesture," SGE head-coach Oliver Glasner said afterward, "He's an absolute sportsman pure and simple."


Glasner addressed his opposite member Christian Streich directly as he continued.

"Vincenzo Grifo has shown what he and SC Freiburg stand for," the Austrian noted, "Honest football, fair play, and sportsmanship. Congratulations to you, Christian. At the end of the day, players are a reflection of their coach."

Commenting on the incident himself, Streich said "it pleased me greatly, because that was exactly as it should be."



More about the match
More about the teams