Bundesliga Tactics Talk: Round 12
By Peter Weis @PeterVicey
It proved a genuinely weird, wild, and wonderful weekend in German football in the 2021/22 Bundesliga's first round back from international break.

From the most unexpected Bayern upset in the Friday curtain raiser to officiating controversies galore in the two Sunday fixtures, there wasn't a great deal about round 12 that unfolded as expected.

As always, whether something was expected or not, we're here to cover it in the Sunday Evening weekend roundup here on Bulinews. "Tactics Talk" covers it all.

Extra draw-ups this week cover the Augsburg upset as well as the Berlin Derby. The full-match "focus" section opted for a Sunday fixture again this time.

Among many great offerings this weekend, Freiburg-Frankfurt seemed the most intriguing pick. It that sense delivered on this in most unexpected ways.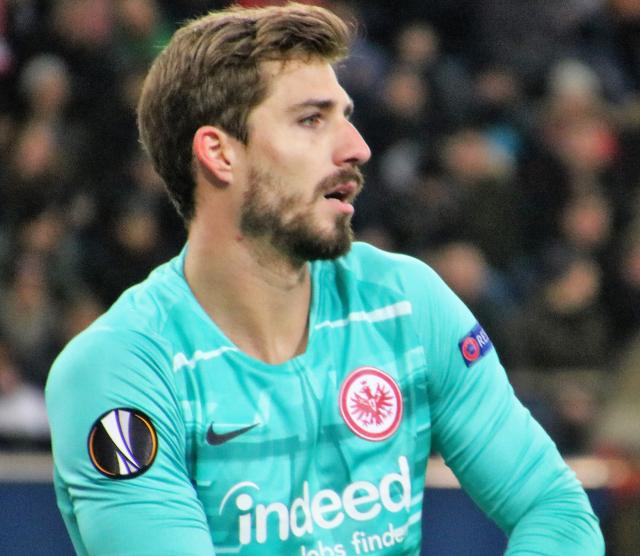 | | |
| --- | --- |
| Kevin Trapp. | Photo: Werner100359, CC BY-SA 4.0 |
Bundesliga Tactical Banter: Round 12
"Alms for the Bielefelder"

A flagrant enough recycling of a previously used pun here. No matter. It still applies. One feels some genuine sympathy for Arminia after they missed out on a fantastic opportunity to piece together a critical momentum-building two-game-winning streak in front of their hometown fans. The Saturday afternoon encounter had all the makings of an epic upset. The narrative practically wrote itself.


The masked superhero Patrick Wimmer fighting hard to set-up the opening goal. Masaya Okugawa playing so thoroughly lionhearted that one was sure he would deliver the second. Leather-faced veteran club hero Fabian Klos converting from the spot to double the advantage and potentially put the game beyond reach. Then came Dodi Lukebakio's fresh-legged flare off the bench and a collective team blackout on the subsequent play. Two goals in two minutes. Tough luck.

Those of us still not convinced that Florian Kohfeldt has put together something wholly convincing in at his new club found quite a bit of validation in the 2-2 draw. Plenty of bad and disjointed football on display before the blitz-strike late-comeback. Lots of direct midfield duel losses and half-baked ideas on the charge. There also seems a persistent lack of communication with regard to link up play. Way too much of the attack comes from long-launches out of the back three. Builds are almost non-existent in this rough 3-4-3.

Presumably, Kohfeldt will have time to smooth some of this out in time for the UCL fixture and next weekend's duel against Dortmund. That one should end up being a real cracker! When it comes to the round ahead, once again spare some empathy for poor Bielefeld. They could have pulled themselves up to the relegation playoff spot. Now they're stuck on nine points ahead of a meeting with Bayern in one of those "We have to show a reaction" games. Ugh.

"Yawns for the Leverkusener"

It rhymes. Sort of. Neither the segue nor the classification of Leverkusen-Bochum as "boring" can be considered totally fair. The low-scoring affair taken by hosts Bayer 1-0 on a 4th minute goal wasn't totally devoid of action. Florian Wirtz certainly did his thing, missing out on the 2-0 only by a whisker in the 16th and the 39th. Were's still not dealing with a satisfactory result here as the visiting 1848ers should have capitalized on a myriad of defensive errors from Edmond Tapsoba and Jonathan Tah.

After last round's thriller at the Castrop, the appetite for another spectacular story involving the league's non-embarrassment promoted team was just too strong to be satiated. Bundesliga watchers must admit to that. Many of us, however, would have likely been satisfied had the enterprising Takuma "Jaguar" Asano gotten the goal his efforts on this day so richly deserved. Man, did the German football returnee ever have himself a day.

Along with Okugawa (Bielefeld), Genki Haraguchi (Union Berlin), Wataru Endo (Stuttgart) and Daichi Kamada (Frankfurt), we likely had the most prolific gap between Japanese international performance and appearance on the scoresheet in the history of the Bundesliga. Wild stuff. In any case, before getting too off tangent, we should note that the potent Bochum 4-5-1 recorded 21 shots on target. Not bad for a promoted team against a Cadillac one.


Ah, the Bochum of old. The "un-abstiegbaren" ("the un-relegatable"). How Germans yearn to use that nickname again. Looks like we might actually get a chance this year. Cool. There's no real reason why Thomas Reis can't step into the "Steffen Baumgart cult trainer" zone. Speaking of which....

"Carnival Carnage"

We wanted a heated and intense affair between the top flight's two carnival clubs in the first major match since 11/11. We got one. Two of the Bundesliga's bearded cult trainers even shaved for the occasion. How neat. We even got a sideline scuffle, though Bo Svensson vs. Kevin McKenna wasn't quite the one most of us were expecting or wanting. Oh well. It was a lively and fierce duel with plenty of controversial talking points. That's what it was supposed to be.

One can lament the fact that Köln should have been up 2-0 by the time Mainz scored out of nowhere. One could also grouse about the Stefan Bell foul that took out Anthony Modeste needing to be a straight red or complain that the a full 40 minutes of the second half were nothing more than a stop-and-go bore. Okay. One can even fault a writer for recycling an older phrase twice in one column. Hey. It happens.

The fact remains that, as inelegant as Köln-Mainz might have been at times and as inherently unsatisfying (if not numerically appropriate) result a 1-1 draw might have been, it was still reasonably fun. All shall be well in time for next week. Modeste will be back in time for the Gladbach derby. Svensson should have some time to relax and grow some stubble. Maybe the Mainz trainer makes up with McKenna too.

Those two guys are too likable to be enemies.

The Burning Questions: Round 12
Why are Union the superior Berlin side?

Sure, we can start with some derby talk! German football lovers delighted in what was by far the best top flight capital city derby of all time. It should be noted that such grand statement needs to be qualified a bit. There have only been four Bundesliga meetings between these two teams, three of which took place before empty stands. The historical competition wasn't exactly what one might call terribly fierce. This version claimed top spot rather easily. At least we got something resembling a football match this time.

The end result didn't end up surprisingly too many German football observers either. We expected a completely one-sided-match in favor of die Eisernen. Everyone in the Bundesrepublik knows which Berlin club has it together and which one happens to be (yet again) a ludicrously overpriced embarrassing mess. The much smaller market-value Köpenickers entered this one as clear favorites. The unavailability of Hertha's faint hope Stevan Jovetic pretty much sealed the larger club's fate.

How one-sided was this encounter? Time for xG in bold print.

xG Union--2.41, xG Hertha--0.3

For the love of Sophie Charlotte herself! Berlin's "old lady" has fallen and she can't get up! Horrendously ugly football from Pal Dardai's troops on Saturday night. One genuinely wondered what the trainer had them working on in training over the course of the week. Did anyone practice crossing drills with Marco Richter? It didn't look like it as no one was available to meet what felt like 1,956 of them!

One isn't even sure where the decimal comes from in this case. Presumably, very tame efforts from Peter Pekarik and Kevin-Prince Boateng in each respective half. In this case, xG plot points vastly overstate the danger Hertha were able to create. There wasn't even such a thing as a final pass into the danger area on this night. Not one.

We'll naturally want to supply some draw ups here in order to illustrate the difference in the current state of these two squads. Having done this several times before in this column, it does amount to some curation of the bloody obvious. Still worth doing in any event. The oft-mentioned (and originally christened) "Urs Fischer 3-5-2 double-stack".

Lineup—Union Berlin—Match 12 (3-5-2)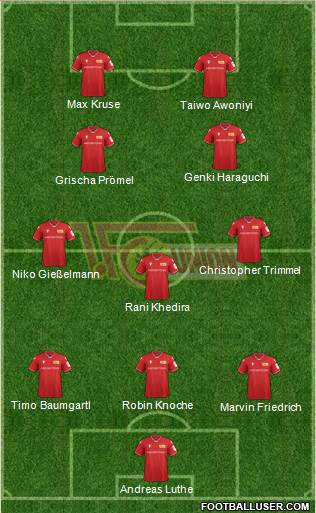 We're back to mentioning it yet again. This is the basic system that head-coach Urs Fischer has been using since the beginning of the 2020/21 campaign. Our first "re-emphasis of a bloody obvious footballing fact" is thus:

Union: Building around a system

This is how one does it in a difficult professional footballing division. Players procured this past transfer window specifically with the aim of upgrading this system include Rani Khedira and Genki Haraguchi. Those are just the ones in the starting XI. Interchangeable backups also brought in this summer are on the bench.

In a straight personnel sense, it all works fluidly. New arrivals Kevin Behrens and Andreas Voglsammer are available to work in place of lead strikers Max Kruse and Taiwo Awoniyi if need be. Newbies Keita Endo and Levin Öztunali can replace direct buttressing attackers Haraguchi and Grischa Prömel at the drop of a hat.

Kevin Möhwald was brought in to back-up Khedira. Christopher Trimmel and Niko Gießelmann can play in different positions. Tymoteusz Puchacz, Paul Jaeckel, and Bastian Oczipka (you guessed it, all brought in this summer) can fill in at wingback or on the back-line where necessary.

Hertha: Fumbling for a system

While Fischer mixes it up on his top axes every so often, the 3-5-2 remains the "fall-back-position". After all the coaching and administrative turnover at Hertha over the past four years, about all that this club can reliably do is "fall back". Different coaches and sporting directors had different ideas in mind. The fact that this doesn't work serves as "re-emphasis of a bloody obvious footballing fact #2".

Let's have a brief walk through Pal Dardai's tactical day shall we?

Lineup—Hertha BSC—Match 12 (4-2-3-1)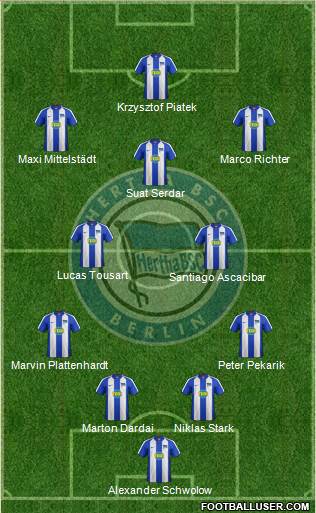 Something like the basics Dardai originally wanted to build upon when he initially took back over the team last winter. It feel like Dardai been trying to fall back to this foundational rock at least a dozen times. It also hasn't worked about a dozen times. Lucas Tousart and Santiago Ascacibar have never actually delivered the sought-after "midfield magic". At least one can't recall an instance in which they did.

Incidentally, Tousart and Ascacibar (along with Krzysztof Piatek) are purchases from the infamous Jürgen Klinsmann transfer window of January 2020. While it remains true that injuries, suspensions, and Tousart's immediate re-loan-out means that the trio haven't always had a chance to play together, it's rather comical that these players aren't clicking after nearly two years.

Richter and Suat Serdar played a halfway decent first-half. That's about it. Son of the gaffer Marton Dardai's defensive error cost the team that crucial 8th minute goal. Everyone was out of sorts on the second. Hertha's only real offensive chance came courtesy of keeper Andreas Luthe's punch-error at 45+3. Piatek may have been barely offside on the eventual disallowed goal, but he was offside.

On comes Isak Belfodil for the ineffective Tousart at the half.

Lineup—Hertha BSC—46th minute (4-4-2)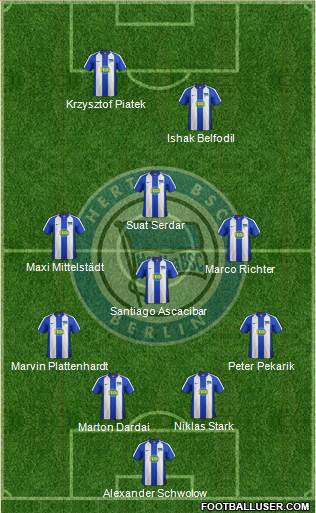 This had the feel of something deliberately drilled on the training pitch. The coaching staff clearly had Belfodil practicing some moves as a service striker. Richter, Serdar, and Maximilian Mittelstädt all dropped back and tightened up in eye-shaped rhombus to give him some space. Some of Belfodil's work was clearly rehearsed, perhaps too obviously so.

The high-press Union back-three had no problems eating it up; that is when the top two pairing even got close to the ball at all. This suppressed midfield got manhandled. Only Richter got forward a few times. No one cared to join him. With that not having worked at all, what else could Dardai try?

Lineup—Hertha BSC—72nd minute (3-5-2)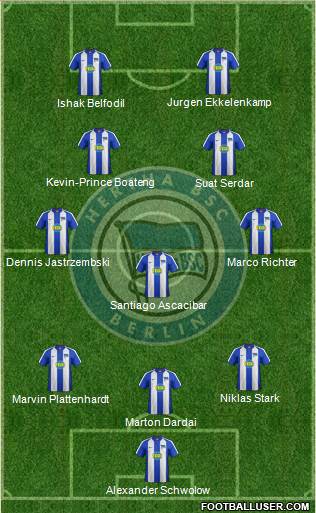 If one can't beat them, copy them. It wasn't the worst formation mirror you'll see this season. Credit to Dardai and co. for at least spending some time working on it. Regrettably, there wasn't much that this cheap imitation could furnish. Not so late in the match anyway. Switching to a calibrated reflection when most of one's players are spent rarely ever works.

We can label that "re-emphasis of a bloody obvious footballing fact #3" and close the section.

Is the Bayern loss serious?

In the writer's opinion, not nearly so serious as the rhetorics Julian Nagelsmann and Thomas Müller opted to employ after the match. All of the COVID chaos affecting Bayern's national team players meant that the squad had considerably less time to train together over the break. That fact manifested itself in the lack of ideas the team frequently showed throughout the match.

The German giants definitely missed Joshua Kimmich in midfield. Be advised that this will be a huge topic of conversation throughout the week. A majority of the German public (and this writer) come down on one-side of the debate currently ripping the Bundesrepublik apart. A full seventy percent of the population is vaccinated and nearly three quarters of citizens favor the new restrictions.

It will nevertheless prove a major talking point that Kimmich faces extra isolation protocols because he is unvaccinated. This doesn't make strict logical sense since the vaccinated can spread the virus just as easily as the unvaccinated. Effectively, the German national team midfielder gets an extra lockdown for not being a good citizen. People will talk about this, even if many of us absolutely don't wish to talk about it anymore.

This writer would prefer to talk about Augsburg here, who fully earned the victory. Mads Pedersen (whom one supposes we're no longer referring to as "Mads Valentin" or "Mads Giering" anymore) scored a truly special goal. Andi Zeqiri, Iago, and converted-striker André Hahn combined beautifully on the second goal.

There were a great many heroic defensive plays from the Fuggerstädter down the stretch. Robert Gumny, in particular, had his best day in an FCA shirt since arriving last autumn. One should also credit head-coach Marcus Weinzierl for his protective re-format shortly before the hour mark.

This may have been the most effective lockdown of the pandemic.

Lineup—FC Augsburg—59th minute (5-4-1)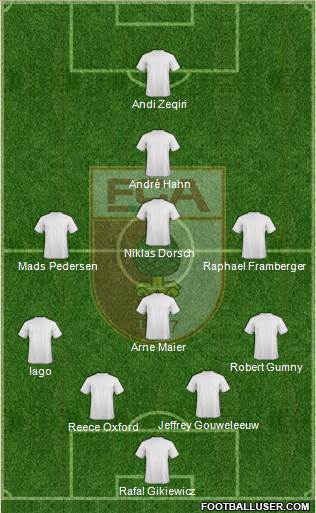 Honestly. How does one pick this lock? The Bayern bigwigs self-eviscerate for not having enough presence on the flanks. They could consider cutting themselves a break as there were four solid defenders directly guarding the flanks. There really were no flanks if one stops to think about it. Moving Arne Maier and Niklas Dorsch to a vertical pairing also proved a smart move. Both players had the range to back up the four players out wide.

All told, it doesn't really appear all that serious for the record champions. Karl-Heinz Rummenigge had to get his two cents in. That doesn't mean much. Anyone and everyone in semi-retirement does that. It doesn't necessarily help that, just like with Uli Hoeneß, anyone and everyone is also lining up to get their opinion on things. We're very likely not looking at another Bayern loss before we reach the half-way stage of the season.

We can talk in the event we happen to get one.

Was the Dortmund win deserved?

A tightly contested, narrow win against the Bundesliga's most completely injury-ravaged roster isn't exactly something to celebrate, but the fact that Marco Rose's own injury-devastated side is picking up points and keeping pace with Bayern most definitely constitutes good news. Rose's 4-1-2-3 played adequate football in the first half. Thorgan Hazard, Donyell Malen, and Marco Reus worked well as the three-attacker set.

Axel Witsel was completely overwhelmed alone in midfield. Thankfully, Manuel Akanji was one hand to bail out the poor stranded third-axis anchor. Ex Stuttgart keeper Gregor Kobel was brilliant too. Donyell Malen's maiden Bundesliga goal did come off a lucky deflection off Stuttgart captain Wataru Endo. Malen himself probably still earned the goal on balance after he saw some of his own quality chances end in unlucky misses in the opening 45.

For most of the match, the limping-along BVB gave one the impression that they were willing to do just enough against the Swabians. That in itself is okay. Stuttgart and its bare-bones cast of fourth-choice actors could afford to try more creative things this time whilst the Schwarzgelben had to save some of their designs and ideas for the coming Champions' League do-or-die. Based solely on ideas, a draw would have been fairer.

Captain Marco Reus both initiating and finishing that 85th-minute counter that allowed his team to snatch all three points, however, really tipped the scales. If Dortmund truly do make a play for the title this season, they'll owe it all to "captain fantastic" for getting them through this rough patch. Reus ensured that the side deserved this win. They wouldn't even be in the title discussion without him.

What's the latest story with Leipzig?

After a compelling start, it became something of a less familiar story. This wasn't a case of the German Red Bulls piling up opportunities without finding the finish. The cycle-possession out of the back looked very strong for the first ten minutes. After Peter Gulacsi's uncharacteristic mistake enabled Diadie Samassekou to score the opening goal in the 12th, the TSG simply grabbed the match by the scruff of the neck. Marsch's men practically surrendered.

Strange things have been known to happen in the Bundesliga match known as "El Plastico". It's always invariably the most quiet top-flight match featured in the top flight. The two nascent fan societies, irrespective of which team hosts the fixture, generally keep a corporate tone about the stadium. This time, the Kraichgauer rode some nominal vocal support to a completely dominant first-half performance.

Following at least three golden chances to increase their lead in the opening 45, Munus Dabbur finally doubled the Sinsheimer advantage in the 68th. This came after Hoffenheim squandered still more chances to put the game to bed. Ihlas Bebou then hit both the left and right post in the 78th. This match honestly could have finished 6-0.

Jesse Marsch, who brought on Emil Forsberg at the half for a three-striker-set at the half, called his team's continued offensive harmlessness "inexplicable". One has to agree. With all that talent on the field, it just didn't make sense. By the way, it remains the contention of this column that Marsch is in no danger of losing his job. Young club. Non-historic fan-base. No one really cares.

How low can Fürth go?

A columnist rapidly runs out of words. Another disaster this weekend. This one was a fiasco wrapped in a debacle tucked inside a meltdown. It took all of two minutes for hosts Gladbach to begin running circles around the Kleeblatt right on Saturday afternoon at Borussia Park. Jonas Hofmann found his way through in the 9th and scored on the very first shot of the game.

Stefan Leitl's promoted #1 keeper Marius Funk then gifted Gladbach a second with a catastrophic clearance some twenty minutes later. That practically finished it. The deflected SpVgg committed endless defensive lapses thereafter. Alassane Plea finally punished them for one after two strikes of the post with the third goal two minutes from half-time.

After the game, Leitl praised his team for only conceding one more goal after the break. He called that "commendable". Okay. Sure. Why not? One has to find positives somewhere. "Thanks for only letting in four goals this week, lads." That minus-25 goal differential might come in handy in the event of a relegation tiebreaker.

These poor Fürth footballers have to keep finding ways to talk of potential turnarounds too. Oh the humanity. "Six more consecutive miracles and we're right back in this league!" It's still possible! Everyone can win the lottery, right?

Weekly Tactical Focus: Through the "Trapp Door"

Well, well, well. We opted to take a chance on a Sunday fixture this week; something we haven't done for a couple of rounds. Such a decision always carries with it some risks. One might not get a complete football match. It might also be the case that one stumbles about a less than coherent one. Such proved to be the case with Freiburg-Frankfurt, the offering of the round that simply couldn't be refused. Bundesliga fanatics needed a close check-in with the "Freiburg Phenomenon" this weekend.

We had questions of a potential title contender. We required answers!

Unfortunately, the better team dropped this one.

Indeed. Time for xG in bold print.

xG Freiburg--2.0, xG Frankfurt--1.3

Er. Oops. The "would have/could have/should have" football metric cancels our "Freiburg Phenomenon" narrative for the time being. Frankfurt's 2-0 defeat of the brilliant Breisgauer leaves Christian Streich's squad six points off of top-spot following their second straight league defeat. It's early yet. This discussion may still return this year. For the time being, however, we'll have to shelve it. Such a shame as the Schwarzwälder played really well here.

If there was a hero in this one, we'll have to say it was SGE keeper Kevin Trapp. He also proved the undisputed man-of-the-match the last time Eintracht pulled off a highly improbable upset against a team that beat them clearly in terms of chances. It certainly wasn't Oliver Glasner's tactics that carried the day here. They were predictably flaccid.

Lineup—Eintracht Frankfurt—Match 12 (3-6-1)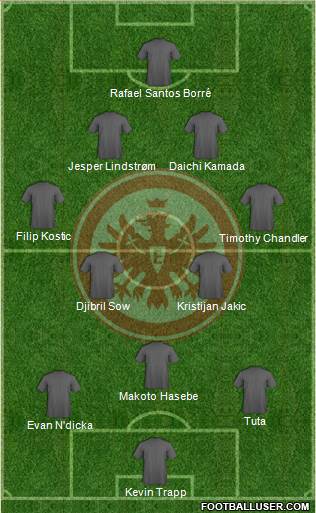 Seeing the team-sheet made one wonder how this would function. A late Martin Hinteregger injury meant that Makoto Hasebe needed to step into the back-three in a system the relies upon a forward fulcrum. As much as Bundesliga lovers cherish old-man Makoto, few of us will deny that the team's Methuselah is well past his prime. After all, the treasured German football vet is what can only be described as 37-years-of-age.

The same applies to another one of German football fan's favorite players, "Timmy of the Rhein Main". Yes, we love him. This writer never misses an opportunity to gush over Timothy Chandler. He will most certainly get a chance to do so again before the season is out. Seeing him fill in as Filip Kotic's clear axial partner as Glasner's second change simply didn't inspire confidence.

The SGE trainer just never knows what he wants from Chandler in this position. A clear 3-6-1 looked almost set-up to fail. Way too much traffic would be geared Kostic's way. Chandler would be all over the map, exhausted by directional shifts. Slow bow-arc builds stood little chance of reaching Rafael Santos Borré so far afield. It screamed "losing constellation" from the start.

Most of these bad premonitions came true. Frankfurt still found a way to win. Streich's tactics, by contrast, really seemed to be spot on. The SCF gaffer didn't make any changes to the XI from last week. The noticeably tweaked shape nevertheless seemed to constitute an intelligent way of realigning.

Lineup—SC Freiburg—Match 12 (3-4-3)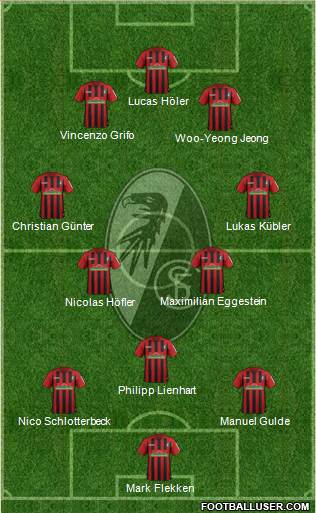 By far the most impressive thing here concerned the top-axis rotations. Woo-Yeong Jeong, Vincenzo Grifo, and Lucas Höler were all deliberately bunched together so that they could fluidly interchange on inventive breaks. Christian Günter and Lukas Kübler were moved up in to true winger positions in service of this and Philipp Lienhart punched up to run pivot in the staggered back-three. All fine stuff.

Reflecting upon the afternoon as a whole, there honestly wasn't a Freiburg player who played a poor match. Jeong and Höler made some technical errors, but both worked their legs into the ground. Grifo proved very strong, especially on set-piece-delivery. Kübler did a fabulous job on Kostic. Even gaffe-prone Höfler turned in a rock solid performance.

Even a detailed chronicle piece such as this one can't do the type of elegant one-touch-football Freiburg played on this day justice. The attacking sequences really spread the ball around, frequently reaching as many as 8-10 different outfield actors. Very impressive. Not possible to fully convey, however, as even this writer can't mention every single last touch.

Ach. Such a shame. The Breisgauer played really well. Suffice to say that there wasn't a player in red/black that proved quiet on the day. Everyone had their name called out multiple times. Sadly, no one's name found its way onto the score-sheet. With that lamentable fact in mind, we'll get going.

Match Flow: 1st to 11th minute

A very intense start to this one surely left all note-takers cross-eyed. Tons of midfield possession changes in midfield as both sides were quick on the ball. Kübler and Maximilian Eggestein had a few glaring early communication problems, but were able to get a cross-counter going on the SCF left in the 2nd. The Sequence ended in Christian Günter whipping in a nice cross for Jeong. Hassled tightly by Tuta, the South Korean international couldn't connect with the ball.

The visiting Hesseners tried calm things down with their own slower possession builds. A pair of them in the 3rd and 4th saw the SGE band arc possession all the way from Chandler, through the defenders and back over to Kostic. The more pinprick style came into focus as their central strategy of the day. Höler snatched the ball away from them in the 4th. A ball once again found his way to Jeong via Grifo. This time the South Korean couldn't turn in time.

Höler tried to collect again, yet was dispossessed. Glasner's men tried to engineer a counter; a pretty amateurish one as it turned out that Borré was miles offside. Freiburg were rushing back the other way in the 5th following some nice forward moves from Kübler. Jakic tracked the dancing Breisgauer all the way and shut the advance down. Schlotterbeck attempted to keep Kristijan Jackic's tackle away on the touchline, but got bumped off.

The ensuing Frankfurt throw-in went backwards as the SGE once again tried a long-and-slow full possession arc. This one eventually did produce something after Sow opted to try a forward run. The Swiss international peeled off a shot as well in the 6th, regrettably blocked by teammate Kamada. Tuta nearly hit Chandler with gorgeous diagonal launch on the next SGE attack one minute later. The American had split the defense and would have been free had his first touch not failed him.

Eintracht managed one more build-sequence in the 7th. Hasebe dropped back on an invert, then trying to work the ball toward Kostic on the left through N'dicka. There was nothing much doing as Streich clearly had his men preparing for that play all week long. Kübler stripped Kostic easily and initiated a counter. Höler and Jeong again put in some nice work central during another incursion into the SGE penalty area. There were ultimately too many bodies in the way and Höler got whistled down for an offensive foul on his second effort in the 8th.

Freiburg then looked a little technically inept on a pair of counters. After Höfler intercepted a very poor throw-in from Chandler, the SCF counter took just a few seconds too long to get set up in the 9th. Jeong lost the ball. They did much better a minute later when Lienhart picked off a poor Lindstrøm cross aimed at Borré. The hosting Breisgauer got up the field a tick quicker this time. Jeong might have been a little too quick on the trail. He sent the final pullback well over.

Günter had no trouble skipping past Chandler on the Freiburg left on the next sequence in the 11th. After working a decent ball to Höler, however, Kamada took charge and ran an SGE counter all the way back down the field. This one ended with a quality shot on target from Lindstrøm. Flekken had to rush out and deflect out for a corner. We had our first main dead-ball stoppage in what had been a game of quick-takes and mostly interrupted action.

Match Flow: 11th to 16th minute

It came as no surprise to see the SGE take their time setting up the corner. While possession and chances were essentially even, the Sport Club made by the more important establishing statement in the opening minutes. Streich's lads had the pace and the ideas. This inchoate SGE side, unsurprisingly, wanted a game of more deliberately methodical builds. In a concerted effort to shift the tenor of the match, Glasner took time to gesture to his set-piece takers during this interval.

After a full minute of set-up, Freiburg cleared the corner out of their area. More full-band-cycle possession on the next Frankfurt slow-build saw the ball cycle back through again from Chandler, Hasebe, and N'dicka before moving up to Sow and Kamada, then back to N'dicka. The final target was, of course, Kostic. Kübler had him well covered and tackled away for another corner in there 13th. More time on the set-up before we witnessed a design clearly drawn-up to reach Lindstrøm. Borré's extension nevertheless came in too hot and the ball went out for a goal-kick.

The SGE yet again went with their band-arc build in the 14th. Kübler again proved equal to obvious final target Kostic and muscled the Serbian out for another corner. Jeong stuck tight to taker Lindstrøm to knock out the initial service for the fourth corner in four minutes. Höler all too easily cleared Lindstrøm's second hit. Tutu attempted to work the ball back into the area with a cross that had promise, but Flekken saw it all the way and came out to collect.

Freiburg's keeper didn't attempt to kick start his team the other way. As a result, Glasner's troops got another go at one of their builds in the 16th. Freiburg were tiring off this repetition. It proved ridiculously easy to keep the forward lanes covered when Eintracht provided them so much time to close ranks defensively. Eggestein and Günter calmly put a stop to the next two rushes. It was about time for the momentum to swing back the other way.

Match Flow: 16th to 34th minute

An incredibly strong phase from Freiburg here. The whole squad will be kicking themselves for not scoring here and taking charge of the match. It most assuredly was there for the taking during a largely unbroken spell of SCF dominance. The hosts were a little slow to wake up. Günter and Eggestein couldn't fight their way on respective left/right attacks in the 17th. Kübler then failed to make a run when Eggestein tried to hit him on a through one minute later.

Jeong broke through in the 18th, only to see his cross stymied by N'dicka. All the Schwarzwald actors then crashed into the box and Kübler ended up finding Grifo. Trapp made the first of his many good saves in the same minute. Before the 19th was out, a wonderful ten-touch pass sequence got Günter in. Höler latched onto the captain's cross after a nifty dummy leave from Jeong and Trapp had to hit the deck to make another fine sprawl save.

The Hesseners got a slight breather in the 20th. It didn't last long as Grifo got clear again in the 21st. Tuta had no choice but to foul. Match official Florian Badstübner, who had a suspect match, probably should have reached for his book right then and there. The set-piece delivery from Grifo was a little high, but Trapp still had to be alert to collect it. The SGE keeper spawned a decent counter that ended with the hosts clearing another predictable Kostic cross.

Freiburg kept rolling toward goal. Höler, Grifo, and Günter put together a gorgeous combo that somehow didn't result in a chance in the 23rd. The trio nevertheless kept the play alive on the SCF left--really dominating an outclassed Chandler--until Grifo could finally work in a wicked cross with some filty top-spin in the 24th. Trapp did extremely well to track and stop it.

Even at his best, the Eintracht keeper couldn't but spill rebound. Luckily for him, Kübler was just a stride away from the rebound. Again, Freiburg came down the left in the 25th. Tuta was thankfully on hand to rescue Chandler after the American got beat again. A quick Frankfurt counter at least enabled Jakic to sting Flekken's palms. The hosts quickly made it back the other way. Höler couldn't make the most of another fine Jeong leave in the 26th.

Frankfurt tried to slow things down again with more measured approach play once they got the ball back. An eventual work-in for Borré was just too slow. Lienhart had the Colombian completely covered and cleared with ease. Chandler attempted to redeem himself with a quick throw-in. This might have led to something had Badstübner not incorrectly whistled Kostic down for a handball in the 28th.

Streich's men were pack pummeling the penalty area in the 29th. After several failed SGE clearances, Jakic finally dropped down to chest out an Eggestein cutback for a corner at the half-hour-mark. Grifo whipped in a sleek service that Tuta had to stretch to put out. Trapp rose to fist out the second corner with another top-notch read in the 31st. We finally got the game's first legitimate lull in the two minutes that followed.

Completely against the run of play, Kamada produced a Frankfurt chance in the 33rd with some audacious dribbling work. There were enough SCF players in the box to sort out a clearance, but they couldn't get the ball terribly far. Lindstrøm collected and tried to play Jakic though. The Croatian midfielder lost the ball to Kübler, but Freiburg's busy winger accidentally directed his challenge directly back into the path of the Dane.

Jesper Lindstrøm had his first Bundesliga goal in the 34th thanks to a total freak occurrence. Kübler couldn't have supplied the summer acquisition from Brøndby IF a better assist. One could find some fault with Eggestein for crowding Kübler on the tackle. Otherwise, it was complete dumb luck.

Match Flow: 34th minute to half-time

Whenever something like this happens, the top priority for the hard-done-by-team must be focus. Pure and simple. There isn't time for self-pitying frustration. Collectively speaking, the team-posture of the Schwarzwälder didn't descend into this immediately. Jeong was back charging up on the left immediately after the match resumed in the 36th. N'dicka had to come across to stop the South Korean, then fend off a gnattish Schlotterbeck who wanted the ball back.

Eggestein rushed over to get the ball back after the two players fought to a draw and Jeong was quickly set up again before the minute was out. This time the South Korean really needed to find a better finish. There was nevertheless another corner, another great service from Grifo, and plenty of more activity in the SGE penalty area. Djibirl Sow snuffed out a promising chance with an absolute monster tackle that everyone should check out in the 37th.

Between the 38th and 40th, Freiburg unfortunately saw their flow impeded by a series of stoppages. Badstübner would pull out plenty of yellow cards in the second-half. For some unknown reason, he didn't book Lindstrøm after the Dane hauled down Höler by the shirt in the 39th. A little too much frustration and arguing from the SCF players saw them slow to react on the subsequent free-kick.

Another great Grifo service was wasted when Trapp ran out to collect ahead of the just a tick too slow SCF targets. Trapp then kick-started a counter in which Kamada and Kostic probably should have scored in the amount of space they had. Things were breaking down a bit. More frustration from Höler after Badstübner whistled him for a suspect foul on Hasebe in the 41st.

Focus waned. More stoppages and arguing. Then came what happened in the 43rd. After a silly foul, no one picked up Tuta on Kostic's free kick. Eintracht's Serbian maestro crushed a perfect arc that seemed destined to land directly on the tip of the young Brazilian defender's boot. SCF keeper Flekken probably shouldn't have been ball-watching quite in the manner that he was, but one could hardly blame him for expecting Tuta to hit it.

In any event, Tuta missed and the ball sailed past a frozen Flekken directly into the back of the net. A very odd occurrence. Certainly not easy to ascribe blame. Outfielders and keeper still share some culpability for switching off so near to half-time. A general lack of attentiveness enabled Frankfurt to go up 2-0. We witnessed a little bit of fight back from Freiburg before the whistle, with both Grifo and Höler having shots blocked at 45+2.

Match Flow: 46th to 60th minute

One definitely didn't envy Christian Streich's position at the half. There wasn't any real need for a tactical shift, save for the fact that the home-side found themselves two goals down. The actors contesting the match on the pitch had some rhythm about their game. If only it had been a one-goal deficit. Then everyone could have been left alone. In lieu of things, however, Streich had to try something.

He employed one change. The exciting young Germany U21 prospect Kevin Schade came on to replace Schlotterbeck. Not a bad idea at all. Bold and subtle at the same time. This columnist finds absolutely no fault with Streich's plan to get his team back in the match. It produced some of the best football Bundesliga lovers have seen all season.

Lineup—SC Freiburg—46th minute (4-4-2)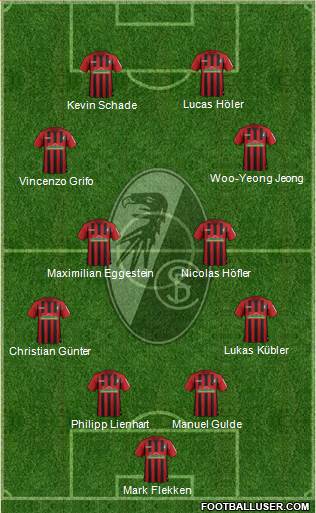 Nice. Simple. All of the best offensive anchors still had the chance to work their game, boosted by a dynamic young presence. Schade immediately became the focal point of the match. The first cross was aimed his way in the 46th, as was Grifo's first service in the 47th. Eintracht actually got the first chance of second 45 off. Lindstrøm ran a 47th minute counter. Borré's tame shot reached Flekken standing still.

Lienhart ran the net SCF drive in the same minute, eventually reaching Jeong via Kübler. N'dicka stepped forward to end that charge, and the next one involving Höler in the 48th. Another switch directed towards Schade on the right connected in the 49th. The Freiburg substitute ended up drawing a soft yellow card from Badstübner when he stumbled over Chandler.

The free-kick came to nothing, but Grifo and Schade drew another foul in the 50th. This time, Höfler met Grifo's service with a dipping header that clanged off the post. The hosts were indeed that close to pulling one back and, by extension, radically shifting the tenor of the match. After a couple of SGE attacks (predictably involving Kostic and predictably stopped by Kübler) led nowhere, Schade drew another yellow card from Badstübner in the 53rd.

Tuta took him off his feet this time. Again, it wasn't the most malicious of contact. The match official might have felt the need for a couple of give-back calls after not booking Lindstrøm in the first-half. Badstübner partially atoned for all of these mismatched disciplinary actions on the way he handled Grifo's dive on the ensuing free kick. The relatively new to the top flight official stopped and accepted Grifo's apology after Grifo immediately admitted to it.

With urgency and lot's of quick-touch movement, the Breisgauer were back in the box in the 55th. Höler, Kübler, and Jeong were all involved in a beautiful sequence that eventually saw a Schade shot narrowly deflected wide. The SCF wrongly took the subsequent corner too quickly, allowing Lindstrøm to test Flekken at the end of a counter in the same minute.

We weren't even out of the 56th yet, when Freiburg charged back the other way on their own counter. Höler brilliantly worked his way past Kamada twice. The Japanese international hauled him down after the second deke and Badstübner let Freiburg play on advantage. It oh so very nearly worked out too. Grifo trike-volleyed an N'dicka clearance past the beaten Trapp. Most unexpectedly, Tuta was back to clear off the line.

Lindstrøm was back with another shot at Flekken at the other end before the 57th hit. Kamada missed the 3-0 by inches in the 58th to cap an absolutely insane phase that left all note takers and minute-by-minute writers in a completely impossible position. Graciously enough, Hasebe needed a treatment break and we could sort out what just happened.

Match Flow: 60th to 80th minute

The air came out of this one slowly and gradually. The flurry of activity in the lead-up to the hour mark was indefinably the peak. Perhaps just struck by the fact that luck wasn't on their side this time, the SCF balloon steadily deflated. Höfler couldn't sort his feet out and got blocked in the 60th. Höler tried to do too much on his own in the 61st. Kübler attempted to hit Schade again in the 63rd with a totally overcooked cross.

Freiburg were still nevertheless trying and still had ideas. Höfler, Günter, and Jeong orchestrated some penetration in the 64th. Jeong almost hit Schade again in the 65th. Glasner wisely let his opponents run themselves wild a bit before stopping the play with a delayed like-for-like sub (Almamy Touré for Chandler) in the 66th.

A little more air came out of the ballon. Höler, visibly exhausted by this point, managed only a meek effort wide in the 66th. Jeong couldn't find the legs to get through in the 67th. Touré and Borré then got looks in before Streich executed his double substitution in the 68th. Roland Sallai and Janick Haberer relieved Jeong and Eggestein in the 69th.

The move made sense. Streich's formation remained the same, as did Glasner's. There was another heart-in-mouth scramble in the box in the 70th. Sallai got one to Höler. Trapp saved by a toenail. One then winced when Höler couldn't reach a ball not far from his person in the 71st. Perhaps Streich hadn't made the right changes after all.

The Breisgau crowd amped up the volume for one last push. They quickly fell silent again in the 72nd, however, when Lienhart sent a poor distance effort into the nosebleed section. They SCF ultras started up again on a pair of corners in the 73rd. Trapp even got booked for time-wasting and dissent on the second. The SGE keeper nevertheless didn't get a shot to deal with. Sallai missed his chance.

Glasner stepped on the balloon a bit more with a double-change (Sebastian Rode and Ragnar Ache for Lindstrøm and Sow) in the 74th. Schade, Kübler, and Günter couldn't manage to breakthrough in the 75th. Schade fumbled away a Gulde pass in the 77th. Frankfurt regained possession for a three-minute long spell and the zeppelin was down.

Match Flow: 80th minute to full-time

Not much to report on thereafter. The Freiburg ultras got shouted down by the SGE traveling support. That was a bit embarrassing. Two more meaningless subs from Streich. One more from Glasner. Plenty of Freiburg possession, but not a chance worth noting. This match completely flatlined and fizzled out with barely a whimper. Frankfurt took no chances with everyone back.

xG stats once more?

xG Freiburg--2.0, xG Frankfurt--1.3

Meh. Kind of a bummer. In this season where potential challengers to Bayern such as Dortmund and Leverkusen are getting ravaged by crucial injuries, a dark-horse candidate from the deep dark Black Forest really would have spruced things up as we head towards the winter break. For those of us old enough to recall the Bundesliga of the late 80s, 90s, and early aughts, the sort of "old school Bundesliga" seemed within reach.

The tale in which a smaller market club with everything breaking its way squares off against the mighty Bavarians might still happen this season. Hopes for it merely took a big blow when it became apparent that not everything was poised to break the Breisgauer way. We're now officially one-third of the way through the campaign. It's an ominous milestone, particularly if we're about to lose the major "X-factor" of our fans.

When it comes to Frankfurt, what another lucky break for Glasner and company. The SGE remain far from a finished work of any sort. Without the "Trapp Door", there would be no third league victory to commemorate today. If he can't find a way of getting Rode back into the XI, Glasner might as well give his keeper the skipper's armband. The net-minder makes the difference between "expected goals" and "actual points".

Thanks so much for reading! You can occasionally catch Peter goofing off while watching the lower German football divisions on twitter, @ViceytheSS.

Twitter DMs are open for football conversations, corrections, and (if you truly insist) general abuse. 

All columns debut on Bulinews before appearing on Peter's website later in the week.



Related stories