Bundesliga Fan Scene:
The Matchday 32 Primer
By Peter Vice @ViceytheSS
Another great weekend on tap over on the German Bundesliga beat. Our "Weekend Spectator Report" feature is pleased to keep you up-to-date on the attendance status of all nine fixtures.

No shortage of opportunities to watch live football in the Bundesrepublik over the next four days.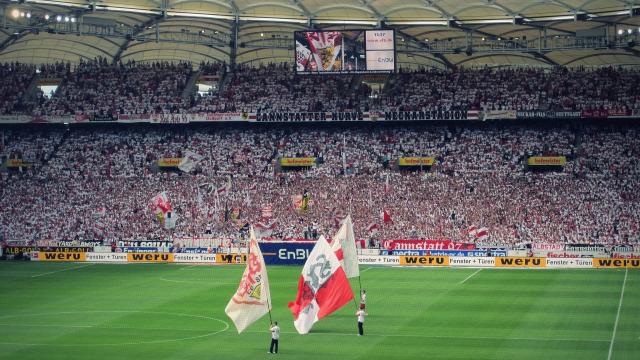 Some football-related storylines begin to evaporate as the 2021/22 German Bundesliga campaign draws to a close. Stories associated with the greatest fan-beat in all of football nevertheless continue to flourish. Ahead of a Bundesliga round set to span four days, three of nine fixtures are already sold out.


Mainz, Dortmund, and Union Berlin will play in front of full houses. It's very likely that Bielefeld shall too. As always, tickets remain available via club-sanctioned secondary exchanges even for the games without direct passes on sale.


---


SpVgg Greuther Fürth (at) 1. FC Union Berlin

Planned capacity = 22,012 (full house) (sold out)

The Stadion An der Alten Försterei is already sold out for a fixture that should give the home Köpenick crowd plenty of joy. Die Eisernen look to beat up on a relegated team in total disarray. 


Should anyone in the capital wish to visit the FCU venue this evening, there remain tickets available on the club-sanctioned secondary exchange.


#Infotweet Für das Spiel am Freitagabend #FCUSGF ist ab sofort der Ticket-Zweitmarkt geöffnet. #fcunion https://t.co/PScFwcJ0B7

— 1. FC Union Berlin (@fcunion) April 25, 2022
---


VfL Bochum (at) Borussia Dortmund

Planned capacity = 81,365 (full house) (sold out)

Nothing to play for other than the home crowd for the die Schwarzgelben, who will still wish to please the packed stands and avenge their disappointing draw in this season's "Hin-Runde". 

Signal Iduna is sold out for one of German football's smaller "Revierderbys". Bochum-Dortmund certainly isn't Schalke-Dortmund, but it's nevertheless always fun.

Tickets can still be secured via the secondary exchanges on the BVB's website.


Samstach. Volle Hütte. ✊ pic.twitter.com/j7twhamiJO

— Borussia Dortmund (@BVB) April 27, 2022
---


VfL Wolfsburg (at) VfB Stuttgart

Planned capacity = 60,449 (full house)

Some 50,000 tickets already sold for a fixture many of the local supporters understandably have a bad feeling about. The Swabians remain in terrible form. Some boosters in the BaWü capital are already saving their money for the relegation playoffs. That leaves plenty of space for those interested in attending on Saturday.

A trip to the Mercedes Benz Arena is defensively worth it if only to check out the "Cannstatter Kurve". So very nice to see it back in action. Rest assured that the VfB ultras have been working all week on some great pre-match choreo. An enormous banner will cover the entire tribune.


‼ Anreise-Infos für #VfBWOB ‼
Mehr als 50.000 Zuschauer unterstützen den #VfB am Samstag im Stadion. Da parallel das #Frühlingsfest auf dem Wasen stattfindet und am Bahnhof Bad Cannstatt gebaut wird, verändert sich die An- und Abreisesituation. ⤵
🔗👉 https://t.co/vWakUDasqd pic.twitter.com/8L4lgvyET7

— VfB Stuttgart (@VfB) April 28, 2022
---


FC Bayern München (at) FSV Mainz 05

Planned capacity = 33,305 (full house) (sold out)

The Pfälzer look forward to a "Voller Hütte" against the German record champions. Ideally, they wouldn't mind a significantly better performance than last week either. The always passionate Mainzer fan-base can likely look forward to a competitive affair.

Their tenth consecutive Meisterschale clinched, Bayern appear set to rest some of their stars. Mainz also beat the mighty Bavarians the last time they hosted them last spring. Goals from Robin Quaison and Jonathan Burkhardt sealed a 2-1 victory of Hansi Flick's FCB in round 31 of the 2020/21 campaign.


🔜 HEIMSPIEL
🆚 @FCBayern
🏟️ Volle Hütte pic.twitter.com/hg4s7RB4dm

— 1. FSV Mainz 05 (@1FSVMainz05) April 25, 2022
---


FC Köln (at) FC Augsburg

Planned capacity = 30,660 (full house)

A win ensures class preservation for the Fuggerstädter. Somewhat surprised to see so many thousands of tickets still available on the club's website for such a crucial match. Should the FCA best Köln--just as they did in the Hin-Runde fixture--there shall be quite the party at the WWK-Arena.

Perhaps fans of the Bavarian Swabians feel somewhat pessimistic after years of watching Bundesliga football being secured via outside means. Köln also roll into town in fantastic form and are the clear favorites. Oh well. Plenty of space available for anyone near the Swabian section of Bavaria.


Solid𝗔𝗛𝗥ität! 🙌 Der UBT e.V. lädt unsere Freunde aus Dernau zu einem gemeinsamen Tag im Rahmen des #FCA-Heimspiels gegen Köln in die Rosenau ein. Auch alle #FCA-Fans sind herzlich eingeladen! ⤵ #FCAKOE

— FC Augsburg (@FCAugsburg) April 27, 2022
---


Hertha BSC (at) Arminia Bielefeld

Planned capacity = 27,300 (full house)

A few seats still available at the Alm for a nerve-wracking match that could well cut Bielefeld adrift from safety. Having already secured victories against relegation rivals Augsburg and Stuttgart, Hertha are widely expected to finish the job against an Arminia side coached by an interim trainer and potentially dragged down by a chronically-depressed keeper.

Local supporters seem up for the task, snatching up all but a handful of passes. The DSC fans shall pack the stadium and scream the house down for the players in the hopes of turning the tide. Perhaps we'll witness some wrenching of the relegation race. There's sure to be great scenes if we do.


Es ist Heimspielwoche! 🔥

🗓️ 30.04.2022
⏰ 15:30 Uhr
🏟️ SchücoArena
🆚 @HerthaBSC
#⃣ #DSCBSC#immerdabei pic.twitter.com/XKtWACCXDQ

— DSC Arminia Bielefeld (@arminia) April 25, 2022
---


SC Freiburg (at) TSG 1899 Hoffenheim

Planned capacity = 30,150 (full house)

It's the un-official "Badische Derby"! The Kraichgauer host the Breisgauer. German football fans honestly wish there truly was something of a rivalry at work here. Alas, there really isn't. The TSG remains too young of a club and virtually all neutrals will be supporting Freiburg.

The atmosphere inside the PreZero shall be dominated by Freiburg support as well. As always, there are thousands of tickets still available in Dietmar Hopp's Sinsheim Palace. Pin-drop silence in the Rhein-Neckar. Regrettably business as usual for this club.


🔹 ʜᴏꜰꜰᴇɴʜᴇɪᴍ ᴠᴇʀꜱᴜꜱ ꜰʀᴇɪʙᴜʀɢ 🔹

Samstagabend, 18:30 Uhr, PreZero Arena 🏟️

Jetzt Tickets sichern 🎟️

— TSG Hoffenheim (@tsghoffenheim) April 26, 2022
---


Eintracht Frankfurt (at) Bayer 04 Leverkusen

Planned capacity = 30,210 (full house)

An interesting Bundesliga matchday as, after a Sunday free of fixtures, we get a pair of Monday games rescheduled for the benefit of German football's two Europa league semi-finalists. After restricted access over the first few weeks of full-capacity, tickets are back on public sale for Germany's red company team.

Anyone interested in attending should have no problems doing so.


---


RB Leipzig (at) Borussia Mönchengladbach

Planned capacity = 54,057 (full house)

Not much at stake for the foals after they ensured class preservation last weekend. Another season of mid-table mediocrity draws to a close; not soon enough for his long-suffering fan base. Over three-quarters of the stadium remains empty three days out from this match.

One can literally sit anywhere one wants.


---
Thanks so much for reading!
You can occasionally catch Peter on twitter, @ViceytheSS.
Twitter DMs are open for football conversations, corrections, and (if you truly insist) general abuse. 
All columns debut on Bulinews before appearing on Peter's website later in the week.
Related stories