Fantasy Bundesliga:
Template team and potential transfers for Matchday 34
By Satrajeet Chatterjee
As they say: "the end's not near, it's here". The Bundesliga season has reached its final matchday, and after an underwhelming matchday 33, we look to make a final push up the rankings. Do note all the matches begin at the same time, so you will need to use only 11 players instead of 15, and star choices can't be changed.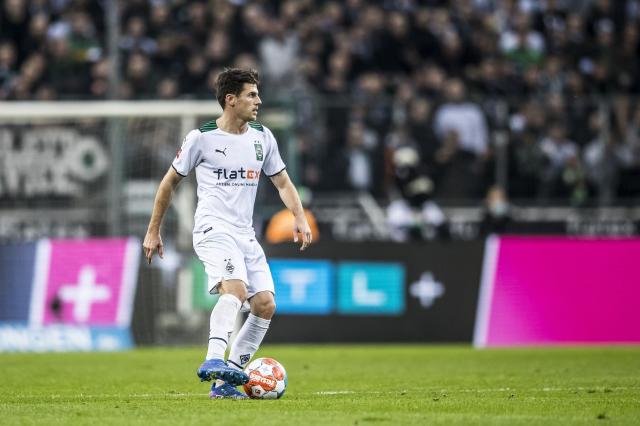 | | |
| --- | --- |
| Jonas Hofmann. | Photo: Borussia Mönchengladbach |
In this article, we take a look at our selected template team as well as the players we can target to bring in this matchday, using our three transfers.


In this regard, the word 'template' refers to players who are highly owned, regularly scoring good fantasy points and being main players for their teams.

Below, you'll find the template team from last week and the latest Fantasy score of each player.

FORWARDS
Robert Lewandowski (25.58M), 12 points
Erling Haaland (19.7M), 6 points
Patrik Schick (17.6M), 24 points

MIDFIELDERS
Vincenzo Grifo (17.5M), 7 points
Filip Kostić (19M), 5 points
Christopher Nkunku (20.1M), 21 points
Joshua Kimmich (19.3M), 11 points
Patrick Wimmer (7.1M), 6 points

DEFENDERS
Raphael Guerreiro (14.2M), 4 points
Benno Schmitz (4.8M), 6 points
Alphonso Davies (15M), 9 points
Nico Schlotterbeck (10.9M), 0 points
Borna Sosa (12.2M), 9 points


GOALKEEPERS
Marcel Lotka (1.4M), 5 points
Yann Sommer (10.3M) 0 points


TRANSFER 1
Filip Kostic OUT
Jonas Hofmann IN
Though both are expected to start, Frankfurt will not be putting much into this league match with the Europa League final on the horizon and are expected to make some early substitutions with squad players getting minutes. On the other hand, Hofmann has a home game against Hoffenheim, who have conceded 10 goals in their last 3 matches, so this appears to be a good match for the Gladbach midfielder to chip in with goals and assists.

TRANSFER 2
Vincenzo Grifo OUT
André Hahn IN
Hahn is playing against Fürth, the bottom team in the league, who are also relegated and have nothing much to play for. Augsburg will be looking to end the season on a high in front of their home support, and leading the line, Hahn will be hoping to be on the scoresheet.


---
If you liked this article, you should follow Satrajeet's Twitter profile, 'FBLThinker'.
Also, check out the rest of our Fantasy Bundesliga tips and information here.
Related stories