Matarazzo discusses weekend deployments for transfer candidates Sosa and Kalajdzic
By Peter Weis @PeterVicey
VfB Stuttgart trainer Pellegrino Matarazzo found himself, unsurprisingly, answering more questions about potential transfers out of Borna Sosa and Sasa Kalajdzic than his upcoming league match against Köln during his Friday presser. 

The VfB gaffer made it clear that, if transfer negotiations involving either player were in the "home stretch", he probably wouldn't send either one onto the pitch.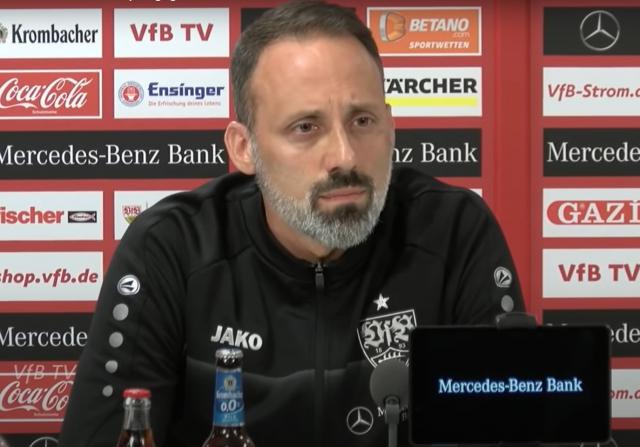 n the case of both lead striker Sasa Kalajdzic (Wolverhampton Wanderers) and the proven left-footed "assist-meister" Borna Sosa (Atalanta Bergamo), VfB Stuttgart find themselves playing poker with clubs attempting to acquire their star players for far less than the original asking price. In some six days' time, it shall be revealed whether the German Swabian club can get what they feel is fair market value for these key actors.


Stuttgart trainer Pellegrino Matarazzo, meanwhile, conceded that both ordeals were inducing headaches insofar as his squad planning was concerned. Speaking to members of the assembled press on Friday, the gaffer confirmed his intention to start the pair before slipping into some more ruminative beats on having to deal with all the off-the-pitch hassles.

"As of this moment, both of them are in and will play," the trainer noted, "But we also know how fluid this business can be. One also had to take into account if they're ready to play. Whether or not they possess the proper attitude to perform is affected by the likelihood of a transfer going through."

"If a transfer is about to happen, it might not be worth taking a chance," Matarazzo continued, "I'm optimistic that they'll have the mindset to take to the pitch on Sunday. The lack of clarity is a problem within the team, but that's part of football. We're not the only club who has to deal with something like this.

"If I talk further about it publicly, it makes the issue bigger," he went on in a seeming attempt to wind the topic down, "It is such that I talk about it as little as possible, so that it affects the team as little as possible."

Matarazzo was then asked about recent comments by Hertha's top personnel executive Fredi Bobic suggesting that the transfer window should preferably close before the start of the season.


While not questioned directly about Köln coach Steffen Baumgart's recent diatribe about how the Anthony Modeste transfer completely messed up his game-plan on game-day, Matarazzo channeled some of the same concerns.

"I would welcome and support that one hundred percent," the American said of Bobic's proposal "Additions and departures make it harder to train procedures and formulate game plans. We're dealing with it to the best of our ability. But if there was a possibility, I would support it."



More about the match
More about the teams