Baumgart confirms Modeste transfer and condemns leak: "The timing pisses me off."
By Peter Vice @ViceytheSS
All major German news sources and the clubs themselves now confirm that Anthony Modeste's transfer to Dortmund is imminent. 

Meanwhile, in his post-match interview with German broadcaster DAZN, Köln coach Steffen Baumgart voiced his grievances about the manner in which the deal was leaked to the press.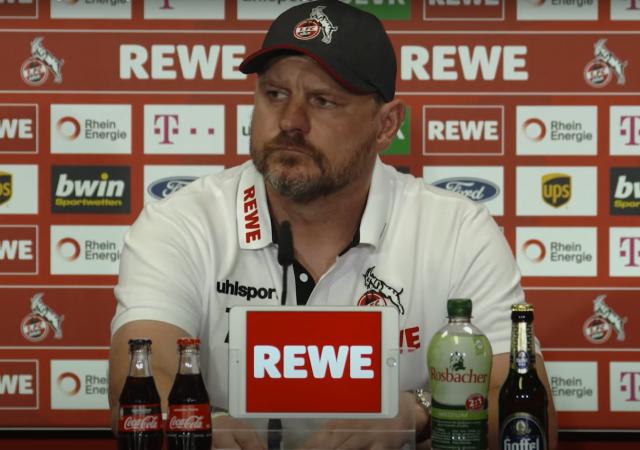 All of the details concerning Köln striker Anthony Modeste's transfer to Borussia Dortmund are now out. Sky Germany reports that Dortmund will pay €5 million to the cathedral city club for the 34-year-old. Modeste being only a temporary solution to Sebastien Haller's absence means that the Frenchman will sign a one-year-deal. In return for the short-term nature of the contract, the Bundesliga veteran shall earn a whopping €6 million annual salary.




News of the transfer broke early on Sunday morning, not long before Köln were scheduled to kick off their 2022/23 Bundesliga campaign against FC Schalke 04 in the late Sunday kickoff. Effzeh trainer Steffen Baumgart was obviously forced to drop Modeste from his matchday squad on short notice.

Baumgart began his post-match interview in a cordial enough fashion.

"Unfortunately, that's part of our business," Baumgart told German streaming service DAZN after the match concluded, "There are always clubs bigger than us that can pay more."

The interview quickly descended into a diatribe.

"Everyone can understand that the timing was pretty dubious for us," Baumgart continued, "It doesn't leak out Friday and Saturday, but right before we have an important game to play. That pisses me off. Something comes out and it's not from us. It doesn't matter who's talking this shit then. Four hours before the game, it puts us in a difficult situation."




"It's a matter of fair play," he noted with increasing agitation, "You keep it under wraps and don't go popping your mouth off. That really rubs me the wrong way. In my role as a coach, you can imagine that I'm getting my ass handed to me. I have a good relationship with Tony, but I still have to make a decision."

"I find it hard to ask a player who wants to go in a different direction to play another game," Baumgart said of his decision to drop Modeste from the squad, adding that he had personally spoken to Modeste, "I didn't talk to him as I wasn't in a good mood. He has to accept that. I'll talk to him tomorrow."

Provided Modeste passes a medical scheduled for tomorrow, the transfer will be completed. Baumgart made sure to add in closing that his leading goalscorer was an "exceptional player" whom would be missed.

"But we won't be grieving for too long," the coach gruffly added.



More about Anthony Modeste