The ageing Schalke 04 defender Naldo is arguably playing better than ever this season.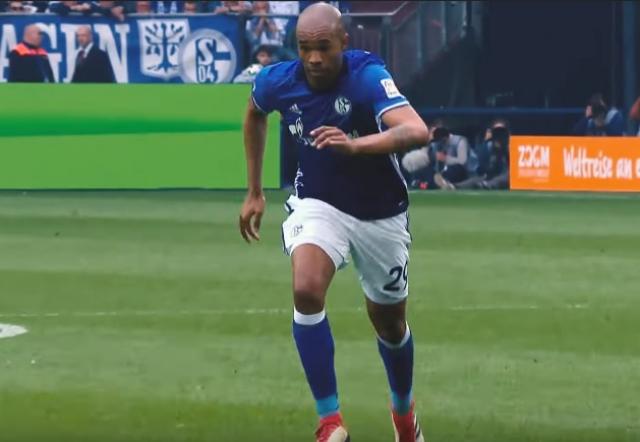 Domenico Tedesco's Schalke 04 team have been a revelation this season, and one of the team's stand-out players has undoubtedly been 35-year-old Naldo. The experienced central defender has played in the Bundesliga since 2005, and while the Brazilian has had many good seasons over the years, he may be in the form of his life right now.


The big central defender has been a leader and a brick wall in Schalke's defense, and with a technique that is far above average for a central defender and his ability to hit the ball well with both feet, he is great at distributing the ball forward.

In addition to that, Naldo is one of Schalke's most potent goal threats. With seven Bundesliga goals this season, only Guido Burgstaller (10 goals) has hit the net more times for Schalke this season. Naldo's 1.98 metres combined with his jumping and heading ability makes him a huge aerial threat. And, as we saw in the 2-0 win over Borussia Dortmund in the Revierderby, when Naldo smashed the ball into the net with 126 km/h, the Brazilian also knows how to hit a ball from a free-kick.



Popular at previous clubs
With all the qualities Naldo possesses, he was unsurprisingly also a huge asset at both his previous Bundesliga clubs – Werder Bremen and Wolfsburg.

Werder signed him from Brazilian side Juventude in 2005, and he became hugely popular both among fans and team-mates at the Weserstadion during his seven-year stay at the club. Naldo's teammate Tim Wiese described him as the best central defender in the league while his manager at Werder Bremen, Thomas Schaaf, said that he was probably the most talented defender in Brazil.


While playing for Werder, Naldo made his international debut and played four times for Brazil, but he hasn't been called up since 2009 which says a lot about the quality of the Brazilian national team. He also won a few titles – such as the DfB-Ligapokal (the German league cup) in 2006 and the DfB-Pokal in the 2008-09 season. In that season, Werder were also in the UEFA Cup final, but lost 1-2 to Shakhtar Donetsk.

In 2012, Naldo moved to Wolfsburg for a fee of €3 million that would eventually rise to €4 million because of clauses in the deal. During his stay at Wolfsburg, Naldo was an important part of Dieter Hecking's success side that won the DfB Pokal in the 2014-15 season.

However, while Naldo has many fond memories from his time at Wolfsburg, the Brazilian has stated he was disappointed with his parting from the club. After moving to Schalke 04 on a free transfer in 2016, he lashed out at Wolfsbug sporting director Klaus Allofs for not fighting hard enough to keep him at the club – something that Allofs may regret today.

"I had two offers that were clearly better than the offer from VfL. Anove all, personally, I didn't feel like the club were fighting for me," Naldo told Bild after his move to Schalke.

How long can he carry on?
Naldo turns 36 in September, but despite his advanced age the defender has played every Bundesliga minute for Schalke this season. The question is, however, for how long the Brazilian can continue being so highly profiled at the highest level.

Recently, Naldo admitted that he can feel that his body isn't as young as it used to be, but he hopes that he still has a few years left in him.

"Of course, in my age, you feel fatigue in your body after the games. But that's all normal and a part of it. It's really fun here with the team and fans of Schalke. I hope that I can play a few more years at the highest level. The most important thing is that I stay healthy. But our physios and doctors take good care of me, so I'm fit in the weekends. I hope that I still have a lot to show and experience with this club," he told Schalke's website.

Naldo's current contract with Schalke 04 runs out next year.