Americans in the Bundesliga:
Scally and Matarazzo a shade above failing in week eight
By Peter Weis @PeterVicey
Our deep-scout "Americans" column returns from the international break!

Unfortunately, the news from the German Bundesliga beat isn't the greatest time around as none of our actors (Jordan Siebatcheu, Joe Scally, and Pellegrino Matarazzo) were above average in the latest round.

As always, we have the detailed look at those U.S. actors active over the weekend. The absences of Giovanni Reyna and Kevin Paredes are discussed in the opening paragraphs.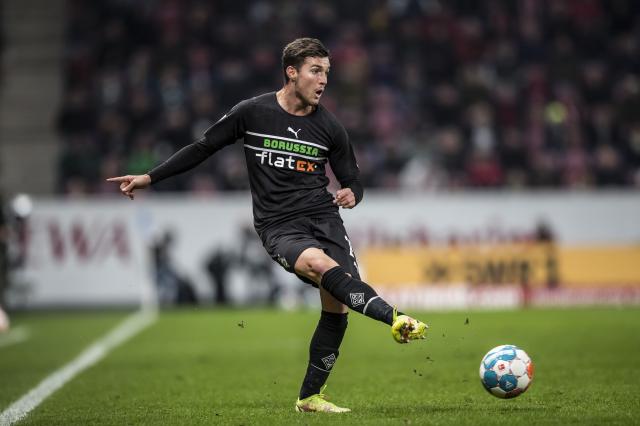 | | |
| --- | --- |
| Joe Scally. | Photo: Borussia Mönchengladbach |
The latest installment of our "Americans in the Bundesliga" column, as it so often has this year, featuring three graded sections. Much to the chagrin of Bundesliga watchers with American proclivities, the injury bug has once again bitten Gio Reyna. It also looks increasingly unlikely that we'll be seeing Justin Che even make a bench squad for TSG 1899 Hoffenheim's first time this season.


Hence, we're back to the familiar three this week. It is worth noting that Kevin Paredes did make an appearance off the Wolfsburg bench for the fourth time this season. The 19-year-old collected 10 touches and, with his nifty play, may very well be knocking on the door of Niko Kovac's starting XI. Eleven minutes of action was obviously too little to merit a graded section this time, but the columnist stands by.

Jordan Siebatcheu, 1. FC Union Berlin

Minutes played = 90/90, Positions played = LS, CF

Grade = C

A very active day for the American striker whom the German footballing press--at the request of the player--now officially refers to as "Jordan". We'll be maintaining his French surname for the purposes of the header in this column and tactical draw-ups, but will refer to him as "Jordan" within textual analysis. Such is the case in this week's tactical column, which chronicles nearly every touch of nine-times-capped USA international during his club's weekend Budnesliga fixture against Frankfurt.

Despite the fact that Union's offensive engine often sputtered in the loss to Frankfurt, there was plenty of positive play from our subject here. Jordan did his bit with several good ball hold ups, only sent four of his 18 passes stray, and asserted himself well enough on aerial duels. All three of his efforts at the back of the net went wide of the mark. In two of these cases, it truly wasn't his fault. Attacking partner Sheraldo Becker only supplied him with tight-angle chances. Fine awareness from Jordan to get his head to the ball in those instances.

A "kitchen sink" tactical readjustment near the end of the match saw the D.C. native jam-packed together up front with a plethora of other strikers. Small wonder that Jordan had trouble locating useful space in this congested squeeze. In the process of going the full 90, the 26-year-old was clearly tired and a bit short of ideas. A very curious call by FCU trainer Urs Fischer to leave him on the pitch. It seemed obvious enough that he would get crowded out.


This column will mark this American average on the day. Unfortunately, there wasn't much to glean about his chances of working his way back into USMNT head-coach Gregg Berhalter's good graces from this particular performance. Jordan will have to get his name back on the scoresheet before we can even begin discussing World Cup prospects. There remain very strong aspects to his game, most especially the manner he keeps and shields the ball. One problem happens to be the fact that, without Becker, this doesn't mean as much.

Joe Scally, Borussia Mönchengladbach

Minutes played = 77/90, Positions played = RB

Grade = D-

The Long Island native received straight failing marks in many German press sources after the 1-5 blowout loss to Bremen. Several of his teammates--Manu Koné, Ramy Bensebaini, and Marvin Friedrich to be precise--also got the lowest possible set of marks. This writer finds it somewhat odd that Scally got lumped in with some of the other failing actors. Scally obviously didn't have a good day, but it was far from the worst performance from him recorded in this column.

Delving deeper into the nature of this most unexpected lopsided defeat begins with tactics. The columnist himself took another look at Gladbach's knock-out defeat of Leipzig on matchday seven to see if he had missed something. In fact, there was something. BMG trainer Daniel Farke's initial 5-4-1 organically evolved into a 4-2-3-1 as the match wore on. This had everything to do with the increasingly bold confidence of former German national team 2014 World Cup winner Christoph Kramer.

Farke let it ride.

Lineup—Gladbach—Match Eight (4-2-3-1)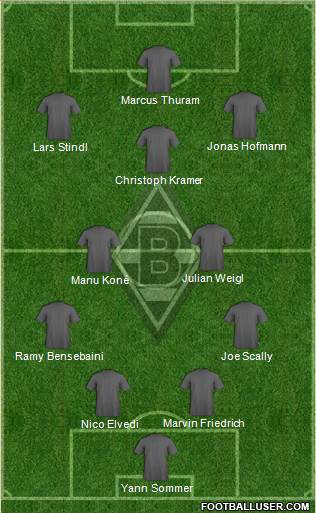 Like the rest of the squad, Scally got off to a disastrous start. He sent three passes stray before five minutes were gone and was badly beat by Niclas Füllkrug in the 3rd. The American's marking on Füllkrug during the opening goal in the 5th minute was....well...the less said about that, the better. Though our subject here really wasn't at fault on the second goal, subsequent defensive marks in the 7th, 8th, 11th, and 12th showed how rattled he was.

Practically the entire squad shares the blame for Bremen's third tally in the 13th. Everyone remained out-of-sorts whilst a full-tilt meltdown occurred. No one ran back to help Bensebaini on the counter. As a result, all it took was one failed clearance to accord Füllkrug and Marvin Ducksch all the time and space in the world. Scally continued to look shellshocked for several minutes, blindly wandering out of his position in the 15th and 16th.

Anyone giving Scally failing marks on the day nevertheless didn't see fit to take his quality offensive play during the first half into account. His shot on target in the 19th began with a clever leave and sensational forward run. There was also some strong positional play in the opponent's box in the 25th and 36th. A blistering run up the right and quality square for teammate Lars Stindl came in the 42nd. Later on, he pulled off some skilled cycle work in the 51st, 67th, 68th, and 74th.

That's about the extent of the encouraging work witnessed from this American, however. A whole myriad of mistakes cannot be ignored. More poor marking can be found in the 27th, 59th, 72nd, and 73rd. One can watch him look totally lost both on and off the ball in the 17th, 29th, 30th, 61st, 63rd, 69th, and 71st. The teenager rarely had the courage to head forward apart from the above-mentioned plays. Farke likely decided to take him off after watching him fail to pull the trigger on a cross into the box in the 71st.

Scally was yanked for his direct competitor Stefan Lainer in the 77th. This isn't great news for those of rooting for the youngster. One mustn't forget that he spent most of the second half of last season on the bench. It's entirely possible that Farke may, after reviewing the tape, opt to sit him. A particular stretch--between the 33rd and 37th when Gladbach was under serious fire--features Scally making several desperate and ill-advised clearances. The foals may need some more experienced defending at Scally's position.

Pellegrino Matarazzo, VfB Stuttgart (Trainer)

Matches = 1, Result = L

Grade = D-

Matters remain pretty dark in Swabia. The Bundesliga's first-ever American trainer shall always have a job so long as his close friend and backer Sven Mislintat occupies the sporting director position. That in itself isn't a foregone conclusion. Mislintat's current administrative maneuvering has the feel of something that won't end well; at least not to those of us with the Thomas Hitzlsperger front-office strife fresh in our minds.

Bad times. In any event, we'll shift matters back to the latest happenings on the pitch. Saturday's 2-3 loss to Wolfsburg actually didn't feature all that mesmerizing football from either side. After an energetic start from the VfL, it was one of the sloppier five-goal fixtures that one is likely to see. Matarazzo's VfB grabbed two first-half goals against the run of play in a constellation that was mostly ineffective.

Lineup—VfB Stuttgart—Match Eight (4-2-3-1)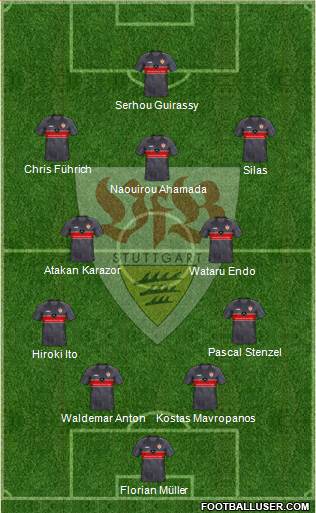 Skipper Wataru Endo, moved back yet again, had a great deal of difficulty asserting himself in midfield. The partnership with Atakan Karazor proved a certifiable flop, as did Pascal Stenzel in the back-four. Serhou Guirassy scored the opener on what was perhaps Hiroki Ito's only useful pass of the afternoon. Konstantinos Mavropanos scored off a mediocre corner design, helped out by the fact that Mickey van de Ven totally blew the coverage.

Matarazzo would have done better to order a tactical shift at the half. This shape wasn't able to move up the field quickly enough. To be fair to the American trainer, he did have some justification for keeping some faith in his counterattack. Silas and Chris Führich were playing relatively well. This faith was rewarded with a couple of dangerous counter drives in the opening ten minutes of the second 45. Things could have unfolded differently if Silas hadn't hit the crossbar.

Overall, Matarazzo once again waited far too long to send subs on. Enzo Millot came on for squad captain Endo in the 68th. This not being a like-for-like left Millot running around confused for nearly ten full minutes. The triple change in the 77th did introduce two new strikers, yet was clearly aimed at preserving the lead. One also has to wonder why the gaffer gave newly signed free-agent Dan-Axel Zagadou such an unorthodox assignment on the first go.

Lineup—VfB Stuttgart—78th minute (5-1-4)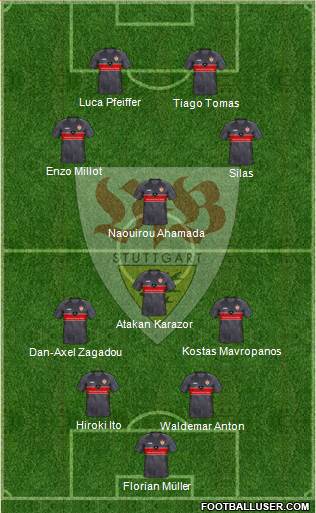 No offensive punch from this. No defensive security on the pockets of space behind the second axis either. It didn't surprise to see Wolfsburg snatch the winner at the death. It truly is looking like a long way back for this still winless team. Matarazzo hasn't come close to figuring out something that works yet; something the lads can regularly drill on the training pitch and enter a match confidently with.

One can probably expect another loss against Union next weekend.

Thanks so much for reading! You can occasionally catch Peter goofing off while watching non-Bundesliga football on twitter, @ViceytheSS.

Twitter DMs are open for football conversations, corrections, and (if you truly insist) general abuse. 

All columns debut on Bulinews before appearing on Peter's website as the season progresses.



Related stories