Wolfsburg updates:
Otavio leans towards renewal, club also targets Manu Sanchez
By Peter Vice @ViceytheSS
VfL Wolfsburg left-back Paulo Otavio caught up with Thomas Hiete of German footballing magazine Kicker to discuss, among other things, the state of his contract renewal talks from the team's training camp in Almancil, Portugal. 

Spanish sports daily "Marca", meanwhile, reports that Germany's green company team are scouting the Iberian Peninsula for their summer re-stock at Otavio's position.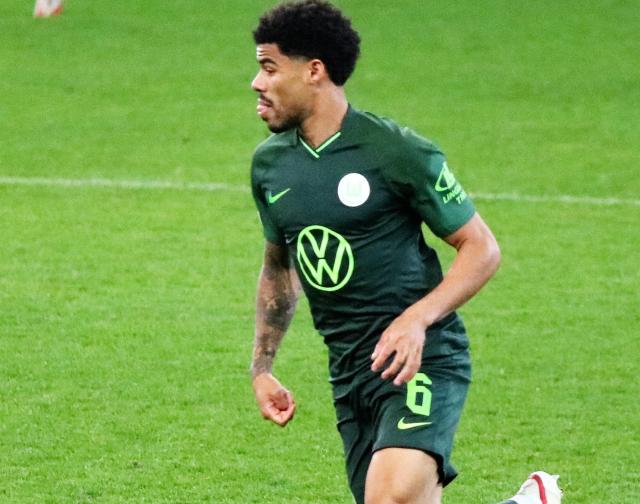 Photo: Werner100359, CC BY-SA 4.0

As one of seven VfL Wolfsburg players sitting on contracts set to expire this summer, Paulo Otavio has some important decisions to make during the current January transfer window. The 28-year-old Brazilian left-back, one of two players die Wölfe prioritized re-signing this month, nevertheless has a vastly different take on the club's approaches to him than teammate Omar Marmoush.


"We are in good talks," Otavio confided to Thomas Hiete of German footballing magazine Kicker, "With the VfL, I can achieve a lot. I think staying in the Bundesliga would be a good decision for me."

As Hiete points out in his dispatch from the Wolfsburg camp, Otavio finds himself in the unique position of facing both the first and last major contract of his career. The Sao Paulo native arrived in the Lower Saxony after some years playing mostly under the radar for LASK Linz and FC Ingolstadt.

The Wolves signed him for just over €1 million in 2019. Few expected that Otavio would rise to become a player with a current estimated market worth of €6.5 million. After the famous incident in which viciously cut down Hoffenheim's Munus Dabbur in 2021, few might have expected such calm and thoughtful words from the defender either.

"Where will I take the last step?" Otavio mused to himself when reflecting on his own future "Twenty-eight is a prime footballing age, but the end is still not so far away. We are thinking hard. Do I stay here, do I do something else again, maybe in Brazil?"

Otavio took care to emphasize that he and his representation were holding talks with Wolfsburg first-and-foremost. No other discussions would take precedence. With regard to the famous incident, Otavio even noted that he had joked about it with Dabbur during the recently completed test fixture against Hoffenheim.


"We spoke briefly," Otavio revealed with a laugh when asked about his dealings with Dabbur, "I wish him only the best. That scene will still be watched 20 years from now on Youtube."

Otavio has been a regular fixture in Niko Kovac's starting XI since matchday three. With four league assists to his credit thus far in the campaign, he is the squad's top goal preparer. In the event that the Brazilian opts not to renew, new sporting CEO Marcel Schäfer won't have a natural left-back on the roster.

It has already been acknowledged that the expiring contract of Jerome Roussillon, among many whom Otavio surprisingly displaced, will not be renewed. The WOB front office has been linked with several players at the position. According to Hiete, there isn't any truth to rumors that Portuguese center-halve Filipe Relvas, who can also play left-back, is in the club's sites.

Spanish Sports daily "Marca" suggests that Spanish youth international Manuel "Manu" Sánchez de la Peña might be a likely target. The Atletico talent has accrued a great deal of playing time on an extended loan at Club Atlético Osasuna, pushing his estimated market worth to some €10 million.

Sánchez has done a good job as a preparer himself this season, registering three assists for his club team. "Marca" writes that Atletico Madrid aren't keen to let him go and that Real Betis are also actively competing with Wolfsburg for the talented left-footer. The 22-year-old remains bound to his parent club through 2027.



Related stories