Knäbel provides updates on Polter, Kral, and Skarke
By Peter Vice @ViceytheSS
Acting Schalke 04 sporting director Peter Knäbel issued injury updates on both striker Sebastian Polter and Alex Kral.

In an interview with Germany's main sporting tabloid, Knäbel also spoke on the rumors that hopes of acquiring 1. FC Union Berlin winger Tim Skarke had been dashed.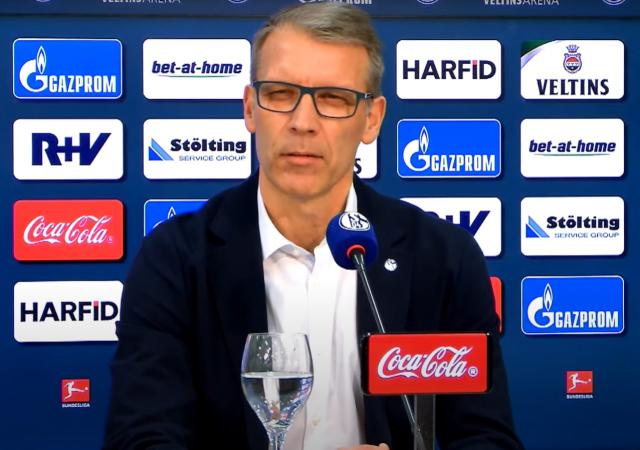 As expected, FC Schalke 04 must act on the assumption that they can no longer rely upon striker Sebastian Polter in their bid to avoid relegation during the second half of the season. Although acting Schalke 04 sporting director Peter Knäbel didn't offer much new news on the 31-year-old's ACL tear, the club's chief personnel executive confirmed that Polter "will clearly be out for a long time" in a statement issued Tuesday.


Knäbel also issued an update on the status of Czech midfielder Alex Kral. The Spartak Moscow loanee had been unable to train for several days due to unspecified problems with his back. Speaking to assembled members of the press yesterday, S04 trainer Thomas Reis admitted that the club's medical staff couldn't figure out an exact diagnosis. Knäbel provided a more specific diagnosis, saying that the 24-year-old suffered from a herniated disc and would be out indefinitely.

The losses of Kral and Polter deprive Reis of two of his regular starters. Polter's absence in particular places additional pressure on Knäbel to procure some more attacking assistance. In an interview with Germany's "Sport Bild" tabloid on Tuesday, Knäbel addressed the rumors that 1. FC Union Berlin were no longer willing to follow through on a loan-out sending winger Tim Skarke to Gelsenkirchen. Knäbel informed the paper that the deal might still happen.

"We haven't given up on the transfer of Tim Skarke yet," Knäbel said, "but it's not entirely in our hands. We still have open eyes and ears. We still have time to find an offensive player as, in my opinion, an attacker can be integrated into the squad more easily. A striker can come after a defensive player."

The Sport Bild article quoting Knäbel also quotes Union manager Michael Parensen as saying that a loan-out for Skarke remains extremely unlikely. Paresen confirmed to the tabloid that Skarke is on his way to finding a place in head-coach Urs Fischer's new tactical system. The FCU official explicitly stated that the club "does not wish to send Skarke away."



Related stories