Krösche speaks on Bobic's firing: "This was the wrong time."
By Peter Vice @ViceytheSS
Speaking on German football's famed Sunday footballing roundtable, Eintracht Frankfurt sporting director Markus Krösche offered up his opinion on Hertha BSC's shock dismally of chief sporting executive Fredi Bobic yesterday.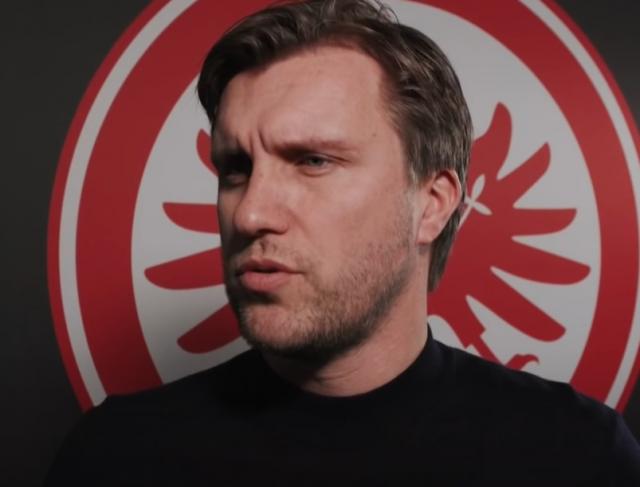 Hertha BSC find themselves in a full-blown state of emergency after firing sporting CEO Fredi Bobic yesterday. The move was made in a desperate attempted to reverse the administrator's misguided transfer policy during the current window at the last possible moment. Germany's Kicker magazine reports that - at a presser scheduled for later today - former Hertha assistant coach Andreas Neuendorf and long-time Hertha academy director Benjamin Weber will be introduced as the club's primary two new decision-makers.


For Eintracht Frankfurt sporting director Markus Krösche, actually Bobic's replacement at his former place of employment, the move didn't make any sense from an outsider's perspective. Speaking on Germany's famed Sunday footballing roundtable "Doppelpass", Krösche cited experiences from  his own professional path. The SGE administrator shared how difficult it can be to make footballing personnel choices under extreme pressure.

"As I learned it from bottom-up at Paderborn and Leipzig, a lot of things come crashing down on you all of the sudden," Krösche said, you have to make a lot of decisions. Of course, you're now in a sporting situation where there's a lot of pressure. You also have to deal with the media issue."

"When I read that two more players are supposed to come, that also has to be handled," Krösche continued, "That's already a very, very difficult task. I can't say what qualifications they [Neuendorf and Weber] have. They will have thought it through, but it's not that easy."

"As sports general manager or sports director, you have a certain influence - in planning, in strategic direction," Krösche in his discussion of the topic, "it's extremely difficult to do this job these days. In my opinion, this was the wrong time. This serves no purpose. One needs stability. They could have done this after the season."




Related stories