Schmidt claims Mainz goalkeeping coach prophesized Lee's second goal
By Peter Weis @PeterVicey
After a big "Fastnacht win" in front of the hometown fans, FSV Mainz 05 sporting director Martin Schmidt jovially spoke of a prophesy from the squad's goalkeeping coach coming true in the 3-1 win over Augsburg.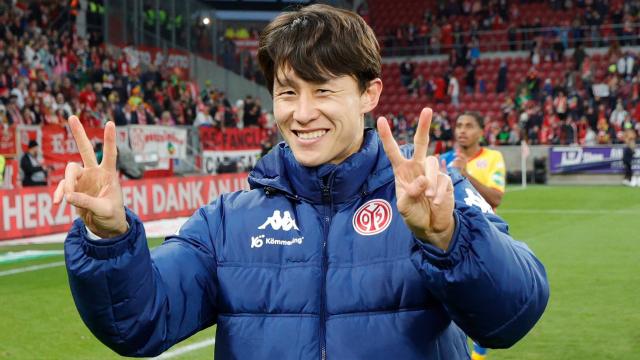 Almost one year to the day after FSV Mainz 05 celebrated a big 3-2 home win over Bayer 04 Leverkusen ahead of "Fastnacht" in one of the Bundesrepublik's great carnival cities, the Rheinhessen were once again able to deliver a victory in their special "carnival tricots". Just like last year, the hometown faithful who dressed up for the occasion were rewarded with a day to remember.


The hero for the Nullfünfter this time was South Korean international Jae-Sung Lee. The on-fire Karim Onisiwo got himself another goal. New January signings Ludovic Ajorque and Andreas Hanche-Olsen registered assists. It was nevertheless the summer 2021 signing from Holstein Kiel who came across as the best player on the pitch. Lee bagged a brace with goals on both sides of the half.

Lee now has an impressive six goals for the Pfälzer in the current league campaign. The 67-times-capped international has officially eclipsed his goal-scoring total from last season and draw level with his scorer-point total (seven) from 2021/22. Lee initiated the play on his first goal, taking the ball off Augsburg's Felix Uduokhai in midfield, then maneuvering himself into scoring position.

Onisiwo added the 2-0 three minutes later. Augsburg were then able to find their way back into the match via a handball penalty four minutes after that. During the half-time team talk, Mainz goalkeeper coach Stephan Kuhnert reportedly gave the team a special pep talk on closing out the match. This is at least what FSV sporting director Martin Schmidt told the Sky mics after the win.

"[Stephan said] 'Don't wait until the 92nd minute to shoot. Go for it in the 52nd'," Schmidt claimed, "He proved an oracle today."

Lee's second came precisely in the 52nd. This time the 30-year-old veteran took on FCA defender Robert Gumny en route to his second goal. After having a laugh with the "oracle" comment, Schmidt went on to praise the team as a whole. Mainz are up to 11th place on 26 points. Much could still be possible for the Rheinhessen, now just four points off the Europa Conference League place.

"It was a great 'Fastnacht Victory'," Schmidt concluded, "Now it's about clawing our way up into a wide-open middle section of the table."



More about the match
More about the teams