Jeremie Frimpong:
Reaching the elite
By Rafael Garrido Reinoso @RGarrido2210
Bayer Leverkusen have changed dramatically since Xabi Alonso took over as coach in October, and a lot of it has to do with Jeremie Frimpong's role and performances. The attacking wing-back has completely exploded this season and already has surpassed the expectations placed on him.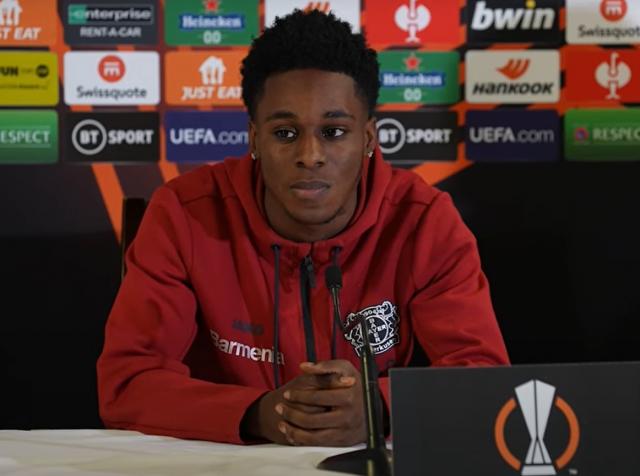 Jeremie Frimpong started the season on such a high note that his level convinced Louis Van Gaal to call him up for the 2022 World Cup, and after the tournament the Dutchman improved his performances and numbers even morewith a renewed Werkself under the Spanish legend.


In an interview with our very own editor Rune Gjerulff, Simon Rolfes stated how impressive Frimpong was statistically during his time at Celtic and how that prompted Bayer to acquire him, and it's safe to say they got it right.

When we take a look at Frimpong's stats, it's very impressive what the wing-back has achieved so far.


An absolute freight train

Bayer's star ranks up there with the best full-backs and wing-backs in the world, even outperforming them in several categories.


Offensively Frimpong takes advantage of his very good control and explosive speed to wreak havoc on the opposition every time he has the chance. Those 36 Km/h are absolutely unstoppable when he finds space.

The former Man City academy product leads the big-5 leagues in progressive carries by a defender with at least 1000 minutes this season, tied with Leonardo Spinazzola and edging Alphonso Davies just a bit, but well ahead of the rest of his closest rivals.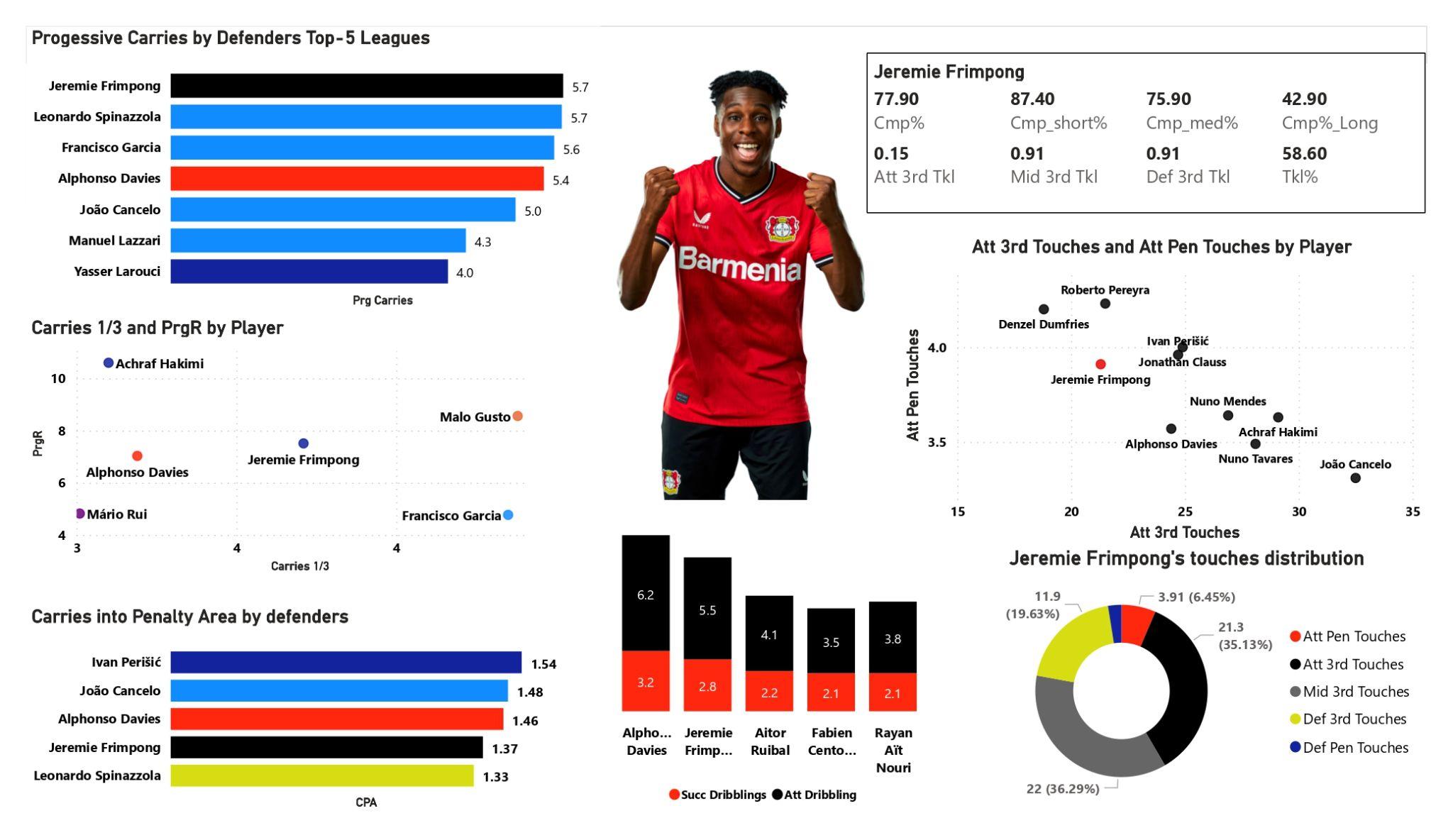 If we add a minimum of 5.5 Progressive Passes Receive per game to that equation, only Davies, Cancelo, and Larouci join Frimpong on that list.

He also ranks 4th in Carries into the Penalty Area among defenders with his 1.37 per game, around 25% of his progressive carries are into the box.

The Dutchman is as direct and explosive as possible with every touch, here's another example:

Frimpong ranks 4th in touches in the attacking penalty area by a defender in the top-5 leagues, but of those 10 players, only fellow Dutchman Denzel Dumfries has fewer touches in the final third. Of course, their team's playing style affects and explains this, but we'll cover that later in the article.

To keep up with Jeremie Frimpong's blistering verticality, he's also in a very good place when we compare progressive passes received and progressive carries into the final third by full-backs, meaning that despite receiving the ball quite high on the pitch frequently, he creates even more depth with his runs with the ball.

His 1-v-1 ability makes him an instant threat every time he faces the opponent with the ball on his feet, and he is tenth among ALL players in successful dribbles per game, trailing only Alphonso Davies between defenders. All that while maintaining a very healthy 50% dribbling success rate.


A decider on the final third

The young wing-back's intensity and drive to break down the lines and create chances for his team is easy to see when looking at his goals and assists: 7 and 6 for the 22-year-old, but when looking at the chances he creates for Bayer every game, his production is even better, behind only Davies, Guerreiro and the crossing machine Borna Sosa. The full-back position has to be one of the most crowded in the Bundesliga.

Frimpong is always on the hunt for opportunities to attack the spaces with or without the ball, and his ability to combine with his teammates in tight spaces allows him to operate closer to both the box and the line.

Xabi Alonso has also taken advantage of this, allowing the Dutchman to play to his strengths.

It is obvious that the style of the Bundesliga fits perfectly with players like Frimpong, as he can exploit his strengths and blazing speed in transition, but it is very interesting how Alonso has modeled Frimpong's role.

Of course, during the offensive transitions, Bayer's wing-backs have the freedom to push forward immediately and make runs, an order that Frimpong follows happily.

But even during those offensive transitions, we can see something very interesting.

Whenever Bayer Leverkusen move down the left flank, Jeremie Frimpong approaches the edge of the box, as opposed to what some coaches demand from their wingbacks to always produce width.

This happens not only when the ball is near the left line but also when it starts to come to the middle, as Frimpong does not immediately jump to the side to create space, but instead holds his position in order to attack the space behind or to offer a passing line.

He has the speed and explosiveness to make that back-and-forth movement effortlessly and it's getting better and better as you interpret it. Julian Nagelsmann does something similar with Alphonso Davies at times, both offensively and defensively

The former Celtic player is comfortable cutting in to receive the ball towards a more central area rather than shying away from swapping positions with the midfielders or a winger.

Frimpong's positioning does two things: The first is to fill the space left by Moussa Diaby's movements as he cuts in or stays wide, and the second is to try to create a numerical advantage closer to goal that can be exploited either by combining passes or a 1v1-situation on the edge of the box, especially since Patrick Schick has been out for most of the season and the team does not have any other aerial or attacking presence to fight for the crosses.

This has a lot to do with Frimpong's 6 assists and Leverkusen being one of the teams with the most assists overall in the Bundesliga.

Die Werkself are one of the teams in the Bundesliga that accumulates more progressive passes, progressive carries, key passes, and through balls.

They are an incredibly vertical team that finds their players in great advancing positions with short and medium passes, as they almost never play it long, preferring to put the ball on the ground and constantly using the idea of the third man to create their transitions and attacks.

This also explains an important stat in which Jeremie Frimpong and Bayer Leverkusen rank surprisingly low: crosses.

The wing-back crosses the ball a little bit more than 2 times every 90 minutes while Die Werkself as a team rank at the lower end of the statistic. Frimpong's numbers are not that bad when compared to other players like Guerreiro or Pavard, but they are surprisingly low when taking his area of threat and his shooting created actions into consideration.

If we look at the distribution of his touches, he accumulates almost the same number in the middle third as in the attacking third and has relatively few touches in his own third.

That's in part thanks to his team's verticality, but also due to Alonso's scheme, as both Frimpong and Bakker push forward as soon as Bayer have possession and offer a passing option down the wing if no one is coming to them.

However, the first objective is to find one of the players in the half-spaces or the inner squares to then connect with the player down the wing.

Thanks to that, and Frimpong's ability to cut inside easily for a player with his attributes, Die Werkself are able to play quick one-twos and speed up the attack by finding the third man.


Not everything is gold

Like most modern full-backs and wing-backs, Jeremie Frimpong's defense needs to improve.

Ronald Koeman, once again with the Dutch national team, openly talked about how Jeremie Frimpong's defending ability, along with his positioning with Leverkusen, did not convince him.

To be fair to Koeman, he makes some sense in both statements; although the result against France (a 4-0 defeat) might make him reconsider his decion.

As mentioned before, Xabi Alonso has taken advantage of Frimpong's characteristics and his level sky-rocketed. So if Koeman does not intent to do the same, it makes sense he prefers other players; time will tell if he is right or wrong or if things change.

To be fair to Frimpong, his role is much more focused on attacking, but he is starting to be targeted.

Werder Bremen, for example, scored their goal and a couple of actions came down by attacking the space between Frimpong and Kossounou.

Frimpong is usually quite high up the pitch and only really forms the 5-men line if the opposing team is establishing a set attack near Leverkusen's box. Otherwise, he is usually higher and leaves a considerable space to target.

The Dutchman relies on his speed, and more often than not that's enough to get the job done defensively, but his awareness o when to drop backand when to stay higher is suboptimal.

Die Werkself's scheme also affects Frimpong's defensive numbers. He has a solid 57% in tackles won and is top 15 in duels won in the Bundesliga, but the rest of his stats are somewhat low in comparison to his peers.

The team is dead last in tackles per game, tackles in the attacking third, and passes blocked and ranking very low on interceptions and very high on errors.

Frimpong is on line with the rest of his team in this regard, being very participative in each of the defensive tasks, but not creating a real difference.


Perfect fitted

With football evolving towards a more physical game and towards schemes with 3 at the back, Jeremie Frimpongs profile and traits are perfect for the 22-year-old to have a very successful career and be an impactful player for years to come.

The evolution of full-backs and wing-backs with the offensive presence of a winger but with enough gas in the tank and work rate to fall back to fill the space defensively, a thing that does not mean being defensively proficient, is gaining a higher value every summer market.

This July, we'll see if Bayer Leverkusen are strong enough to keep their most valuable assets, along with Wirtz, in the team.



More about Jeremie Frimpong
More about Leverkusen