Schwolow on the task ahead:
"I've never been relegated in my career."
By Peter Weis @PeterVicey
The pressure doesn't get much greater for German keeper Alexander Schwolow in the coming weeks. The 30-year-old must aid his club in their fight to avoid the drop and indeed fight for the very future of his career at the same time. 

The Wiesbaden-native insisted that he was up to the task at a Wednesday media round, including and most especially against his former youth academy club Freiburg this coming Sunday.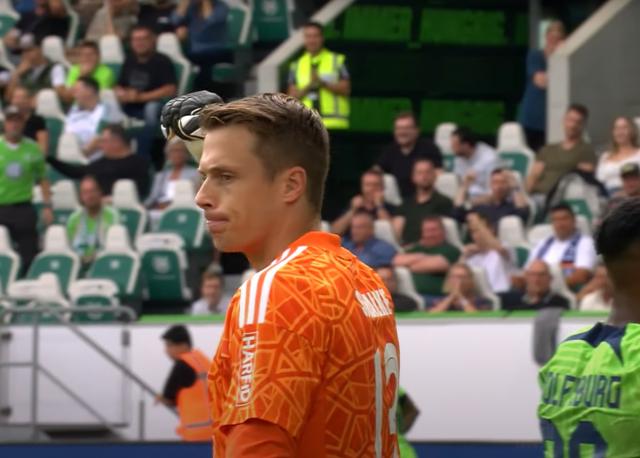 Ralf Fährmann's potential season-ending injury returns Alexander Schwolow to the task of tending the Schalke net. For the 30-year-old Bundesliga keeper, the task ahead constitutes an enormous challenge. Schalke face the toughest remaining schedule of all the Bundesliga relegation candidates. Schwolow must get set to face his former youth academy club (SC Freiburg) on Sunday.


The ex-Freiburger spoke on the road ahead at a Wednesday media round.

"In our remaining six games, we play five against teams from the top half of the table," Schwolow acknowledged, whilst also noting that - for teams like Bayern, Leipzig, and Frankfurt - Schalke could be playing teams who treat the matches like dead-rubbers "A window always opens at the end of a season, and maybe the big players will have already achieved their goals by then."

Naturally, that doesn't apply to other opponents such as Mainz or Bremen. Upcoming opponents Freiburg too have much to play for. Schwolow will face a difficult test against his former club; the same organization he once departed as a high-value €7 million signing. After less-than-convincing stints at Hertha and Schalke, however, Schwolow's career has tanked.

"I have negative things in my mind," Schwolow admitted on Wednesday, "but there are also positive experiences to draw upon. I wasn't in demand for some games, now I've been called upon again. Once can never rest, even when demoted. One must always be ready."

S04 trainer Thomas Reis, for his part, sought to express backing for his keeper when speaking to the press last Sunday. Reis declared himself pleased with Schwolow's performance off the bench in last Friday's 5-2 victory over Hertha BSC. The backstop he had personally benched had, in Reis' words, "never given up in training" and "kept his nerve in a cold start."


Reis' decision to bench Schwolow and rely upon Fährmann undoubtedly produced the desired effect. Fährmann kept four clean sheets and only conceded nine goals in 935 minutes of action whilst stopping 80 percent of the shots he faced. Schwolow, by contrast, has conceded 43 goals in 1585 minutes of action.

The 30-year-old must buck the trend. If he can deliver, there might even be some interest in retaining him by parent club Hertha BSC. Schwolow still has a contract with the capital city side good through 2025. The keeper did his best to radiate confidence whilst facing the dual challenge of rescuing both his club and his fledgling career.

"I'm truly sorry for Ralf," Schwolow noted at the Wednesday round, "He did a great job. But I've personally never been relegated in my career and have every desire to keep it that way."



Related stories