Bundesliga Tactics Talk: Round 28
By Peter Weis @PeterVicey
The 2022/23 German Bundesliga heads towards an exciting conclusion with a mere six matchdays remaining following the conclusion of the most recent round. Nine points separate the top five sides. The six-team relegation field are separated by just seven points.

Our weekly comprehensive recap fixture here on Bulinews has quite a lot of ground to cover in its analysis of all nine weekend fixtures. All the salient talking points are, as per usual, addressed in great depth.

This week's installment contains draw ups for Augsburg, Hertha, and Schalke. Dortmund's latest unbelievable result also gets extensive coverage. So too does Bayern's 1-1 draw with Hoffenheim, to which the "focus section" belongs.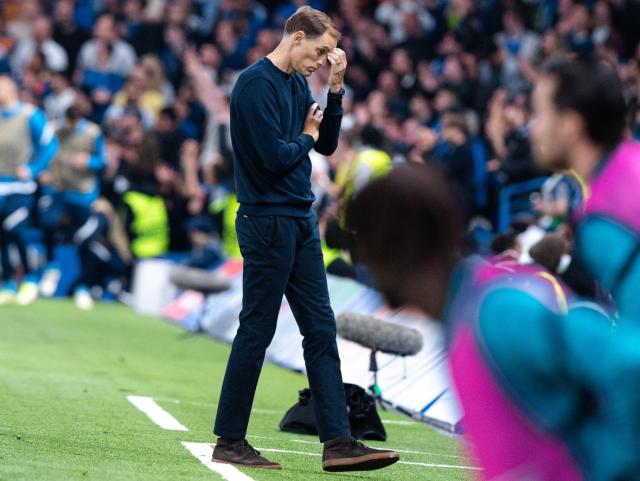 Bundesliga Tactical Banter: Round 28
The Saturday 1-1

Ho hum. Eintracht-Gladbach in the Saturday evening "Top-Spiel". Very difficult to summon up interest for this one considering it involved two clubs who spent much of the week officially confirming what we all knew already. Namely, that virtually all of their players on expiring contracts will be departing on free transfers in a few short weeks. It's a little early for "dead rubber" fixtures (or "Golden Pineapple" races as Germans like to call them), but it felt like we were getting there with this one, at least for several long stretches during which not much was going on.


Eintracht-Gladbach was a "Golden Pineapple Race" on matchday 33 last year. The two teams drew 1-1. The same thing happened this time around in a match with far too many players thinking ahead and seeking to avoid injury. SGE trainer Oliver Glasner did interject some life into proceedings with the double substitution of players with more at stake - Paxten Aaronson and Eric Junior Dina Embina - in the 55th. From that point forward, Frankfurt at least played to equalize and we got an entertaining enough finish. Glasner deserves some credit for taking a few gambles.

The Sunday 1-1

Union-Bochum also featured prolonged lulls as, predictably enough, two physically-oriented sides duked it out in midfield for much of the first half at the Stadion An der Alten Försterei. Even some of the FCU supporters stayed away from this one. To the writer's knowledge, this was the first match and the Union ground not to sell out since full capacity was once again permitted at German football stadiums. A shame that some of die Eisernen faithful missed out on Josip Juranovic's set-piece wizardry and a valiant hold off on a comeback from their shorthanded side.

Overall, efforts from both teams remained commendable. The optical quality of the football remained slightly above average. There were still many far too many passive spells from Urs Fischer's crew. For a full 15 minutes after the restart, the Köpenickers assumed that abhorrently frustrating posture they sometimes take on; one in which no one in the rust-colored stripes wants the ball. Skipper Rani Khedira may have been the worst offender in this regard on this day. Not the most inspiring thing to watch when a top-four finish is at stake. One needs to see better next time.

The Sunday 0-0

On the topic of teams not really playing in accordance with what lies at stake, Wolfsburg-Leverkusen often looked as if it was being played on valium. In fairness to Xabi Alonso's red company team, the European workload has them looking a bit tired. Any circumstances that force Florian Wirtz to be rotated out of the side also render die Werkself an entirely different XI. Sardar Azmoun as a true nine kind of throws off the whole regular system. The writer also doesn't recall Adam Hlozek on the left-slant ever working out that well. The chances didn't materialize.

As for Niko Kovac's green company team, there's more tactical miscues to discuss. The VfL trainer had the right idea testing out a back three, but probably should have constructed it with Maxence Lacroix, Sebastiaan Bornauw, and Micky van de Ven. Joshua Guilavogui should have worked in midfield without captain Maximilian Arnold on the pitch. Patrick Wimmer and Kevin Paredes also likely should have played from the start. The weird 3-1-4-2 with Felix Nmecha trying to play as a semi-sweeper worked well enough against the ball, but just couldn't build on the press.

The "Spiegel Specials": Round 28
Leipzig-Augsburg (3:3, 3:2)

After the thriller at the WWK-Arena back on matchday 11, we very nearly got another six-goal-affair here. Interesting to watch Augsburg very nearly turn the tables on the German Red Bulls with their own spectacular comeback. To be fair, this one wasn't exactly the barnstormer we got back in October. Matters were pretty much sewn up after an early goal woke Timo Werner up. The German national team striker assisted an a quick equalizer and completed a scorer's brace before the first-half was out.

Probably the most interesting thing to come out of this Saturday 15:30 concerned the fact that some injuries and suspensions finally forced FCA trainer Enrico MaaÍen out of his normal 4-4-2. Taking advantage of the fact that Felix Uduokhai was once again fit, the Fuggerstädter gaffer deployed a back-five with three closely stationed center-halves. After the hard-tanking (as of late) midfield duo of Elvis Rexhbecaj and Arne Engels - along with disastrous marks from Robert Gumny saw this shredded, Maaßen went back to the old constellation.

Lineup—FC Augsburg—Match 28 (5-4-1)





It lasted all of 38 minutes. Fredrik Jensen relieved Gumny to restore the two-striker-set. Rexhbecaj also got pulled at the half in favor of Julian Baumgartlinger. The Bavarian Swabian guests finally found some success in the final half hour when Irvin Cardona and Ruben Vargas worked as the two strikers. Leipzig - while sometimes looking as dangerously passive as their top-four brethren Bayern and Dortmund did in their own 15:30s this weekend - still mostly maintained control of the match.

Prognosis: FCA Red Alert

Picking right back up on a thread we began last week, it's time to once again weigh in on whether Augsburg can be dragged back into the relegation race. Now unless in five games on-the-spin, it becomes more difficult to see how Maaßen gets the crew out of this funk. The Fuggerstädter don't have the easier path before them. Stuttgart will be heading into town with a board chest next week after their result against Dortmund. Frankfurt could then extend this winless streak to seven after that.

Captain Jeffrey Gouweleeuw must serve his second yellow card suspension of the season next week after picking up his tenth caution. Without Mërgim Berisha in his fittest form,the goal-scoring-threat continues to dry up. The above-mentioned midfield tandem now qualifies as a full-fledged disaster area. Maaßen has triage work to do all over the pitch. A young and inexperienced trainer must find a way to squeeze six more points out of this suddenly struggling team....and there isn't an opponent among the remaining six that will make it easy.

Indeed, there's trouble brewing here.

Köln-Mainz (0:5, 1:1)

While it may have been the least glamorous of the 15:30 offerings, the Rheinhessen visit to the RheinEnergieStadion provided some interesting insights into a pair of teams German football fans maintain many curiosities about. The charge up the table for Bo Svensson's FSV actually reminds one of Köln's late-season form last year. Steffen Baumgart's Effzeh - courtesy of some great performances in March and April of 2022 - eventually won the race for the Europa Conference League playoff spot. Mainz appear destined for that fate this year.

The 1-1 draw that saw Mainz extend their unbeaten run to nine consecutive fixtures was not without its issues for this year's "fringes of Europe" favorites. The Pfälzer tapered off significantly after Ludovic Ajorque's 17th-minute opening goal. The return of Karim Onisiwo to the starting XI ended up being something of a letdown and Anton Stach had another disappointing day from his direct second-axis support position. An XI once expected significantly less from performed much better against Köln in the "Hin-runde".

Mainz went to sleep for a while until Jae-Sung Lee and Marcus Ingvartsen came on for the final quarter-of-an-hour. Köln themselves continued to look unpolished though Baumgart's new 4-2-3-1 (with Dejan Ljubicic filling in for the suspended Ellyes Skhiri in midfield) had their moments. Davie Selke was as ineffective as usual, but kept up his team's spirits by playing on with a bloodied turban after an aerial collision. Kingsley Schindler and Florian Kainz produced some flair from their relatively novel positions. It was Ljubicic who scored the team's first home goal since matchday 20.

Prognosis: Mutually beneficial progress

A fairly decent result for both widely-respected traditional clubs here. In all likelihood, we can dispense with the talk of Köln getting pulled back into the relegation race after die Geißböcke secured this crucial point. On 32 points, the Domstädter only need to secure one more win really to secure safety. Surely Baumgart's troops can manage this against Hoffenheim, Hertha, or Werder in the coming weeks. Three draws would also likely prove sufficient.

The "kleine Domstädter" (Mainz has a slightly less famous cathedral too) currently find themselves deadlocked with Frankfurt for the Conference League spot. With everything going on at the RheinMain base, one fancies the FSV chances of eking the SGE out of Europe. Svensson's crew can stay in it by nicking a point of Bayern or Wolfsburg in the coming weeks. Then comes a huge match to circle: Mainz vs. Frankfurt in round 32.

Bremen-Freiburg (0:2, 1:2)

Mostly just good old fashioned German footballing fun, this one. Christian Streich's Breisgauer didn't come anywhere close to supplying us with some of the beautiful combo play that graced the "tactical focus" section of the column in the reverse round. We nevertheless did get to see Roland Sallai score Freiburg's 1,000th official top flight goal with a technically gifted low driven shot, then set up Lucas Höler for the winner a few minutes later. As something of an added bonus, we also got to see Maximilian Philipp sccore his first Bundesliga goal since February 2022 as well.

Odd that, following Bremen's 1-2 defeat, we're now reflecting on a six-game winless run for Ole Werner's Hanseaten. The recently promoted side has done so much right this season. The Weser hosts did quite a lot right in this match. Philipp slotted in almost seamlessly for the injured Niclas Füllkrug in Werner's normal 3-5-2. Thanks to some great play from Mitchell Weiser and Leonardo Bittencourt on the right, the losing side combined forward most pleasingly at times.

It's difficult to pinpoint why precisely Werder have slipped into such a poor run of form. Werner speaks of an attack that slides into predictability too easily whilst young skipper Marco Friedl continues to bemoan too many crucial mistakes at too many crucial times. Luck has often broken the wrong way for them too. Perhaps players and pundits alike tune out much of the criticism based on the fact that this promoted side has already exceeded expectations, delivered the best German footballing comeback story in decades, and even recovered well from a disastrous start to 2023.

Prognosis: Safety for the City-State

Accuse the columnist of having his rose-colored Füllkrug, Weiser, Schmidt, Ducksch, and maybe even now Philipp "blinder glasses" on, but it just doesn't seem possible that Bremen can get dragged back into the relegation race. The reasoning, admittedly, isn't resting on the most logical foundation. On the contrary, it's just a matter of character. This team has way too much of it to continue on like this.

Thirty-two points isn't good enough for safety. That much is true. The Hanseaten could also go winless in May against Bayern, Leipzig, Köln, and Union. A win against either Hertha or Schalke in the coming two weeks remains essential to officially clinch survival. It should be done. It shall be done. Freiburg could count as the cynical prediction this year. Looks like they'll come up just short of top four.

The "Burning Questions": Round 28
How did Schalke dismantle Hertha?

Quite a few interesting talking points emerged from Friday night's seven-goal-fixture at the Veltins Arena. It should naturally first be noted that Schalke's 5-2 win over their direct relegation rivals didn't count as the most competitive affair. Sandro Schwarz's "alte Dame" remained behind the curve throughout. Neither goal scored by the capital city guests stood much of a chance of bringing them back into the match. Thomas Reis' Knappen had this one handled from start to finish.

Another intriguing twist in this year's über-intriguing relegation fight. Five days removed from a return to the bottom of the table, Schalke answered the call of their coach and a made a grand statement. The Königsblauen were even able to pull themselves up off the bottom two places, albeit briefly, for the first time all season. The three relegation-place sides are now separated by only two points and the columnist must again re-work his narrative as pertains to Reis.

Ahem. The S04 trainer did well tactically again.

Reis swings the axe

Five changes from Reis in this one. It took some guts to bench Michael Frey, Rodrigo Zalazar, and Tom Krauß in favor of Simon Terodde, Dominick Drexler and Danny Latzka. Veterans Terodde, Drexler, and Latza are undeniably a "2. Bundesliga" trio. Terrode and Drexler have made their entire careers there. While he did play with FSV Mainz 05 in the top flight for an extended period, Latza is pretty much a second-tier player at this stage of his career. The 33-year-old was essentially stripped of his captaincy when promotion led Schalke back to this level.

Zalazar, possessing undeniable talent, wasn't the type of player Reis needed here. Frey, despite possessing more refined skills that Terodde, still hasn't scored for his new club. Germany U21 international Krauß - believe it or not - hadn't even been benched all season. Very touch, and ultimately correct, calls from Reis. At the back there were two changes in central defense. The S04 gaffer was surely overjoyed to finally get talisman Moritz Jenz (starting over Leo Greiml) back, but unfortunately had to do without Jenz's regular partner.

Marcin Kaminski started over the injured Maya Yoshida.

Lineup—FC Schalke 04—Match 28 (4-2-3-1)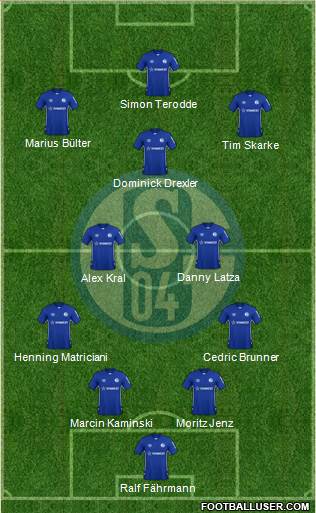 Yoshida's absence may have been the reason that Latza started. In any event, it all worked splendidly. Tim Skarke flicked in the opening goal inside of three minutes. Ten minutes later, Skarke had Marius Bülter set up for the 2-0 with a superb cross in the 13th. Hertha were undone - interestingly enough - by an old 1. FC Union Berlin attacker and a current Union loanee. Bülter nearly scored again a couple of times before the half was out. Stevan Jovetic's 1-2 came on Hertha's only real chance of the opening 45 at 45+3.

Schalke would not be perturbed by the fact that both Skarke and Ralf Fährmann succumbed to injury prior to the restart. Skarke's replacement Kenan Karaman set up Terodde for the 3-1 in the 48th. Bülter completed a brace, with Latza on the assist, in the 78th. Kaminski even got in on the act with a sleek solo effort in the 90th after Marco Richter's meaningless 85th minute pull-back-goal. The winning team truly could do no wrong on this day. Every start worked. Every sub worked. No injury stood a chance of derailing anything.

Medium term problems for Reis' crew?

Potentially. One doesn't wish to see the CB duo of Yoshida and Jenz separated for too long. Kaminski turned in an absolute beast of a match on both sides of the ball, but will surely have difficulty replicating what was a big overachieving performance by his standards. Alexander Schwolow also did well in place of Fährmann, but we all know full well how fragile his confidence can be. The loss of Skarke, and Cedric Brunner, in this game adds more injury concerns ahead of a very tough upcoming schedule.

Reis' injury-ridded side have no more matches against relegation rivals left. Freiburg, Bremen, Mainz, Bayern, Frankfurt, and Leipzig are the remaining six teams on the docket. For all their improbable feats in the current campaign's "Rück-runde", Reis' Knappen have still only amassed 24 points. They'll somehow need to glean a minimum of seven more points from a tough field that, most unfortunately from Schalke's perspective, still have a great deal to play for. Uh-oh. Not looking good.

Schwarz's mismanagement 

We'll also have to spend some time on how pitifully weak Schalke's opponents were on this particular day. The chronicler doesn't wish to spend all that much time on it as Sandro Schwarz's latest tactical conflagration was just downright depressing. The 3-5-2 the trainer initially found some success with in the matchday 20 victory over Gladbach had long become stale. In the latest fixture, the Hertha trainer proceeded to pull it apart with more confusion and incoherence.

Lineup—Hertha BSC—Match 28 (3-3-2-2)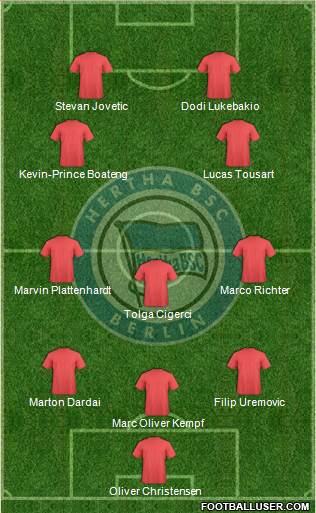 The normal 3-5-2 we've become accustomed to morphed into a 3-3-2-2. This was presumably aimed at taking a little pressure off of Lucas Tousart and Kevin-Prince Boateng whilst allowing Marvin Plattenhardt and the re-inserted Marco Richter a little bit of freedom behind a coverage-drawing second axis. Predictable enough personnel and constellation changes given what we witnessed last week. When everything went to pot, Schwarz actually made a radically drastic change.

Lineup—Hertha BSC—27th minute (5-1-4)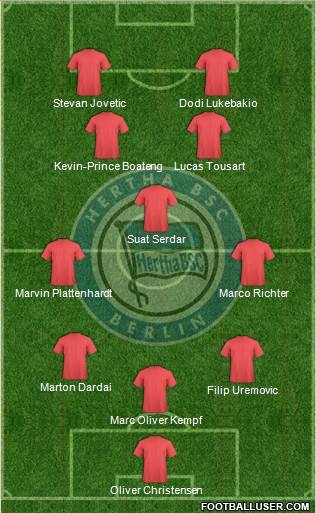 Midfield linchpin Tolga Cigerci got the yank well before we even got to the half-hour-mark. True, the big January signing had played an awful match up to that point. It's nevertheless generally not a good idea to embarrass what has been one of the squad's more consistent players with an early pull. Schwarz might have done better to give Boateng - who was having an equally catastrophic match - the hook. To be fair, it was a straight "Sophie's Choice" for Schwarz. He wouldn't look good making either player the culprit.

In hindsight, however, Suat Serdar probably could have been more effective at Boateng's position. Getting Serdar on wasn't a bad idea at all, but the former Schalke midfielder clearly wasn't fit to pull the strings in this particular instance. Serdar proved a total bust on a solo axis working behind the inwardly pulled Boateng and Tousart. This trio didn't manage so much as a single centralized triangulation all night. One final tactical change down the stretch broke up the back-three and flooded the field with four strikers.

Lineup—Hertha BSC—63rd minute (4-4-2)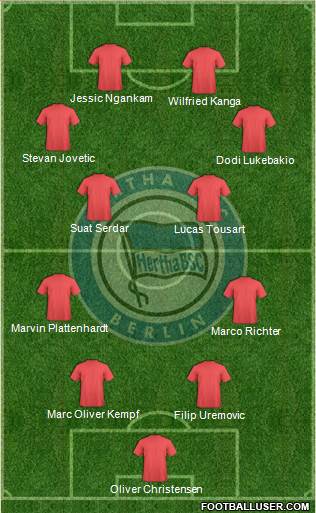 At least a couple of decent counters materialized out of this. Richter's goal resulted from one such late one that featured good work from Lukebakio and Jessic Ngankam. It was still a haphazard sort of goal scored against a Schalke side that entered semi-sleep-mode. Not a great deal working here as Hertha face their own difficult "final six" docket that includes Werder, Bayern, and Wolfsburg. At least this bunch still have fixtures against fellow relegation candidates Stuttgart, Köln, and Bochum.

Incredibly, the losers of this one might still come out winners.

More victory cigars for Pal Dardai?

What the hell happened in Stuttgart?

The short answer holds that Dortmund have merely gone and done a "Typically Dortmund Thing". Bundesliga watchers indeed grow tired of the inexplicable manner in which the perennial also-rans go and find wholly unpredictable and scarcely explainable ways to lie down and die. We've long since run out of explanatory words. So too, has the current BVB trainer. Edin Terzic doesn't know what to say anymore. It's almost as if this team seeks out self-sabotage over success. Honestly! Three shorthanded goals conceded in one half? That transcends any explanation!

We'll nevertheless have to attempt to make some sense of this. Well over fifty minutes of numerical superiority weren't enough to keep Dortmund from letting three goals in. As Terzic himself aptly pointed out, his team technically allowed four goals in the second 45 seeing as how one tally was narrowly chalked off  for offside. It really came down to a lack of discipline and individual mistakes in each individual case;  "perfect storm" of attention lapses if one will. Unpacking it all begins with one pivotal fact.

Point #1: Not a tactical issue

Terzic and, for that matter Sebastian Hoeneß, played next to no role in what transpired between the lines. As it so happens, both Dortmund and Stuttgart received draw-ups in last week's column. Dortmund remained in the same 4-1-4-1. Niklas Süle's injury meant that Emré Can had to move back to central defense to pair alongside Mats Hummels whilst Salih Özcan took over in midfield. Stuttgart also stuck to their 3-4-3. Hoeneß similarly had the loss of one central defender to compensate for. Dan-Axel Zagadou slotted in for the stricken Hiroki Ito.

Before the goals and the sending off of Kostas Mavropanos began to shape the game's storyline, we witnessed a fast-paced and often turbulent game from both sides with plenty of action at both ends. Speed, verve, and some hard challenges emerged. Serhou Guirassy was extremely lucky not to see himself sent off for an early challenge of Raphaël Guerreiro. Guirassy's team were very unlucky not to score despite numerous first-half chances. Clinical finishing from Dortmund and the two tactical fouls from Mavropanos skewed the scoreline of an otherwise evenly matched game.

Point #2: Enduring confidence

Even if they found themselves down two goals and a man, the hosting Swabians still exhibited some swagger after their first half performance. The disallowed Guirassy goal came just seven minutes after the restart. Riding this wave of momentum, Stuttgart ensured that Dortmund's numerical superiority was hardly noticeable throughout the second 45. Guirassy and Enzo Millot recorded more chances. The BVB furnished nothing from open play apart from Jude Bellingham and Marco Reus crossbar hits. The latter case came off a dead-ball situation.

With help from an inadvertent deflection off Can, Tanguy Coulibaly pulled the first goal back in the 78th. That's effectively all the shorthanded underdogs needed to fearlessly apply more pressure. After missing two clearer-cut chances in the intervening minutes, Josha Vagnoman buried a ball that bounced off Özcan off a corner for an 84th minute equalizer. Belief held despite the fact that BVB sub Gio Reyna put the Westphalian's ahead 3-2 at 90+2. Silas got a chance to level once again when another BVB sub, Soumaïla Coulibaly, failed to clear a ball at 90+7.

Point #3: No clear culprit

One can't really fault either Can or Özcan for the deflections and propitious bounces that came off them. Coulibaly - on for Hummels at the half when the veteran defender began to experience circulatory/respiratory problems - is perhaps the closest actor on which blame can be pinned. As blinded by adrenaline as he was after the match, Terzic did his utmost to restrain himself when discussing the 19-year-old debutant in his post-match-interview. Good on him. The columnist isn't in much of a mood to fault a mere kid for a club shouldering the burden of a decade of failure.

Reus, Hummels, and the newly re-signed Julian Brandt didn't deliver their best performances, but were hardly terrible on the day. Bellingham showed some more inconsistencies, yet more than made up for it with lots of creative play from the buttressing attack position. Guerreiro and Julian Ryerson were mostly fine despite some mistakes. Damn. Who really is to blame for this? We're again placed in the position of having a totally inconclusive autopsy to present. Things like this just keep happening...and they continue to make very little sense.

About all one can really conclude concerns the fact that declaring Dortmund's long and cursed "Dark Night of the Soul" over absolutely never bloody works. This team doesn't merely find new ways to disappoint its fan-base and the German football punditry, it invents them. We're all left scratching our heads and searching for answers in the aftermath. As arithmetically possible as it remains for Dortmund to take the title this year, that sinking feeling is back again. Bayern (covered below) may yet hand it to them on a silver platter.

Like a clumsy waiter, however, Dortmund might spill the tray all over the floor.

Weekly Tactical Focus: The Säbener Straße Soap Opera

We'll transition straight from Dortmund over to Bayern this week. BVB supporting readers will certainly appreciate that. If there is any solace Dortmund can take from the latest punch in the mouth, it's the fact that the record champions are mired in what is now undeniably their biggest crisis in over a decade. It's bad. Really bad. "Soap Opera" bad. Younger readers may require a bit of context. "Soap Operas" were painfully horrendous radio and television programs that existed once-upon-a-time. Their primary purpose was to make empty and idle afternoons even more excruciatingly depressing.

That's more or less the mood over at Bayern at this particular moment. In theory, Bayern played host to TSG 1899 Hoffenheim this weekend at the Allianz. In theory, there was a match that took place. Those of us keeping a close eye on it aren't entirely certain what we witnessed actually qualified as a "football match". The proud hosts - for the first time in as long as this columnist can truly remember - didn't bother to show up. As a result, neither did the fans. The Allianz remained so quiet that it almost felt as if we had been transported back to the "Geiserspiel Era" of the pandemic. What in the hell happened here?

Shocked and stunned silence. Even Thomas Tuchel, Thomas Müller, and Matthijs de Ligt freely admitted that they felt as if they just emerged from a mysteriously induced coma. What? Surely the team that prides itself on showing a reaction after each and every major defeat would make some sort of statement here. The Man City drubbing demanded it! Bayern DNA demanded it! Hasan Salihamidzic and Oliver Kahn - having taken an enormous gamble on a late-season coaching change - aren't really the "demanding" types. Perhaps therein lies the problem.

The FCB somehow felt it appropriate to quit on their current bosses. The overly dramatic "Soap Opera" spawned by the coaching change, the humiliating exit from two cup competitions, and the sad fact that we have players getting into physical altercations in the locker room just proved too exhausting for the team in their most recent contest. The squad's body language said it all. Too much scrutiny. Too many subplots. Way too much conflict and discord. A needlessly dramatic circus. In other words, a horrendous piece of daytime television known as a "Soap Opera".

Kahn and Salihamidzic (repeatedly caught looking like someone burnt their house down whenever cameras focus on them in the stands) have only themselves to blame for this. They drew the microscopes towards them with the sensational manner in which Julian Nagelsmann was dismissed. Kahn made it worse by getting combative with Lothar Matthäus on live television. This young FCB managerial team could have let Nagelsmann conclude another one-trophy-year and re-tooled over the summer with any number of available qualified trainers.

In their minds, however, it had to be Tuchel and it had to be now. They didn't wish to risk losing out on a preferred candidate before he became unavailable again. The result is that Bayern risk forgoing real football for the rest of this season. What we have to cover this week may prove scarcely readable as it was, in all seriousness, scarcely watchable. This is one seriously messed up "Soap Opera". As the world slowly turns, so do stomachs churn. Ugh. Even Germans who detest Bayern don't wish to see them quit.

Lineup—FC Bayern München—Match 28 (4-2-3-1)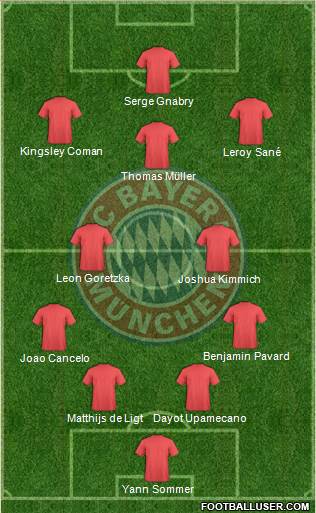 Tuchel continues to allow the team to coach itself in the old 4-2-3-1. What else can a man on the job for so short a period of time really be expected to do? The two personnel rotations were lifted straight off the sports editorial pages of the Bunderepublik. Just like virtually every journalist commenting on the Man City loss complained about, Thomas Müller and Joao Cancelo started over UCL disappointments Jamal Musiala and Alphonso Davies.

Was there anything to build on from Man City?

Tuchel certainly argued that there was. The German football punditry wouldn't entirely disagree with him. Some positive play from Bayern in the early stages of the second half got unfairly wiped away when Bernardo Silva scored the second goal. Moreover, Tuchel was preparing to re-format into a potential-laden 4-2-2-2 when the 2-0 came. We never got a chance to see how Leroy Sané and Sadio Mané might perform together up top there.

Er..for obvious reasons, it doesn't look like we're going to get a chance to see how that might work anytime soon. Without a natural number nine, the Sané-Mané spearheaded 4-2-2-2 was Tuchel's best bet. All it took was a frustration fueled miscommunication on a run for that to fall apart forever. Note that, if Tuchel can somehow find a way to get them to work together again in the near future, the columnist will gladly lavish him with praise.

Lineup—TSG Hoffenheim—Match 28 (3-5-2)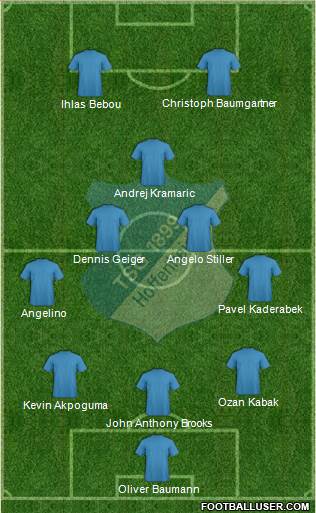 It doesn't look was if we'll be lavishing too much praise on TSG trainer Pellegrino Matarazzo in the next installment of the "Americans in the Bundesliga" column. Matarazzo's adjustments from last week were both practical and intelligent while not exactly falling under the classification of "brilliant". The American gaffer has already gotten plenty of credit for his use of Andrej Kramaric behind the forward line.

The manner in which he set the team up this week remained essentially a "no brainer". This is how one squares off against Bayern. Ensure that there's plentyy of clogs in the midfield with a few outlets for the counter. Simple enough. If one can get Bayern to start succumbing to fizzles outside the area, the probability of a successful day increases. 

Match Flow: 1st to 17th minute

Neither side appeared too interested in doing much in the 1st. Possession changed hands three times with respective defenders Benjamin Pavard and John Anthony Brooks showing no forward initiative. Bayern bow-arced around a bit in the 2nd. Cancelo made the first of many forward runs before shuffling to Kingsley Coman out-wide. The FCB Frenchman sent an uninspired chip past everyone in the box. De Ligt and Upamecano had difficulty clearing a TSG rush in the 3rd. Bebou nevertheless couldn't do much with a pair of balls given right back to him until finally locating Baumgartner on the third try.

Baumgartner dug out the match's first corner. Angelino's 4th-minute service was first cleared by Pavard. Serge Gnabry rose high to get Angelino's second effort away. Bayern really took their time on the next build. Upamecano, de Ligt, Pavard, Coman, Cancelo, and Goretzka all cycled around the box. Kimmich eventually worked a ball over to an onrushing Pavard. A 5th-minute effort from Pavard went about a meter over the crossbar. A long ball from TSG keeper Baumann found its way to Pavel Kaderabek after some head tennis. Kaderabek headed straight to Yann Sommer.

Baumgartner and Upamecano got caught in an aerial duel off Sommer's throw in the 6th. After a brief treatment break for Baumgartner, we were back rolling by the 7th. Coman, Cancelo, and Goretzka couldn't quite work out a cycle on the left. The FCB maintained possession mostly uninterrupted for the next three minutes. Brooks repelled an obvious Upamecono vertical in the 8th. Brooks headed another attempt in by Müller seconds later. Kimmich's touch-control issues forced the German national team midfielder to retreat twice in the 9th.

A better-looking Bayern rush in the 10th featured a nice instep from Sané on the left. Sané hit Kimmich well at the end of the run. Kimmich, in turn, spotted Müller inside the box on the half-right. Müller's attempted give-and-go with Kimmich failed as Kimmich clearly wasn't anticipating it. Kevin Akpoguma stepped forward to clear the awkward play. Gnabry tried to dribble the ball back into the box himself, but failed on a direct duel with Brooks. Müller and Goretzka couldn't get another give-and-go working in the 11th. Cancelo stepped up from the left, unfortunately crossing over everyone.

Ozan Kabak - in his highly anticipated return to the TSG XI - tried a long carry on the next Sinsheimer advanced. Angelino, Bebou, and Baumgartner attemtped to involve themselves. The FCB defensive ranks easily soaked it up and we got a solid Bayern counter before the 11th was out. Kimmich put Pavard through and the French fullback earned a corner off of Angelino. Pavard and de Ligt only managed to get in one another's way on the 12th-minute service. Sané, Kimmich, Cancelo, and Coman found no way back through from the second axis ranks.

Cancelo finally had a go in the 13th. Kabak blocked the Portuguese international's shot. Cancelo got the ball back shortly thereafter following some nice work from Upamecano, de Ligt, and Coman and hit Sané with a nice switch. Sané found Kimmich in a bit of space. Angelo Stiller - the other change to the TSG XI - blocked the shot this time. Akpoguma cleared away from both Gnabry and Müller on charges in the 14th. A Sané switch for Coman also came in well wide of his mark. Bayern's game continued to sputter as we arrived at the quarter-of-an-hour mark.

Lots of head-tennis in the 15th. There was also little chance that flow could emerge thanks to a foul from Kabak and misplaced passes from Müller and Cancelo. Brooks took care of Gnabry again in a direct duel at the beginning of the 16th. Brooks, clearing a Goretzka vertical seconds later, ended up putting Bebou through on the counter. The Togolese international took too long on the ball. A final pass for Kramaric on the left wasn't anywhere near up to snuff. Goretzka, Sané, and Müller ran a counter back the other way. It was Brooks again blocking Gnabry's shot at the end.

Brook's block did have the effect of awarding Bayern a corner, from which the defending champs scored. Stiller cleared the 17th-minute-service only as far as Coman. Something between a shot and pass from Coman landed at Pavard's feet. The FCB Frenchman took an intelligent touch to throw the TSG line and its keeper off before pike-powering home a simple finish. Bayern had a not wholly deserved lead, but the "switch-off" defending of an inferior side is sometimes all it takes for a favored team to get rolling.

Match Flow: 17th minute to half-time 

This is nevertheless precisely not what Bayern did with the rest of the half. It's not very often that a section in this column encompasses such a large swathe of time. In this case, the lack of true momentum from the leading hosts leave us with little choice. What happened between the opening goal and the full-time whistle? Not terribly much. There were times when the Bayern attack builds had some rhythm to them. Such circumstances were definitely the exception rather than the rule. The record champions remained largely docile. The Allianz Arena crowd remained largely silent.

Goretzka had little problems diffusing a meek TSG charge involving Bebou and Kaderabek that found its way to Baugartner in the 18th. Cancelo drew a foul off Dennis Geiger after a Pavard forward carry in the 19th. Bayern took the free-kick quickly, yet had no idea what to do with the ball. Sané, Kimmich, Müller, Cancelo, Coman, and Gnabry basically all went back with their touches until Stiller stepped forward to clear in the 20th. Stiller and Angelino were on hand to close ranks again in the 21st when another FCB rush with high pressing defenders went nowhere.

An Upamecano vertical in the 22nd at least gave Gnabry a chance. The German national team attacker initially lost to Brooks in the air, but won the ball back on the ground. Müller and Sané arrived to try and make something of the centralized push. Angelino defended well to break up the trio. Coman and Kimmich were then forced back. Geiger caused the Bayern midfield some light problems with a pair of carries in the 23rd. Müller had to intervene with a foul on the hard-working Germany U21 international on the second drive.

The 24th-minute free-kick featured a nifty Geiger step-over and an Angelino service aimed straight at Kramaric. The Spaniard's arcing ball didn't connect. Geiger, Stiller, Kramaric, Kaberabek, and Kabak still kept the ball circulating amongst the TSG ranks through the entire 25th. The longest sustained possession spell of the Matarazzo XI nevertheless never came close to approaching the danger area. Bayern wrested control back in the 27th. A Coman advance was stopped only via a Kabak foul. Cancelo couldn't do anything with the dead-ball or a subsequent throw.

Sommer nearly caused his team some trouble with a passing error out of the back at the beginning of the 28th. The under-criticism net-minder escaped any further taking points when both Bebou and Kramaric misfired on passes. Multiple possession changes ensued before Bayern finally settled back on the ball in the 29th. Coman and Cancelo did a good job cycling up the left. Brooks remained alert and headed the latter's cross away. Pavard then lost the ball in the second ranks. A Stiller-Baumgartner-Kramaric quick counter was too quick to work.

Bayern earned a free-kick at the half-hour mark when Geiger fouled Cancelo. Akpoguma squarely beat Müller in the air on the service. Müller then headed over on the ensuing 31st-minute corner. Loads of midfield sloppiness from both teams over the next four minutes. It was this spell, perhaps more than any other, that had the effect of lulling the Allianz Arena crowd to sleep. Baumann and Sommer had easy collects at the end of random hits in the 32nd and 33rd. The Bavarians were at last able to complete a bow-arc in the 34th.

The back-cycle went nowhere. Brooks headed away a Coman cross intended for Sané in the 35th. Müller - tightly and fairly marked by Geiger - failed to touch down a Pavard service into the box in the same minute. Seemingly out of nowhere, we got a legitimate scoring chance in the 36th. Kimmich played Gnabry through a tight space. From just outside the 18 on the half-right, Gnabry uncorked a blazer that went just a whisker wide of a beaten Baumann at the left post. The aberrant chance was followed by three more minutes of refuse.

Bebou and Kramaric stalled on the ball after a Cancelo giveaway in the 37th. The TSG press all advanced together in an effort to get the ball forward again. Bayern's back four patiently allowed them to go absolutely nowhere amongst themselves through the 38th. Kimmich, Coman, and Cancelo cycled free back the other way on the right in the 39th. Cancelo's cutback reached no one. Upamecano and de Ligt couldn't secure the ball at the back enabling Bebou and Kramaric to counter. The former earned a corner. Kimmich headed Angelino's 40th-minute service away with aplomb.

Bayern got their own corner in the 41st mostly despite a poor central work-through from Kimmich and Cancelo for Müller. Kabak took no chances. Kimmich's quick delivery was taken off Upamecano's head by Baumann. Cancelo was at least back to cancel out the TSG counter with an excellently-timed tackle away from Kramaric. The Allianz Arena crowd stirred a bit to give Cancelo an appreciative round of applause after the Man City loanee furnished them with one of the few energetic plays of the half.

Bebou clumsily put the ball out into touch off the subsequent 42nd-minute throw-in. Akpoguma handled the next uninspired FCB rush in the 43rd. Gnabry and Müller floundered on attempted thread-balls after a pair of TSG turnovers in the 44th. The Bavarian hosts then laid off the press entirely whilst their guests passed it around leisurely in the final minute. Match official Bastian Dankert opted to blow the half-time whistle without so much as a second of injury time. This contest desperately needed a reset.

Half-time xG:

xG Bayern--0.79, xG Hoffenheim--0.0

Yup. Zzzzz.

Match Flow: 46th to 59th minute 

Without changes we continued. Tuchel clearly found some effective motivational words in the locker room as Bayern did emerge from the tunnel packing some more pop. What the FCB trainer didn't have the courage to do, however, was bring on a focal point to bind his attack. We'd have to wait until he hour-mark for that. Bayern's inability to attain the 2-0 would indeed come back to haunt them big time. Whatever fire Tuchel lit under his player's posteriors didn't keep things running hot for too long.

Cancelo wheeled away on a counter in the 46th following some poor touches from a turf-prone Kramaric. Müller immediately had the vision to tap over to Coman and the FCB Frenchman immediately put Baumann to work. The TSG keeper had to fall quickly to save Coman's low-driven shot headed straight for the bottom-right corner. Akpoguma had to put the brakes on Müller with a foul after Pavard played the German footballing legend through in the 47th. Kimmich, Müller, and Sané all circulated the ball well off the ensuring free-kick.

Hoffenheim nevertheless had the box locked out pretty well. Nothing resulted from the long passing sequence that lasted through the 48th. Coman finally tried a chip ball that went past everyone again at the end of the minute. The Baden guests tried their own rush in the 49th. A poor Kaderabek whip-in only led to a quick Bayern counter. Sané reached Gnabry on the break. After shaking off Brooks, Gnabry returned the ball to Sané. Another effort on goal from Sané unfortunately went about two meters wide.

Cycle retreats from both sides in the 50th. Matters were still humming okay on an optimal level. We got a break in the action in the 51st when Sommer and Kramaric collided in pursuit of an Angelino cross. Treatment for both players took us through the 52nd. Not long after play resumed, Bayern were through again on another fierce counter. Coman hit Sané in a huge pocket of space on the half right. Sané still miffed it up with some indecisive and heavy touches. Akpoguma recovered in time to squelch.

Buamgartner, Geiger, and Kramaric worked a lively cycle back up the pitch in the 54th. Stiller joined in, sadly lacking the necessary composure to make the most of his touch on the trail. The ball remained with the TSG. Angelino tried to work in a couple of crosses that were blocked. The Spaniard got another chance in the 55th when Bebou, Kramaric, and Geiger kept the play alive and hit him on the left again. Kaderabek did well to rush into the box to meet the third cross.

The Czech international came just a half a step too late deliver the proper volley finish. Kaderabek's 55th-minute effort whizzed over. The signs of life from the guests still counted as troubling signs for Bayern. Before the 55th was out, Hoffenheim had another major chance. Geiger won the ball back immediately in midfield. Kramaric then worked to ball back to Kaderabek. Sommer fisted the Czech's cross straight back to Stiller. The German youth international missed an empty net with a rushed header.

A nervy Bayern build out of the back nearly turned the ball over to the Hoffenheim press again. De Ligt and Cancelo managed to work the ball away from the TSG forwards. A chip-ball from Kimmich in the 56th was easily blocked by Akpoguma. Kramaric then sent Baumgartner through on a promising counter. Pavard was forced into a tactical foul, for which referee Dankert had to produce the first yellow of the match. Brooks switched the 57th-minute free kick out wide to Angelino. Cancelo had to scamper away for a corner.

The 58th-minute short-take featured a Kramaric-Geiger give-and-go. Coman was able to defuse only at the expense of another corner. Another 59th-minute short-take kept Bayern on the ropes. Angelino, Geiger, and Stiller played keep away from the FCB markers. Bebou and Baumgarter further maintained control. Pavard had to sweep away from a waiting Kabakin the box. Before the resultant throw-in could be completed, Tuchel got off a triple change from the touchline.

Match Flow: 59th to 71st minute

Davies, Musiala, and Mathys Tel checked in for Sané, Goretzka, and Coman. The time it took for the trio to enter ate up the rest of the 59th and 60th. Matarazzo had a pair of changes he wished to work in as well. Before giving his own side a refresh, the American trainer was surely pleased to watch Kimmich barely get an Angelino cross away from Stiller in the 61st. The freshly subbed-on Davies had serious trouble clearing another Angelino cross in the same minute.

Bayern were unquestionably under bombardment. Only an offensive foul from Kabak got the whistle to stop the TSG threat. It would be the returning Kabak's last involvement in the game. The Turkish international headed over to the sideline alongside Stiller, where Finn Ole Becker and Stanley Nsoki were waiting to replace them. A pair of like-for-likes from Matarazzo in the 62nd. The TSG trainer had no reason to change anything. Tuchel's intended shift became apparent on Bayern's next charge in the 63rd.

Lineup—FC Bayern München—61st minute (4-2-4)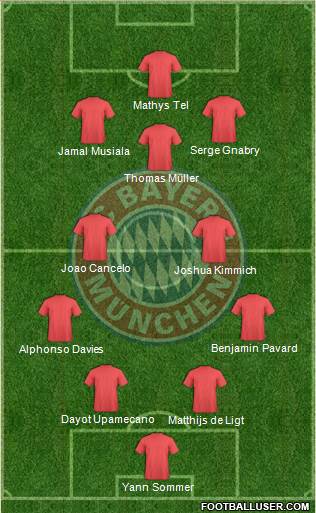 Practical enough. Few can disagree with the idea. When Tuchel ruminated on his team's training week during his post-match interview, an implicit part of his analysis seemed to suggest that they were drilled in this. It produced some spark. Colorful fireworks, however, would not be forthcoming on this day. The two sides traded lax attacks in the 63rd. Brooks cleared away a long Pavard throw while Pavard, in turn, took care of a Kramaric diagonal.

The first bit of meaningful action from the new Bayern constellation came in the 64th. Musiala slipped Tel through. Akpoguma held his own in the direct duel, but conceded a corner. Gnabry regrettably head Kimmich's 65th minute service right at Baumann. Cancelo, Gnabry, and Müller played forward to Musiala on the next FCB rush at the end of the 65th. Musiala couldn't finish on the turn. Kimmich worked the loose ball back to Cancelo.

Baumann was put to work again by Cancelo's effort. The TSG backstop deflected out for a corner. Brooks rose highest to head away the 66th-minute service. Davies collected the ball in the second ranks, yet found no way forward. After an FCB recycle, Musiala, Davies, and Tel put Gnabry through on the half-right in the 67th. Angelino put his body on the line to block Gnabry's effort.

Upamecano and Cancelo tried central carries in the 68th. Both were stymied. Kramaric and Baumgartner unleashed Geiger on a counter after the second stop. A cutback from the hard running Geiger from the baseline had much more in it. Bebou and Kramaric ended up getting in the way of one another in pursuit. From this apparently broken play, the decisive occurrence of the match came.

Kramaric - in what he later admitted was an instance of the "Calcio Clever Play" - sensed Müller coming towards him and let the incidental contact take him down to the turf. Match official Dankert gave the signal that a free-kick would be awarded, much to Müller's chagrin. Before the dead-ball could be taken, however, Dankert and the FCB medical staff needed to tend to Pavard; down himself after an aerial duel behind the play.

The foul took place in the 69th. Treatment for Pavard took us through the 70th. Kramaric had all the time in the world to go over one of the designs he had surely practiced many times in his head. When the time came to take the dead-ball in the 71st, Hoffenheim's Croat marksman absolutely crushed it. Kramaric's bender went over the wall perfectly. A helpless Sommer could only paw it in at full stretch.

1-1.

Dead silence in the Allianz.

Match Flow: 71st minute to full-time

By far the most shocking component of this affair had to be with how little urgency Bayern played after their initial attempt to muster a response ended with a disallowed goal. It was actually the Sinsheimers who got off the first charge once play resumed in the 72nd. Upamecano was booked for a haul down of Baumgartner after he lost the ball. Brooks' free-kick reached Kaberabek on the switch. Sommer collected and quick-rolled a Bayern counter.

Angelino got the ball off of Gnabry on the half-right again in the 73rd. A quick corner-take went out to Musiala on the left. The German phenom sent in a ball that de Ligt headed onto an onrushing Pavard. Bayern thought they had their lead restored, but it was actually de Ligt's redirection that caught Pavard offside. The review and a treatment break for Geiger took care of the end of the 74th and the whole of the 75th.

Play resumed with a drop-ball in the 76th. Bebou went forward on a carry, ultimately trying to reach Kaberabek on a switch intercepted by Sommer. A completely-out-of-place slow-roll build from Bayern in the 77th ended with Akpoguma easily clearing out a sad Müller vertical. Gnabry's vertical for Tel in the 78th was also easy prey for Akpoguma. Cancelo tried to get a cross back in. Brooks gifted Bayern a corner with a safety first clear.

Buamgartner hacked away Kimmich's late 78th minute service. Baumann beat Gnabry to a Müller tap forward of a subsequent 79th-minute throw-in. Hoffenheim shaved some time off with a slow build in the 80th. Pavard had to clear a Bebou cross away deftly with Angelino lurking. Brooks and Nook were deep enough to close ranks on Gnabry on the attempted FCB counter. Gravenberch checked in for Cancelo in the 81st.

The first bit of danger after the substitution belonged to the guests. Kramaric squandered a 3-on-2 breakaway with an errant return ball for Baumgartner at the end of the 81st. Brooks was back to block a Tel cross at the other end in the 82nd. A subsequent quick corner produced a tame low shot from Gnabry. Baumann covered up.

A downfield tactical foul from Akpoguma (booked) and another Matarazzo like-for-like (Kasper Dolberg for Buamgartner) took care of the 83rd. Upamecano's carry and through for Müller in the 84th gave Tel a chance. The young Bayern striker forced another save out of Baumann after one of Müller's highly useful first-time flick-ons.

Desperation set in for Bayern. A poorly executed build in the 85th led to a counter chance for Nook. Kimmich had to save the day with a monster sliding tackle and was clearly pissed with his teammates. Brooks, Becker, and Bebou took turns clearing random FCB hits into the box in the 86th and 87th. Musiala at least managed to unleash Gnabry on the half right at the 87th. The German international flashed over.

Another clearance from Brooks in the 88th. Akpoguma took care of what was a pretty cheeky chest down from Musiala towards Gnabry in the 89th. News of the parallel Dortmund result came across the Allianz P.A. system and one could at least feel the crowd rouse themselves a tad as the match entered injury. Bayern would not rouse.

Three Bayern corners between the 90th and 90+7 produced zilch. Brooks, Angelino, and even Kramaric all got clearances off. Tuchel's crew had nothing left in their playbook or in the tank. One of Matarazzo's 90+1 subs, Tom Bischof, even made them run like ragged dogs with a pairing of "icing clearances". Gnabry slipped on the turn at 90+3, giving Baumann one last easy save.

Ahem.

Full-time xG:

xG Bayern--1.90, xG Union--0.83

The flurry of chances at the beginning of the second half and all the balls worked Gnabry's way in the final 15 really skew the stats here. No one watching this one will have had the sense that Bayern really wanted the win here. The FCB performance was labored, ponderous, and downright lethargic at times. The players and their coach admitted as much afterwards. What more can one say?

Having already supplied a baroque introduction this week, perhaps the most salient way to conclude this column is to emphasize that this team has terminally serious problems now. One doesn't wish to necessarily say that a way out of this mess is impossible, but the fact of the matter is that all the distractions brought on by the last week aren't simply going to abate.

How will Tuchel answer his critics after the UCL elimination becomes official in front of the home-town crowd on Wednesday. How will Mané and Sané handle the media spotlight once the press vultures get their first real chance to descend? Do we really need more shots of a clinically depressed Oliver Kahn in the stands? Can the locker room, or the German football fan for that matter, even take much more of that?

The Bayern brass and the German press are already talking about next season. That's about the best they can do at this point. It's also a natural reaction to this "Soap Opera" that we'd all just as soon see cancelled as soon as possible. Not even Germans crave any more salacious twists and turns or wars-of-words in the press. We'd prefer football if that's at all still something to hope for.

Here's hoping that we get more of that from this team.

Thanks so much for reading! You can catch the release of all Peter's columns on twitter, @ViceytheSS.

Twitter DMs are open for football conversations, corrections, and (if you truly insist) general abuse. 

All columns debut on Bulinews before appearing on Peter's website as the season progresses.



Related stories