Terodde decides to stay with Schalke:
"Relegation changed everything for me."
By Peter Weis @PeterVicey
In a sudden about-face, it was confirmed on Friday that 35-year-old striker Simon Terodde had opted to remain with FC Schalke 04 after all.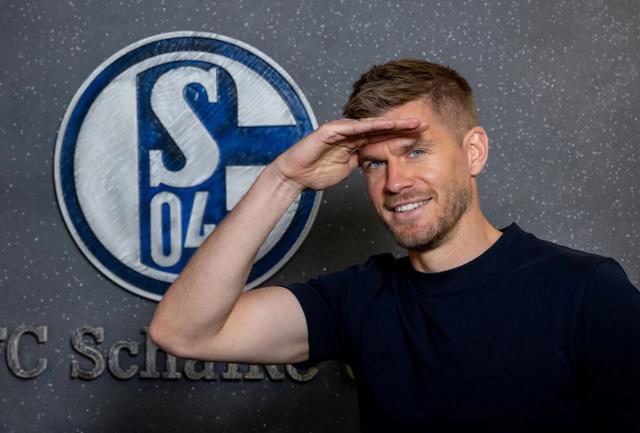 After explicitly stating that he would leave the club after the current season back in early April, veteran German striker Simon Terodde has now extended his expiring contract with FC Schalke 04 and will once again attempt to assist die Königsblauen in their forthcoming 2. Bundesliga campaign. The 35-year-old, after reportedly mulling over moves to teams in the third and fourth decisions, has decided that he has at least one more second division scene left in him.


Terodde enjoys the status of a 2. Bundesliga legend. He's racked up over 20 goals in various seasons spent playing for VfL Bochum, 1. FC Köln, VfB Stuttgart, and Hamburger SV in the second flight. Most recently with Schalke during their 2021/22 promotion campaign, Terodde netted a record 30 goals with die Knappen. Terodde has 15 top-flight goals to his credit during seasons spent with Köln, Stuttgart, and his current club.

"I was absolutely sure that we will manage to stay in the Bundesliga together," Terodde noted in a statement released on the club's website, "Therefore, it was clear to me a few weeks ago that my path at Schalke would end. That's why I communicated a corresponding decision to those responsible at the time. The relegation then changed everything for me."

"When the door opened for Simon to stay, Peter Knäbel, René Grotus and I immediately made an effort to get him to extend his time at Schalke," newly installed sporting director André Hechelmann added, "Together with our head coach, we had very good talks and are very happy that we'll carry on together. Simon not only gives the team an incredible amount athletically, but also always leads the way off the pitch."



More about Simon Terodde
More about Schalke 04