Americans in the Bundesliga:
Maloney, Brooks, and Jordan lead pack in latest report
By Peter Weis @PeterVicey
The second installment of our "Americans in the Bundesliga" feature for the new 2023/24 league campaign arrives! Ten sections cover the latest work of the U.S. footballers and head-coach currently working in the Bundesrepublik.

There's much to catch up on as we cover the fourth, fifth, sixth, and seventh rounds of the current season. The footballing beat which values American involvement more than any other even features plenty of interesting surprises.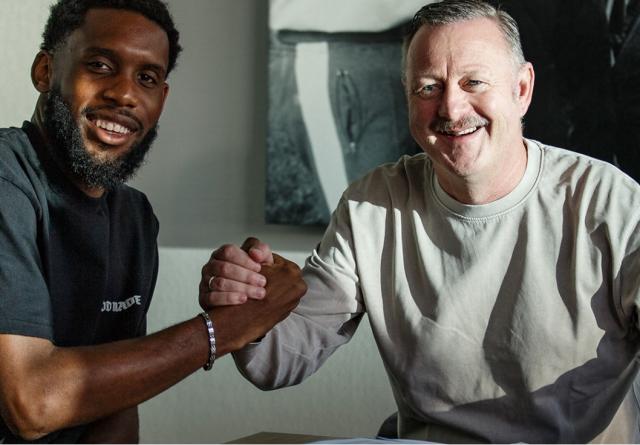 Photo: Borussia Mönchengladbach

The second edition of our "Americans in the Bundesliga" column for the 2023/23 campaign contains ten sections covering the work of U.S. actors plying their trade in Germany's top footballing flight. Four match-days have passed since our last column. There's much to catch up on via the new formatting system outlined in the previous piece. Lennard Maloney (Heidenheim), John Anthony Brooks (Hoffenheim), Jordan Pefok (Gladbach), Pellegrino Matarazzo (Hoffenheim, trainer), Joe Scally (Gladbach), Gio Reyna (Dortmund), and Brenden Aaronson (Union Berlin) receive graded sections.


The column rounds out with a quick look at three players - Kevin Paredes (Wolfsburg), Paxten Aaronson (Eintracht Frankfurt), and Damion Downs (1. FC Köln) - who only saw limited action this time around. This trio receives ungraded sections. With the exception of USMNT Emeritus actor Timothy Chandler of Eintracht, all American and U.S. heritage players have logged some pitch time in the latest subset of matches. The news surrounding all actors remains mostly postive, with no one dipping below a cumulative "C-Level" grade in the author's analysis.

Lennard Maloney, 1. FC Heidenheim

Matches played = 4/4, Matches started = 4/4

Minutes played = 360/360, Positions played = CM, ADM

Cumulative German Press Grade = 3,3

Author's Cumulative Grade = A

One of the German top-flight's most talked about players still might night be on the radar of many American footballing enthusiasts. Hopefully, Berlin's Lennard Maloney will become a more commonly traded name soon. The 24-year-old's recent league form has genuinely been scintillating. The cumulative grade very much misleads in this case. Maloney - along with the rest of Frank Schmidt's team - got dragged down on average thanks to a tough day against a vastly superior Leverkusen squad on match-day five.


Schmidt's tactics have settled down significantly since the last report. The BaWü border club operates in a straightforward 4-4-2; one that featured rigid axial chains in the first two fixtures and a clear split-stagger for Maloney in the latter two. The long-time USMNT aspirant literally ran his socks off in both set-ups. It proved quite the treat to watch him cover seemingly every blade of grass in the match-day four victory over Werder Bremen. Maloney played 34 passes, contested 18 direct midfield duels, and even recorded two goalmouth actions in this:

Lineup—Heidenheim—Match Four (4-4-2)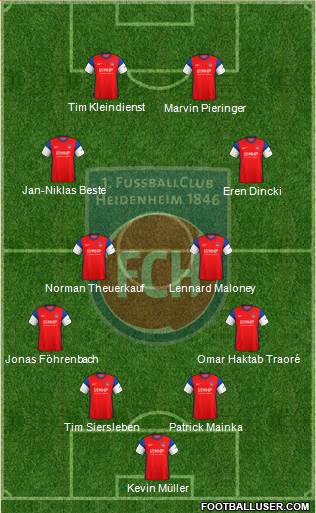 German press sources ranked him average on the day, perhaps due to a low (44) touch count. One obviously cannot deny that the Leverkusen rout ended up being a day to forget for Maloney and the Albogen crew. The Berliner eventually lost his composure late-on, fouling Alejandro Grimaldo in the box and conceding his second penalty of the season. This deed, along with 12 stray passes and a ground duel rate hovering just above 40 percent, led to him getting failing marks in some papers.

Schmidt got the squad back into gear against Maloney's former club 1. FC Union the very next week. Facing his former team, our subject here received his above-mentioned new split stagger assignment. Two shots on target, a passing rate approaching 90 percent, duel rates above 50 percent, 25 sprints, and two successful long dribbles resulted from the new semi-sweeper role. Maloney turned in by far his best day of this subset of matches at home against the Köpenickers in this:

Lineup—Heidenheim—Match Six (4-4-2)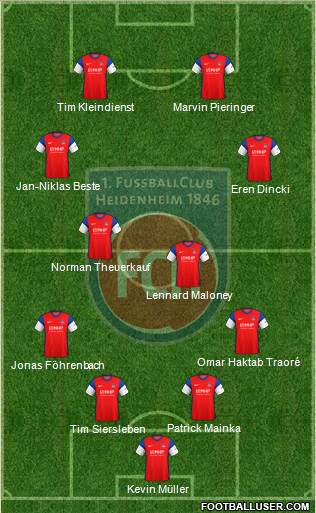 Schmidt maintained the split stagger for the most recent match-day seven fixture against Frankfurt. Dino Toppmöller's struggling SGE surprised us all with a 2-0 win over the Badeners in the lat Bundesliga match played before the international break. Maloney still largely had a solid day and wasn't at fault for either Eintracht goal. The new USMNT call up racked up a significant total of 60 touches, won all but one of his seven aerial duels, and again connected with 80 percent of his passes. The author isn't entirely sure why so many German press sources ranked him low.

Maloney's status as the Bundesliga's leading player in terms of overall distance covered remains an immensely big talking point in German footballing circles. It likely won't be long until German commentators start utilizing the old "Pferdelunge" moniker once used to describe Hertha's Vladimir Darida. American footballing enthusiasts are very much encouraged to begin keeping a closer eye on their new international. He's a real hustler who can influence the game in so many different respects. So very nice to see him get his chance after all these years.

John Anthony Brooks, TSG 1899 Hoffenheim

Matches played = 4/4, Matches started = 4/4

Minutes played = 352/360, Positions played = CB

Cumulative German Press Grade = 3,5 

Author's Cumulative Grade = A

The Berliner's cumulative German press grade finds itself unduly influenced by what was perceived as a major error from him in Hoffenheim's lone loss of the current quartet of matches. The author takes the nuance of a goal conceded against Dortmund on match-day six into account. As was revealed later on in public statements by TSG trainer Pellegrino Matarazzo, the fault on the play lied with Brooks' teammate Ihlas Bebou. A rearward throw-in from Bebou caught the big-man by surprise.

Brooks received median-level marks for round four's 3-1 victory over Köln largely because - most uncharacteristically - he wasn't very good in the air on that day. The former Hertha academy man did deliver top-notch statistics during his trip to his native city. He played a major role in his side's 2-0 victory over Union Berlin at the Stadion An der Alten Försterei. Grades appearing in the papers chose to ignore his nearly 80 touches and 57 well-placed passes. Much of the solid round five work took place behind the scenes.

After the aforementioned Dortmund match, Brooks had a quiet day against Bremen in the round seven Saturday night "Top-Spiel". Press grades marked him average due to duel rates in the 50 percent range and a few blown marks despite strong passing rates and a high touch count. Tactically speaking, there isn't too much of interest going on with Matarazzo's Sinsheimers. The TSG gaffer own section below accords him high marks for an effective 3-3-2-2 presently bringing out the best in the Kraichgau squad.

The surfeit of strikers on the TSG roster means that Brooks is no longer called upon to work as a forward late. Moreover, the midfield solo-six rotation of Florian Grillitsch and Anton Stach keeps him away from the role of taking deep free-kicks. The Berliner almost always works an inverted pivot; the primary reason why the press scouts often write him off as a non-factor. Such a situation precludes Brooks from getting the attention he deserves at the moment. The columnist insists that he's in top form and furnishing plenty of important work.

Jordan Siebatcheu, Borussia Mönchengladbach

Matches played = 4/4, Matches started = 4/4

Minutes played = 270/360, Positions played = CF

Cumulative German Press Grade = 3,7

Author's Cumulative Grade = B+

The infamous "striker of many names" has enjoyed a surprisingly successful set of matches since making the move to Westphalia. Four consecutive starts for the 27-year-old yielded two scorer points. BMG trainer Gerardo Seoane discovered fairly quickly that a 4-2-3-1 with Jordan leading the line wouldn't work during a round four trip to Darmstadt. As covered extensively in the round four tactics bulletin, the Fohlenelf had to fight back from a 0-3 halftime deficit to eventually earn a draw against Torsten Lieberknecht's SV98 at the Merck Stadion am Böllenfalltor. A red card for Darmstadt's Matej Maglica helped them out immensely.

After Tomas Cvancara missed from the spot, it was actually Jordan who sparked the comeback with a 56th minute goal. The first tally for this American in BMG dress nevertheless didn't lead to him earning high marks in the German press. Rocco Reitz effectively made the play happen and a clearance error from Darmstadt's Christoph Klarer placed the ball directly at Jordan's feet. The D.C. Native went on to get an additional four efforts toward goal in Seoane's second-half 4-3-3, but his finishing remained largely wild and off the mark. His ground-duel-rate (33%) and low overall touch count (30) also didn't help.

Seoane's crew followed up their trip to Hessen with a very spirited performance at home against Leipzig. The BMG trainer constructed a very well designed 3-5-2 that paired Franck Honorat up top alongside our subject here. The constellation specifically aimed to clog the midfield and stymie Leipzig's build-up play. Accordingly, Jordan didn't see much of the ball. The American amassed only 20 touches and one assisted shot in his 64-minute-shift. German press sources marked him lowly for a largely anonymous performance that also didn't feature any duel wins on the ground or in the air.

The narrow 0-1 loss against Leipzig nevertheless enabled the team to carry some confidence over to the match-day six encounter against VfL Bochum. The team's first win of the season also saw Seoane settle on a new 4-4-2 formation that paired Jordan alongside Alassane Plea. Results were excellent. The American earned near-top-level marks in virtually all German press sources after registering an assist on Plea's second goal, executing two masterful forward dribbles, and racking up impressive strong passing/duel rates. He remained actively involved throughout another 64-minute-shift.

Seoane kept the successful tactical constellation in place for the match-day seven meeting with FSV Mainz 05. As reported upon in greater depth in the tactics column, the 2-2 draw largely constituted a favorable and strong carry-over of the team's momentum. Jordan once again worked a precisely timed 64-minute-shift. This time press grades were totally mixed. Some sources took note of his high sprint total (12) and high aerial duel win rate (67%) whilst others considered the low touch count (27) and fact that he attempted no dribbles and wasn't really active in front of goal (two actions) worthy of a lower grade.

The columnist largely likes what he's seen from Jordan - and from Gladbach in general - recently. The former Swiss League star enjoys a notable rival under the head-coach he once worked with at Young Boys Bern. It shall prove very interesting to see how much playing time Jordan receives in the coming weeks. Czech striker Tomas Cvancara - troubled by some nagging injuries - still counts as the more skilled candidate for a starting position. Despite his strong recent form, this American might still be in line for a move to the bench.

Pellegrino Matarazzo, TSG 1899 Hoffenheim (Trainer)

Matches = 4/4, Results = W, W, L, W

Author's Cumulative Grade = B+

In stark contrast to the previous column's snapshot point, Matarazzo's tactics have more or less settled. The Bundesliga's American trainer regularly deploys a 3-3-2-2 featuring a double-striker set of Wout Weghorst and Maximilian Beier. With the exception of the round six loss against Dortmund, this has proven to be a winning formula. Both Matarazzo and his team made mistakes in the lone loss of this set of results. Apart from that, there's little to criticize when it comes to the man presently in charge of the league's fifth-placed-team.

The New Jersey native has even discovered a way to coax production out of Marius Bülter from his unnatural wingback role. At this particular point in the season, the author feels comfortable labelling the man he often likes to term the "Colombia Mathemagician" the third strongest tactical trainer in the German top flight. As essentially inferred in the most recent tactics bulletin, VfB Stuttgart's Sebastian Hoeneß and Borussia Dortmund's Edin Terzic occupy places one and two. Matarazzo's strong stewardship should keep this team in the European hunt for quite some time.

Joe Scally, Borussia Mönchengladbach

Matches played = 4/4, Matches started = 2/4

Minutes played = 154/360, Positions played = RB, RWB

Cumulative German Press Grade = 5,25

Author's Cumulative Grade = B-

A pair of rough outings in the first two fixtures of this subset actually led to Scally losing his starting position in Seoane's XI. The CFG New Yorker received failing marks in all German press sources following his 45-minute-stint in the Darmstadt match. One of the players yanked by Seoane at the half, one of this long-running column's most mercurial actors completely miffed up his marks on two of Darmstadt's first-half goals. Seoane stuck with the Long Island Native the next week against Leipzig as a right wing-back. One has to say it was one of the 20-year-old's poorer performances in his Bundesliga tenure.

Scally looked awful on marks and ground challenges in the round five fixture. He also earned a booking for a very dirty challenge on Leipzig's Fabio Carvalho. It came as little surprise to see him dropped to the bench in the Bochum affair. Just when one was beginning to fear as if he had fallen out with his third consecutive BMG trainer, however, Seoane showed that he did have some use for this American as a substitute. Scally replaced Alassane Plea in the 71st shortly after Bochum had pulled a goal back. Our subject actually played a very important role in preserving the win.

Lineup—Gladbach—Match Six (5-4-1)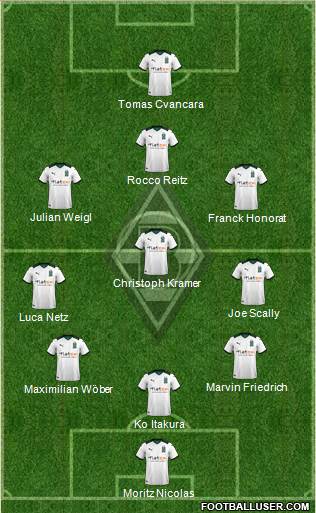 Several crucial tackles from the CFG man helped stem the tide of the Bochum comeback. Seoane certainly had more of the same in mind when he brought Scally on for a similar re-foramt (though the American was slated to work on Luca Netz's left-hand side this time) late in the 2-2 home draw against FSV Mainz 05. Instead, running rightward off a set play, Scally took a simple header-on from Nathan Ngoumou in the 88th and turned it into a dream goal. The column happily commemorates Scally's second Bundesliga goal. His first came against Wolfsburg precisely two years and one day earlier.

As is the case with Jordan, it remains unclear as to whether this American will retain a regular starting role under Seoane. Matters will get more complicated still when veteran right back Stefan Lavern returns from his hiatus. Previous Gladbach gaffers Adi Hütter and Daniel Farke ultimately went for Lainer over Scally during the second half of the season. As eminently successful as this youngster has been in his career in the German top-flight, one maintains a sense that he would have been even more successful had he worked under a coach who stuck with him.

Here's hoping that third time is the charm.

Giovanni Reyna, Borussia Dortmund

Matches played = 1/4, Matches started = 0/4

Minutes played = 26/360, Positions played = CF

Cumulative German Press Grade = 3,0

Author's Cumulative Grade = B-

After making two consecutive bench squads, Gio saw his first action of the season in a 26-minute-long relief shift in Dortmund's win over Union Berlin last week. All German press sources ended up grading the young phenom for his performance. The decision to assign him a grade, almost certainly, had to do with the eminently interesting reason that he worked as a lead-striker in relief. Reyna slotted in as a like-for-like replacement for Donyell Malen in Edin Terzic's later-match 3-5-2. An ambitious task for a talent currently struggling to work his way up the depth chart!

Gio neither registered a shot on target nor assisted directly on one. Most of his 15 passes went back. One solitary cross into the box signaled some offensive intent. In general, one can't say that Reyna looked entirely comfortable in the role. The 20-year-old wasn't entirely sure how to direct his touches, though it should be emphasized that the non-competitive nature of the affair after his introduction meant that no one on the pitch was really in the mood to take any risks. There's good news to report in that he looked pacey and fit on four sprints. He also one all but one of his ground duels.

It remains to be seen just how much playing time our subject here will earn for his club this season. Bundesliga watchers will continue to consider it doubtful that he'll crack the XI anytime soon. It might have behooved Gio better to reject his most recent USMNT call-up and remain behind in the Bundesrepublik to train. That could have greatly aided his cause. With so many midfielders capable of playing effectively on the wings, Terzic may only turn to Reyna as a relief striker late on for the time being.

Brenden Aaronson, 1. FC Union Berlin

Matches played = 3/4, Matches started = 1/4

Minutes played = 97/360, Positions played = SS, AM

Cumulative German Press Grade = 4,25

Author's Cumulative Grade = C

Much to our collective chagrin, the "Medford Messi" hasn't really found his footing in the German top flight yet. A highly encouraging performance in round one was followed up by a rather harsh sending off on double yellows in round two. Since returning from suspension, the elder Aaronson brother has featured in FCU trainer Urs Fischer's starting XI just once. His lone start - the match-day five loss at home against Hoffenheim - lasted only 45 minutes. Fischer left him on the bench the subsequent week away against Heidenheim. A late relief shift against Dortmund in round seven did feature some highlights.

Lineup—Union Berlin—56th minute (3-5-2)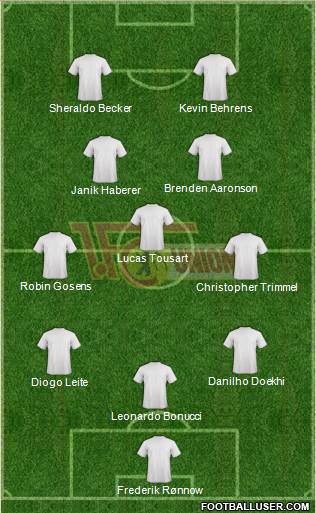 The Leeds loanee worked his way forward well enough in a subtly altered version of Fischer's 3-5-2 double stack. He even came close to scoring his inaugural German top flight goal with a powerful drive that just missed the post some ten minutes after his introduction. Aaronson also set up two further efforts for his teammates in the closing stages of last Saturday's loss. A total Thirty touches and two long dribbles from the summer acquisition in his most recent performance as he moved about the lanes creatively.

For the most part, Germans remain of the opinion that Union presently play well below their potential. The current seven-match-losing streak almost seems an avoidable consequence of a tough opening schedule and a brutally drawn UEFA Champions' League group. Suspensions for the likes of Aaronson and Kevin Volland haven't helped. Neither have wild form swings from fellow new summer additions Robin Gosens and David Datro Fofana. The squad still features well targeted upgrades for Fischer's preferred system. The team, and this player, will definitely play better soon.

Patience.

Kevin Paredes, VfL Wolfsburg

Matches played = 2/4, Matches started = 0/4

Minutes played = 22/360, Positions played = LW, RW

Cumulative German Press Grade = N/A

Author's Cumulative Grade = N/A

No official marks this time around in the German papers for the Virginian after two short relief appearances. That doesn't necessarily mean that Paredes isn't getting plenty of attention in Germany. The 20-year-old recently conducted a lengthy interview with Kicker Magazine for the print edition hitting newsstands this week. Among other things, the former D.C. United professional talked about his role as a regular sub under Niko Kovac. Paredes specifically noted that he had been tacking on some bulk as a means of cracking the XI.

To date, this American still only has one Bundesliga start to his credit. The round 11 deployment in the 2022/23 campaign - covered in a previous installment of this column - came nearly a year ago. There's nothing really new to report upon this time around after a pair of 11-minute-long shifts off Kovac's bench in the last two Bundesliga rounds. Just as was the case earlier this season, Paredes' assigned slot appeared to be on the left. He rotated more in the more recent encounter against Stuttgart, but did not register any meaningful actions in either tie.

Paxten Aaronson, Eintracht Frankfurt

Matches played = 2/4, Matches started = 0/4

Minutes played = 17/360, Positions played = ATTM

Cumulative German Press Grade = N/A

Author's Cumulative Grade = N/A

The younger Aaronson brother continues to find himself squeezed out of Dino Toppmöller's tactical landscape, logging ten minutes as a sub in the match-day five 1-1 draw with VfL Bochum and only seven minutes off the bench in the match-day six loss against Wolfsburg. In the slightly longer shift in the former match, one could at least divine that Paxten was meant to serve on the opposite side than that observed in the previous column.

Lineup—Frankfurt—80th minute (3-4-3)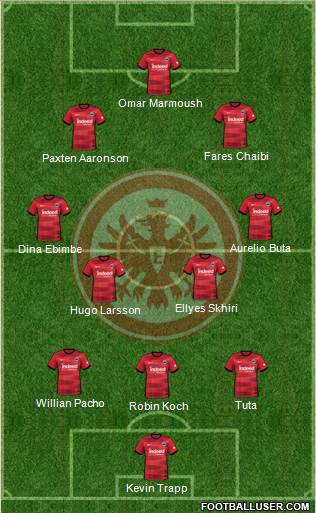 Toppmöller has - in the meantime - discovered better tactical solutions. Aaronson did not feature in the highly important victory over Heidenheim in last round's capper. One feels somewhat for the 20-year-old as he appeared much closer to a regular tole under the previous coaching regime of Oliver Glasner. In any event, younger brother of this Bundesliga sibling tandem has more than enough time to eventually find his way in. He'll get more chances at some point.

Damion Downs, 1. FC Köln

Matches played = 3/4, Matches started = 0/4

Minutes played = 22/360, Positions played = LW, LS

Cumulative German Press Grade = N/A

Author's Cumulative Grade = N/A

We'll conclude this installment of "Americans in the Bundesliga" by according the lanky Werneck-native the columnist has been pleased to keep tabs on his very first section. One might think that the 19-year-old isn't close to breaking through on the Bundesliga level yet. Consider the current state of the 1. FC Köln attack for a moment and a rethink isn't far behind. Steffen Baumgart has now turned to the youngster on three consecutive occasions off the bench late in matches. Downs came closest to scoring his maiden Bundesliga goal against Bremen in round five in this:

Lineup—Köln—84th minute (4-1-3-2)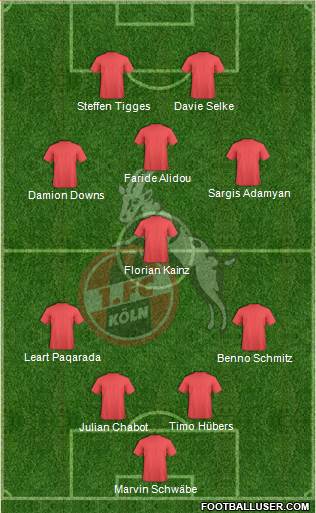 Baumgart has tried Downs out as both a left-rail player and a lead-striker in his short relief stints. Downs struck the post with a header late against Bremen. He didn't register an effort on target in either one of the other appearances, but did bon around the penalty area with some verve. The Köln trainer honestly has little left to lose at this point by at least giving this kid a go in Linton Maina's regular spot. An appearance on a Bundesliga scoresheet could soon be in the cards for this American.

Thanks so much for reading! You can catch the release of all Peter's columns (and occasionally catch him goofing off) on whatever the hell they're calling twitter these days @PeterVicey.

Twitter DMs are open for football conversations, corrections, and (if you truly insist) general abuse. 

Full color re-posts of the columns are eventually archived on Peter's website.



Related stories