Bundesliga Tactics Talk: Round Six
By Peter Weis @PeterVicey
A plethora of interesting results over on the world's best footballing beat leaves us with plenty to discuss in the latest installment of our Sunday evening weekly recap column. Leverkusen are back atop the Bundesliga atop a top-eight-field separated by only six points.

The number of teams without a win yet in the 2023/24 campaign has been slashed from five to three after Borussia Mönchengladbach and SV Darmstadt 98 bagged their first wins of the season.

Darmstadt and Darmstadt are among the teams receiving draw-ups this week. Bayern, Leipzig, Hoffenheim, and Union Berlin get their turns on the tactics boards as well in this week's edition of "Tactics Talk".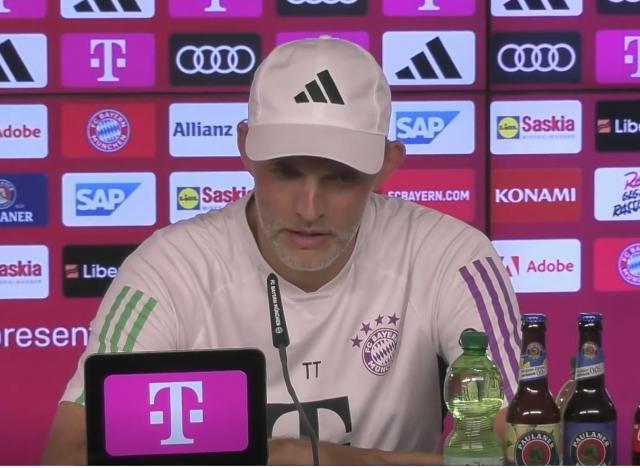 Photo: FC Bayern München/OneFootball
Bundesliga Tactical Banter: Round Six
"Bayer-Fervor", deferred

For the second consecutive week, there isn't too terribly much interesting to report on the Bayer 04 Leverkusen front. Tactics-heads across the Bundesrepublik found themselves a little let down by the fact that the trainer we're all mildly obsessed with didn't furnish us with any nuanced in-match adjustments this week. Xabi Alonso once again permitted his players to play through themselves in this round's 3-0 victory over Mainz. This despite the fact that die Werkself looked listless and sloppy for the entire first hour against Bo Svensson's Rheinhessen. The league leaders succeeded almost in spite of themselves.


In the end, two moments of magic and one stroke of good luck proved sufficient. One felt a bit for Svensson's side when Sepp van den Berg's clearance of a Jeremie Frimpong cross for Victor Boniface got deflected into his own net. Visiting Bayer held onto a 1-0 lead until the hour-mark approached even though they never really fashioned an offensive chance of their own. Alejandro Grimaldo doubled the advantage with an absolute stunner off a dead-ball in the 59th. Boniface - who had hitherto had a thoroughly unconvincing match - stood tall in setting up Jonas Hofmann's 3-0 moments later.

The Bundesliga's first-placed team managed a paltry 0.88 xG on the day. The last-placed side they defeated weren't all too far behind with 0.71. On an optical level, an encounter expected to produce plenty of offensive flair ended up being rather hard on the eyes. Although - as the B04 actors were quick to point out afterwards - the three points still count at the end of the day, Mainz have cause to feel slightly hard done by. Nice work from Karim Onisiwo, Edimilson Fernandes, and (back where he belongs in midfield) Dominik Kohr in this one. Perhaps the woeful Nullfünfter can take something from this.

Deferring all things Frankfurt

Whew. What more can be said about the state of Eintracht at this point? It serves no purpose to give the Bundesliga side receiving by far the most draw-ups than any other in this season's column another one in this week's installment. Dino Toppmöller's SGE simply need to ride it out until the January transfer window. Matters shall remain hopeless until Markus Krösche and the administrative team get a chance to purchase a striker. The 0-2 loss to Wolfsburg this weekend (so ridiculously foreseeable that it's not even humorous) was intolerably bad on virtually every level.

A team with little hope of scoring goals seems totally defeated. It's exceptionally rare to witness a squad exude so little confidence in the direct duels on this level. The columnist didn't witness one single win in the air during the first half. Robin Koch and Ellyes Skhiri occasionally showed some courage going after balls on the ground while literally everyone else shied away. The only two legitimate scoring chances from the Hessians on Saturday came courtesy of Wolfsburg turnovers. Keeper Kevin Trapp prevented the shutout scoreline from being much worse.

Discipline broke down fairly earlier and it eventually came as no surprise to see Mario Götze dismissed on double yellows. Willian Pacho and Aurelio Buta also earned bookings for dirty fouls. Ansgar Knauff escaped a booking on the penalty he conceded against Kevin Paredes, yet still saw the caution from match official Frank Willenbourg after he inexcusably fouled Paredes again five minutes later. Nasty stuff from a team in absolute shambles. VfL striker Jonas Wind emerged as a talking point from this result. In truth, the real story here could be that Eintracht won't win another game until 2024.

Freiburg defer wisely

Compliments to Christian Streich's Breisgauer for snapping a three-game winless-run in the league with an efficient 2-0 win over FC Augsburg in the round's capper. With a couple of fixtures on a tight turnaround before the coming international break, one can hardly fault Freiburg for clearly aiming to conserve energy for long stretches in this one. Iago's early clumsy tackle on Roland Sallai, after a clever drawing ball-shield from the Hungarian in the box, accorded them this chance. They deftly took it and flattened the game out themselves. Fair enough. Well played. Sometimes boring football is necessary.

In addition to Sallai's cleverness, trademark set-piece artistry from Vincenzo Grifo merits a mention. The famous "Italian from Pforzheim" did it once again with a corner service on the 2-0. Some consistently committed defensive work from Maximilian Eggestein and Matthias Ginter stuck in the mind afterwards. Young Merlin Röhl - on for the injured Yannik Keitel early on - had a couple of bright forward moves during the lone sustained SCF offensive push after the second goal. Streich's charges did just enough, getting back on track while ensuing the match wasn't wholly forgettable. Perfectly fine.

The "Burning Questions": Round Six
What did Bayern-Leipzig reveal?

The weekend's "Top-Spiel" supplied some relevance both in terms of the result and what was said afterwards. FCB trainer Thomas Tuchel and squad captain Joshua Kimmich laid bare the specific mistakes and (in a not entirely productive development) spoke on the difficulty the German record champs currently have when facing top teams. Tuchel's words on how his preferred system wasn't adequately implemented generates some cause for concern, particularly when one considers that it was Kimmich himself who appeared to be the main rouge element.


Lineup—Bayern—Match Six (4-2-3-1)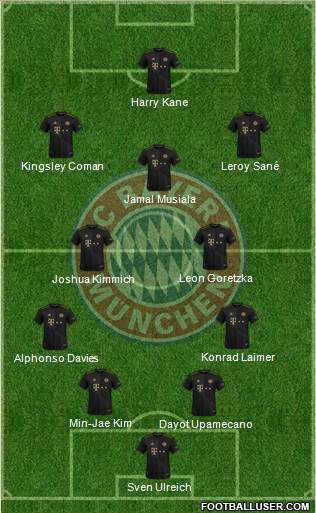 Given the amount of times Kimmich dropped back to affect play, one deduces that Tuchel found himself displeased with the way his midfield double-six set-up didn't keep the axial chain. A most interesting facet of the Bayern-Leipzig affair concerns the fact that the Bavarians were imperiously superb during the opening ten minutes, snatching the ball off Marco Rose's 4-2-2-2 confidently and unleashing rolling counterattacks. Musiala nearly scored in the 3rd. Coman just couldn't keep himself onside four minutes later. It functioned fine, if not improperly, at the beginning.

Rose's system remains set.

Lineup—RB Leipzig—Match Six (4-2-2-2)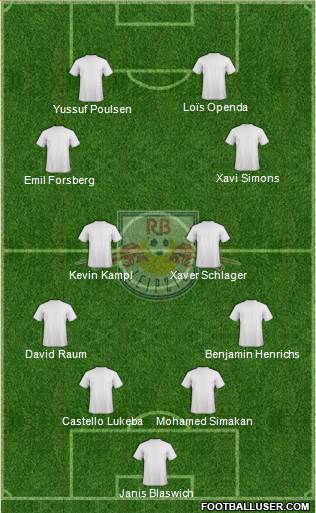 An error from keeper Sven Ulreich nearly led to Emil Forsberg catching the FCB net-minder off his line in the 13th. Apart from that, there wasn't really anything much of note from the German Red Bulls until Xaver Schlager put Loïs Openda through after a quick throw in the 20th. The Belgian striker got a little help with on the 1-0 with a slight deflection off the tight-marking Kim Min-Jae. The 2-0 came six minutes later off another dead ball; a corner that actually shouldn't have been awarded. Naturally, that doesn't excuse the marking errors from Ulreich and others.

Watching Tuchel's reactions after the 0-2 deficit, one could tell that the Bayern gaffer was losing patience with both Kimmich and Goretzka for not keeping their positional assignments. The RB double-six of Schlager and Kevin Kampl had an easier time solidifying as Kimmich tried to do too much rearward and Goretzka seemed to be getting in the way of Konrad Laimer's forward runs. As Tuchel noted in his post-match interview, the goal after the restart was to "return to simpler tactics."

Goretzka and Coman were yanked in favor of Mathys Tel and Raphaël Guerreiro. Given that the Bavarians still operated in a 4-2-3-1 shape, the columnist interprets Tuchel's words to mean that he wished to reset the team back in the original tactical plan. Goretzka got cut out of the equation whilst Kimmich probably received a stern talking to. The record champs - if the writer may say so - didn't look terribly motivated to turn matters around until the handball penalty in the 59th gifted them a way back in.

Lineup—Bayern—46th minute (4-2-3-1)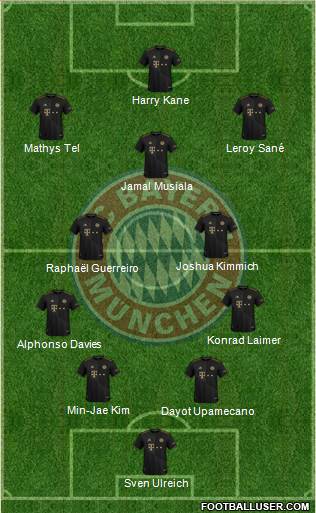 Once the deficit was halved, Bayern supplied some truly commendable play. Kimmich, in particular, found a new gear and helped his team out creatively on every charge. The manner in which Musiala and Leroy Sané ran the counter play - past SIX RB markers no less - on the 70th-minute 2-2 equalizer easily constitutes the best open play sequence we've seen from any Bundesliga squad this season. The gorgeous interplay between those two also began with a sharp defensive header away from Kane. Tuchel finally received what he wanted out of this team.

The Final Takeaways

German football watchers mostly appreciated the fact that the game featured plenty of goals and kept the title race interesting. The "Top-Spiel" lived up to its billing. Little matters beyond that. Tuchel's post-match interview - in which he trailed off sometimes when discussing specific mistakes - merely belongs to the job description of the man in charge of Germany's "Super-Club". Reading between the lines a tad shows that Tuchel carries some discontentment with Kimmich and likely some resentment over not getting his famously sought-after "holding-six".

The hard-working Schlager, Kampl (unfortunately subbed off injured late), and Yussuf Poulsen counted as Leipzig's three best performers on the night. Xavi supplied a couple of glittering moments as well. The result does ensure that Bayern have failed to win against title-aspirants RB in four matches on-the-trot now. That renders the spring meeting ever more interesting. The off-pitch issues surrounding RB entering the weekend belong in a different analytical space. Moreover, the columnist prefers to wait until Max Eberl speaks for himself on the matter.

How did Dortmund win shorthanded?

Edin Terzic's BVB came out on top from their Friday night visit to Sinsheim in a match that featured blunders from both sides. While not necessarily a full-fledged "comedy-of-errors", all three of the goals scored by Dortmund against Hoffenheim in this round's curtain raiser came courtesy of bad TSG miscues. Kraichgauer trainer Pellegrino Matarazzo also went a tad too far all-in late, extending an open invitation for Dortmund to extend their advantage. It was such that die Borussen overcame their own gaffe (Mats Hummels conceded a penalty) to win 3-1.

Lining his team up in the same 4-2-3-1 as last week (this time with Donyell Malen on in the direct place of Jamie-Bynoe Gittens), Terzic's squad largely kept control of the match throughout. Both keeper Gregor Kobel and goal-scorer Niclas Füllkrug noted that play bordering on the boring sometimes tilted toward the dangerous, but there existed enough quality to merit all three points. Matarazzo kept his 3-3-2-2 from last week in place, with injuries to Pavel Kaderabek and Wout Weghorst forcing some personnel shuffling.

Lineup—Hoffenheim—Match Six (3-3-2-2)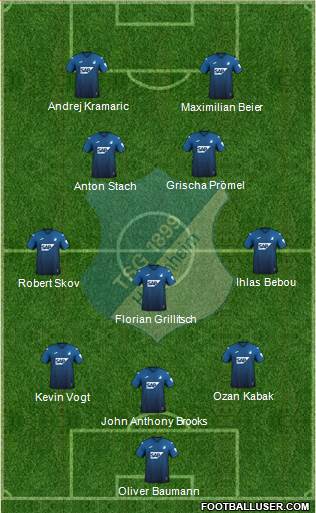 Florian Grillitsch took over Anton Stach's solo-six-slot. Stach himself moved up into Andrej Kramaric's buttressing support role while the Croat marksman took Weghorst's place. Ihlas Bebou - in a deployment that does often create concern - deputized for Kaderabek at right wingback. The Togolese attacker committed the initial error that led to Dortmund taking the lead shortly after the quarter-of-an-hour mark.

Niclas Füllkrug's 1-0, 18th minute

Matarazzo noted after the match that Bebou didn't execute the "agreed upon throw-in principle. The makeshift wingback tossed the ball back riskily to Brooks, who was pressed off the ball by the lurking Brandt. Füllkrug eventually got the ball behind Oliver Baumann. One could tell that Brooks wasn't ready to receive the ball as he didn't immediately clear.

Marco Reus' 2-1, 45+3

It's slightly harsh to criticize Stach and Robert Skov for mistiming their mark on Donyell Malen in this case. The BVB flying Dutchman put in some nifty work to skirt past both TSG actors. One still discerned the classic "knock-on" effect. Skov probably shouldn't have attempted such a poor early tackle in the first place. This left Stach at a disadvantage. Brooks and Baumann where caught ball-watching Malen too and missed his cross to Reus.

Julian Ryerson's 3-1, 90+5

Some hard luck for Hoffenheim early in the second 45 precluded Matarazzo's men from equalizing. The ordinary reliable Grischa Prömel made a hash out of a chance he would ordinarily bury in the 48th. Skov hit the crossbar with a free kick three minutes later. There can nevertheless really be no excuse for not netting the 2-2 after Ramy Bensebaini was sent off on double yellows in the 71st. The hosts remained unthreatening despite the man-advantage.

If anything, Dortmund appeared the more threatening side down the stretch. Only some very poor finishing errors from substitute Karim Adeyemi kept a draw within the grasp of the BaWü club. When his side simply couldn't come up with the ideas to get the ball into Kobel's box, Matarazzo was essentially forced to play with fire. Ryerson ultimately got the better of players without any marking assignments at all on their minds.

Lineup—Hoffenheim—85th minute (3-1-6)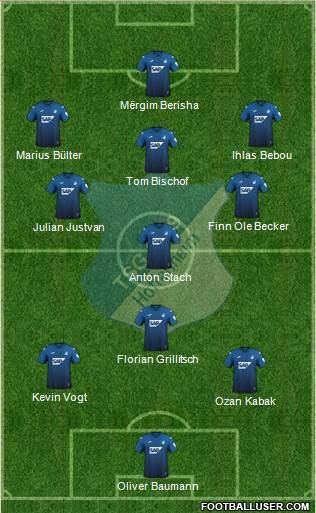 Once again, it was a Bebou error (ball loss) that kick-started the sequence. Stach, Grillitsch, and Bebou all missed out on chances to pick Ryerson up as he marched halfway down the pitch. Baumann let the ball slip through his legs as part of the final humiliation. Nothing majorly dramatic needs to spring forth from this at such an early stage of the season, but a mistake-ridden performance (from team and trainer) does require some extra focus ahead of Bremen next week.

Can Gladbach pick up momentum?

At long last the Fohlenelf are beginning to exhibit signs of the potential many of us saw in them during the pre-season. As Gerardo Seoane's BMG struggled through a difficult early schedule, some hard-luck early injuries, and counterproductive tactical over-tinkering, let it be known that there were a few of us keeping the faith. One shouldn't forget that the squad that lit up Augsburg for four goals on opening day and battled back to net three against Darmstadt in round four possesses latent attacking potential that can spring to life at any given moment.

The visiting Westphalians seized the moment in their trip to Bochum this weekend, immediately taking apart another winless side still rattled by last week's thrashing at the hands of Bayern. Interestingly enough, Seoane's squad thrived in spite of the fact that the two actors one assumed would be needed most (Manu Kouadio Koné and Tomas Cvancara) weren't in the starting XI. One did have a positive feeling when, upon release of the team sheet, it was obvious that Franck Honorat would operate on the wing. That generally yields results.

Lineup—Gladbach—Match Six (4-4-2)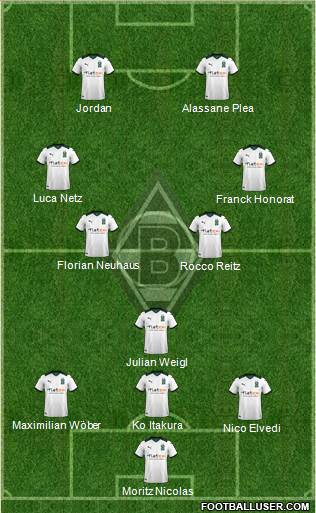 Honorat hit the post inside of two minutes. "Man-of-the-match" Alassane Plea narrowly missed two quality scoring chances before finally assisting on Florian Neuhaus' opener in the 27th. Gladbach exerted total dominance over the course of the opening 45. Plea bagged a brace before the first half was out. One observed genuinely amazing play from the likes of Jordan, Maximilian Wöber, and Luca Netz. It's no exaggeration to say that this trio turned in the best work seen from them in BMG kits.

Plea's magnificent work continued after the restart and better finishing from Jordan in the 51st should have turned the game into a blowout. Neuhaus and the later subbed on Cvancara squandered chances as well. It should also be noted that Julian Weigl - positioned as a bolt-lock above a flat back-three as he was - needed to do better on some late marks. Christopher Antwi-Adjei caused Weigl and the back-three some trouble and Bochum pulled a goal back late. Another VfL goal got disallowed deep in second half injury time. Philipp Hofmann also saw an effort cleared off the line.

Later adjustment and forward momentum

American fullback Joe Scally entered for Plea in the 71st and the team fell back into its more defensive-minded 3-5-2 shape from last week. This largely stanched the bleeding from the late Bochum surge and left one feeling as if the win was deserved on the basis of intelligent adjustments. Seoane effectively has two decent constellations in which to train his team for what is a much easier schedule in the coming month. The foals will fancy their chances against Mainz, Köln, and even Heidenheim in the coming weeks.

Yes, it does appear an uptick is at hand.

Bochum's path forward

VfL trainer Thomas Letsch had to contend with the worst-case-scenario after Matus Bero succumbed to injury early on. Bero's direct replacement, Antwi-Adjei, actually held the ten slot well until Letsch could get direct replacement Lukas Daschner on at the change-of-ends. Daschner himself turned in an excellent performance while - as noted above - Antwi Adjei wreaked some sly havoc on the BMG back-line from the left. Captain Antony Losilla never gave up and scored the pull-back goal. The skipper's second was the aforementioned disallowed one.

The author certainly feels strange talking up the Revierklub's potential after what unreservedly qualifies as back-to-back disasters, but it continues to feel as if Letsch - with some skillful hot-hand and a bit of luck - can pull something workable out of this. Readers may consider themselves forewarned that Bochum's old "un-relegatable" label sits deep in the German subconscious. An old historic mystique surrounding this club may be improperly swaying the mind here. That being said, there was some good work on display here.

Don't immediately discount this team.

Recall what happened against RB last spring.

"Weekly Wortschatz": Round Six
"Goldenes Händchen"

Matters remain straightforward enough for non-German speakers in the first of this week's translations. A "Goldenes Händchen" merely refers to the "golden touch" of a football trainer who introduces the right substitutes. The author nevertheless confesses that he never quite figured out why Germans never invoke the more mythological poetics as part of this phrase in their own language. English speakers commonly utilize the "Midas Touch" idiom. Germans, equally familiar with the famous Greek King of Antiquity, do not. This holds true in non-footballing contexts as well.

In any event, VfB Stuttgart trainer Sebastian Hoeneß receives credit for playing the right hand again this week in his side's 2-0 win over 1. FC Köln. In light of the fact that Deniz Undav (seriously!) came off the bench to bag a brace leaves the columnist wondering why no German publications went with the Rumpelstiltskin metaphor. Why not? C'mon people. Deniz Undav? Hoeneß unquestionably spins straw into gold at this point. In return for the success they team currently enjoys, some Württembergers may come offering their first-born children to their club's trainer soon.

Hoeneß also deserves credit for his opening constellation. Missing his most active back-passer Dan-Axel Zagadou to injury, Hoeneß threw Atakan Karazor back behind Angelo Stiller as a protective sweeper ahead of debutant Anthony Rouault. Enzo Millot moved back and central to form a tight vertical chain with Stiller and Karazor; shifting the regular 4-1-4-1 into a 5-4-1. This proved adept at gradually breaking down Steffen Baumgart's highly compact (correctly foreseen) 4-1-3-2.

Lineup—Stuttgart—Match Six (5-4-1)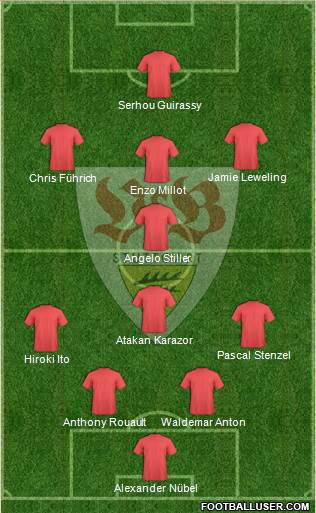 German fans eager to see Serhou Guirassy score against his former side nearly got their wish twice in the first half. The game ended unfolding ss most had expected. The visiting Swabians maintained only a slight edge in possession and chances. Köln achieved their fair share of penetrative attacks too, yet weren't truly capable of threatening with the likes of Davie Selke and Steffen Tigges in the box.

Baumgart was the first to freshen up his attacking ranks with Faride Alidou and Luca Waldschmidt relieving Tigges and Florian Kainz. Hoeneß went much bolder in search of a solution to break the deadlock. Karazor signaled that a knock would leave him unable to continue. The VfB trainer - who might have been planning a 4-2-4 re-format later - sent striker Undav on in place of his sweeper right away.

Lineup—Stuttgart—63rd minute (4-2-4)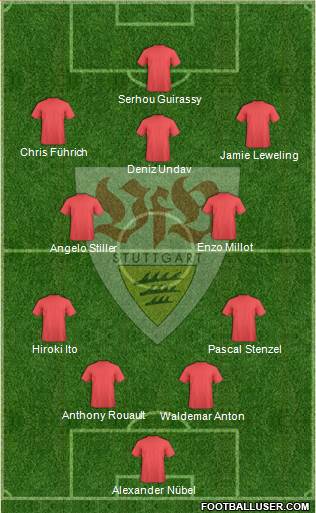 Matters might have gone differently had Alidou been able to defeat Nübel on a pair of early chances. Both Alidou and Waldschmidt failed to capitalize on mistakes from Nübel later on too. All of that notwithstanding, Undav scored a pair of beautiful goals in the eventual 2-0 victory. The Brighton loanee finished masterfully after some excellent set-up work from Waldemar Anton and Chris Führich in the 68th. He trailed a counter perfectly to poach another in the 88th.

Deniz Undav. Indeed. The old SV Meppen goal-machine with the diminutive build; on the mend from a knee-ligament injury suffered in pre-season no less. Undav now joins Führich, Millot, and Silas as the fourth player other than the sensational Serhou Guirassy to have scored more than one league goal for this squad thus far this season. Where on earth is all this gold coming from?

"Auf Sand gebaut"

As things continue to unravel for 1. FC Union Berlin, FCU trainer Urs Fischer has conceded the multiplier effect. The Swiss head-coach of the capital city's Köpenick club spoke of "Doppelschmerz" ("double hurt") following his side's fifth consecutive loss on-the-trot away at Hoffenheim on Saturday afternoon. Fischer's designated skipper on the day, Christopher Trimmel, lamented the fact that nothing works "von hinten nach vorne" ("from the front to the back"). One gets a few extra vocab bits in this section. The author will even throw in "Abwärtsspiral" ("downward spiral") as an added bonus.

The problem with Union rests with Fischer's ironclad 3-5-2 "double stack" system. The team isn't really drilled in anything else. Adjustments only serve to knock players out of rhythm further. Matters have now progressed to the point that Union travelled to a newly promoted Bundesliga side's ground with an ultra-conservative match-plan designed to play almost exclusively on the counter. Kevin Behrens kept such a high line in the Saturday fixture that it appeared inevitable that the rest of the team would sink into the sand-trap.

The "Auf Sand gebaut" ("built on sand") metaphor popped into the writer's head in association with a collection of short stories published by GDR writer Stefan Heym on German reunification. The East German club so many of us had high hopes for this season seem to be slipping into a chaotic and confused disarray. With matches against Braga, Dortmund, Stuttgart, and Napoli beckoning before the month of October is out, Heym's prose whilst covering a series of problems without solutions bounces around in the cranium.

Lineup—Union Berlin—Match Six (5-2-3)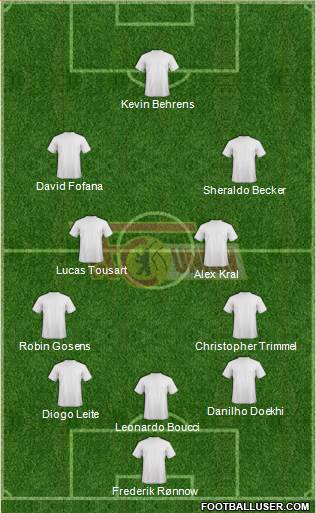 At a few points in the opening half, Sheraldo Becker and David Datro Fofana showed flashes of their old form. One still expected much better from both in Fischer's first attempt to start the two of them together up top. Behrens' confidence in front of goal continues to plummet. This was perhaps best exemplified in his missing of a triple chance in front of goal just after the restart. Behrens aimed well off on other sights of goal, as did Alex Kral and Lucas Tousart on the instances in which they ventured forward.

More problems at the back as Leonardo Bonucci played another poor match and nearly conceded yet another penalty. Bow-arcing in general among the back-five remained slow and error-prone throughout. The issues playing out of the back rippled forward until the entire offensive engine sputtered to a halt. Jan-Niklas Beste's 1-0 in the 59th left a squad fully refreshed by a full allotment of five substitutes sheepishly afraid to cross the halfway line. How Fischer restarts the construction project lies beyond the conception of this column.

"Mitleid"

The German word that translates to "sympathy", "compassion", or (in some contexts) "pity" literally means "to suffer together with". In the English language, there's a much clearer word to describe someone who actually literally feels someone's pain. That word - "empathy" - has a Germanized equivalent ("Empathie") that finds more sparse usage in the German language. Another word that can convey empathy, "Einfühlung", also doesn't get used very often. Germans don't share the same delineation between "compassion" and "empathy".

To understand suffering is to suffer. Something inexplicably German about that. Potentially as a result of the rather depressing state of the German national team, Bundesliga coaches have been using the verb "leiden" ("to suffer") quite a lot lately when it comes time to describe the performances of their teams. Sebastian Hoeneß, Marco Rose, and Edin Terzic all used it last week when discussing wins that were either narrow or required a comeback. Rose used it again in his post-match interview on Saturday night. On Sunday, it was Torsten Lieberknecht's turn.

Some match the early Sunday kickoff turned out to be. Lieberknecht's Hessians appeared easily poised to secure their first Bundesliga win since attaining promotion back to the top flight. This time the SVD built up a 4-0 lead over visiting SV Werder Bremen. Ahem. A fortnight ago, the Lillies blew a 3-0 lead at home against Gladbach. The same thing very nearly happened this time. Lieberknecht referenced "Gladbach flashbacks" when discussing the result afterwards and emphasized that he "suffered along with his boys".

The columnist doesn't wish to delve too much into the nature of suffering, not to mention the nightmarish and mind-bending nature of flashbacks, so why don't we wrap up this week's column with an aim towards some uplifting news? Darmstadt have their first victory of the season. The team actually surprised us all by playing remarkably well. Could there be some hope for a team already written off by some of us league watchers and probably three quarters of the country's footballing punditry?

Lineup—Darmstadt—Match Six (3-5-2)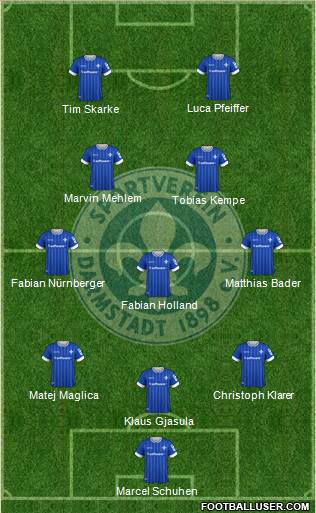 One has to journey back to round one to find the last Darmstadt draw-up. Lieberknecht has tried out a 3-5-2 featuring various personnel assemblages in three of the five rounds since. Most recently, it was the same four actors (Tim Skarke, Luca Pfeiffer, Marvin Mehlem, and Tobias Kempe) working the top two axes against Gladbach two weeks ago. Small wonder that the SVD trainer experienced pangs of horror about things collapsing just as they had done before. This time, fortunes aligned better.

Personnel fortune

Leiberknecht's intended starter for the left rail, Emir Karic, had to withdraw at the last moment after pulling a muscle in warm-ups. This opened the door for Fabian Nürnberger - a player many of us have been impressed with since early this season - to enter the XI. Nürnberger set up the initial tally with a long ball from the deep in the 5th and got his name officially on the scoresheet with a direct assist precisely 20 minutes later. Bremen themselves - already without captain Marco Friedl in the back-three - also had to do without Niklas Stark on short notice and were a bit of a mess at the back.

Pitch fortune

A great deal broke Darmstadt's way early in the second half. A dangerous Marvin Ducksch free-kick somehow didn't make it over the line in the 48th. The Lillies only garnered the 3-0 advantage thanks to a horrible misplayed pass from Amos Pieper. After a tight handball penalty enabled Marvin Mehlem to complete a break and slot home the 4-0 from the spot, Ducksch, Mitchell Weiser, Naby Keïta, and Milos Veljkovic, and Oliver Deman all burst through the fraying SVD lines on the near blitz comeback. Lieberknecht, and even us naturals, legitimately suffered with the team as they came close to blowing it again.

A turnaround?

Not with Leipzig and Bayern on the docket before the month of October is out. Even a win against Augsburg next week seems something of a stretch if Leiberknecht can't get this shape to work consistently over the course of 90 minutes. More suffering definitely lies in store for this crew throughout the course of what looks to be a long season. For the time being, one congratulates the fans of this club for their brief respite. A team recently considered by many to be this year's version of the 2021/22 SpVgg Greuther Fürth squad earned their first win a full nine rounds before Fürth did.

Luck shines on a non-clover club.

Thanks so much for reading! You can catch the release of all Peter's columns (and occasionally catch him goofing off) on whatever the hell they're calling twitter these days @PeterVicey.

Twitter DMs are open for football conversations, corrections, and (if you truly insist) general abuse. 

Full color re-posts of the columns are eventually archived on Peter's website.



Related stories